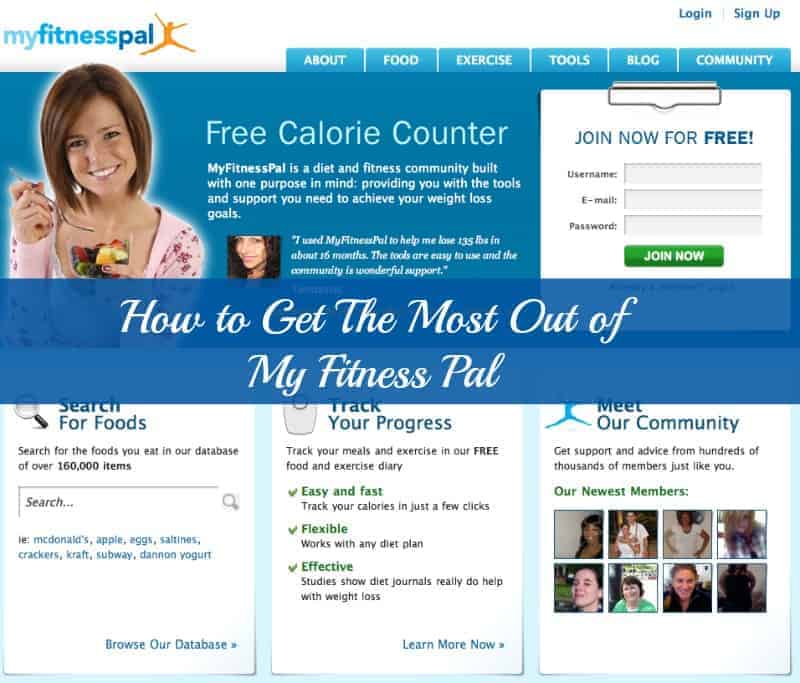 My Fitness Pal, is a free online food and exercise journal that I have been using for close to 2 years now. This tool, was the missing piece to my forever battle with losing weight. In my opinion, if I did not use My Fitness Pal to keep track of my calories and hold myself accountable I am certain I would still be where I was when I first started – 40 pounds overweight!
I get a lot of questions (both offline and on) about My Fitness Pal. While I am not a My Fitness Pal expert, nor do I work for the company, I do use it a lot and feel confident talking to others about my positive experiences with it. Therefore, using my experiences, I decided to put this post together as a way to help you get the most out of this free online weight loss tool.
My Fitness Pal is much more than just a means to calculate your daily caloric intake and nutritional information. Even though, this is probably the main reason most people use it, there is much more to assist you in your healthy lifestyle efforts.
Mobile App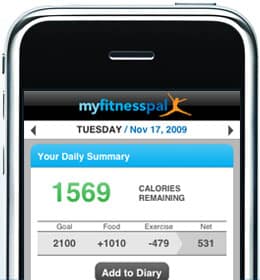 With being a busy mom always on the go I actually use the mobile app a lot more than the actual site. On the mobile app you can log in your food and exercise, check your daily nutritional allowance, and have access to their enormous database of food. Because all of this information is right at your fingertips 24/7 the mobile app basically takes away the "I am never home and too busy" excuse.
Food Database
My Fitness Pal has an enormous database of food in their system. The food is added by it's members as well as by the staff. This database also includes food and menu items from popular grocery chains and restaurants. I have used the database many times when I was trying to choose a healthier option at a restaurant or even at the grocery store. It kind of takes the place of those big bulky calorie books that take forever to find what your looking for.
Recipe Builder
This is the feature I use most often now. As you know I spend a lot of time cooking up new recipes for my family and to share on Skinny Mom's Kitchen. The recipe builder allows me to figure out the nutritional content of each recipe I make. All I need to do is plug in the ingredients and the recipe builder figures out, based on what I entered, the nutritional information for that recipe. This has come in very handy when I am developing or adapting a brand new recipe and want to keep the calories, fat, and portions under control.
Reports
Once you have been using My Fitness Pal for a little bit you can download reports of your nutrition, exercise, and progress. These reports help to track certain trends, milestones, and problem areas as you move forward on your weight loss goals. I found these reports to be motivating for two distinct reasons. First, if I was doing well I felt the desire to keep going. Second, if I was slacking a bit I would get that fire I needed to pick up the pace. Numbers don't lie and it is hard to deny them when they are staring you in the face.
Message Boards, Groups, and Blogs
My Fitness Pal also has a very active community of members on their message boards, groups, and blogs. On the message boards people ask questions, discuss experiences, share recipes, and offer encouragement and support to other members. The groups offer a smaller community of members that have specific interests in certain topics. For example, you can find groups on Couch to 5K users, Fitbit Users, Weight Lifting, and many more. There really is something for everyone and if you don't see a group that fits your needs then you can start your own.
Then there are the My Fitness Pal blogs. Basically, from what I have seen and read, these blogs are members tracking and sharing their weight loss progress. Many of the bloggers share their personal experiences and tips with adopting a healthier lifestyle. I always find it inspirational and motivating to read about other's experiences.
If you need more of a community to assist you along your weight loss goals then check these My Fitness Pal community resources out. However, it is easy to get sucked in and waste hours hanging out in these communities if you are not careful. So just be aware and use them as you see fit. Remember reading the information is not going to make you lose weight – you have to take action.
Other tools
Besides the tools I mentioned My Fitness Pal also has a BMR (Basal Metabolic Rate) and BMI (Body Mass Index) calculator. The BMR calculator calculates the amount of calories your body burns by just existing everyday. The BMI calculator helps you find a healthy weight range base on your height and weight. While the BMI is not accurate for all people (pregnant ladies, body builders, and people under 5 ft) , and some people don't agree with it at all, I find it helpful to see what a healthy weight range is for my height. Again, numbers don't lie.
As you can see, My Fitness Pal is a fantastic weight loss resource. Everything I mentioned is free to use. There are other free sites out there but this is the only one I use and can talk about from experience. If you are trying to losing weight or just adopt some healthier lifestyle habits then I highly recommend you give My Fitness Pal a shot. I lost 40 pounds using their tools and I know it can help you out too.