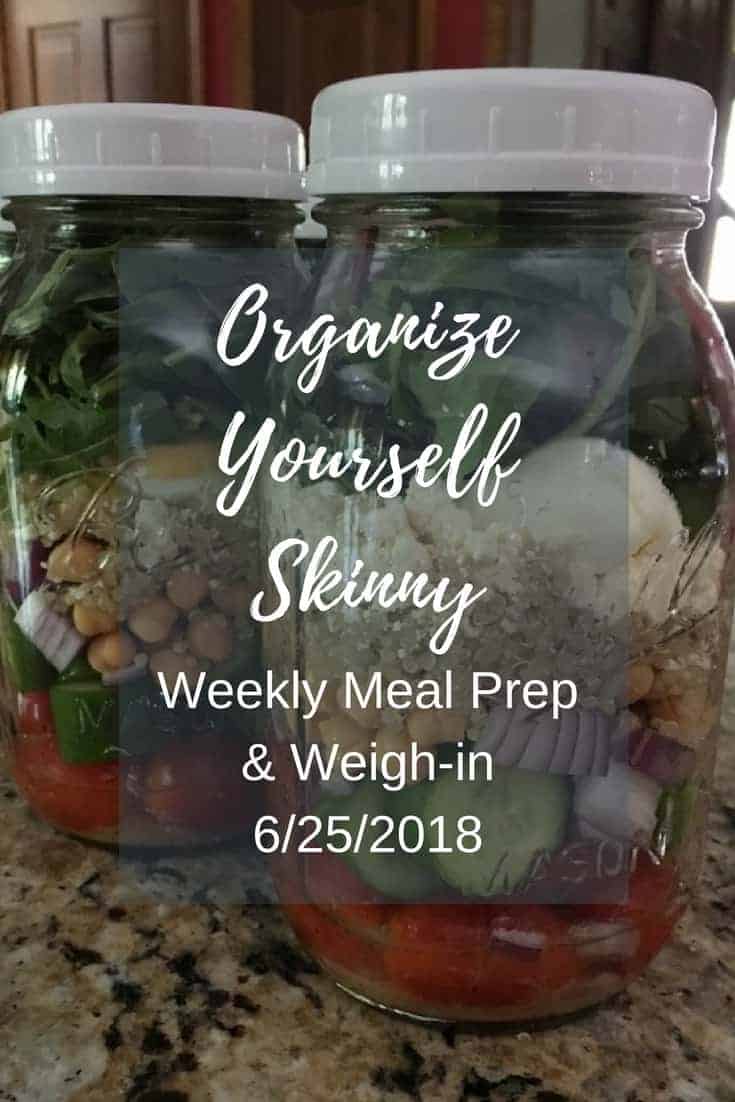 Hey there! Please tell me how we're already into the last week of June! Honestly, where did the month go?! Essentially, I have about 1 month before my girls and I leave to visit my sisters in Colorado – which means, I have about 1-month to make a serious dent in some work I want to get done. My goal this summer is to update the Organize Yourself Skinny Ecourse and create a second ecourse that specifically focuses on meal prep. That's a lot of work, but it can be done. I'm also working with a designer to completely update the Organize Yourself Skinny blog. It hasn't been updated in about 4 years and is due for a serious facelift.
Hmmm, what else did I want to share with you? I have all of these thoughts during the week and then I sit down to type and it's like my mind goes blank.
Oh, so this past weekend I decided to go grocery shopping instead of ordering my groceries through Instacart. I love Instacart but I wanted to do an experiment to see if I can save money by doing a little comparison shopping.
On Saturday, I went to Aldi's and Wegmans. Our weekends are packed so it was a miracle I even found 2 hours to grocery shop. Typically, I would've gone on Friday but I took my kids to Darien Lake amusement park and then we had a graduation party to go to.
Here are my thoughts. I'll never get those hours back of my life. Sure, there are deals at Aldi's and there's plenty to choose from at Wegman's but after fighting the crowds and searching through the aisles for everything I was ready to pull my hair out. Not too mention, I forgot a few key ingredients so I have to go back to the store anyway. I don't even know how I forgot anything because I used Plan to Eat to put my meal plan and grocery list together. Honestly, I think I was just so flustered I skipped right over things.
Anyway, I think I saved around $20 shopping myself. However, once I added in the time, gas, and aggravation I'd rather cut costs in other areas than spend a Saturday at the grocery store again. Now, this is just my opinion. If you're a coupon cutter, deal seeker, and actually enjoy it then it's probably worth it for you to do your own shopping. For me, time is money and the hours I spent grocery shopping I could've been working on my ecourse, writing a blog post, or simply organizing my house. Now that I can have groceries delivered to my home, or I can do curbside pickup, I have no desire to fight the crowds.
Now I will say this…
There are certain items I do shop weekly, or every other week, for at BJ's wholesale store. I've found it's significantly cheaper to go purchase the items listed below than to order from Wegmans using Instacart.
Frozen Organic Berries
Feta Cheese
Natural Chicken Breasts
Chicken Sausage
Ground Beef
Bacon
***Basically all meats
Hummus
Shredded Cheese
Fresh Mozzarella
grated romano cheese
Coffee
Creamer
Greek Yogurt
Spices
Olive Oil
Coconut Oil
Eggs
There are a few others but for the most part these are the main items I purchase from BJ's wholesale.
Anything else I plan to order weekly from Instacart. It makes my life much easier. Of course, Instacart isn't for everyone (view read my Instacart review for those I think shouldn't use it) but for me it's golden and I plan to stick with it.
I just wanted to share my thoughts while the grocery shopping trauma is still fresh in my head.
Okay let's get to my weigh-in.
Starting weight (October 2010) : 177 lbs
First goal weight: 145lbs
Final goal weight: 135 lbs
Last week's weight:157.8lbs
Current weight: 157.6lbs
Pounds lost: 0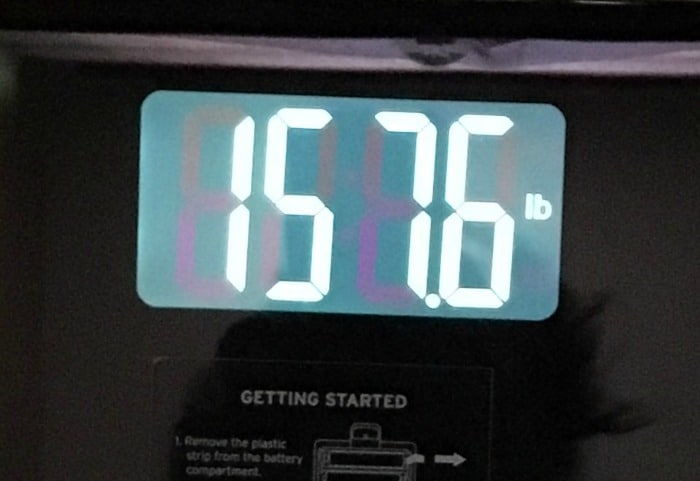 This week I didn't lose any weight. Of course, I'd love to see the scale go down but I'm also happy it didn't go up. Also, I just want to mention that I got on the scale around 2:00pm after I ate breakfast, a snack, and lunch. Typically, I do my weigh-in in the morning, before I eat or drink anything, but forgot to get on the scale when I woke up. I didn't want to skip my weigh-in so I got on the scale right before I started to write this post. So, with that said, I'm happy it wasn't more.
Last week, I did good with food and exercised 4 days. The 4th day wasn't a solid workout but nonetheless I got in a little bit of a sweat. Friday, Saturday, and Sunday we had some sort of party to go too. For the most part, I didn't gorge on junk but clearly, since the scale didn't go down, I had a few extra bites.
Beyond the scale, I feel really good. My clothes fit good and I can notice some definition in my arms and legs. My stomach doesn't feel as bloated but that's still my biggest trouble spot.
Let's go over some questions from OYS readers. If you have a question you'd like me to answer just post it in the OYS Facebook group with hashtag #OYSquestions or email it to me [email protected].
Is it possible to lose weight just by quitting alcohol?
The short answer to this is yes. Of course, it depends on what the rest of your diet looks like. It also depends how much, and often, you're drinking alcohol. It's very easy to consume A LOT of extra calories when drinking alcohol, or any sugary drink For example, if you're drinking 3 Mike's Hard Lemonades on Friday and Saturday night that equals an extra 1320 calories in 2 days. If you do this weekly then that alone will sabotage your weight loss efforts.
My advice is to track it. If you're going to drink then plug the beverage into My Fitness Pal and see how it's going to affect the rest of your day. I think you'll be very surprised by how high in calories most alcoholic drinks are.
Most people I've talked to have lost weight by not drinking their calories. I've found this to be true too.
Random question but does anyone use any recipe / shopping list apps? I'm wanting one where I can keep all the recipes I find (if it had a recipe importer even better) and also for it to be able to create shopping lists for me (from the recipe so I don't have to do it manually). Does any such app exist?
The best website and app for this is Plan to Eat. You can save all your recipe, create meal plans and save them, along with generating a grocery list. It truly makes meal planning so easy. I used it this weekend and had my meal plan and grocery list done in about 20 minutes…if that. You can do a free 30-day trial to see if it would work for you.
Let's move on to my meal plan.
Lunches are my good ole trusty mason jar salads and dinners include lots of veggies this week!
Breakfast
Meal prep tips
I'll make my smoothies the morning I drink them. However, if I get time I'll put together some smoothie freezer kits so I don't need to worry about running out of ingredients.
Morning Snack
KIND bar
Lunch
Feta, Quinoa, and Egg Mason Jar Salad. I haven't written this recipe up because I honestly threw it together with ingredients I had on hand. However, many readers have asked for this recipe so I'll make sure to take pictures and write it up next week. Until then, here's my mason jar salad tutorial that'll help you layer ingredients together.
Meal prep tips
I made the salads on Sunday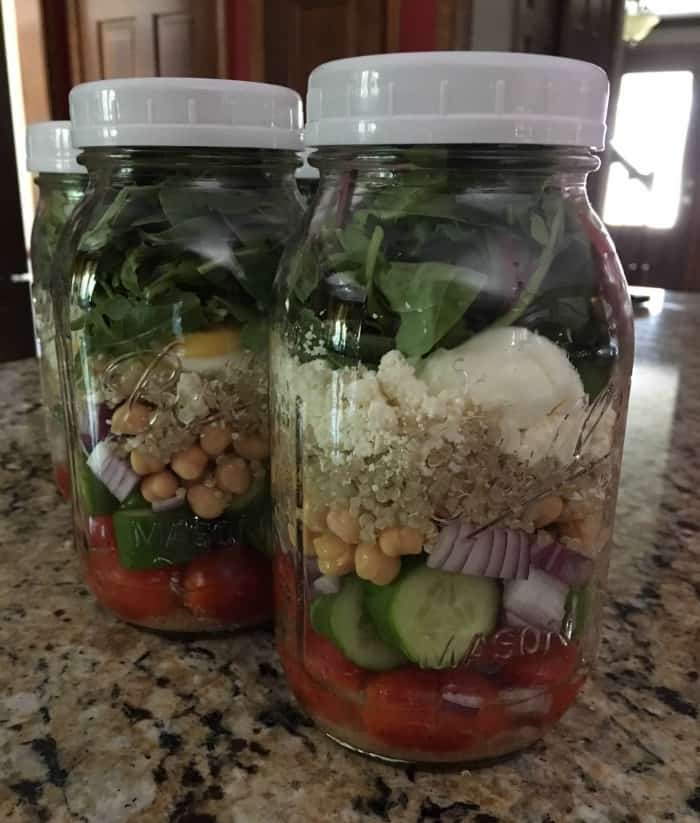 Afternoon snack
Cheese stick and 1-serving of crackers
Dinner
Chicken Quesadillas using Slow Cooker Salsa Chicken
Vegetable Lasagna – I adapted this recipe.
Baked Eggplant Parmesan with a salad
Turkey, Zucchini, and Feta Meatloaf with steamed broccoli
Jalapeno Popper Chicken with a salad
Meal Prep tips
I made the vegetable lasagna and slow cooker chicken yesterday. BTW, this lasagna made a ton so it's possible some of the other items on the menu this week will make their way to the freezer.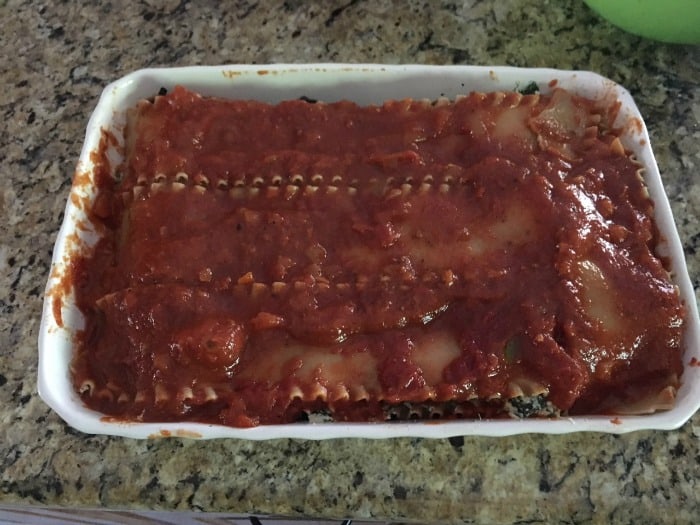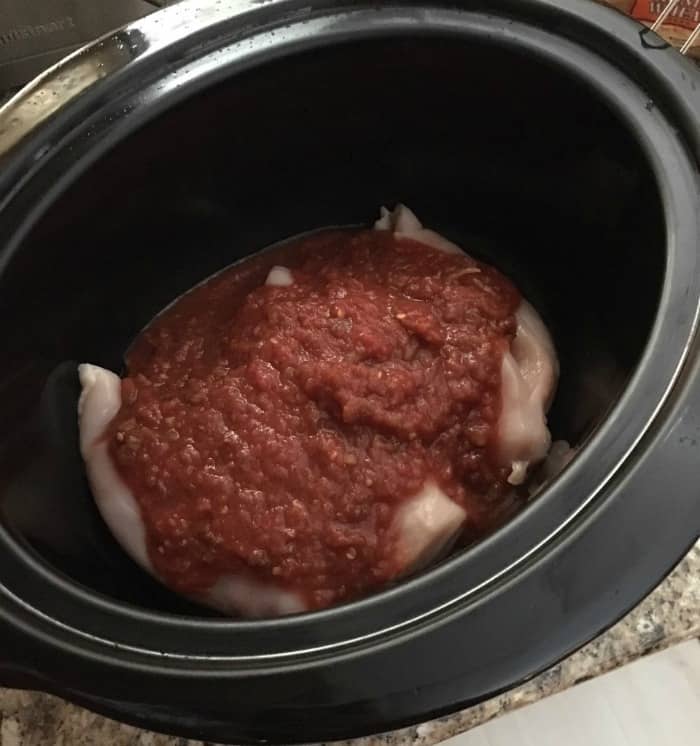 Eggplant parm, meatloaf, and popper filling will be prepped tonight.
That's my menu this week.
Also, I forget to mention earlier, I tested out Blue Apron last week. So read my Blue Apron review if you'd like to learn more about my experience with this meal kit service.
In the next month or so, I'm testing out Butcher Box. I've heard mixed reviews on this meat delivery service so I'm curious to give them a try and see what they're about. If you've tried Butcher Box I'd love to hear from you. What's been your experience? Any tips? Update: Check out my Butcher Box Review.
Have a great week!