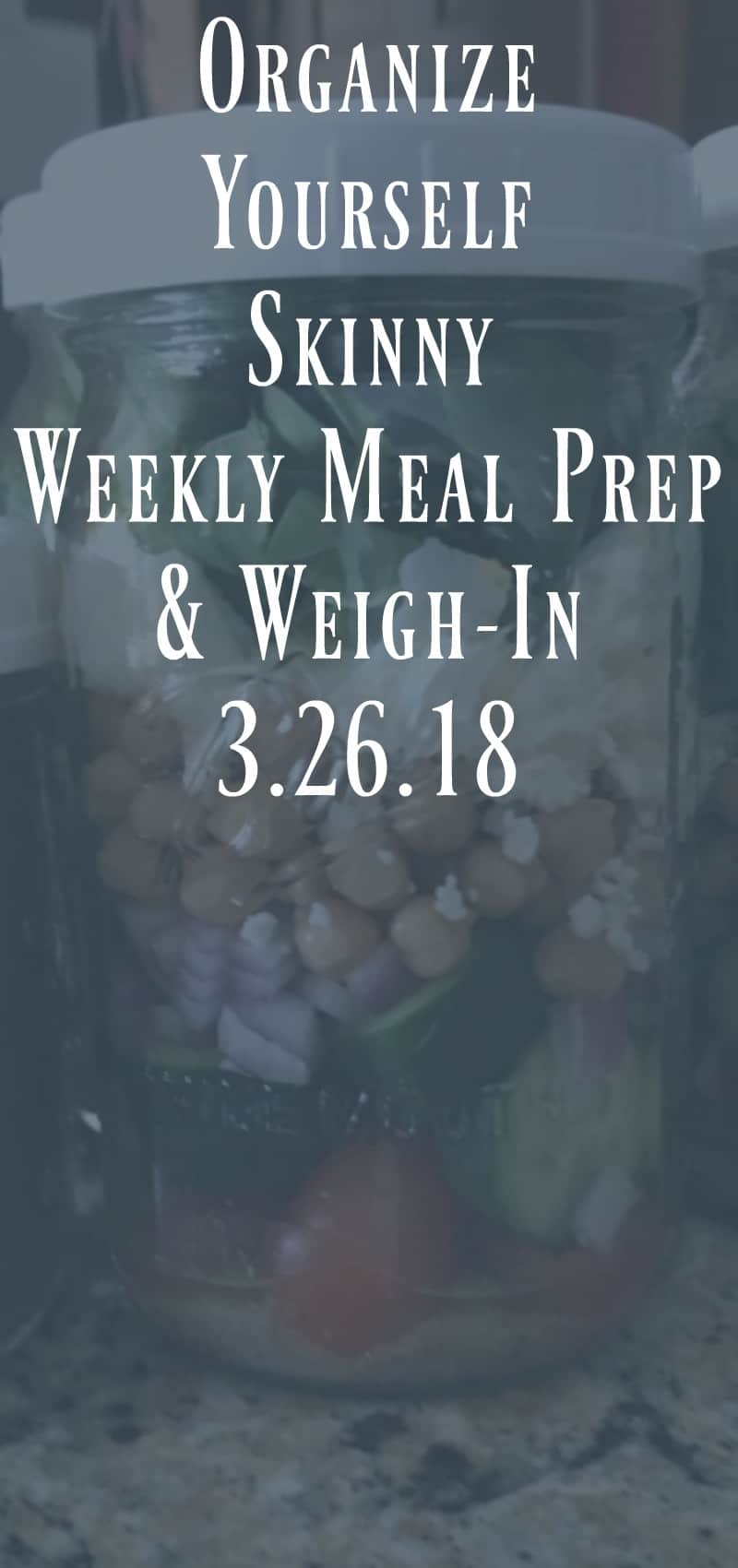 Hey there! Well I'm on time this week with my meal prep post. Woot woot! I don't know why, but I feel so accomplished when I get my meal prep post written and posted on my blog in a timely manner. Well, I know why. Because then I can focus on other things instead of worrying about slacking on this post. I need to constantly remind myself to just do it so I can get other things done.
Alright, let's move on.
Okay, let's get to my weigh in.
Starting weight: 177lbs (October 2010)
First goal weight: 145lbs
Final goal weight: 135lbs
Last week's weight: 152lbs
Current weight: 154lbs
Pounds lost: +2 lbs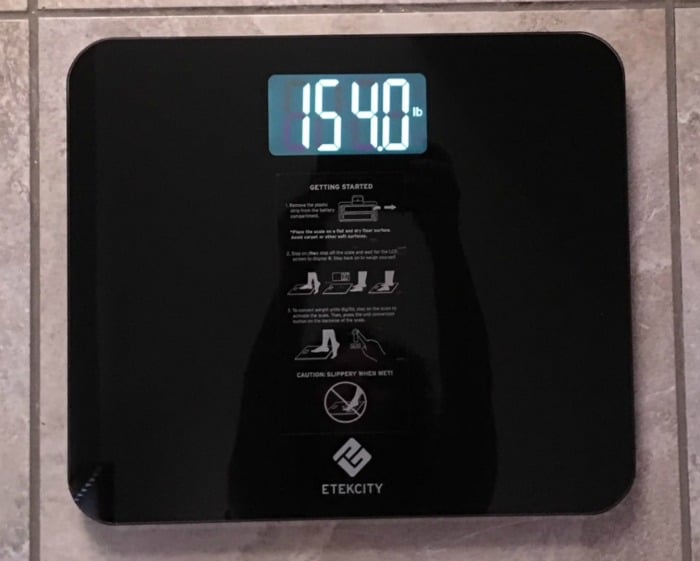 Do you like my new scale? I was hoping my old scale was broken and my new one would show a much lower number….but obviously I was wishful thinking.
I'm back up 2 pounds. Ugh! I guess I shouldn't be surprise because last week was tough. Not that it should be an excuse, but I'm human, and it is what it is. I felt totally exhausted and burnt out – I had zero energy to exercise. Also, my daughter was sick for 3 days so it was a tough long week.
Not every week is going to be perfect and there will be times we fall off track. The key to success is to get up and keep going. Fall down 8 times, get up 9.
Anyway, I'm ready to move forward. I started Monday strong with an hour long workout and a detox smoothie.
This week my goal is to exercise 5-6 days. We are heading to a water park on Monday and I plan to wear a bathing suit. Of course, I'm not saying I'll lose 10 pounds in a week but exercising, keeping carbs under control, along with lots of water will definitely make me feel less bloated and more confident in a swimsuit.
Here's my exercise routine.
1 hour on the treadmill
10 min walk on 1 incline
30 min run (4.2 – 4.3) on 2 incline
10 min power walk on 5 – 7 incline
10 cool down on 1 incline
Core
30 second plank
100 crunches
50 side crunches
Arms
24 bicep curls with resistance bands
24 lateral raises with 5lb weights
24 tricep extensions
24 modified push-ups
Legs/Butt
50 squats
50 plie squats
25 lounges (on each leg)
My meal plan.
Breakfast
Meal prep tips
I have 5 detox smoothie kits in the freezer.
I also blended a smoothie today and stored the rest in the refrigerator using mason jars.
Lunch
Egg, Chickpea, and Feta Mason Jar Salad
Meal prep tips
I made this mason jar salad on Sunday. This mason jar salad recipe came about on accident. I wanted to keep it meat free, yet high protein, so I use what I had in the pantry. You can learn to make your own mason jar salad combinations with my tutorial.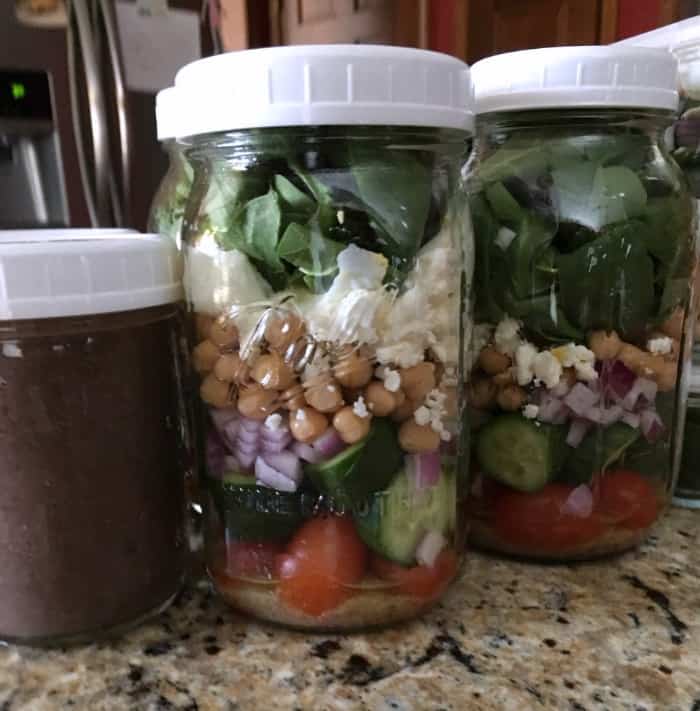 Snacks
Apples and almond butter
Yogurt and fruit
Dinner
I accidentally ordered a box of meals from both Hello Fresh and Home Chef so that's what is on the menu for dinner this week.
This is what I was sent.
Smothered Turkey Meatloaf
Brown Sugar Pork Tenderloin
Chicken Moutarde
Italian chicken sausage, vegetables, and orzo
Hamburgers
Scallop and Risotto
**Some of these recipes are on the higher carb side so I'm going to reduce where I can and supplement more veggies and a salad. But my kids and boyfriend love these meals so they'll eat them as is.
Meal prep tips
I'm going to make the risotto and orzo tonight and the rest tomorrow night. I'll store everything in the refrigerator and will freeze some of it too.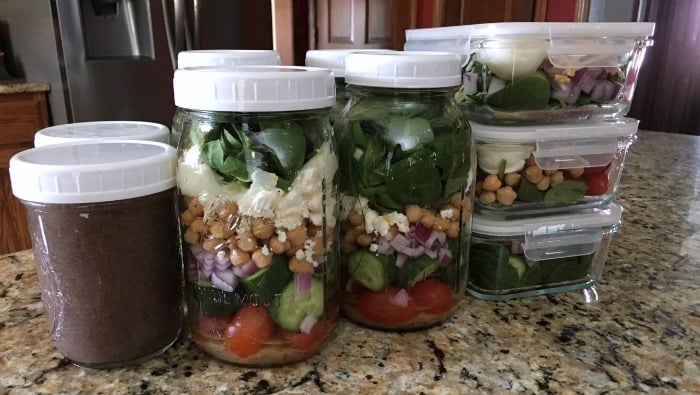 That's my plan for this week. Don't forget if you want to read more of my meal prep posts then check out this meal prep page I put together. It has all of my best posts organized in one spot.