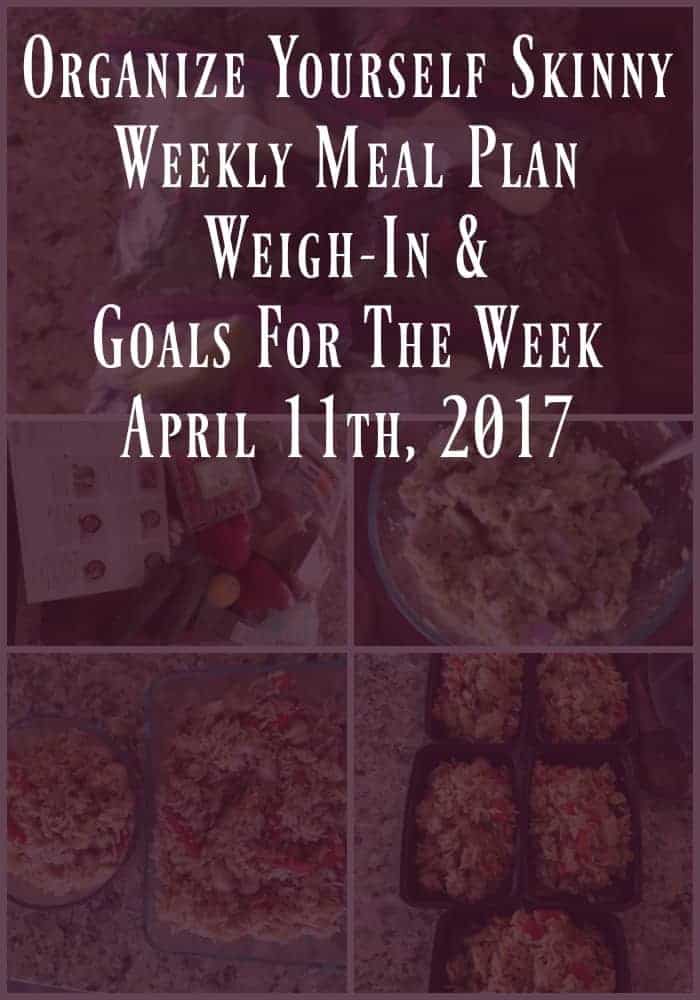 Hey hey! Can you believe we're already into the second week of April? Summer is right around the corner! Yikes! You know what that means? Time to get ready for bathing suits and sundresses. Don't worry there's still time to get in shape. Unfortunately, time does not wait for us so we need to get focus right now on eating and exercising. If you're already locked on with your healthy habits then you're probably looking forward to the summer months.
I'm teetering between feeling good and I know I can do better. I exercise 3-5 times a week and feel pretty good about my routine. Not only does it help manage my weight it keeps my brain focused and energized. Not to mention running on the treadmill is by far the best stress management tool I've ever used. Someone said to me the other day "You're always happy". Well exercise helps a lot. It's not that I don't have stress in my life but I've learned to manage it very effectively through exercise. Plus, I have created a life that I love. So instead of dwelling on the negative I'm stay grateful for all the good in my life. I've learned to change what I can control and let go of the things I can't. All of that plus exercise makes me a happy woman. If you're going through a hard time I highly recommend turning to exercise as a way to cope. It's often said that exercise is the most underutilized anti-depressent. I believe it!
With that I said I'm still struggling a little with my weight. For 5 years I stayed between 143-145 lbs and felt great at that weight. My clothes fit perfectly and I found a good groove with food and exercise. At one point I got down to 135 lbs and that was pretty amazing but took a lot of discipline. Currently I fluctuate between 151 – 155 lbs and not really happy with it. My clothes fit but I'm not as comfortable as I was in the 140s. Obviously, it's not the heaviest I've been but I know I can do better.
Here's my current weigh-in.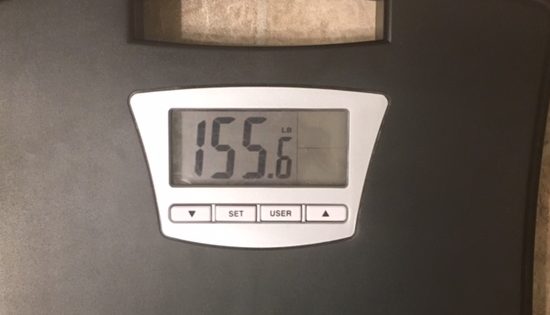 So what's the problem? Well I took some time and looked back over my meal plans from years past and also looked over my entries in My Fitness Pal. I wanted to see the foods I was eating back when I was in the140lbs. The food I'm eating hasn't changed all that much. But it's very clear what my issues are. 1. I'm drinking my calories again. Not only do I continue to enjoy my beloved coffee and creamer but I also like to enjoy wine on the weekends (and sometimes during the week) with my friends. Those calories add up fast!
Looking back my coffee addiction has always been a problem. But now enjoying some extra vino here and there is not helping matters. All of those calories are empty calories and finding there way right to my stomach. Ugh.
Also, I'm 41 and let's be honest it's not going to get easier to lose weight. My hormones are changing and that's effecting my weight loss efforts I'm sure. Basically, I'm not the girl I was 6+ years ago when I started this blog and need to make adjustments so I can once again move towards my goals.
My food goal for this week is to eliminate wine completely. I don't need it and have no problem hanging out with friends and drinking water. I going to limit my coffee to 2 cups a day. A morning coffee and one in the afternoon. I can't get rid of coffee completely. I've tried numerous times and fail miserable each time so I've learned to find ways to fit it in instead of eliminating it. I am going to eliminate Starbucks. There, I said it. I can't justify the calories or money spent. For now Starbucks is going away – please hold me accountable.
Another food goal is drink 64 ounces of water a day. Last week I drank a 32-ounce green smoothie every morning and drank water the rest of the day. I FELT AMAZING! This week I plan to keep it up.
As for exercise I'm continuing with running 3-4 miles 3 -5 times a week. I truly enjoy running so I have no plans to switch up my cardio. However, when I got down to 135 lbs I was doing more toning exercises. Nothing crazy, just resistance bands, squats, lounges, modified push-ups, and crunches. My exercise goal this week is to do strength training 3-4 times a week.
Alrighty, let's get to my meal plan.
Breakfast
Make-ahead tips
I made smoothie kits yesterday. Having these kits made ensures I have all the ingredients ready to blend.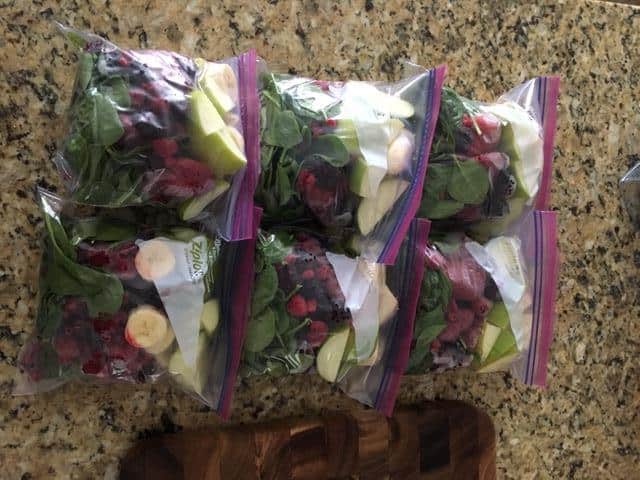 Lunch
Avocado Chickpea Mash with Feta
Make-ahead tips
I made this recipe yesterday and it's DELISH! So far the avocado did not turn brown so I anticipate that this can be made 2 days ahead of time. I'll make another batch tomorrow and post the recipe.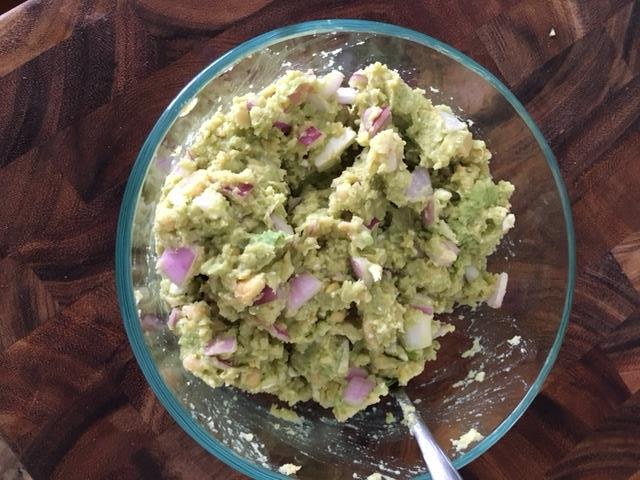 Snacks
Hard-boiled eggs
raw almonds
sharp cheddar cheese sticks
apples and peanut butter
Make-ahead tips
I put together all the snacks into a snack bin.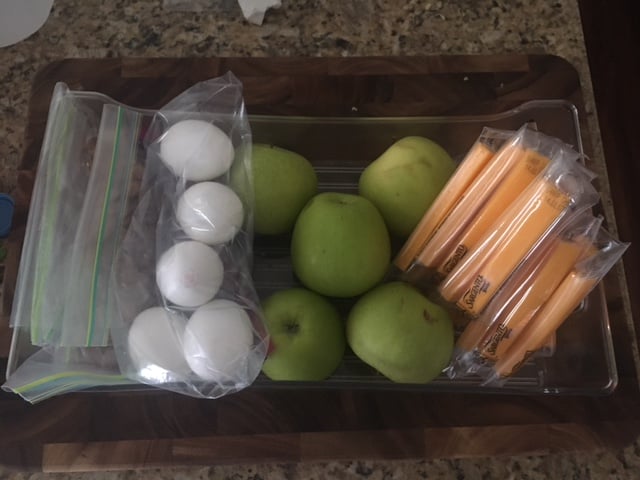 Dinner
Chicken piccata – new recipe
Hello Fresh Toasted Rice Shrimp Bowl
Hello Fresh Veggie Loaded Sausage and Orzo
Make-ahead tips
That's it for my meal plan this week. Fingers crossed I can stick to all of my goals so I can start seeing the scale go down again.