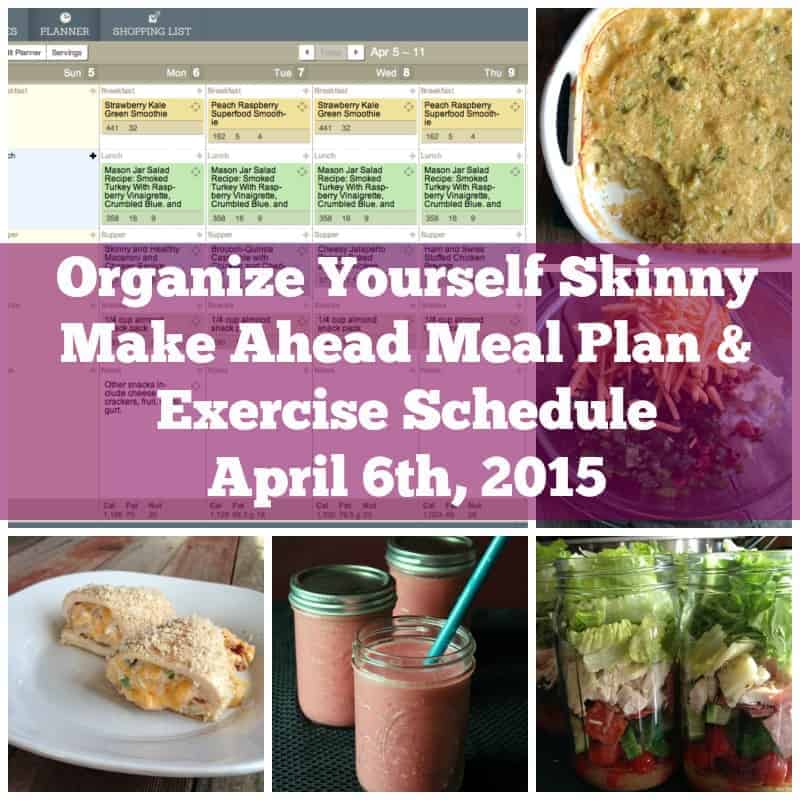 Hi everyone! I hope you had a nice weekend. Mine was great. Yesterday I had family over to my house for dinner. I love to cook for people. Of course, I go overboard but it is fun and I love it. Today we spent Easter at my parents. Basically, another day filled with lots of food. The last few years my mom served a killer macaroni and cheese for Easter. Yes she also makes a juicy tasty ham but – truth be told – it is that creamy cheesy delicious macaroni and cheese we all crave. Oh and I should mention that it is far from skinny. But the amount of cheese used does not even cross my mind because it is just so good and comforting. No worries…I don't go totally hog wild. I do keep my portions under control with the help of willpower. I try very hard to create an environment that does not depend on my willpower so when I do need to tap into it I can usually control myself. Usually 🙂
Onto my weigh in..or maybe not.
With Easter today I woke up in a flurry and totally forget to get on the scale. By the time I realized it I already ate breakfast and drank my coffee. I don't like to get on the scale after I eat so I am going to skip my weigh in this week. Next week I am going to do another round of pictures to go with my weigh in. Here is the first round. Summer is almost here and I need to keep focused and motivated. Stay tuned.
I did order a new exercise ball this week. This one has the ball, a base, and resistant bands. It has great reviews on Amazon and I am super pumped to start using it. You can see the exact one I ordered here.
I love to run but I know I need to put just as much emphasis on toning. I want to see more definition in my stomach, arms, and legs and I know toning and strength training will provide those results.
Here is my weekly exercise schedule.
Monday, Wednesday, Friday, and Saturday
Cardio
30 minutes on my treadmill (5 minute warm up, 20 minute run, and 5 minute cool down)
Strength Training and Toning
15 minutes of toning using my exercise ball. I will be doing the exercises OYS Melissa shared in this post and this one. I am also planning on trying some of the exercises suggested in the manual that came with it. All of these exercises will work on my core, back, arms, and legs.
25 squats – I will do these daily
My Weekly Meal Plan
As always, you can find my meal plan at Plan to Eat too. If you subscribe to PTE, friend me (username organizeyourselfskinny) and you will have access to my recipes and meal plans. You can also print out grocery lists and make adjustments as needed. Please note I get lots of friend requests and I have to manually accept each one. So thank you for your patience if I didn't get to you yet. Don't worry I will get to you soon. But if has been longer than a few days please send me an email ([email protected]) with your PTE username and I will check on it.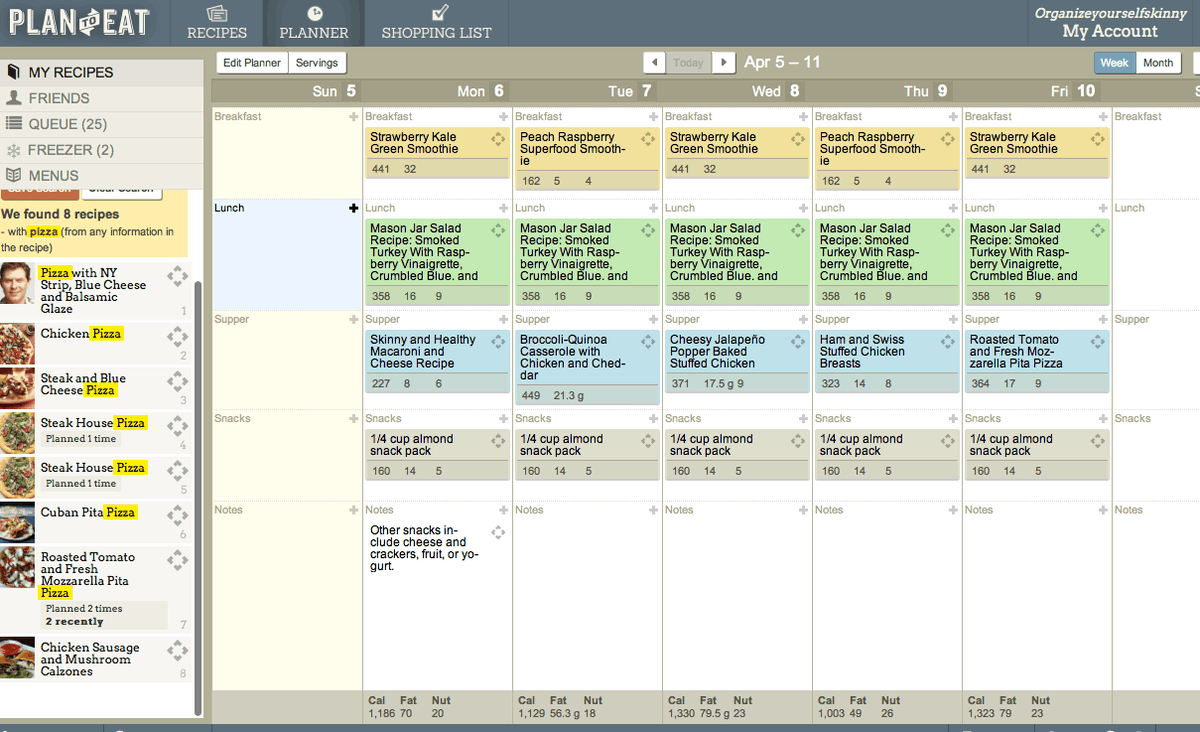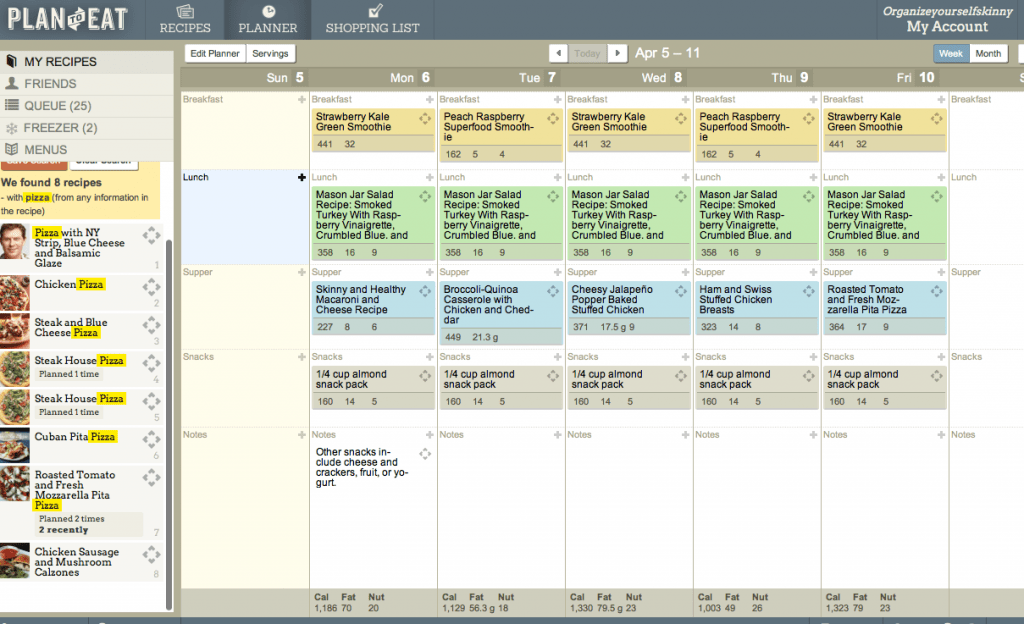 Here is my meal plan.
Breakfast
Make ahead tips 
This week I will make my smoothies in the morning. You can read more about green smoothies in my green smoothie tutorial.  The one thing I do prep ahead of time is my kale or spinach. I always stick it in the freezer after I buy it just in case I don't use it all before it spoils. You can see those freezing tips here.
Lunch
Antipasto Mason Jar Salad – this is kind of a new recipe. Really I just took all my leftovers and created a tasty salad. I linked to my smoked turkey mason jar salad in my PTE menu to give you a similar mason jar salad for your meal plan and/or grocery list.
Make ahead tips
I made all the salads yesterday. You can view my mason jar salad tutorial here if you have any questions.
Snacks
raw almonds
greek yogurt
cheese and crackers
apples or bananas
Make ahead tips
I will portion out the almonds tomorrow or tuesday.
Dinner
Quinoa and Broccoli Cheddar Bake – New recipe. It is going up this week.
Jalapeño Popper Stuffed Chicken – New recipe. It is going up this week.
Tomato and Mozzarella Pita Pizza
Make ahead tips
I made the cheddar bake, jalapeño popper chicken, and macaroni and cheese on saturday. I portioned everything out and froze it.
I also made a tomato and mozzarella salad on Saturday. That will be used for the pizzas.
Ham and swiss stuffed chicken breasts were made a month or so ago. I have a couple left in the freezer.
Meal planning has made a huge difference in helping me lose weight. It keeps me focused, intentional, and organize with the foods I eat. You can read all about this weight loss strategy and the others I use in my new ebook, Organize Yourself Skinny: 5 Strategies to Help Busy People Lose Weight and Create a Healthier Lifestyle. I also include a free bonus 4 week make ahead meal plan with purchase! If you are a blogger check out my affiliate program.
Get Instant Access to My Best Weight Loss Tips & Strategies!
Sign up now for a free step-by-step 7-day email course that I created exclusively for my email subscribers! That's you. I will teach the best habits, strategies, and insider tips so you can enjoy a lifestyle that encourages and supports weight loss! Stop relying on willpower and take control back over your life! You can do this. Let me help!