Layered with thinly sliced corned beef, swiss cheese, fresh sauerkraut, and Russian dressing, these easy-to-make baked Reuben sliders are perfect for a St. Patrick's Day party or any day of the week!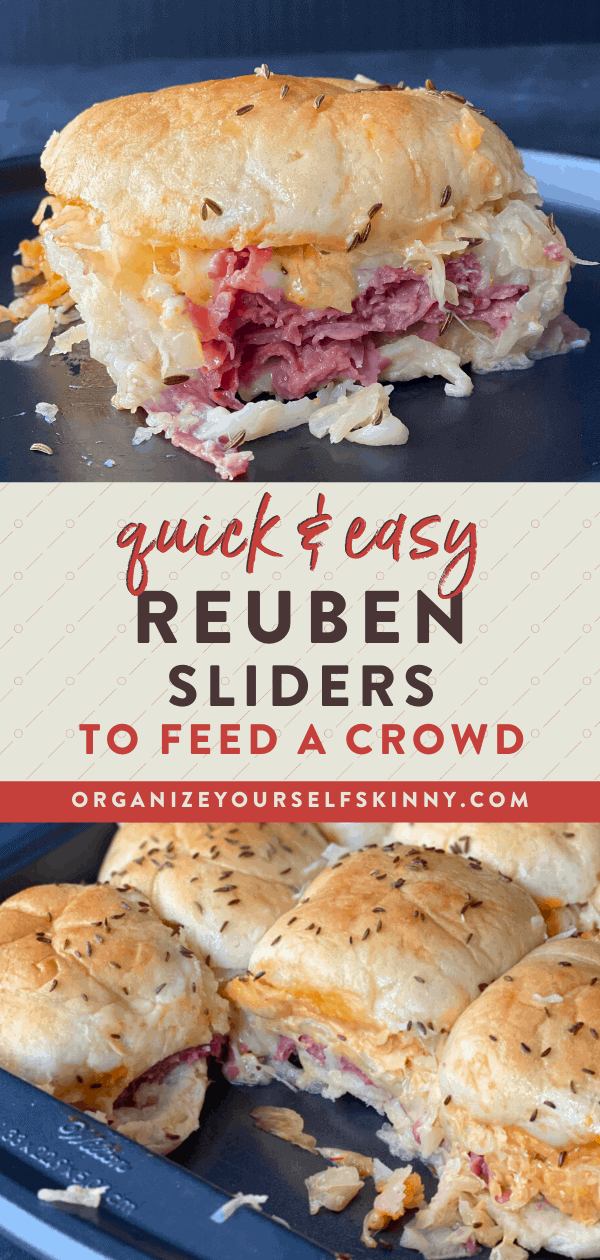 Every year, we go with a group of friends to the St. Patrick's Day Parade in Buffalo, NY.
Did you know Buffalo, NY is one of the top cities for St. Patrick's Day celebrations? Yep! Buffalonians, Irish or not, take St. Patty's day very seriously.
Well, serious in the sense that it's an all-day party filled with parades, beer, and TONS of food.
Anyway, I always pack a bunch of food for the day because if we left the food up to the husbands, we'd need to survive off of beer and a bag of chips. So, between the other wives and I, we take it upon ourselves to make sure we have a good balance of food with us.
I typically like to pack a mixture of items. For example, I'll bring some healthy snacks such as KIND Bars, cheese, crackers, and fruit to give us a varied selection. On a less healthy note, I'll do real basic turkey and cheese sliders, but my favorite of all, that also keeps it festive is my baked Reuben sliders!
Easy Reuben Sliders
These Reuben sliders are great for a party crowd!
It's easy to make a bunch of sandwiches at once. They're also not huge so you can easily have other foods without feeling bloated and full. They're especially delicious straight out of the oven, but they are still very good at room temperature.
You can make these in a foil pan so it's even portable when you need to bring them to a party or parade.
Sometimes, if I'm not in the mood to make a pan of sliders, I'll just make a serving of this Oven-Baked Reuben Dip. It's just as delicious!
To make these sliders, here is a list of all the ingredients you need:
Italian sandwich rolls
Deli corned beef
Swiss cheese
Fresh sauerkraut
Russian dressing
Salted butter
Caraway seeds
How To Make These Sliders Healthy
I wouldn't say Reubens are the healthiest of sandwiches, but these sliders can make the process more manageable and you also get these delicious sliders into your diet – ASAP.
These Reubens are smaller than the typical Reuben sandwich because they are sliders. Also, all the ingredients are measured out so I used just enough of everything to get that perfect Reuben bite without it being over the top with calories.
If you want to lower the fat, even more, you can use less corned beef and thinner slices of swiss cheese. Sargento sells Ultra Thin Sliced Swiss Cheese that is only 40 calories per slice.
I would also recommend replacing the bread rolls for some whole wheat rolls.
How To Make These Delicious Reuben Sandwiches
After you've preheated the oven to 350°, prep the pan you are going to use by layering out all of the ingredients.
First Layer: Bread Rolls
Most slider recipes call for Hawaiian Rolls. These rolls are on the sweet side and unfortunately, my husband doesn't like them at all. So, anytime I make sliders, I use small Italian sandwich rolls.
For Reuben sliders, I personally don't think the flavors would go well with a sweet roll so using a small Italian sandwich roll works great!
For this sandwich recipe, I used 12 small Italian sandwich rolls and I put them at the bottom of my 9 x13 baking pan.
Again, if you're transporting this recipe, then you can use a disposable foil pan. These rolls won't fit perfectly into the pan, so you will need to smoosh them in somewhat.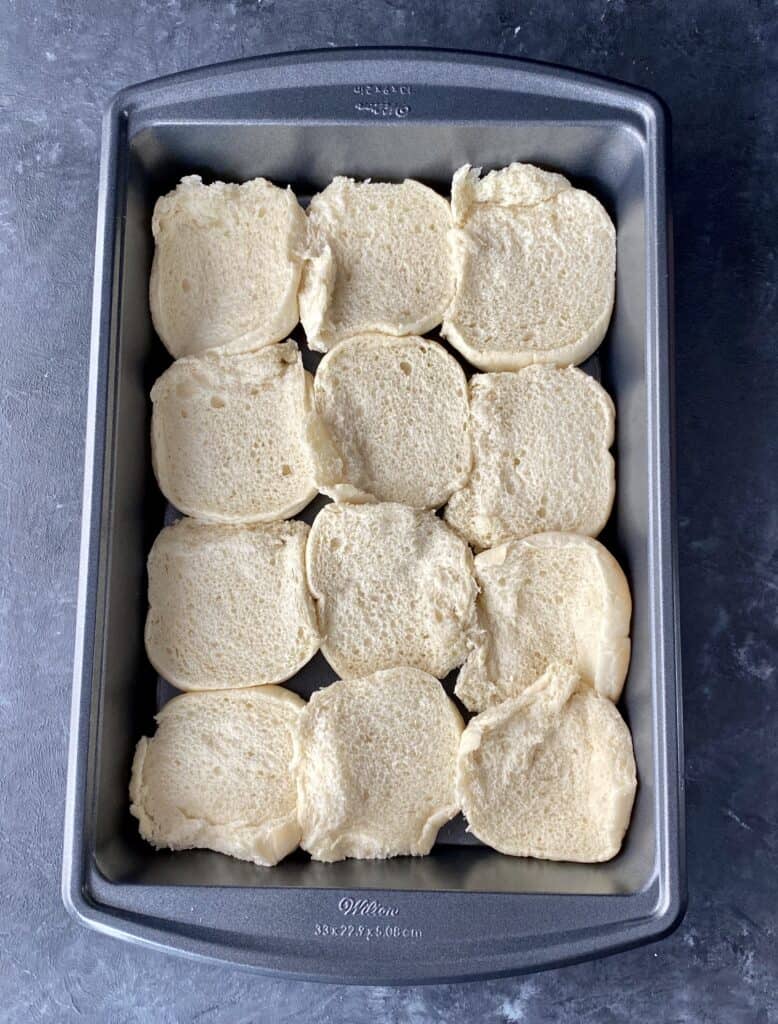 Second Layer: Corned Beef
Then you're going to layer in the corned beef. I used about one pound of thinly sliced deli corned beef.
Don't worry about the corned beef fitting perfectly on each sandwich roll. Just layer so all the bread is covered!
We are going to cut the sandwiches after they're cooked.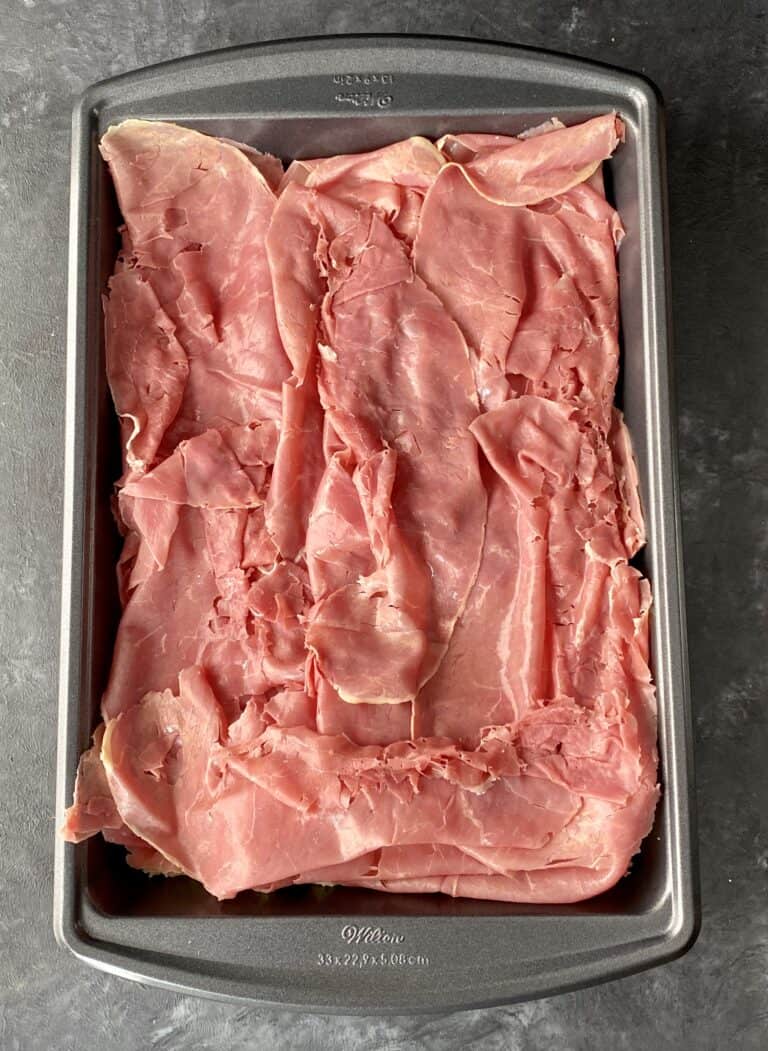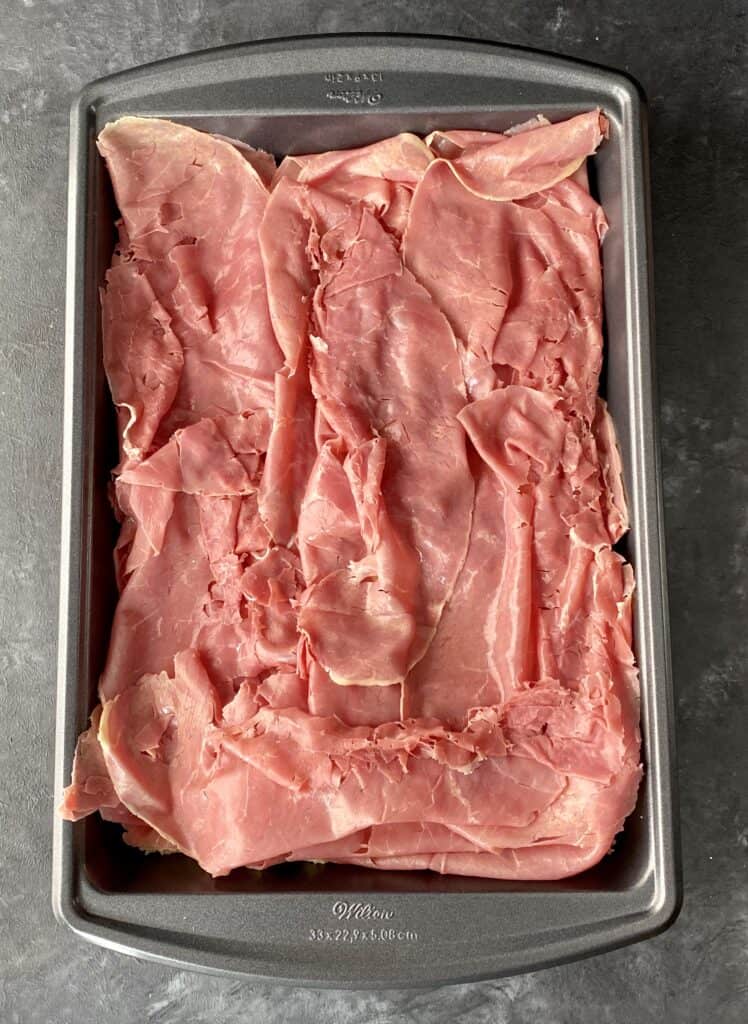 Third Layer: Swiss Cheese
After the corned beef, it's time to layer the swiss cheese. Again, it's okay if the cheese overlaps because after it's cooked, the sliders will be cut.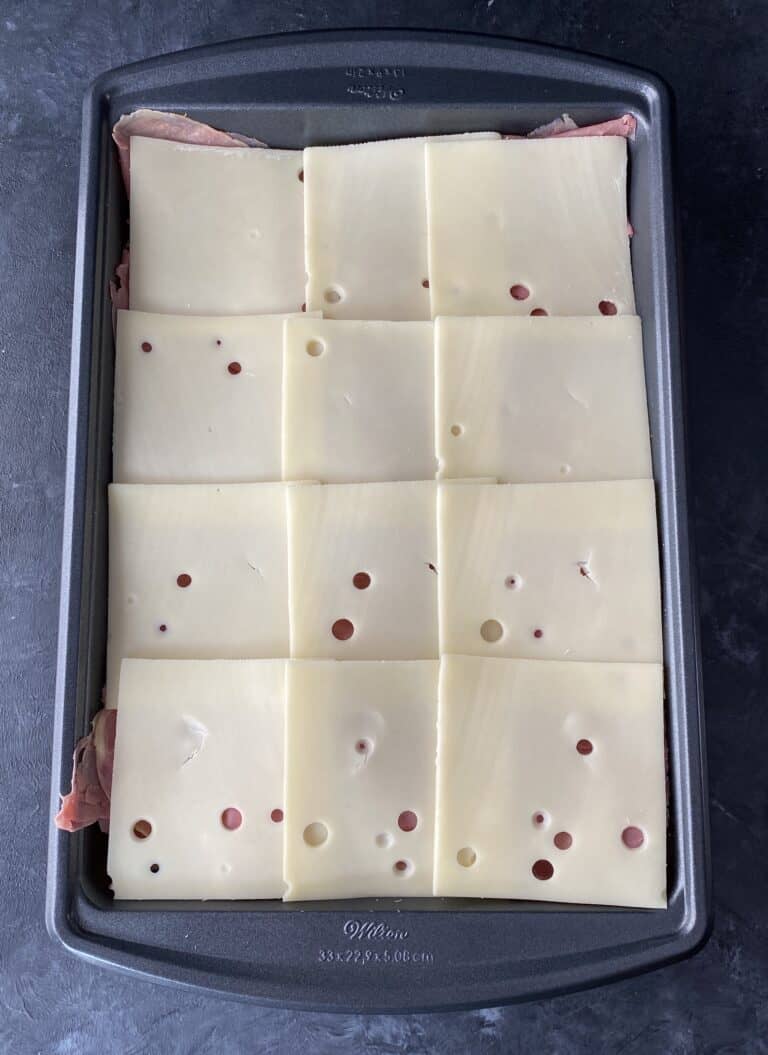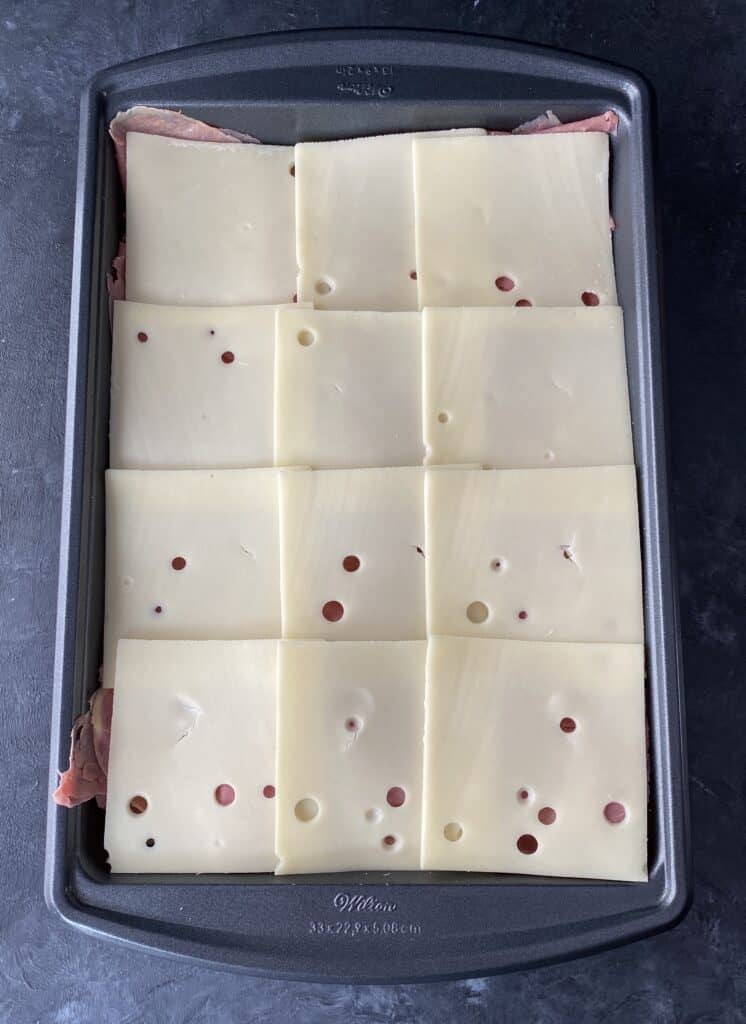 Fourth Layer: Sauerkraut
Next is some delicious sauerkraut!
I love using fresh sauerkraut in this recipe. You can find it in a plastic bag in the meat section near the sausage.
I've only seen it in a 2lb bag and I used about 1/2 the bag or so of sauerkraut for this recipe. Just make sure the entire pan is covered. Of course, you can use more or less depending on how much you love sauerkraut.
Cooking Tip: Make sure the sauerkraut is drained really well prior to layering it on the sandwich. You don't want too much liquid or you'll end up with a soggy sandwich.
If you want to use a canned version of this ingredient, then that'll work too. I recommend picking up 2 cans to make sure you have enough. Again, make sure to drain the sauerkraut before adding it to the layer.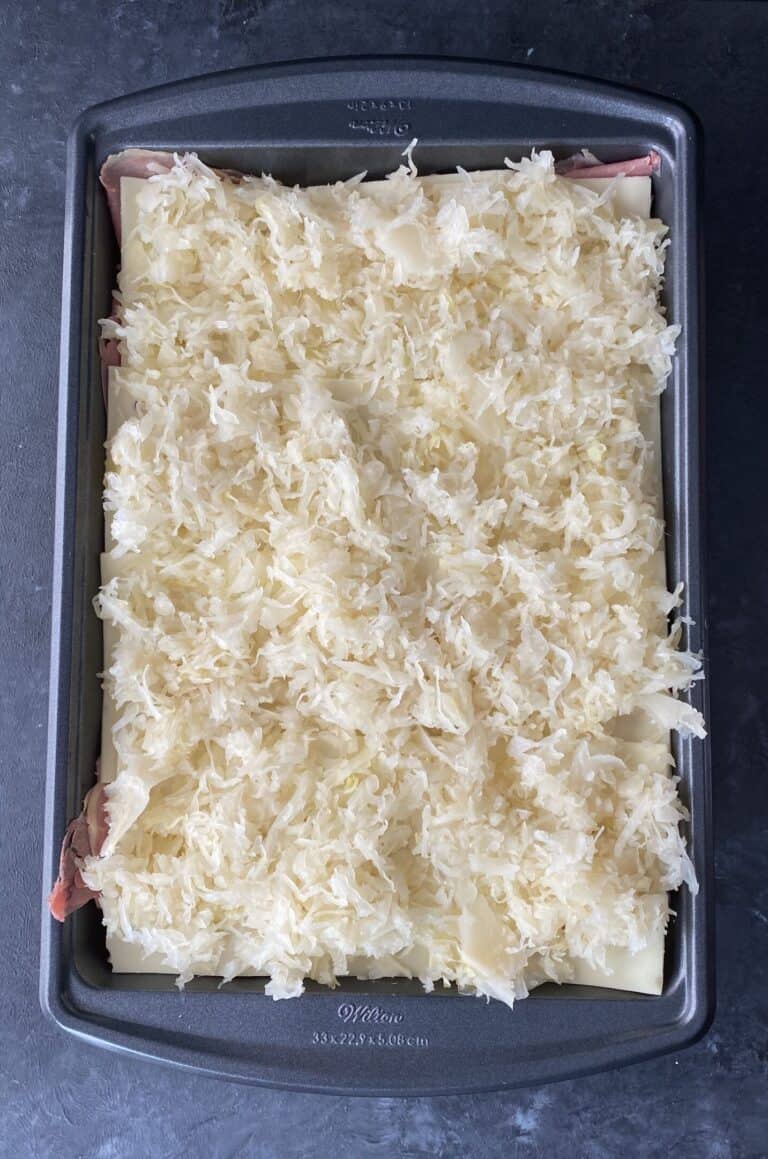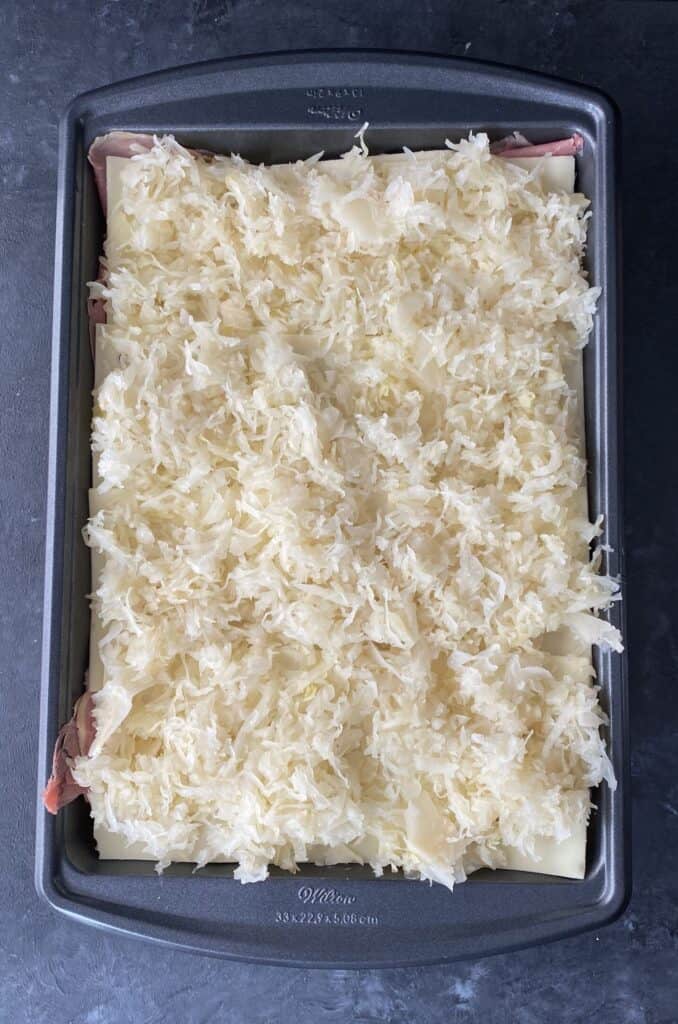 Fifth Layer: Russian Dressing
The next layer is the Russian dressing. This is also known as Thousand Island dressing!
I used about 1/2 cup and drizzled it up and down the sliders to make sure there was an even layer throughout the sandwich.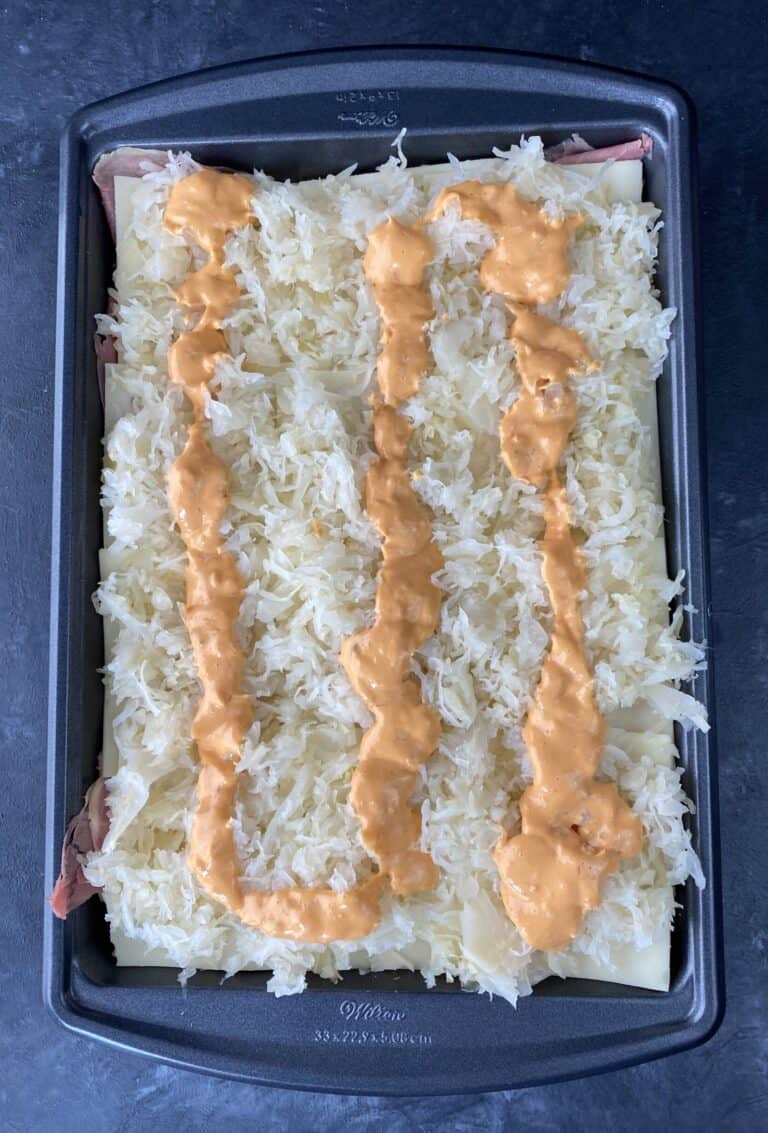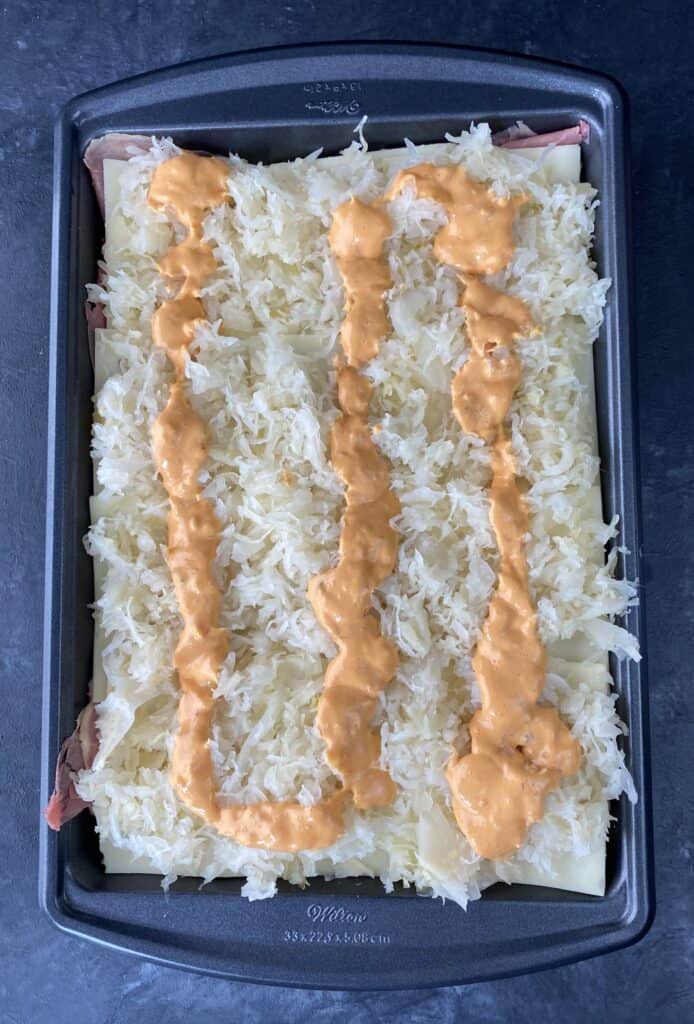 Final Layer: More Bread And Butter
And finally, I added the last layer: The tops of the rolls and some melted salty butter. Yum!
I added the finishing touch by sprinkling some caraway seeds over top.
One of the identifying factors of a Reuben sandwich is the rye bread. Because I couldn't find rye rolls (do they even make those?), I decided to give it a rye touch by adding the caraway seeds.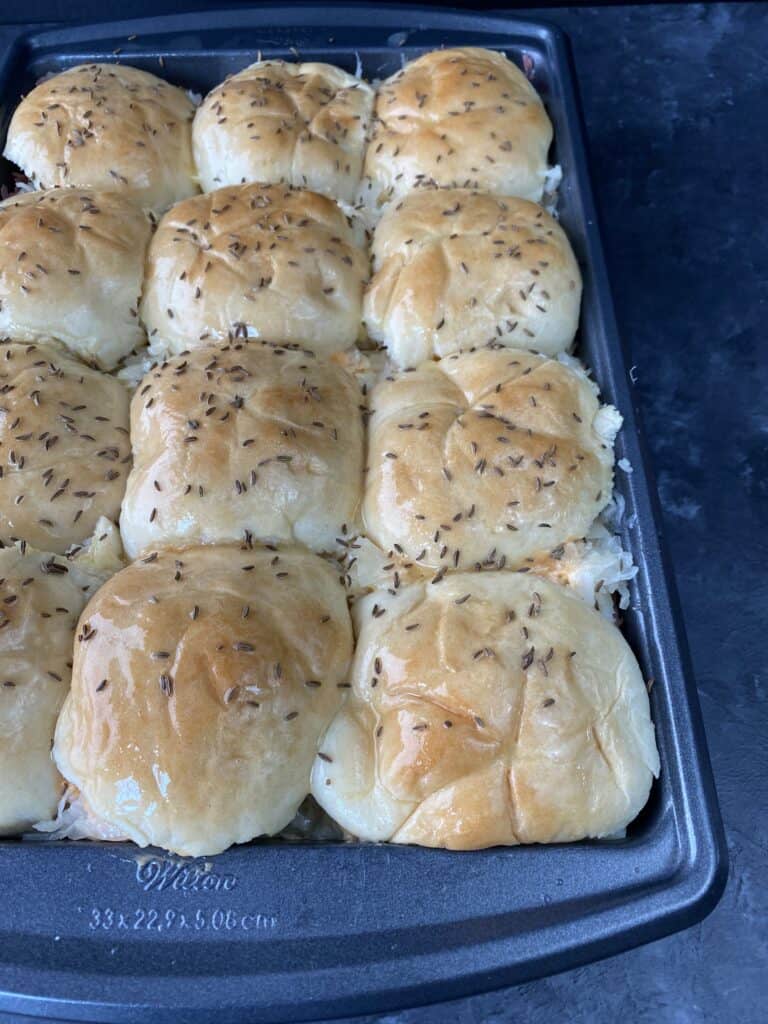 Time To Bake These Reuban Sandwiches
Once the Reubens were all prepped and ready, I covered the sandwiches with foil and baked them in the oven for 30 minutes.
After the sliders are done cooking, you'll want to run a knife up and across the sandwiches. This makes it so much easier to remove each of the sliders from the pan.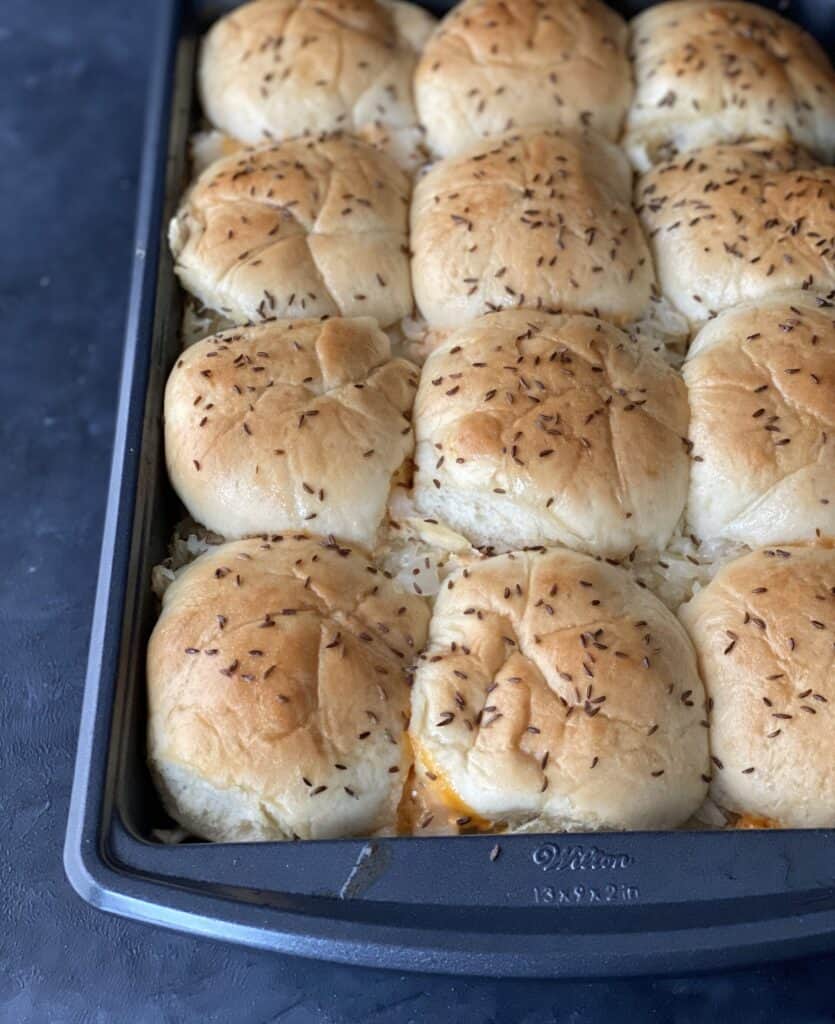 Look at deliciousness in these Reuben sliders! All the flavors are melted together to create the perfect Reuben bite that everyone looks forward to on St. Patricks day!
But, don't save these just for once a year. Make these any time of the year and the Reuben lovers in your life will be forever grateful!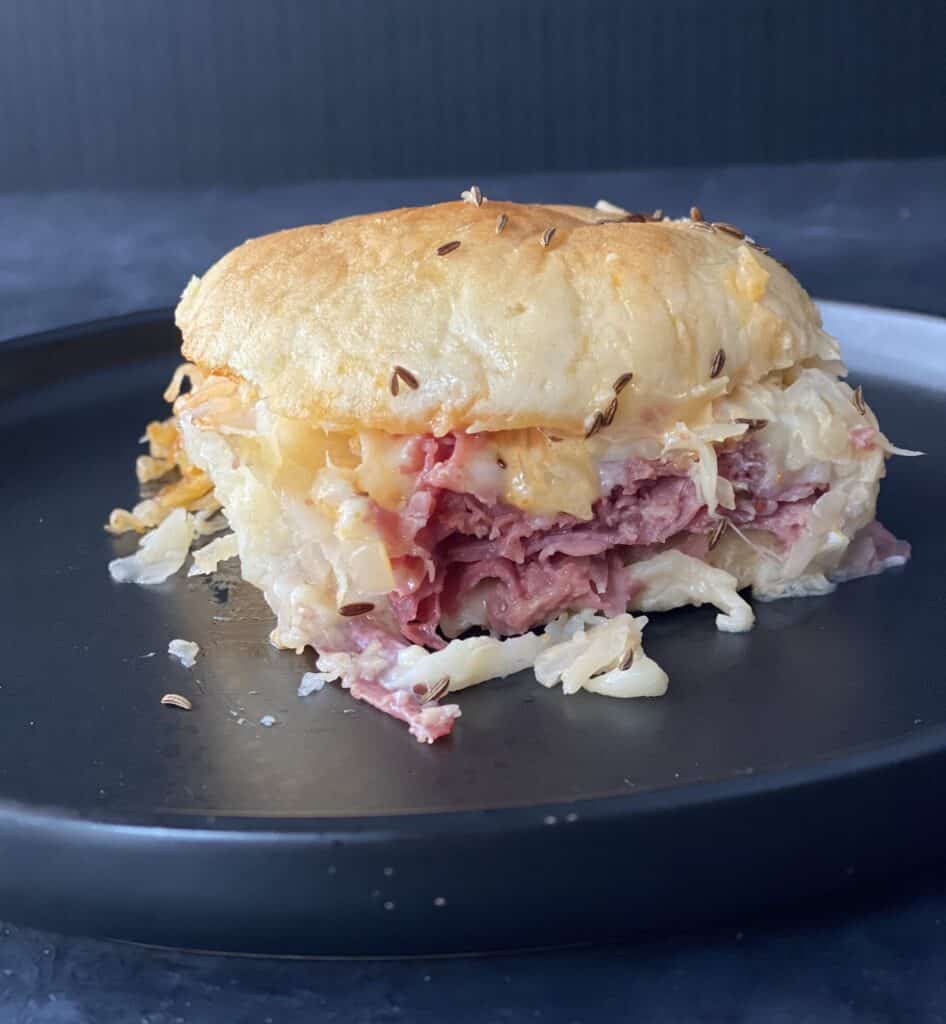 More Healthy Party Dishes
If you loved making these Reuben sandwiches, take a look at these other healthy party dishes to make for your next get together: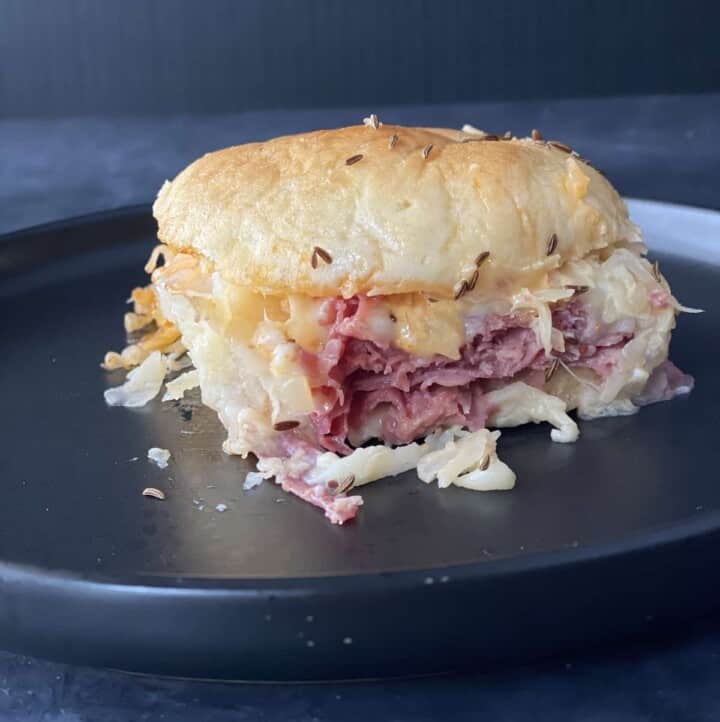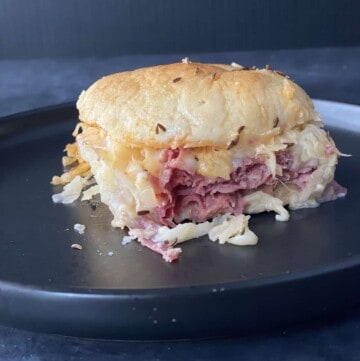 Reuben Sliders
These baked reuben sliders are perfectly cravable any time of year, but work especially well for st. patty's day. Layers of corned beef, sauerkraut, russian dressing, and swiss chese are baked inside of rye rolls for the perfect snack or meal.
Print
Pin
Rate
Ingredients
12

pack small Italian sandwich rolls

1

lb

thinly sliced deli corned beef

12

thin sliced swiss cheese

1

lb

fresh sauerkraut

drained

1/2

cup

Russian dressing

2

tablespoons

salted butter

melted

2

teaspoons

caraway seeds
Instructions
Preheat oven to 350 degrees

Layer the bottom halves of the sandwich rolls into the bottom of a 9 x 13 pan.

Layer the bread with the corned beef, swiss cheese, sauerkraut, and end with Russian dressing.

Place the sandwich tops on and brush with butter.

Sprinkle the tops of the bread with caraway seeds.

Cover the pan with foil and bake for 30 minutes.

Cut the sandwiches and serve hot or warm.
Nutrition
Serving:
1
g
|
Calories:
264
kcal
|
Carbohydrates:
27
g
|
Protein:
22
g
|
Fat:
17
g
|
Saturated Fat:
7
g
|
Fiber:
2
g