These Healthy Deviled Eggs are made with high-quality eggs, light mayonnaise, and flavored with a kick from horseradish and spicy mustard to create the most addicting deviled eggs ever.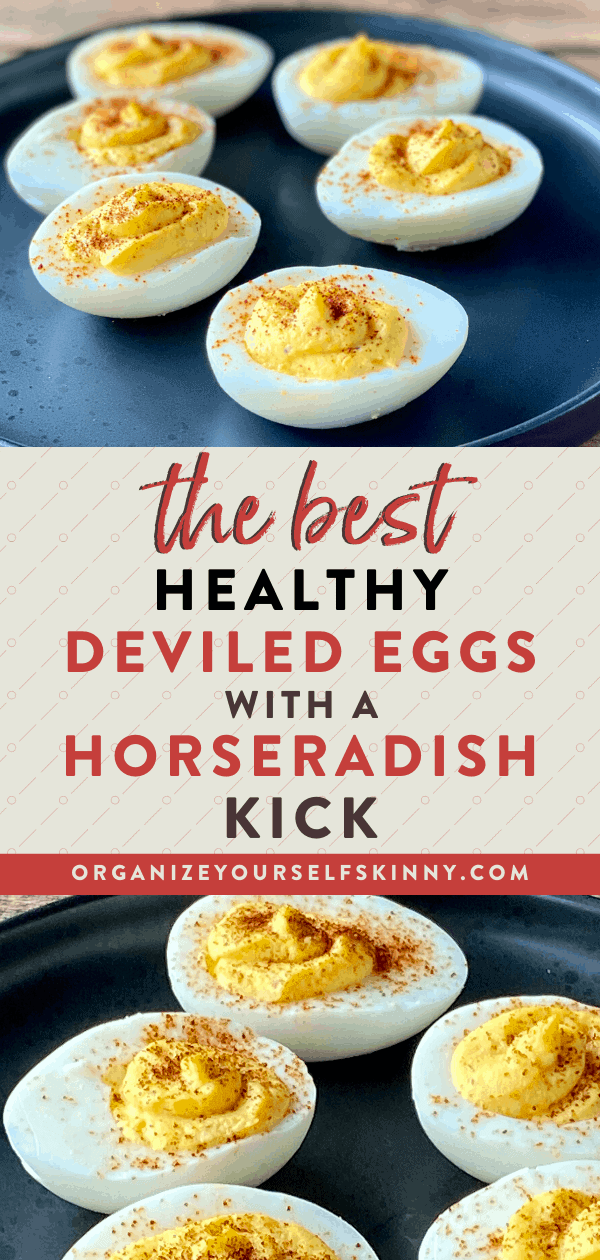 Deviled eggs are a huge party favorite especially around Easter time when there are plenty of hard-boiled eggs being used up for egg hunts. Not only are these great to make for a party, but they also make the perfect low-carb/high-protein gluten-free snack.
In fact, deviled eggs are one of my husband's favorite snacks to have on hand in our fridge. These go like hot cakes whenever I make them!
My favorite thing about deviled eggs is how super simple they are to make. Even though you can fancy them up with all kinds of ingredients, the classic version only needs eggs, mayo, and some spices. My family prefers it when I make them with a kick from a little bit of spicy brown mustard and horseradish.
Trust me, once you have it this way you'll never go back!
Healthy Deviled Eggs with Horseradish
Besides the eggs, you will need everything on this ingredient list to make this party appetizer:
Light mayo
Horseradish
Spicy mustard
Onion powder
Garlic powder
Salt
Pepper
Paprika
Baking soda
Cooking Tip: Because deviled eggs are most often made as an appetizer, this recipe makes about 20-24 eggs. You can easily half the recipe if you want less.
How To Make Deviled Eggs Healthier
Let's chat real quick about how I lightened up this recipe.
Light Mayo vs. Greek Yogurt
If you scour the internet, you'll find all different kinds of healthy deviled egg recipes using greek yogurt or other types of mayo alternatives. Now I'm all one for using Greek yogurt in recipes but in egg recipes, I prefer to use light mayonnaise.
Greek yogurt has a tang to it that I don't think blends well with the filling of a deviled egg. Plus, in my opinion, you can't beat the creaminess of mayonnaise. Light mayo is a great substitute for the real thing!
Use Less Egg Yolks
Another way I make healthy deviled eggs is to only use 8 or 9 of the egg yolks instead of all 12. Whenever I used all 12, I have way too much filling leftover. So, I decided to keep some of them out to reduce the fat.
With that said I only fill up the egg white halves just a bit over the top. This gives the bite just enough filling to be satisfied. Plus, the filling has so much flavor you don't need a huge amount!
Use High-Quality Ingredients
To make this recipe healthier, I try to use high-quality eggs and ingredients like organic mayonnaise to make sure I am getting the most nutrients as possible with fewer additives as I can. Controlling the ingredients is the best way to turn a recipe healthier.
Speaking of eggs, a lot of recipes call for old eggs instead of fresh ones. Let's be real though. Unless you are purchasing directly from a farm, then you really have no idea how old the eggs are.
Cooking Tip: Purchase organic pasture-raised eggs as this will give you the highest quality and best-tasting eggs.
How To Boil Eggs For Deviled Eggs
Now, let's talk about how to boil the perfect hard-boiled egg!
I make hard-boiled eggs every single week for my mason jar salads so I'd like to think I'm somewhat of an expert – or at the very least, I know what I'm doing.
I will admit; My first instinct is to make hard-boiled eggs the old fashion way. I don't break out the instant pot or bake them.
Here's how I do it.
Boil water on the stove.
Add 1 teaspoon of baking soda. Baking soda makes it easier to peel the shells off hard-boiled eggs. It increases the alkaline (which eggs have) and this helps the shells come off easier.
Place the eggs in the pot to boil.
When they are done, immediately place them into an ice bath as this will help the eggs to stop cooking. This also helps the shell come off the egg easier.
Once the eggs have cooled down, remove the shell and place them in a glass container.
Cooking Tip: Use a spoon to peel the shell off the eggs. This works wonders! Crack the egg on the counter and then slide the spoon under the skin of the shell. Softly wiggle it around and that should make the eggshell come right off.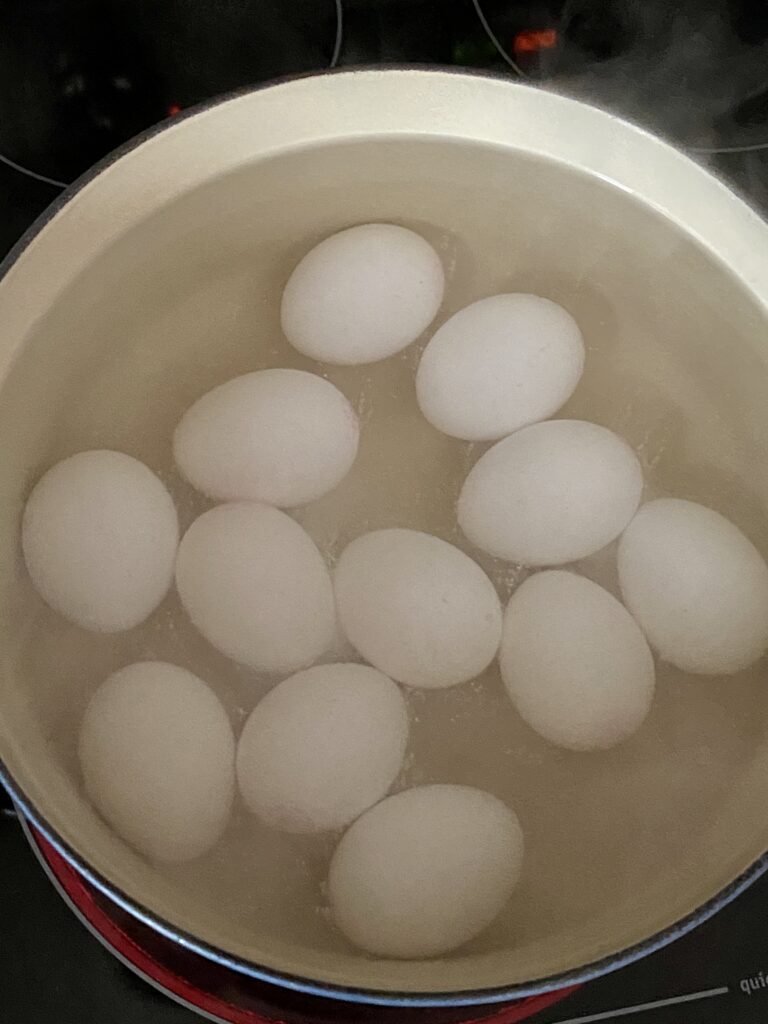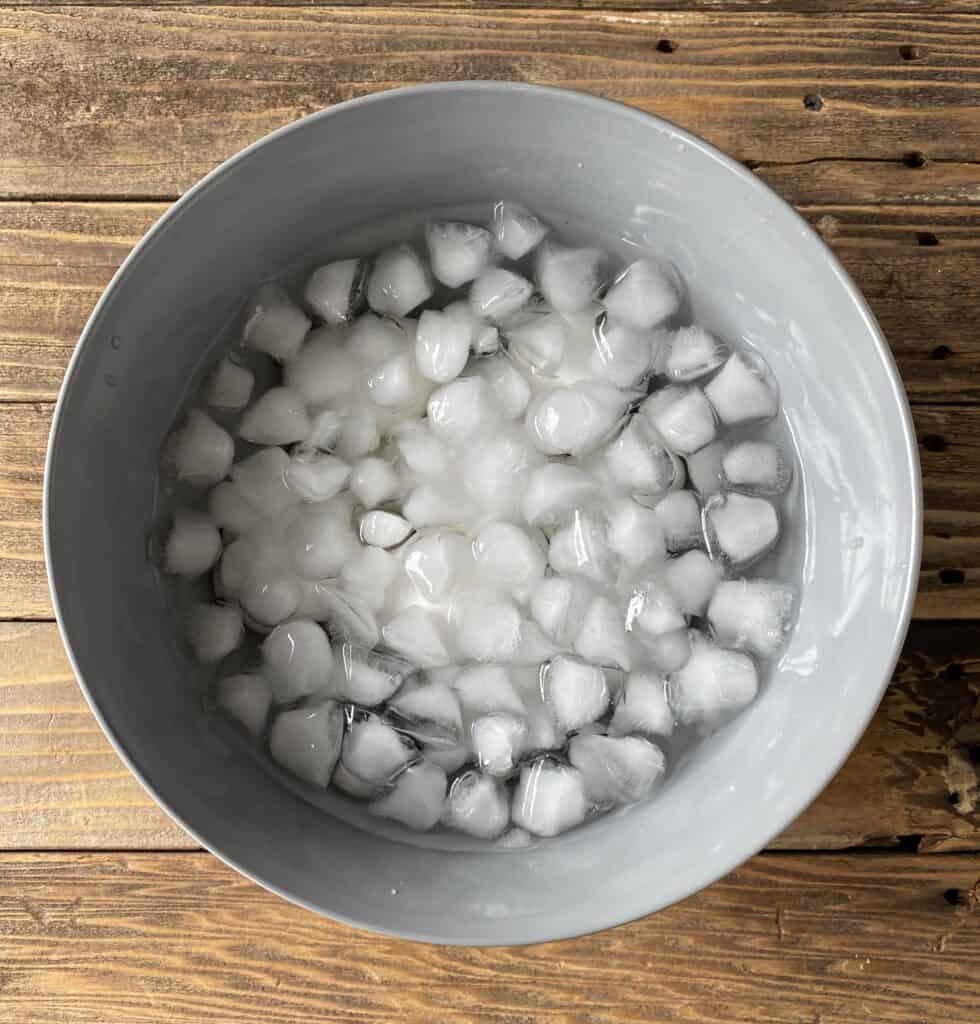 How Long To Boil The Eggs
Once the water is boiling and I have added the baking soda, I place the eggs in the pot and boil for about 12 minutes. I've also read that you can put the eggs in before the water boils but I just wait till the water boils.
In my experience, 12 minutes makes the perfect hard-boiled egg. The yoke is perfectly cooked yet it's still creamy but firm. It should pop right out of the shell after the egg is sliced in half.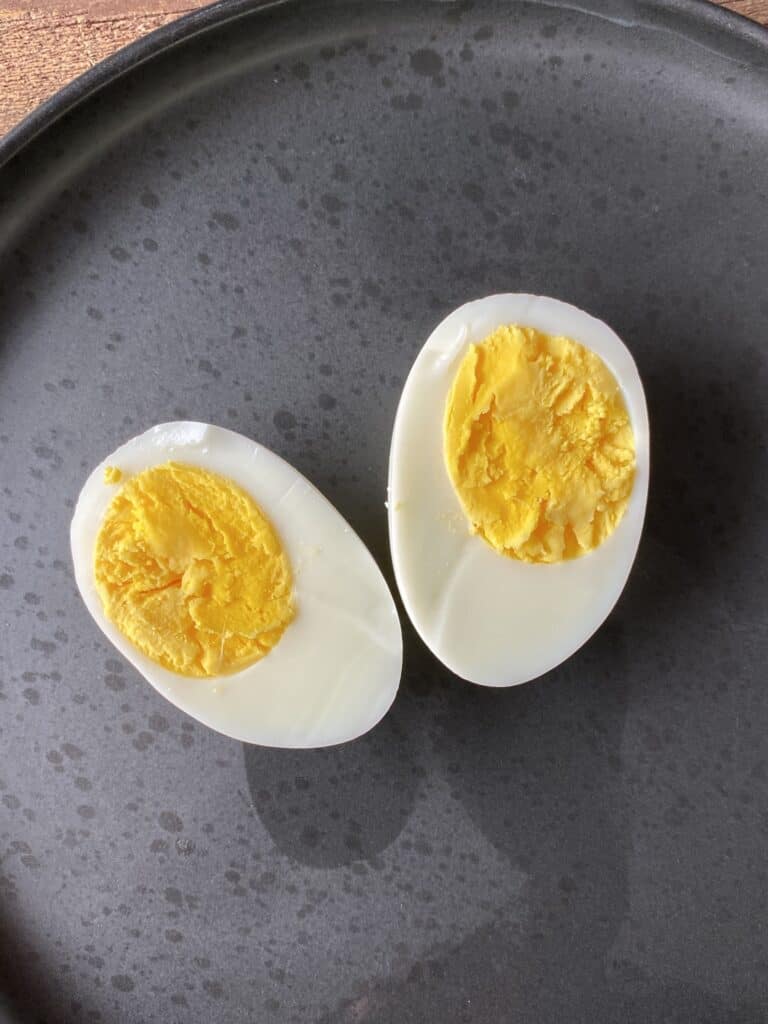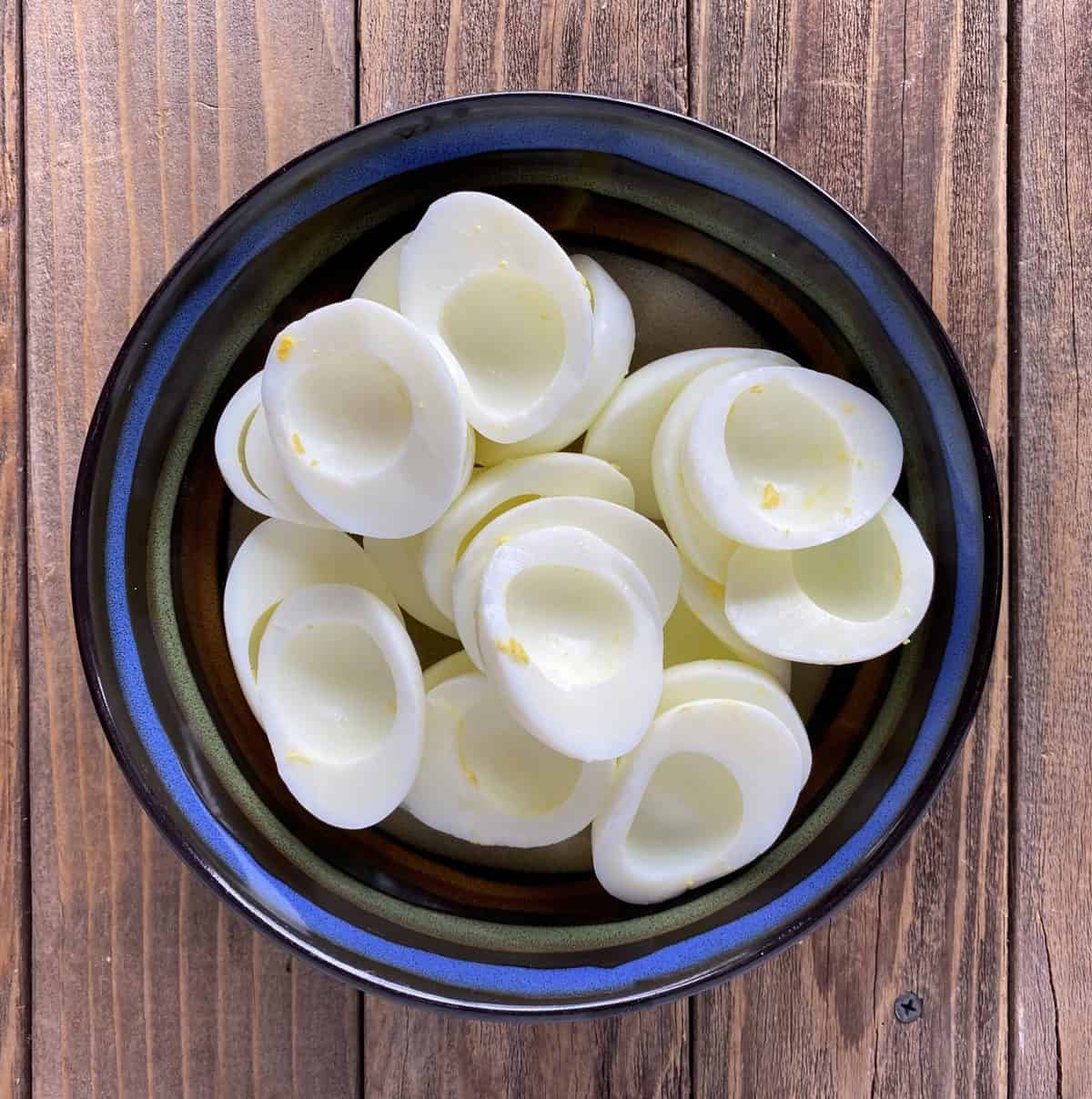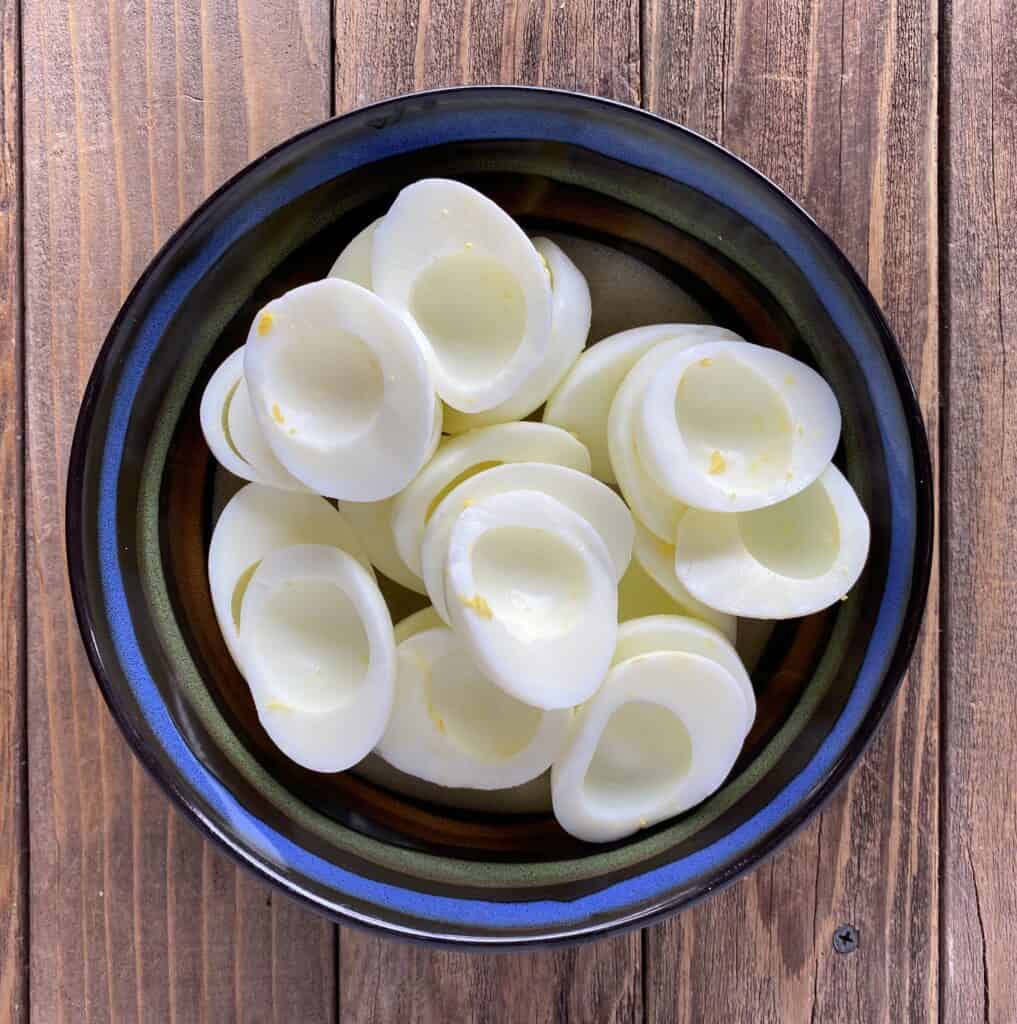 How To Make The Filling For The Horseradish Deviled Eggs
After you have removed the shell, cut the eggs in half and scoop out the yolk into a bowl. Try to get this an even as possible so you have the same amount of room for the filling.
With the yolks, add the mayo, horseradish, mustard, and all of the spices.
Now, to blend the filling, you can do this two ways:
Use a hand mixer or immersion blender to get a smooth filling.
Use a spatula and gently fold all the ingredients. I do have to warn you- you might not get as smooth of a filling as you would with the blender.
Notes About Making This Egg Filling
You can play around with the spices until you get the flavors perfect for your taste. After you mix it, give it a taste and, if needed, add a little more salt or whichever of the spices you think it is missing.
As for the horseradish…my advice is to start with 1 -2 teaspoons of horseradish. Blend it up and then give it a taste before adding any more. If you want more of a kick, then add in another teaspoon. I use 1 tablespoon of horseradish and 2 teaspoons of spicy mustard and this is the perfect amount of spice for us.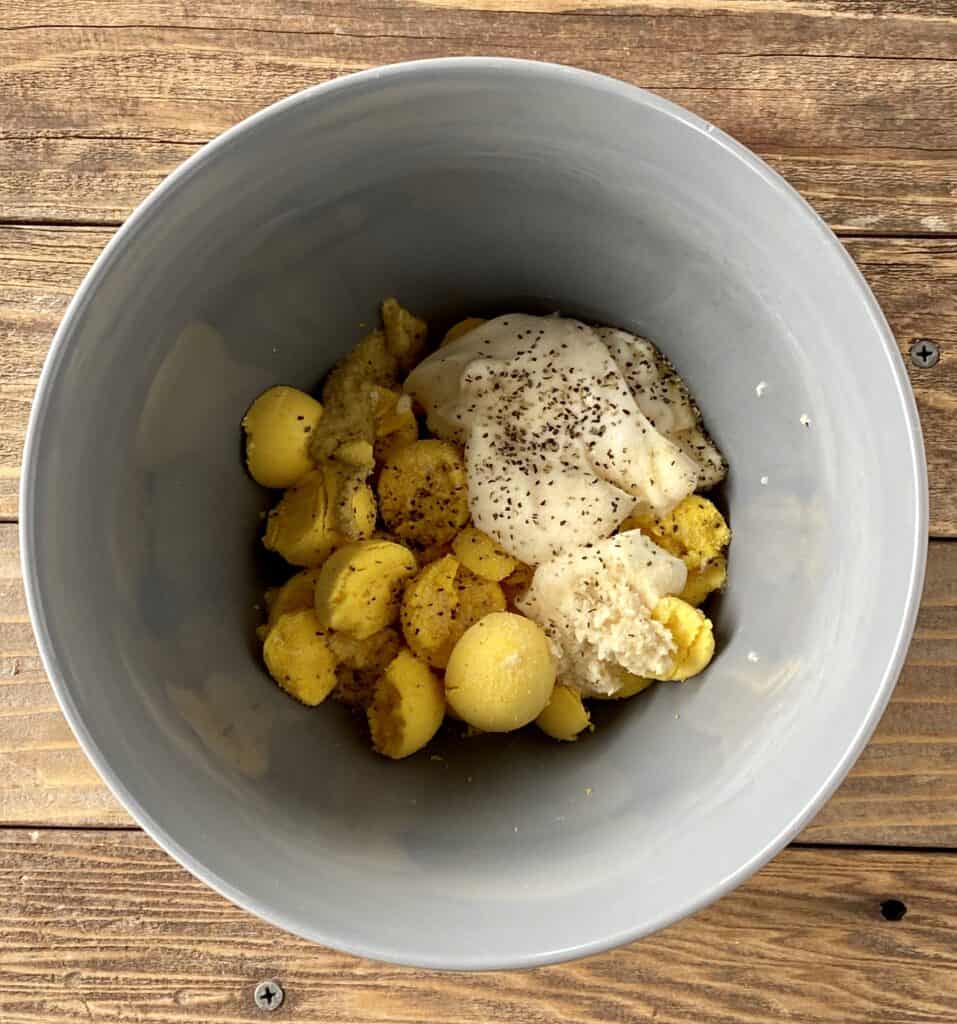 Time to Put Together These Spicy Deviled Eggs
When it comes to filling the deviled eggs, you can get as fancy as you want!
If you happen to have an extra frosting bag with some fancy tips, you can certainly do that. Personally, I keep things really simple and use a plastic quart-size bag. I put the deviled egg filling in the bag and cut off a small piece of the tip. Then, I squeeze the filling into each of the eggs.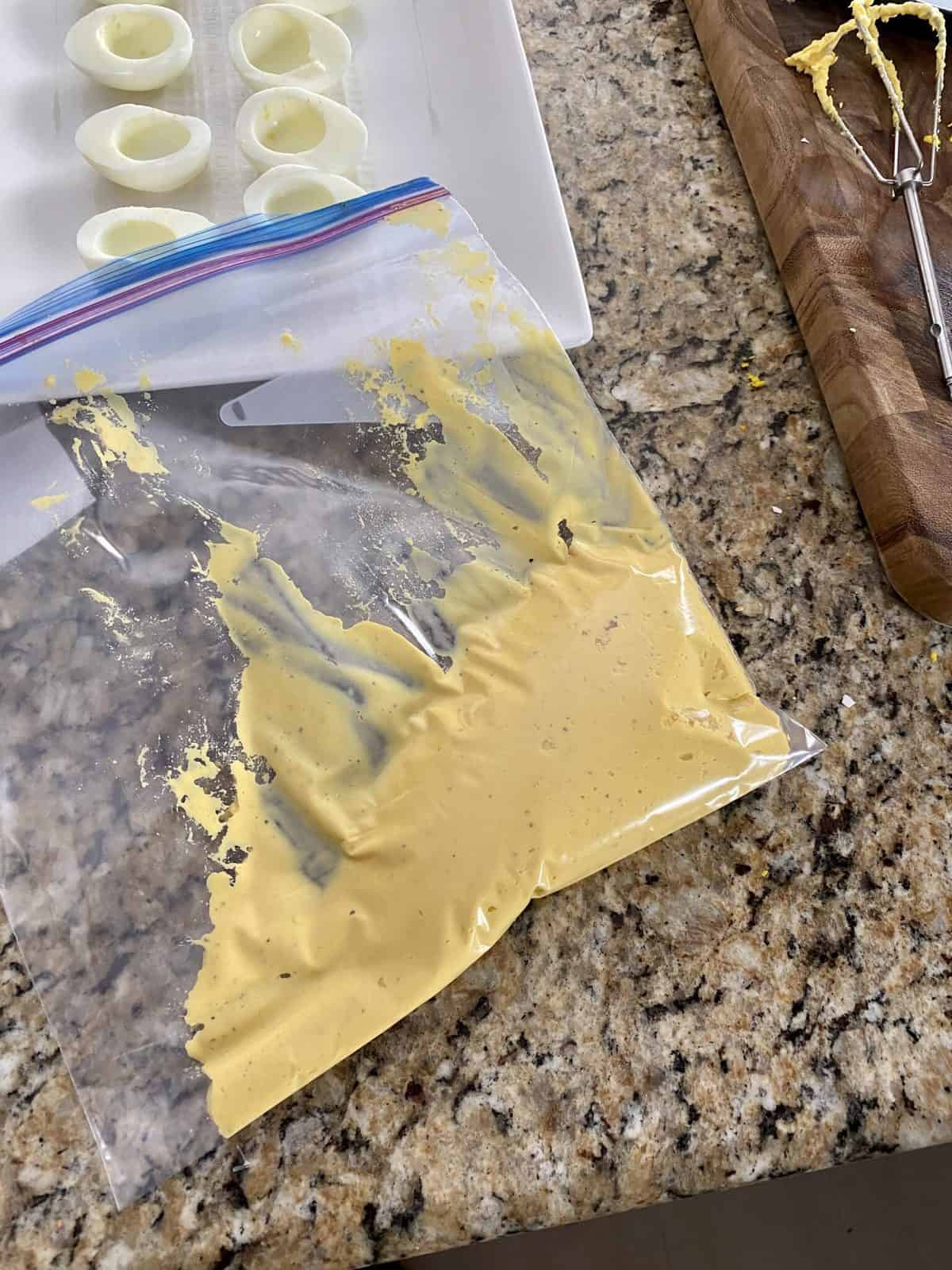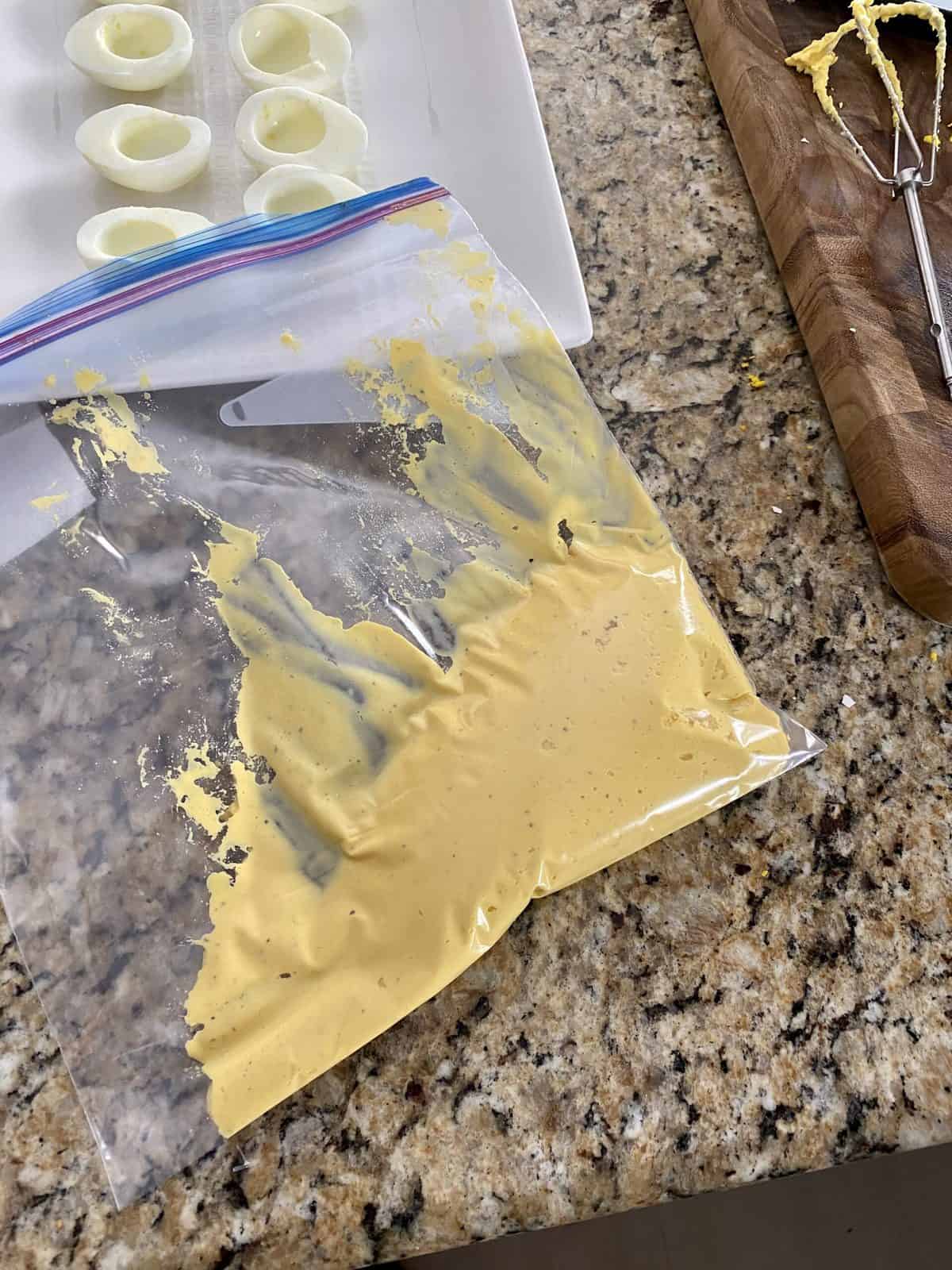 After the eggs are done, I put them in the refrigerator for a few hours or overnight to cool completely. I think these taste even better when made the night before. The flavors tend to really pop!
If you plan to make deviled eggs a lot, I recommend getting a deviled egg tray like this one from Amazon . It makes it so much easier to store and transport.
Deviled eggs can be slippery little suckers! But they are well worth the effort. Enjoy!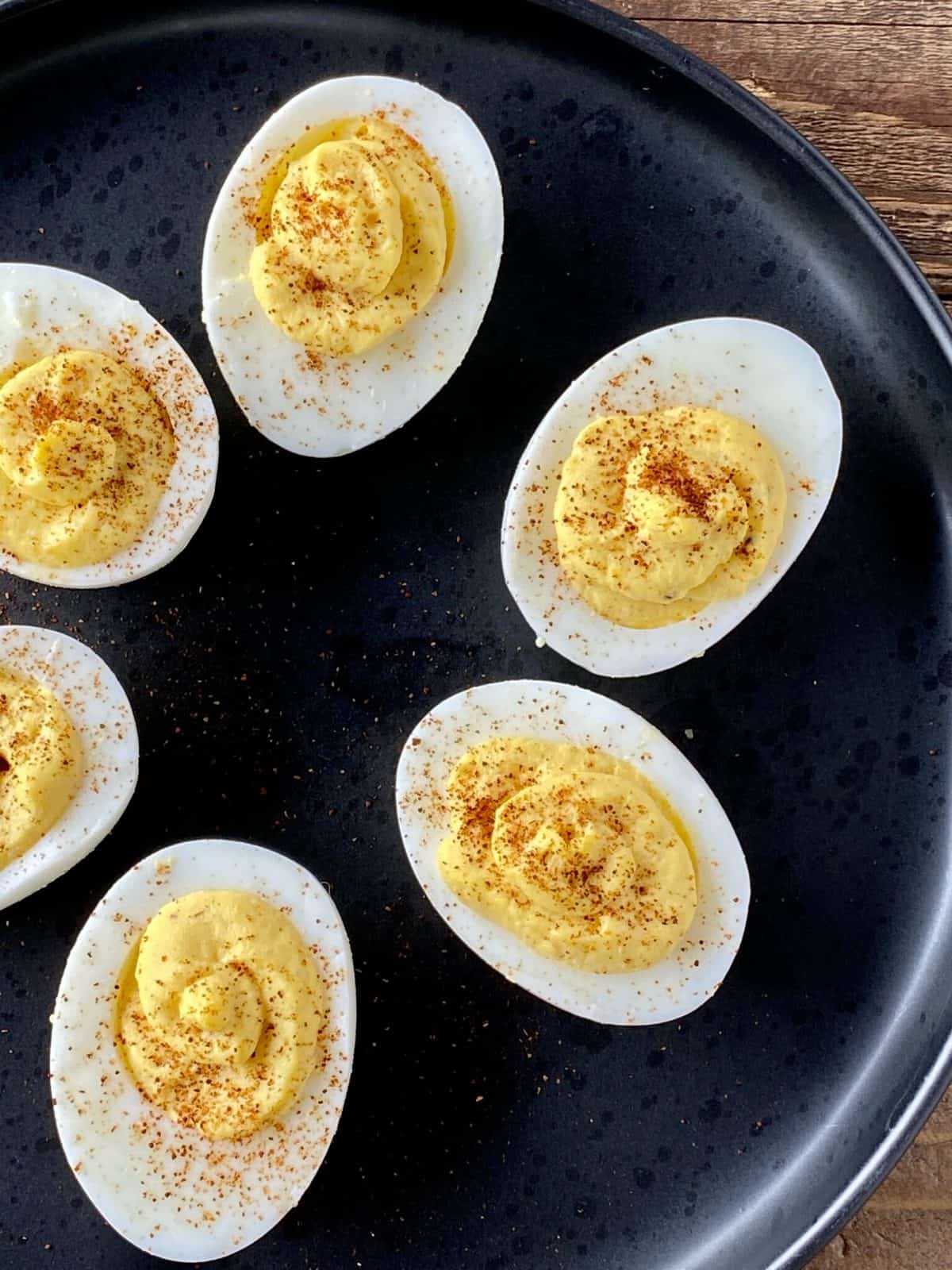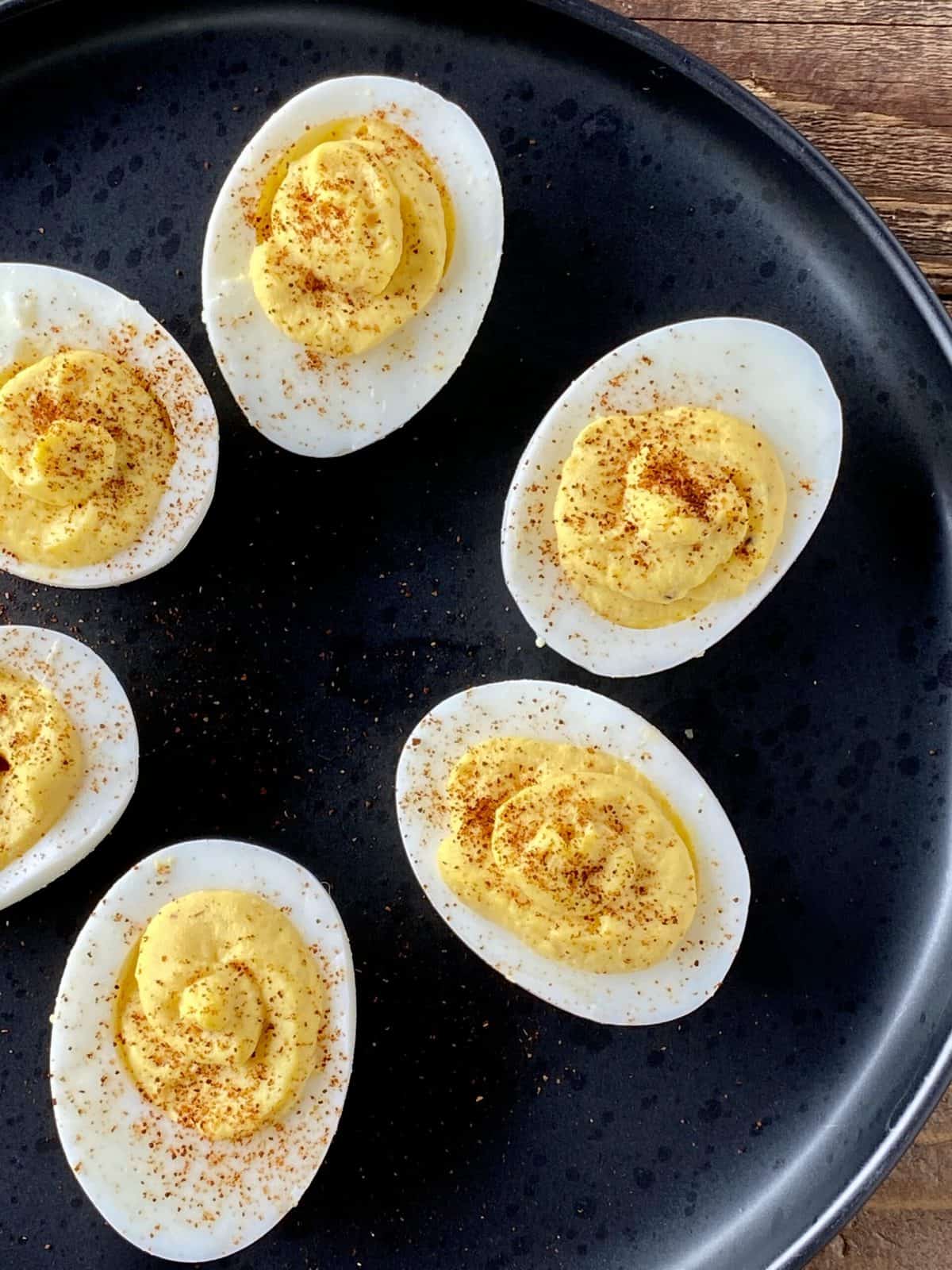 More Healthy Party Appetizers
Along with these healthy deviled eggs, check out some of these fun appetizers to make at your next party gathering:
You can't ever go wrong by taking some of these healthy deviled eggs to your next fun party gathering! This recipe will definitely be the talk of the party. Share a picture and tag me on Instagram or Facebook if you decide to make them!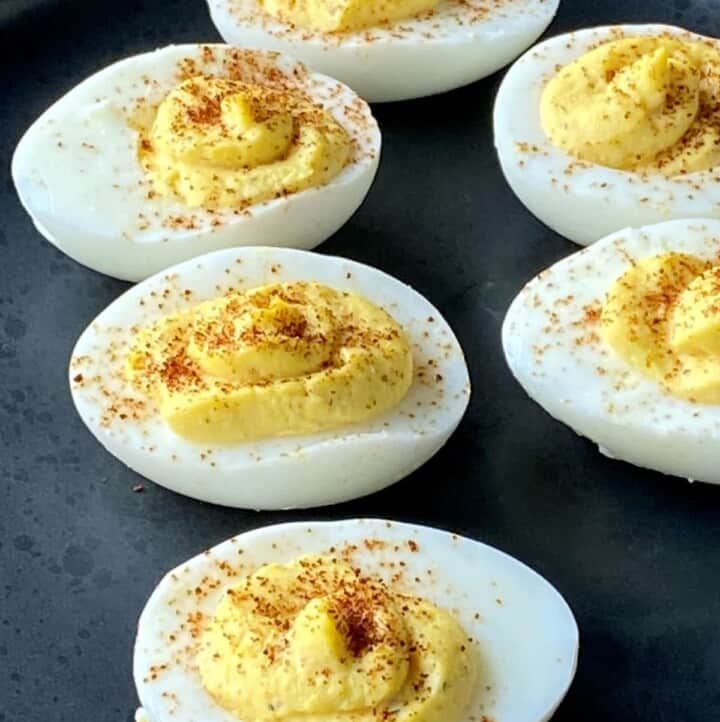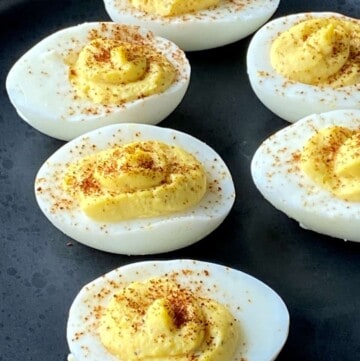 Healthy Deviled Eggs with Horseradish
These Healthy Deviled Eggs are made with high-quality eggs, light mayonnaise, and flavored with a kick from horseradish and spicy mustard to create the most addicting deviled eggs ever.
Print
Pin
Rate
Ingredients
12

eggs

1

teaspoon

baking soda

⅓

cup

light mayo

1 - 3

teaspoons

horseradish

2

teaspoons

spicy mustard

1/2

teaspoon

onion powder

1/2

teaspoon

garlic powder

1/4

teaspoon

salt

1/4

teaspoon

pepper

1/2

teaspoon

of paprika
Instructions
Fill a 5 - 6 quart pot with water and a teaspoon of baking soda.

Bring the water to a boil.

Carefully add in the eggs and boil for 12 minutes.

Remove the eggs and place into an ice batch.

Once the eggs are completely cooked remove the shells.

Next, cut the eggs in half and place 9 of the yokes into a medium sized mixing bowl with 1-2 teaspoons of horseradish, 1 teaspoon of spicy mustard, onion powder, garlic powder, salt, and pepper. Discard the other yolks or use them for another recipe.

Using a hand blender, blend all the ingredients together. Give the filling a taste. If needed, add the rest of the horseradish and mustard along with more salt and pepper.

Add the filling to a gallon-sized plastic bag, cut off the tip, and fill each of the egg white halves with the egg yolk filling. Sprinkle each deviled egg with paprika.

Refrigerate for 3-4 hours or overnight.

Serve cold.
Nutrition
Serving:
1
g
|
Calories:
45
kcal
|
Carbohydrates:
1
g
|
Protein:
3
g
|
Fat:
3
g
|
Saturated Fat:
2
g