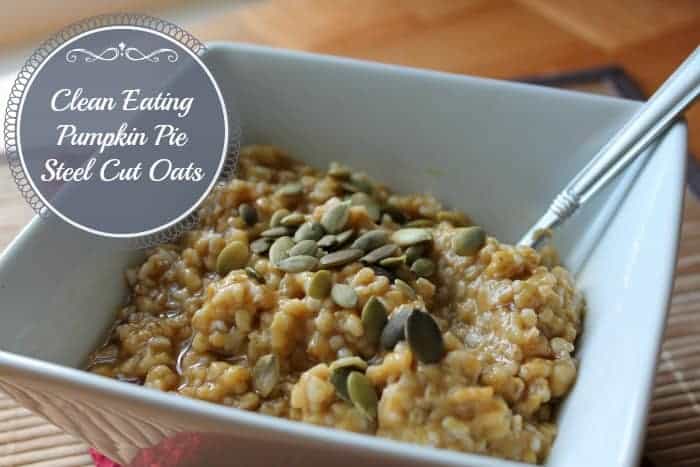 I started dreaming about this pumpkin pie oatmeal recipe around July. I thought about making it then but decided to what until the fall when I could fully enjoy the aroma of pumpkin and spice flowing through air. For some reason it does not have the same effect during the hot humid summer months.
The base of this recipe is what I used for all of my steel cut oatmeal recipes. 1 cup steel cut oats  + 3 cups water + 1 cup milk. Works perfect every time. Whenever I make a new recipe all I change up is the oil/fat I toast the oats in, spices, and the extras I add in. It is amazing the different flavor combinations one could come up with for oatmeal.
For the pumpkin pie oatmeal I toasted the oats in coconut oil and stirred in vanilla extract, pumpkin spice, and 1 cup of canned organic pumpkin. It was delicious! Absolutely delicious! The smell was amazing and I was in love after one bite. My youngest LOVED it! Seriously, she ate two huge bowls of it in one sitting.
When I made this recipe I was thinking I would only need ½ cup of milk because of the pumpkin but I still needed the full 1 cup milk. Also, keep an eye on the steel cut oats after you add the milk and pumpkin. I noticed it needed to be stirred a couple times to keep the oats and pumpkin from sticking to the bottom of the pan.
Also, you will notice I do not add any sugar to the recipe as it cooks. Actually, I never add sugar to any of my oatmeal recipes. I find that I get enough sweetness from the pure maple syrup I add when I eat it.
Last tip. Pumpkin usually comes in a 15 ounce can so you will have some leftover. No need to throw it out. You can either make a double batch of the oatmeal or you can freeze the pumpkin to be used in another recipe. If you make a double batch of the oatmeal then here are some tips on freezing it into portions.
If you are a pumpkin fan then I highly recommend this recipe.
Other steel cut oat recipes:
Blueberry Lemon Steel Cut Oats
Peanut Butter and Jelly Steel Cut Oats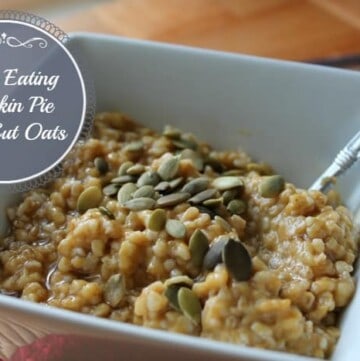 Ingredients
1

tablespoon

coconut oil

1

cup

steel cut oats

3

cups

hot tap water

1

cup

1% milk

1

cup

canned pumpkin

1

teaspoon

vanilla extract

1

teaspoon

pumpkin pie spice

1/8

teaspoon

salt
Instructions
In a medium size sauce pan melt the coconut oil. Add in steel cut oats and toast until fragrant, about 3 minutes.

Pour in 3 cups of hot tap water, bring to a boil, and then simmer on low for 25 minutes.

In a large bowl whisk together pumpkin and milk until it become smooth. Stir into the steel cut oats. Then stir in vanilla extract, pumpkin spice, and salt.

Simmer on low for 20 - 25 minutes. Remove from heat and let sit for 5 minutes. Serve with 2 teaspoons maple syrup per serving.
Notes
Make Ahead Instructions
This recipe can be made entirely ahead of time and stored in the refrigerator for 5 days or frozen.
Nutrition
Serving:
1
g
|
Calories:
267
kcal
|
Carbohydrates:
40
g
|
Protein:
6
g
|
Fat:
9
g
|
Fiber:
5
g
|
Sugar:
7
g