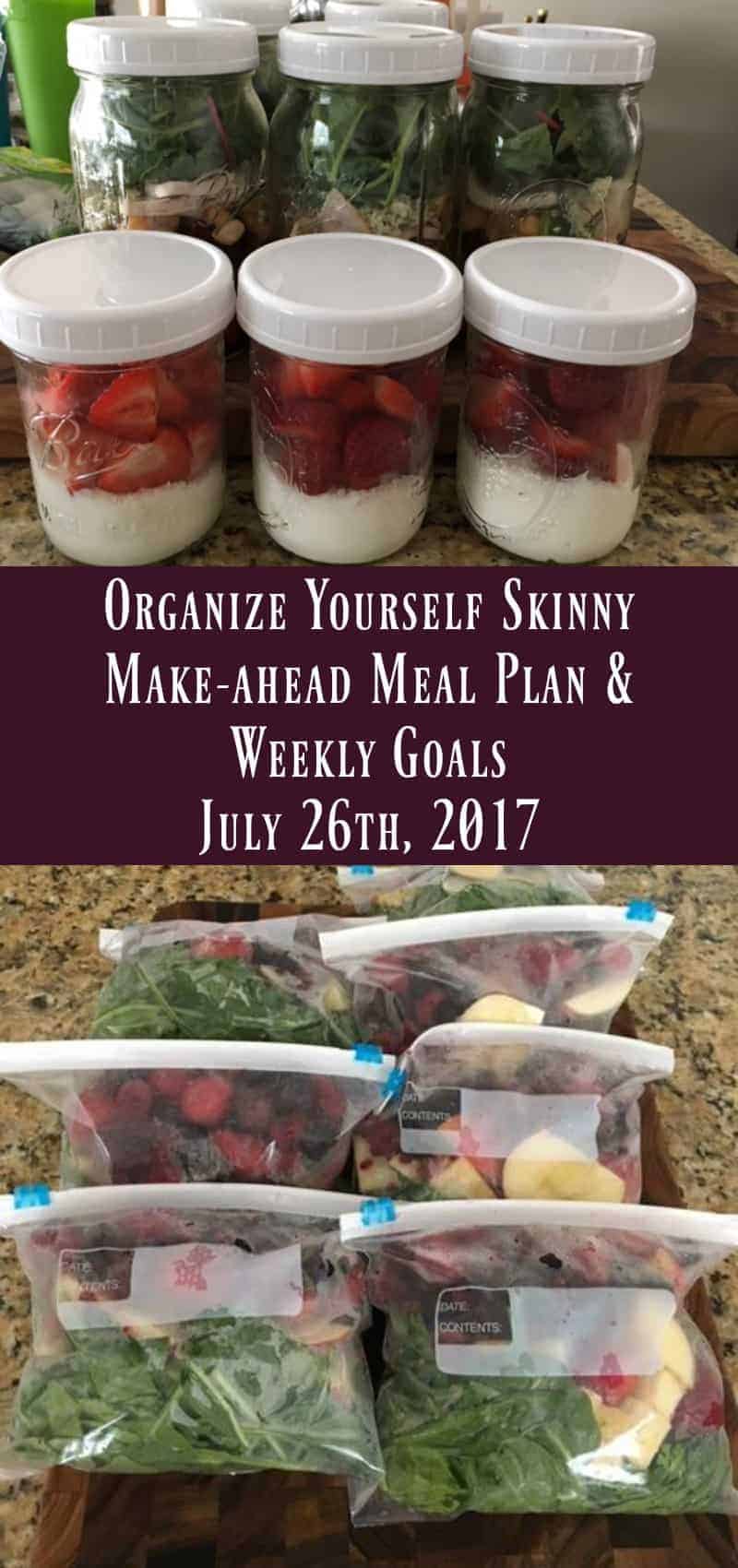 Hey hey! So I know I haven't shared a meal plan in about a month, and I KNOW I typically post it on Mondays, but truthfully I can't believe it's the end of July and that it's already Wednesday. Seriously, I don't know if I just need to work faster or what but before I know it the middle of the week is here and I'm like "shoot I need to get my meal plan up". I swear I'm not just sitting on the couch playing bingo bash or watching Bravo all day…Ha!
If you get my emails, or on my Facebook page, then you know that I've been busy doing live videos the last few days. I'm no stranger to public speaking but speaking into my computer when essentially I'm speaking to all 400k people on my Facebook is a tad bit terrifying. But I have to say I really enjoyed it and it's been a great way for us to get to know each other better.
The reason I finally decided to jump into the live streaming world is because I've been getting a lot of questions about the Organize Yourself Skinny Ecourse.
In case you didn't know, enrollment closes on August 1st for the Organize Yourself Skinny ecourse. After that you'll only be able to enroll 4 times a year.
Anyway, with all the questions coming in I decided to do a live workshop everyday this week focusing on the topics taught in the ecourse. This gives you a good feel for the course and what to expect, then you can decided whether or not it's a good fit for you. So far, people are really enjoying the live workshops. Thank god because I'm not gonna lie it's scary talking into a computer when you have no clue who's watching.
Anyway, you can go to my Facebook page and watch all the videos there if you like. But I did put together a video specifically for those of you who showed up to my blog tonight. This is an edited version without all the technical difficulties and glitches :).
In this video I share my own personal weight loss journey and then share with you all the modules, lessons, and bonuses you'll get in the Organize Yourself Skinny Ecourse. If you like what you see and hear then click here to purchase the ecourse.
I'm sorry I don't have a weigh-in for you this week. Next week I'll be back on track with weigh-ins and everything else.
Before I get to my meal plan can I just say that I've been soooo hormonal lately. I won't go into details but I can feel my body going through all kinds of changes. If I didn't have a million things dependent on me I swear when my hormones flare up I would crawl into bed and sleep for a week. Sorry if that's TMI but hey this is where I'm at in life.
Anyway, everything I'm reading about women losing weight after 40 says keeping to a low-carb diet can help. As you know I try to stay low-carb anyway but now I'm going to be even more diligent because it just makes me feel better. I should mention by low carb I'm referring to white pasta, bread, rice and other refined stuff. I'm not talking about fruit and good carbs. Oh and I read it helps to reduce caffeine but I just don't know if the world is ready for a caffeine-free Tammy yet. I also invested in some "over 40" women's vitamins. Seriously, when did I become an "over 40" woman. But I pay attention to my body and I gotta do what I gotta do.
Alright let's get to my meal plan. This week is filled with lots of fruits, vegetables, and lean protein. I prepared breakfast, lunches, and snacks ahead of time. This week I'm testing out the meal delivery service Sun Basket so I'll make those dinners the night we eat them. By the way, I had the first dinner tonight which was sole, spinach, and lemon baked in parchment served with a warm date and apricot salad. Whoa! It was good. I signed up for the Paleo plan so I can keep my dinners low-carb. I'll check back at later date with my full review on this service.
Breakfast
Make-ahead tips
I prepared freezer smoothie kits yesterday.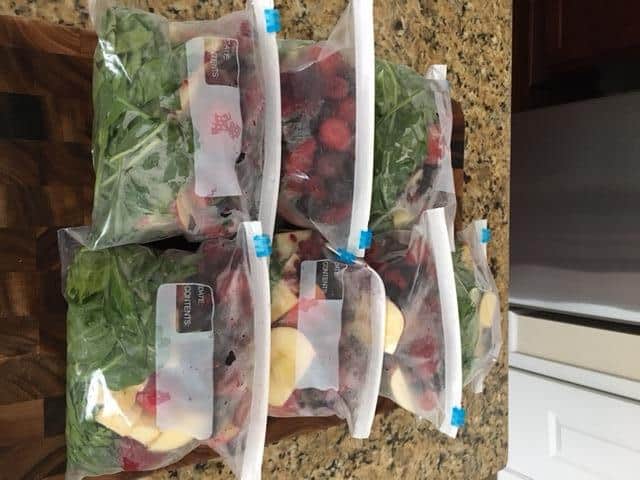 Morning snack
Strawberry and lemon yogurt jars.
Make-ahead tips
I put prepared these jars ahead of time on Monday.
Lunch
Smoked Turkey, Sun-dried Tomatoes, and Crumbled Blue Mason Jar Salads
Make-ahead tips
I prepared the salads on Monday.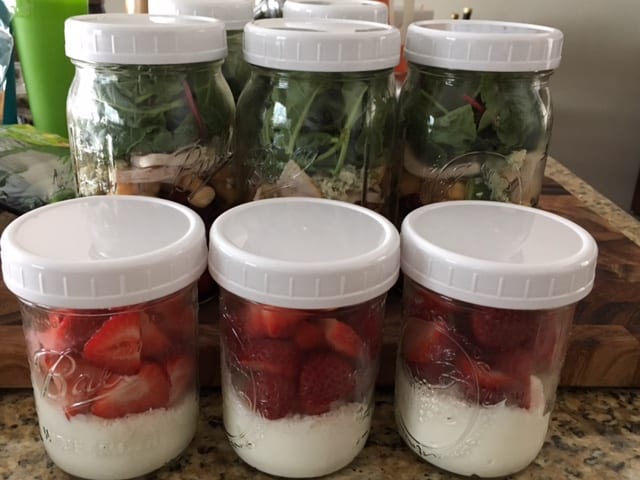 Afternoon snack
Raw almonds or cheese stick
Make-ahead tip
I portioned out the almonds on Monday
Dinner
Sunbasket dinners
Make-ahead tips
Sunbasket dinners will be made the night off.
I'll make the chicken parm the night off too.
Exercise goals/plan
Power walk 2 days
Run 2-3 days
Toning exercise 4 days
Another goal is drink more water. I need to get better with this. One tip that an OYS reader gave was to fill up 2 (32 ounce) mason jars with water every morning to drink throughout the day. For everything I use mason jars for I never thought to do this. I can see this really working for me – I'll let you know how it goes.
Have a great night everyone!