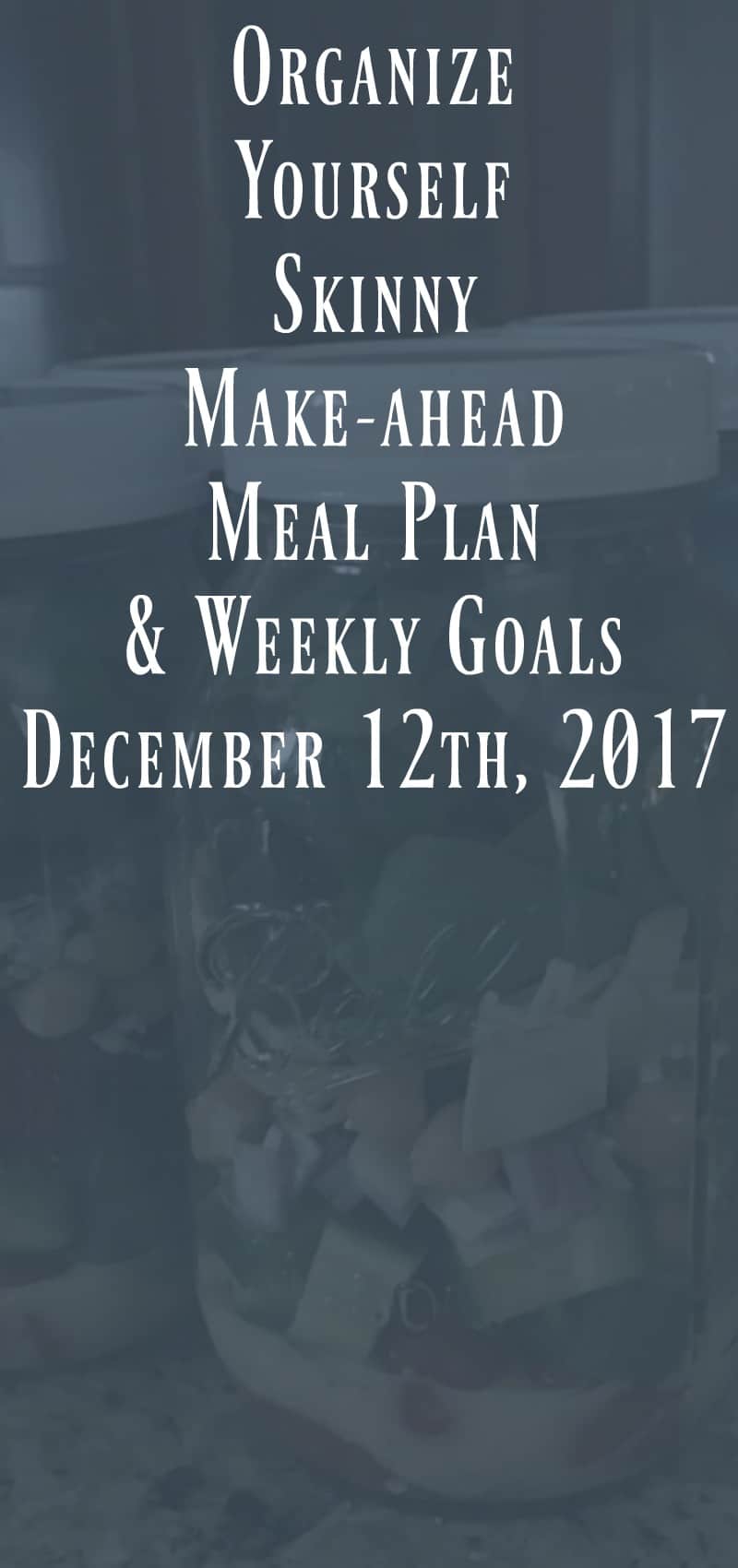 Hey there! Well, the holiday season is officially here! I don't know about you but I've been up to my eyeballs in Christmas shopping, decorating, and parties. I wouldn't say I feel completely overwhelmed, because I've been a to-do list making queen, but I do feel like if I stop for a second I'll fall behind and then everything will come tumbling down. Ahhhh! I think the hardest part, this time of year, is enjoying the holiday season while also planning for 2018. I like to start the New Year with goals and a plan.
I'm not just planning for life, and everything I want to accomplish personally, but I'm also doing A LOT of business planning. Organize Yourself Skinny had a wonderful year with the launch of my ecourse Organize Yourself Skinny. I've received amazing feedback from students. It's been a great experience for everyone – including me.
Okay let's move forward.
Unfortunately, I don't have an official weigh-in to share this week. I did get on the scale (and pretty sure I gained a pound) but I forgot to take a picture so I can't remember. Also, I'm working on Panera bread right now so I can't get on the scale and do another weigh in. However, I can share a non-scale victory with you.
Since I've moved into my new home (2 months ago) I've exercised at least 3-5 times a week every week. And not just the treadmill, I've been consistent with toning exercises too. Now I haven't seen big results on the scale but I'm starting to feel leaner, specifically in my legs, butt, and arms. My stomach, of course, is still a trouble spot but I'm starting to see some improvement. Actually, this past weekend, I took a picture in a sports bra and workout shorts and plan to take a picture the 1st of every month so I can hold myself accountable and track progress. I wish I took pictures like this throughout my entire weight loss journey because I find it motivating and helpful.
Alright, time to talk about food. I need to get better control over the little bites, licks, and sips. I have healthy food prepped ahead of time, a plan in place, and then get off track with crackers, an extra coffee, or a random piece of chocolate I find around. I'm sabotaging my weight loss efforts with the little bites! Ugh! In the beginning of my journey I was a food-tracking ninja and now I've gotten a little complacent and it's hard to find that discipline again. However, I've done it before and know I can do it again. My goal this week is to focus on tracking everything.
Here's my meal plan.
Breakfast
Light Thomas's English Muffin with 1 egg and morning star "sausage" patty
Make-ahead tips
My plan was to make the breakfast sandwiches ahead of time but ran out of time so I'll make these the morning I eat one.
I still have 3 detox smoothie kits in the freezer from the ones I made a month ago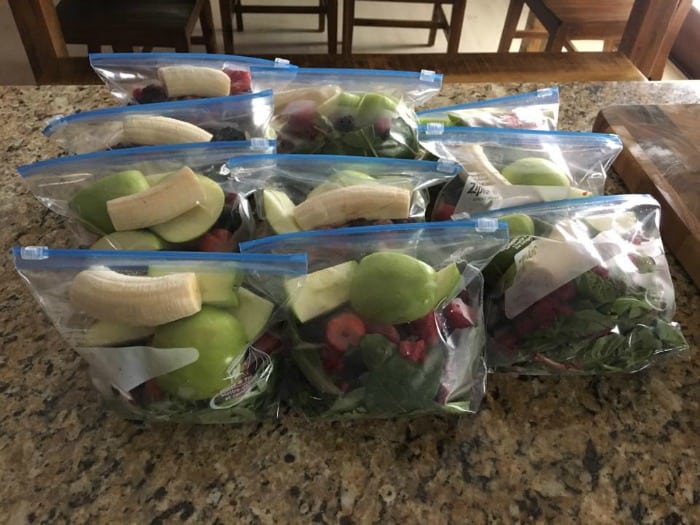 Mid-morning snack
Green apple and peanut butter
Raw Almonds
Lunch
Smoked Turkey, Chick Pea, and Sun-dried Tomato Mason Jar Salad
Make-ahead tips
I made the mason jar salads on Sunday
Mid-afternoon snack
Sigi's Yogurt
Hard-boiled egg
Dinner
*This week I received 3 Hello Fresh dinners.
Lemon baked fish and rice * Hello Fresh
Chicken pesto pasta * Hello Fresh
Bangers and mash * Hello Fresh. I decided to use the Italian Sausage in this meal to make my Slow Cook Italian Sausage and Peppers. I save the potatoes for my kiddos.
Italian Sausage and peppers pizza
Leftovers
Make-ahead tips
I cooked the chicken in the slow cooker for the chicken and pesto. I prepped the ingredients on Sunday and placed them into the slow cooker. I also cooked the pasta ahead of time.The next afternoon I start the slow cooker and after it was cooked I mixed in the pesto and pasta to finish the recipe.
I browned the sausage ahead of time and sliced the vegetables for the slow cooker sausage and peppers. We will eat this on Wednesday. I'll dump the ingredients into the slow cooker, stir in the sauce, and then set it to cook.
I made a batch of pizza dough on Sunday for pizza later in the week.
If you're interested in using a meal delivery service then check out my meal kit reviews. It's not for everyone, but if you're struggling to create a meal plan, grocery shop, and eat healthier then meal delivery services can be very helpful.
Sun Basket Review – if you're starting to eat Paleo then this is a great service. They also have lean and clean, vegetarian, and other meal plans to choose from.
Other goals this week is to get the rest of my Christmas shopping done, wrap presents, and to continue business planning for Organize Yourself Skinny!
Also, I plan to stock my freezer with breakfast burritos, freezer starters, and some energy balls. This will get done Saturday or Sunday this weekend.
Have a great rest of the week.