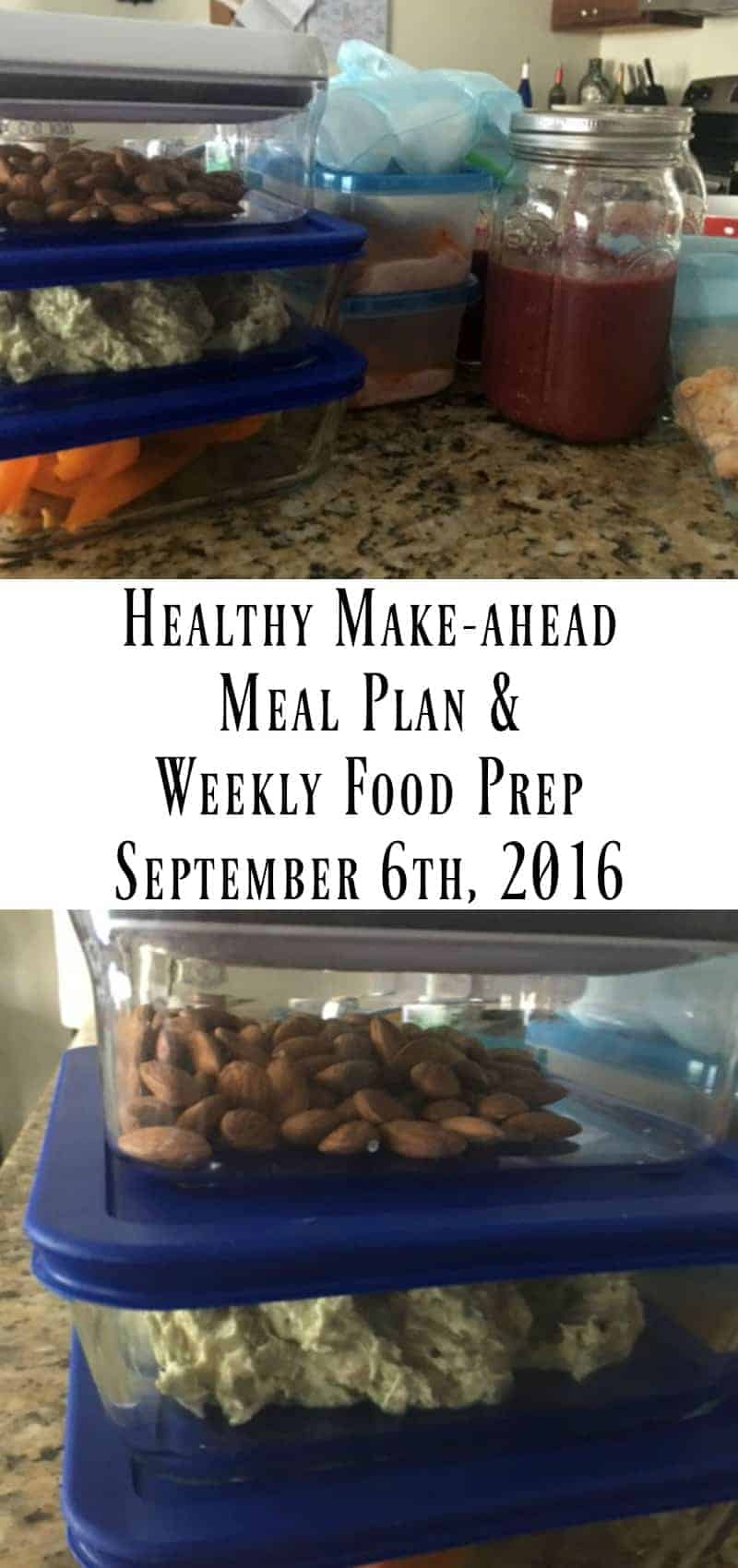 The kids are back to school!!! This is such a bittersweet time of year. On one hand I'm going to miss our lazy days of summer. We had such a great summer and spent lots of quality time together. But on the other hand I'm ready for all of us to be back on a schedule. It felt great to get them to school, get a work out in, and then work work work without interruption.
Believe me, you are going to appreciate that I'm back on a schedule too because I have lots of ideas floating in my head that you will love. One of those ideas is a meal prep course that I've been dying to create all summer. I know it's going to take me a while to push that out but I know once the course is done it'll be great. Before that course debuts you will first see a new OYS "getting started" power package. That's close to being done and I'm super excited for it. I'll talk more about that in a couple weeks. Subscribe to my enewsletter to be the first to know when all my new products come out and to get a special "subscriber only" discount.
Let's get to my meal plan.
Meal prep this week was easy for me. I have a bunch of meals in the freezer that I made over the last couple months so I didn't really need to cook a whole lot. Mostly, I just needed to grab food for the kids lunches and make sure I have all my essentials on hand (fruit for smoothies, eggs, nuts, and some other things).
This week and moving forward I plan to keep my food on the low carb side. Simply put, I just feel better when I eat more vegetables and proteins and keep the carbs to minimum. Not to mention I look better too. So instead of crying over pasta and pizza I will keep those as special treats and fill the rest of my diet with food that fill me up without making me bloat out like a balloon.
I know my meal plan looks super boring but 1. I don't have the time this week to cook up a bunch of different foods. 2. I want to eat up what we have in the freezer. 3. This is what works for me. If I get bored I can always switch it up but it's easier for me to stay on track when my food is simple and easy.
Here's my meal plan over on Plan to Eat. You already know I'm a huge fan of Plan to Eat. If you're not sure what it's about then check out their 30-day free trial and see if you like it. If you decide to subscribe then look me up (username organizeyourselfskinny) and you can access all my recipes and menus. If you want to ask more people about Plan to Eat then head over to the OYS Facebook Group. There are a ton of die-hard Plan to Eat friends over there.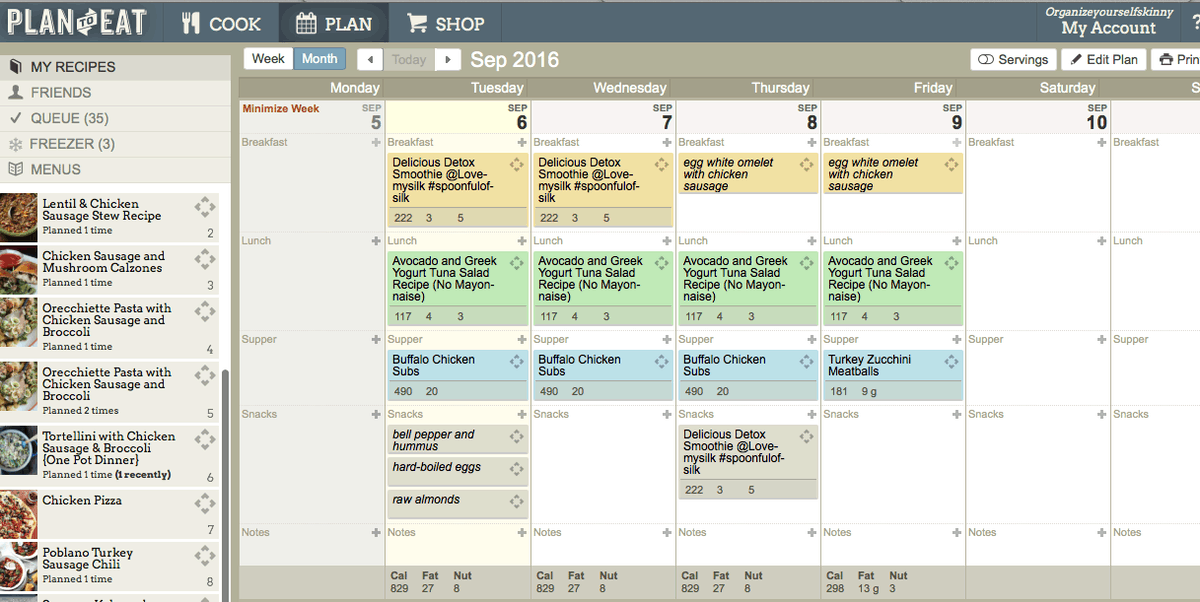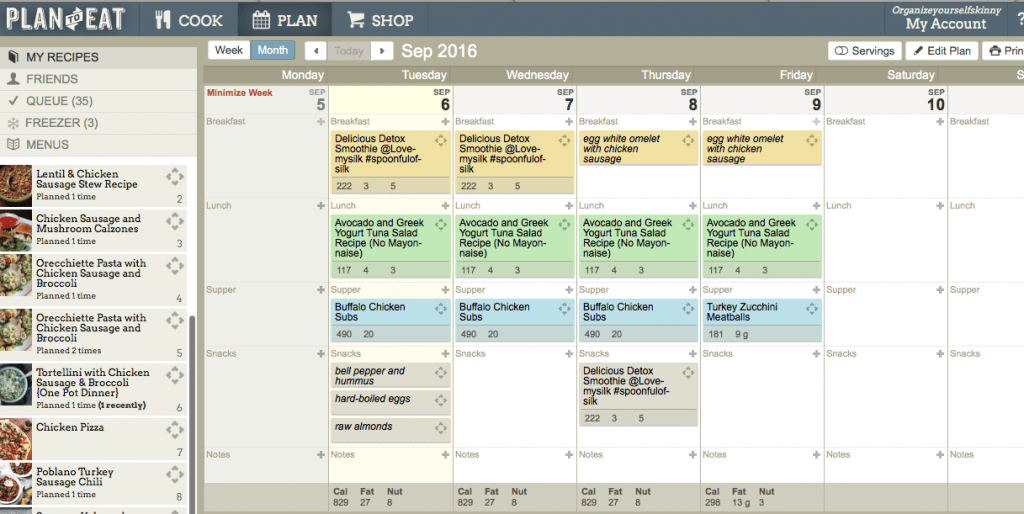 Breakfast
Egg white omelet with chicken sausage (I like the garlic flavor from al fresco)
Make-ahead tips
I made 3 smoothies ahead of time and will keep them in the refrigerator.
Omelets will be made the day of.
Lunch
Make-ahead tips
I made the tuna salad today and will probably make another batch in a few days. I keep it stored in a glass pyrex container in the refrigerator.
Dinner
Buffalo chicken open faced subs  and buffalo chicken salads (I made, and froze, buffalo chicken mac n cheese for the kiddos)
**I also have in the freezer Turkey Zucchini Meatloaf, Hamburger Macaroni and Cheese, and Tortellini and Sausage.
Make-ahead tips
I made the buffalo chicken last week in the slow cooker. I used some in buffalo macaroni and cheese and portioned out the rest for subs.
Everything else is in the freezer.
Snack
Almonds
Hard-boiled eggs
Peppers and hummus
Make-ahead tips
eggs were made today.
peppers were cut up today and stored in a pyrex container.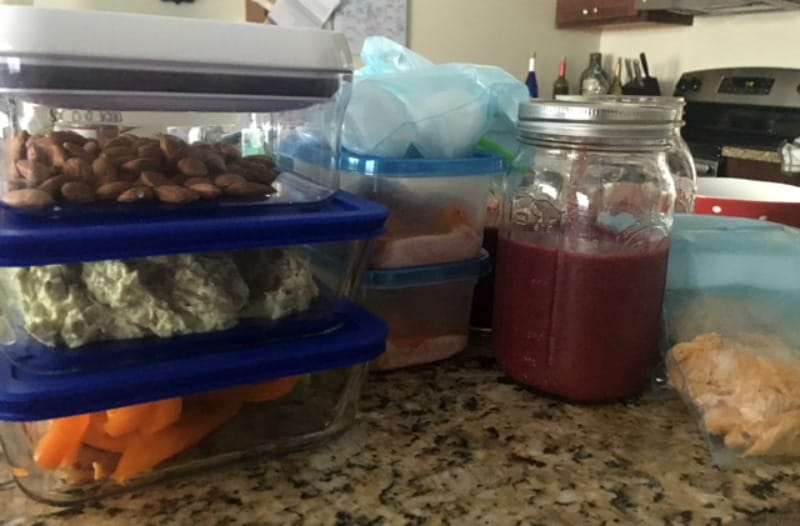 Get Instant Access to My Best Weight Loss Tips & Strategies!
Sign up now for a free step-by-step 7-day email course that I created exclusively for my email subscribers! That's you. I will teach the best habits, strategies, and insider tips so you can enjoy a lifestyle that encourages and supports weight loss! Stop relying on willpower and take control back over your life! You can do this. Let me help!