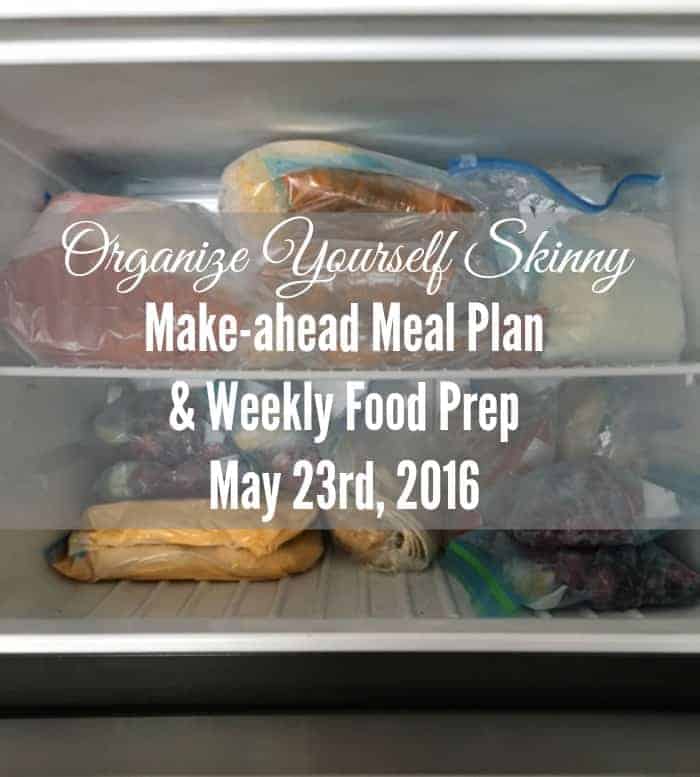 Hey everyone! I'm excited to talk about my meal plan this week. Why? Well…because I finally planned out our meals for the month. But I did more than that. I made it a priority to grocery shop on Friday and actually purchased all of the ingredients I needed to make-ahead most our meals. Yay!
I spent most of Monday prepping dinners, will continue with dinners today, and finish with some breakfast recipes. If I have it in me – and I hope I do – I want to make some sweets treat to have in the freezer too. I don't have a huge freezer anymore so I need to get creative with the space I have.
After I complete my month stock up I'll share a post with all the recipes along with some tips. Until then I'll share what I've done in this meal plan post.
If you subscribe to Plan to Eat then you can view the freezer cooking stock up menu I put together over there and print out the master grocery list. Honestly, Plan to Eat was a HUGE help with planning my monthly stock up. All I needed to do was import and drag in the recipes I was using. If I didn't have a recipe (ex. pizza kit) then I just created a recipe and typed in the ingredients. Then I did a little adjusting with the grocery list, printed it out, and headed to grocery store. It was great!
After the dinner kits were prepared and put into the freezer I added them to my "Plan to Eat Freezer". This is a great way to keep track of the meals you have in the freezer. As you drag them into your meal plan they will subtract from the freezer. I wrote a post on this Plan to Eat function last year.
Ok here's a quick look into the meals I made yesterday. I started with basic family favorites I know my kids love.
I made 4 tacos kits. All I did was brown up 4lbs of ground beef, added taco seasoning, and after it was cooled divided the taco meat among 4 quart-size freezer bags. Then I put a small bag of cheese (about 1 cup) and 6 soft shell tortillas into each bag. I'll just need hot sauce, shredded lettuce, plain greek yogurt, and salsa the night we eat tacos. Typically, I have all of that on hand anyway.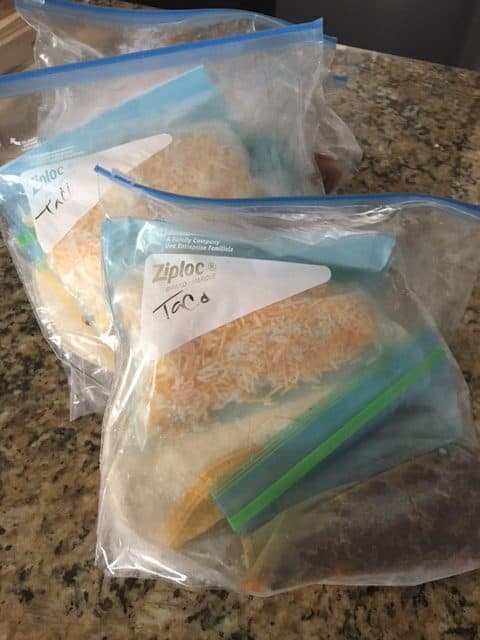 I also made 4 pizza kits. I make pizza once a week in my house. Its easy and since I control the ingredients it's healthier than take-out – not to mention cheaper too. I used to make my own pizza dough but since my bread machine broke I've been purchasing fresh dough from Wegmans. It's inexpensive and delicious so I haven't felt a strong need to buy another bread machine just yet – although I do miss it. Btw my bread machine was actually my mom's she bought in the 1990s soooo it lived a good life! It was a Sunbeam.
Next we have meatball sub kits. The only thing I needed to cook in this kit were the meatballs which are super easy to make. I purchased Rao Marinara sauce from BJs. It's delicious, high quality, and super cheap at BJ's. I poured half the jar into a quart size bag. Then I included a small bag of shredded mozzarella. I put all of that, along with the meatballs, into a gallon size bag.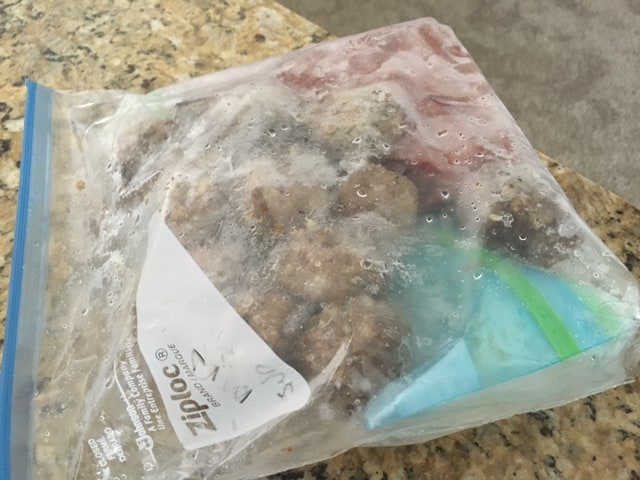 Then I made a Buffalo quesadilla kit. Think these buffalo subs but in quesadilla form. My plan was to make two kits but for some reason I only made enough chicken for one.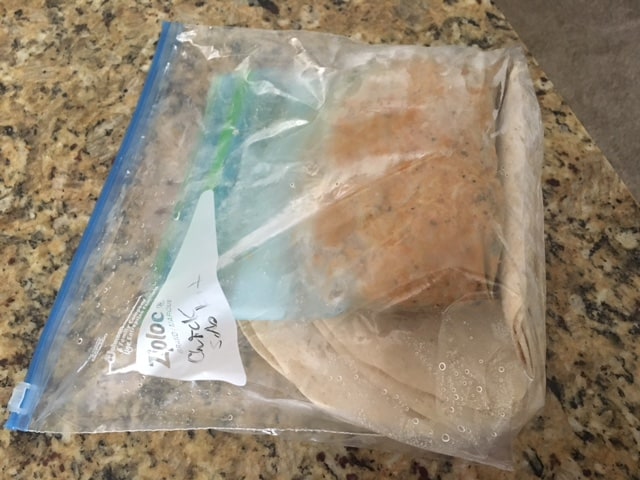 If I have any chicken leftover I'll throw into one of the two macaroni and cheese "in a bag" meals I made.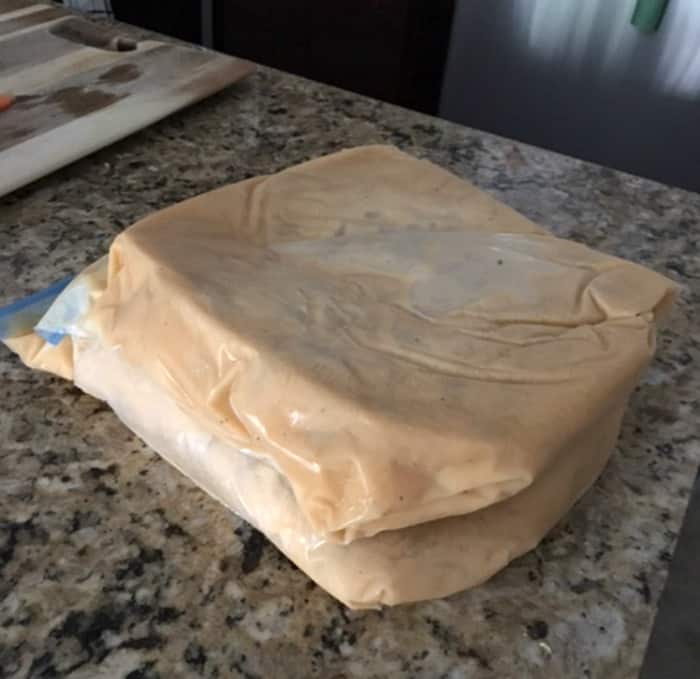 This is where I got creative. Typically, I cook the macaroni and cheese ahead of time, portion it out, and freeze using these containers. Or I will assemble and then freeze in these containers. However, since I don't have a lot of room in my freezer I decided to assemble the mac and cheese and then pour it into 2 gallon size freezer bags. I laid it flat and once the recipe was frozen I stacked the bags. I'm not gonna lie I was nervous to lie the bags flat because all I could see was macaroni and cheese sauce oozing all over my freezer but it worked great. No mess.
The last thing I did was take all the leftover frozen fruit, ripe bananas, and some frozen cucumber chunks I had and made 5 smoothie kits. Based on the ingredients I had I made a smoothie recipe similar to my detox smoothie.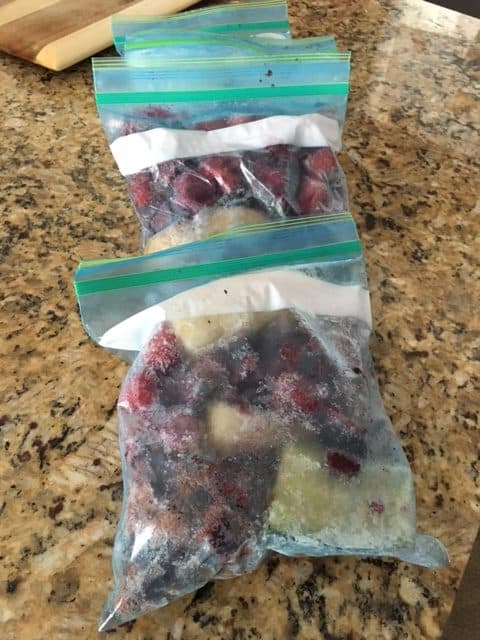 Today I'm going to make 1-2 new skillet kits, oatmeal, and possibly some breakfast burritos.
That's what's in my freezer and here's what I'm eating this week.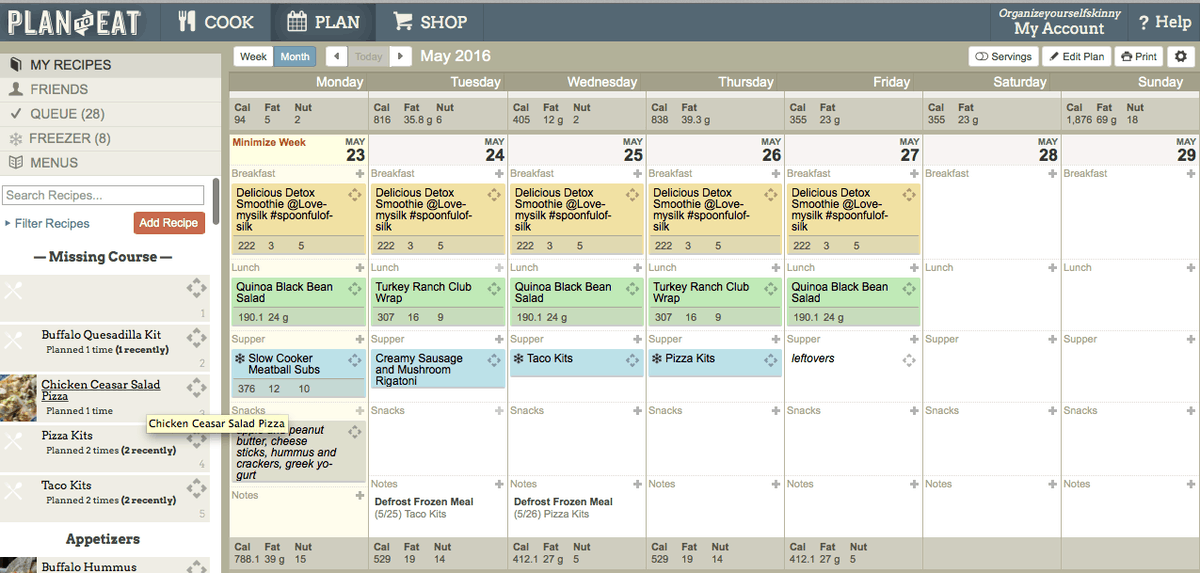 Breakfast
Make-ahead tips
Smoothies kits are in the freezer.
Lunch
Quinoa Black Bean Salad – new recipe
Make-ahead tips
Salad was made yesterday.
Bacon will be made today for the wraps.
Dinner
Homemade Pizza
Tacos
Sausage and Mushroom Pasta Pot – new recipe
Leftovers
Make-ahead tips
MB sub, pizza, and taco kits are in the freezer.
Pasta dish will be made today.
Snack Options
Apple and Peanut Butter
Greek Yogurt
Cheese sticks
Hummus and Crackers
I'm going to put together a post on once a month meal planning. Let me know your questions if you have any.
Get Instant Access to My Best Weight Loss Tips & Strategies!
Sign up now for a free step-by-step 7-day email course that I created exclusively for my email subscribers! That's you. I will teach the best habits, strategies, and insider tips so you can enjoy a lifestyle that encourages and supports weight loss! Stop relying on willpower and take control back over your life! You can do this. Let me help!