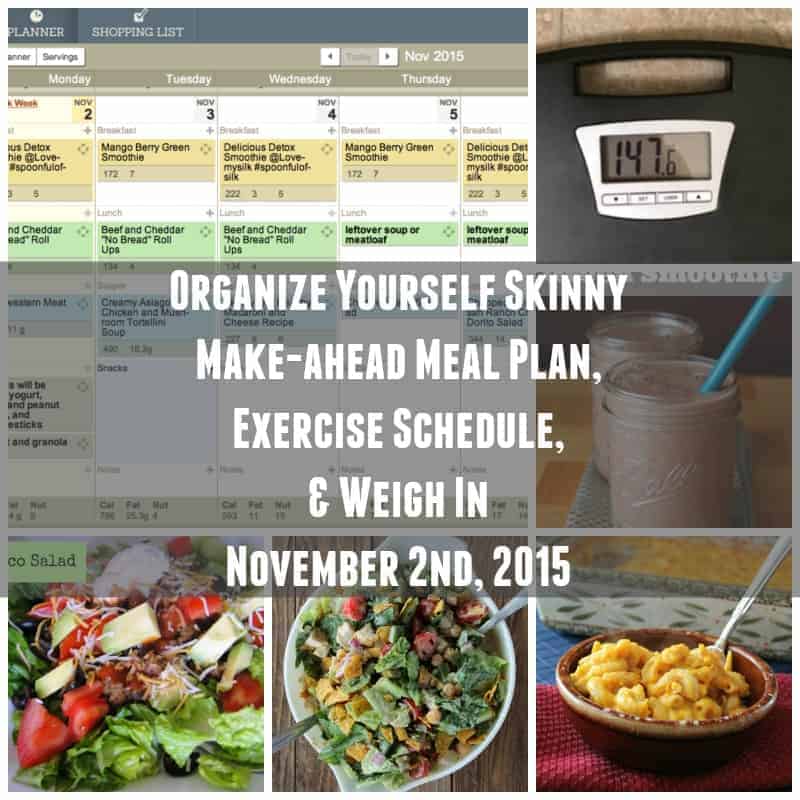 Please tell me how it's already November?! This is insane. To think that Thanksgiving is THIS MONTH and Christmas is A MONTH after that is too much for my brain to process. In one breath I am soooo ready for this year to end but, in another, I still have tons to do. Oh well, if there's one thing I can't do its freeze time so I guess I will just carry on.
Let's get right to my weigh in.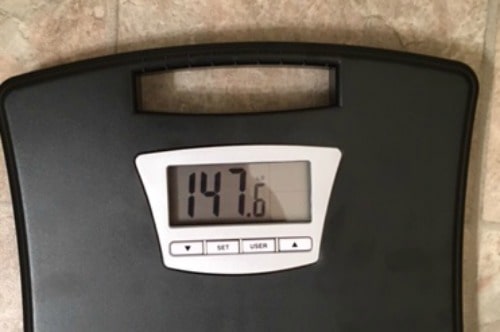 SW: 177
GW: 130
LWW: 144.5
CW:147.6
PL: +3
Clearly I need to get on my scale every week because when I slack my scale gets mad at me and goes up instead of down. Booo!
Uggghhh. Okay before I freak over a 3lb weight gain let me just point out I got a new scale. This possibly could've made a difference. Why that difference couldn't of been a lower number I don't know? But it is what it is. I am going to accept the weight it shows and move on from there. Between Halloween, recipe development, and extra snacking I'm not surprised my weight went up. That's how it goes. Good thing I'm staying consistent with exercise or I would probably see a higher number on the scale.
Real quick about my new Weight Watchers scale. I really like it. It saves my weight from the previous week and measures progress. In my experience, I find all these weight loss tools helpful. I bought mine from Target but you can get one from Amazon too.
Onto my exercise schedule. I am starting my 3-mile a day running challenge today. I planned to start it last week but it got cray cray so I didn't. As soon as I am done with this post I will jump on the treadmill.
Like I said last week I also plan to do a plank challenge. That starts today too. Okay if I stick with running and planks then in one month I should see some sauciness happening.
As we know exercise means nothing if our diet isn't in order. With the holidays creeping upon us I need to take these next few weeks to focus on healthy eating habits. Good thing I'm not too far off track. It's just my darn snacking…I love cheese and crackers. They are up there as one of my biggest food weaknesses. I actually envy people who don't like cheese. Makes no sense to me but I wish I could be them.
Here's my meal plan. As always, you can find my menu (and previous) menus over on Plan to Eat. If you haven't entered their HUGE Autumn Spice Giveaway then take a moment to do so. It is amazing! It includes a Plan to Eat yearly membership and lots of other goodies…$200 worth. Enter here.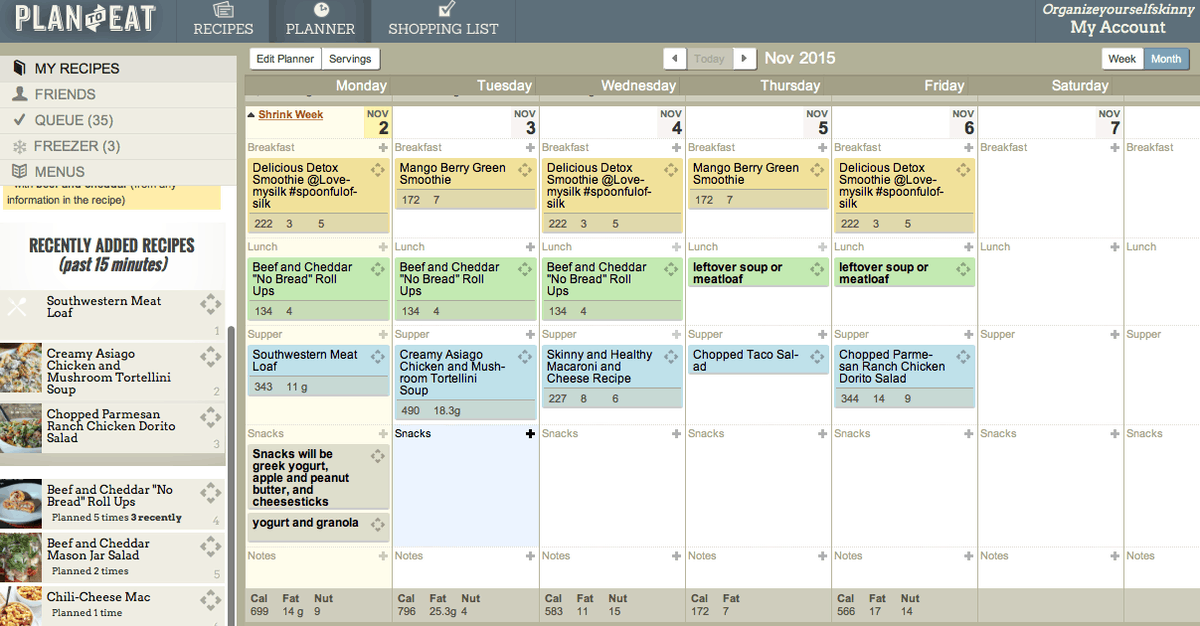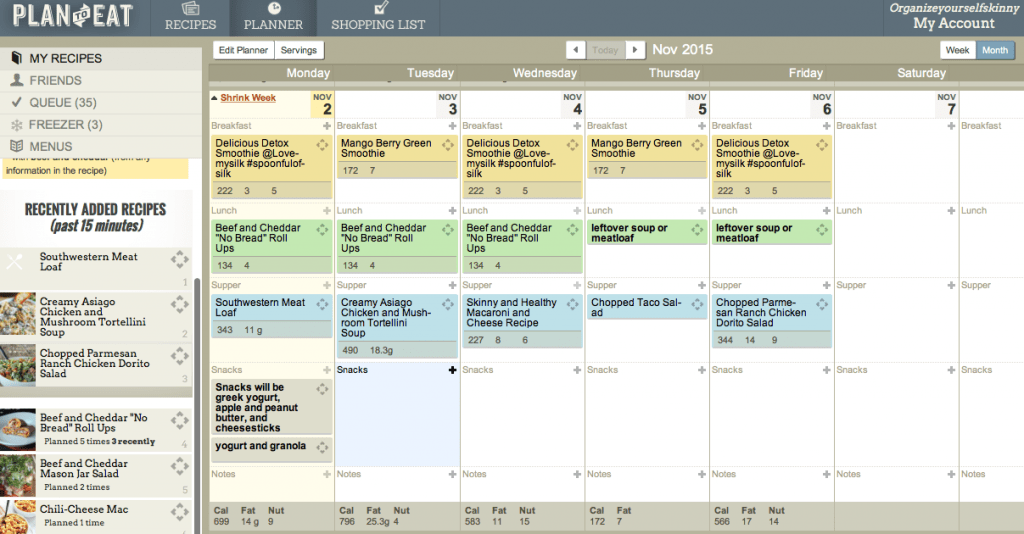 Breakfast
Make-ahead tips
I am going to make a batch of smoothies for the refrigerator today. I may put a couple in the freezer too. You can see my smoothie freezer tips here.
Midmorning snack
Cheese stick
Or
Luna Bar
Lunch
Beef and Cheddar Roll Ups
Leftovers
Make-ahead tips
Roll-ups will be made the day I eat them
Mid Afternoon Snack
Yogurt with granola
Dinner
Parmesan Chicken Ranch Dorito Salad
Creamy Mushroom and Tortellini Soup – new recipe
Mexican Meatloaf – new recipe
Make-ahead tips
Meatloaf, taco meat, and macaroni and cheese will be made today.
Chicken will be made for the salad tomorrow.
Soup will be made tomorrow.
Meal planning has made a huge difference in helping me lose weight. It keeps me focused, intentional, and organize with the foods I eat. You can read all about this weight loss strategy and the others I use in my new ebook, Organize Yourself Skinny: 5 Strategies to Help Busy People Lose Weight and Create a Healthier Lifestyle. I also include a free bonus 4 week make ahead meal plan with purchase! If you are a blogger check out my affiliate program.
Also, don't forget to check out the OYS 4-week Make-ahead Meal Plan, Exercise Challenge, and Habit Challenge Package.
Get Instant Access to My Best Weight Loss Tips & Strategies!
Sign up now for a free step-by-step 7-day email course that I created exclusively for my email subscribers! That's you. I will teach the best habits, strategies, and insider tips so you can enjoy a lifestyle that encourages and supports weight loss! Stop relying on willpower and take control back over your life! You can do this. Let me help!