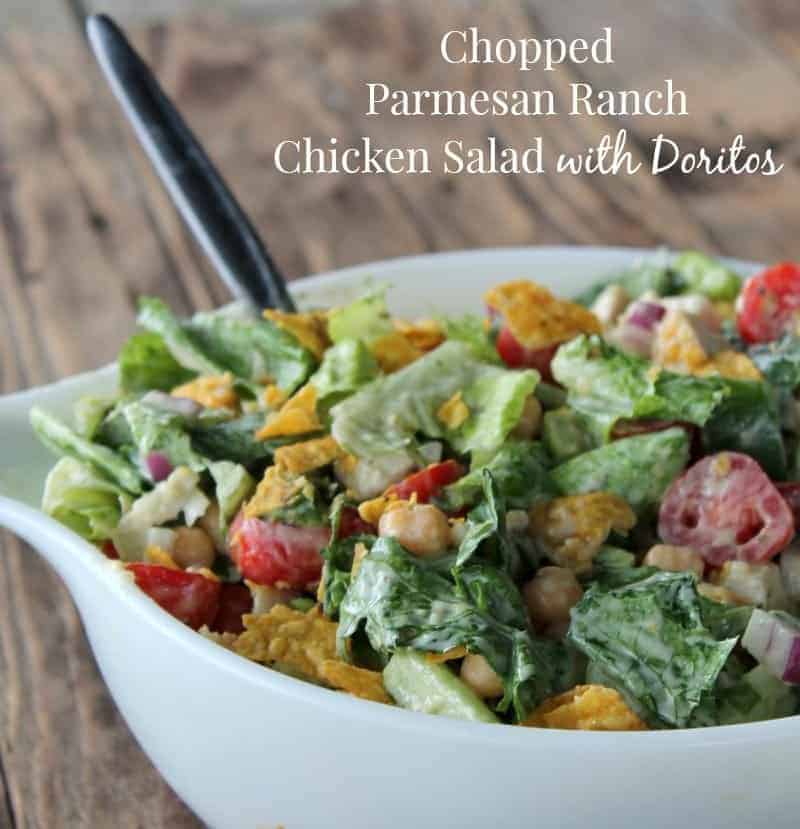 I am guessing there are 3 types of people reading this recipe. The first one is saying "Tammy, how dare you add Doritos to a salad! That ruins a perfectly good CLEAN salad". The second one is saying "Really Tammy, I just finished my Doritos support group and finally off the stuff". The third person is saying "DORITOS OH HOW I MISSED YOU!! Tammy come here and give me a big smooch!" Hahaha I know all my readers very well. Therefore, some of you hate me right now and some of you love me. Some may care less. The good news is if you truly don't want Doritos on your salad then leave them off. Problem solved. But for those of you who don't mind a little guiltiness crushed on top of your salad then follow me.
Originally, I discovered Doritos in a salad recipe when I came across this Dorito Taco Salad from Emily Bites. By the way Emily is also from Buffalo, NY – just a little fun fact for you.
Apparently, versions of Dorito taco salad have been around forever. Who knew? Ummm, not me. But I must admit it was quite exciting to see Doritos crushed on top of taco salad. Yum yum yum.
Personally, I love Cool Ranch Doritos so I decided to create a version using my favorite Dorito flavor. After much recipe deliberation I opted to create a chopped chicken salad filled with chunks of romaine, fresh vegetables, chickpeas, avocado, and tasty baked chicken.
Before I put the salad together I needed to bake the chicken first. Of course, you can use any chicken for this recipe but I thought it would be tasty to coat some chicken breasts in ranch seasoning, parmesan cheese, panko bread crumbs, and bake till crispy.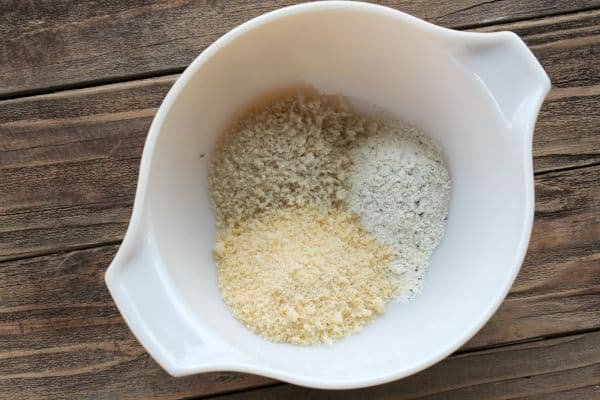 I was right. This chicken is delicious! Once it is cooled chop it into bite size pieces. Baking the chicken is the most difficult part of the recipe after that this recipe comes together quickly. So if you want this salad to be ready to eat during the week I suggest preparing the chicken ahead of time and storing it in the refrigerator or freezer.
Okay let's get to the veggies. I used about 2 small to medium romaine hearts. I purchased a Bag of 3 Foxy Romaine Hearts but only used two and that was plenty. Then I included sliced cherry tomatoes, avocado, and green bell pepper. You could add any vegetable you like but those are my favorite. I also wanted to throw a bean into the mix. At first, I thought black beans but then I decided on chickpeas. Chickpeas are da bomb and add oomph to salads. Personally, I think chickpeas were a good choice but again use what you like.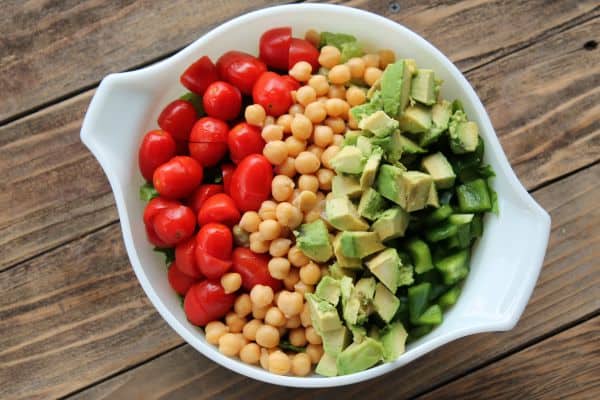 Oh and red onion. Came very close to forgetting the red onion. I recommend tossing the salad around before adding the dressing. No specific reason I just feel it makes life easier.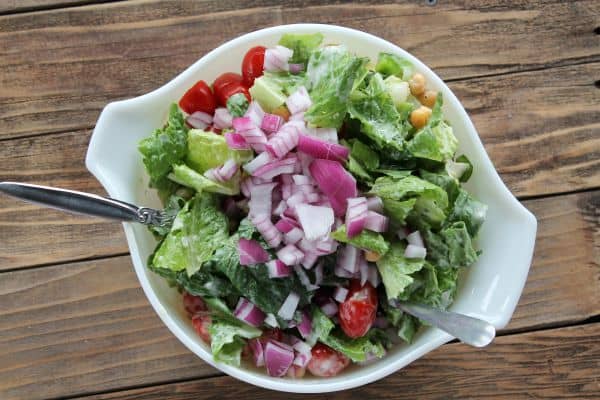 Next is the dressing. I chose a Greek yogurt ranch dressing. I use Wegmans brand but you can use whatever brand you like. Most likely you will find yogurt dressing in the produce section of your grocery store.
Toss the yogurt in with the ingredients. Then add in the chopped chicken and lightly toss again. Sprinkle a little more parmesan cheese on top and then crush up 24 cool ranch doritos and sprinkle on top as well.
Mmmmmmm no words. Okay maybe I have some words for this. This salad is outrageous! I love the chunks of vegetables and meat, the creaminess of the dressing, and finished with cool ranch doritos. It is the perfect bite. I feel this is a great way to still enjoy some guilty pleasures but not in a way that will completely throw you off your game.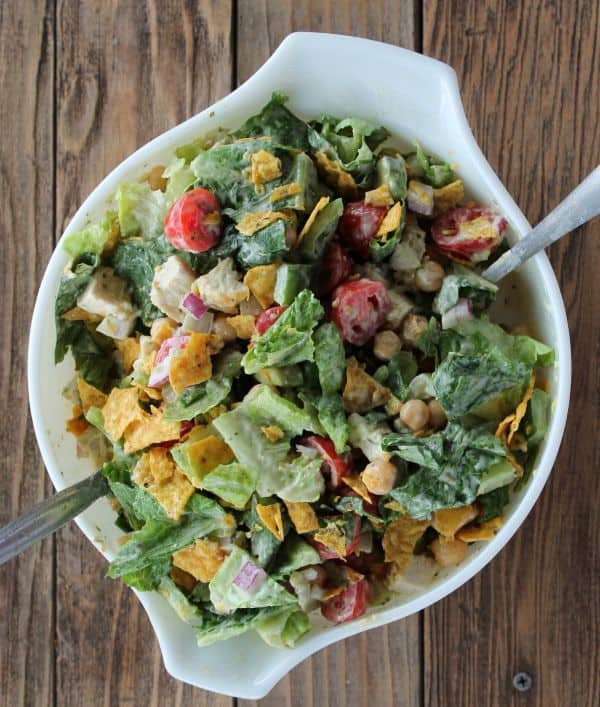 When I first posted this recipe on Instagram a follower asked me if this could be made into a mason jar salad. Yes of course. Layer it the way you would layer any mason jar salad. Start with the dressing (about 2 tablespoons) then add the tomatoes, onions, peppers, chickpeas, avocado, chicken, and top with romaine. I would put the doritos in a plastic bag on the side or they will get soggy. To keep the avocado from browning just squirt with lemon or lime juice before placing it into the jar. As for amounts…I would use just enough to make 5 mason jar salads so you will probably need less dressing and other ingredients. Hope that helps.
Enjoy this salad. It is one of my favorites.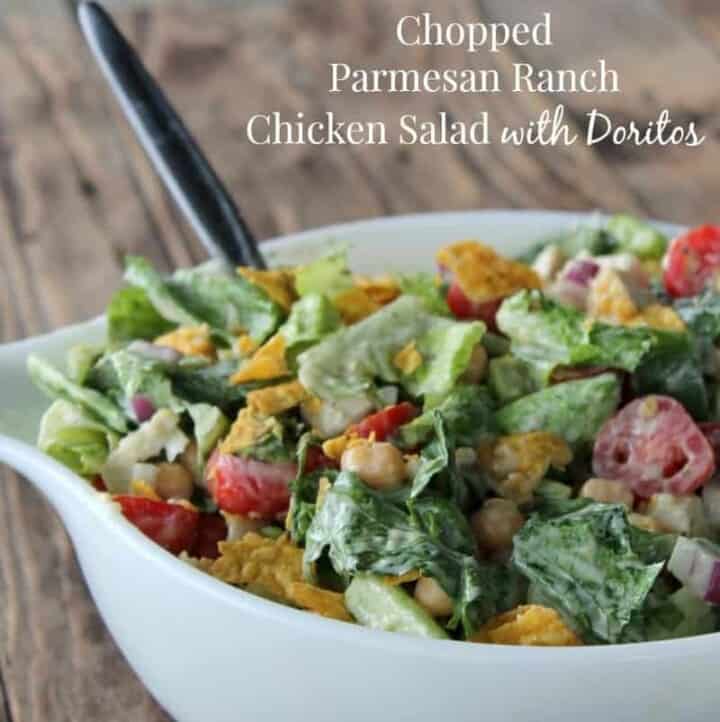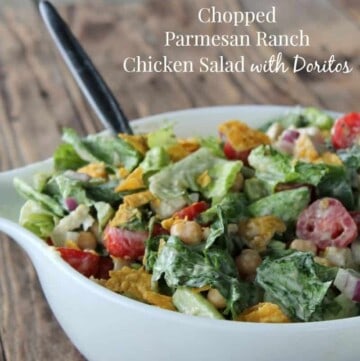 Ingredients
2

lbs

chicken breast

1

1-ounce package ranch dressing mix

½

cup

grated parmesan cheese

¼

cup

panko bread crumbs

1

egg

2

médium romaine hearts

1

pint

cherry tomatoes

halved

1

green bell pepper

chopped

1

15-ounce can chickpeas, rinsed and drained

½

of a red onion

chopped

1

avocado

skin removed and chopped

1-

cup

yogurt ranch dressing

2

tablespoons

grated parmesan cheese

24

ranch doritos

lightly crushed
Instructions
Preheat oven to 375 degrees.

In a small bowl mix together ranch dressing mix, parmesan cheese, and panko bread crumbs.

In another small bowl crack and lightly beat the egg.

Dip each of the chicken breasts in the egg then in the ranch and parmesan mixture. Place on a baking sheet coated with cooking spray and bake for 40- 50 minutes or until the chicken is cooked throughly and juices run clear.

Let the chicken cool and then chop into bite size pieces. Set aside.

In a large bowl mix together romaine hearts, cherry tomatoes, bell pepper, chickpeas, red onion, and avocado.

Pour ranch dressing over the top and mix it into the ingredients until everything is coated with the dressing.

Slowly mix in the chicken breast.

Sprinkle grated parmesan and doritos over top and serve.
Notes
**If you are going to bring this recipe to a party or eat it later in the day or week I recommend adding the dressing and doritos before you eat. Don't add it to soon or you will have soggy doritos.
Make- ahead Instructions
The chicken can be made ahead of time. Also, the vegetables can be prepped ahead of time. When ready to eat continue with dressing and doritos.
Nutrition
Serving:
1
g
|
Calories:
344
kcal
|
Carbohydrates:
27
g
|
Protein:
26
g
|
Fat:
14
g
|
Fiber:
4
g
|
Sugar:
9
g