This make-ahead breakfast sandwich recipe is inspired by my favorite Panera power breakfast sandwich.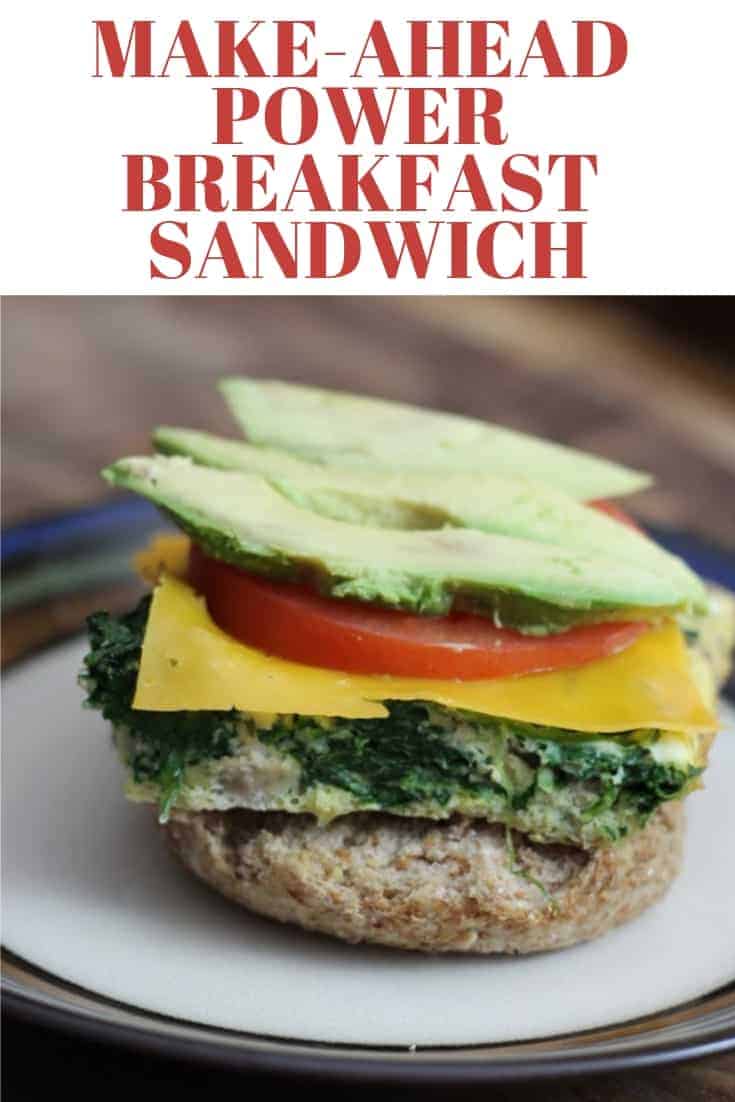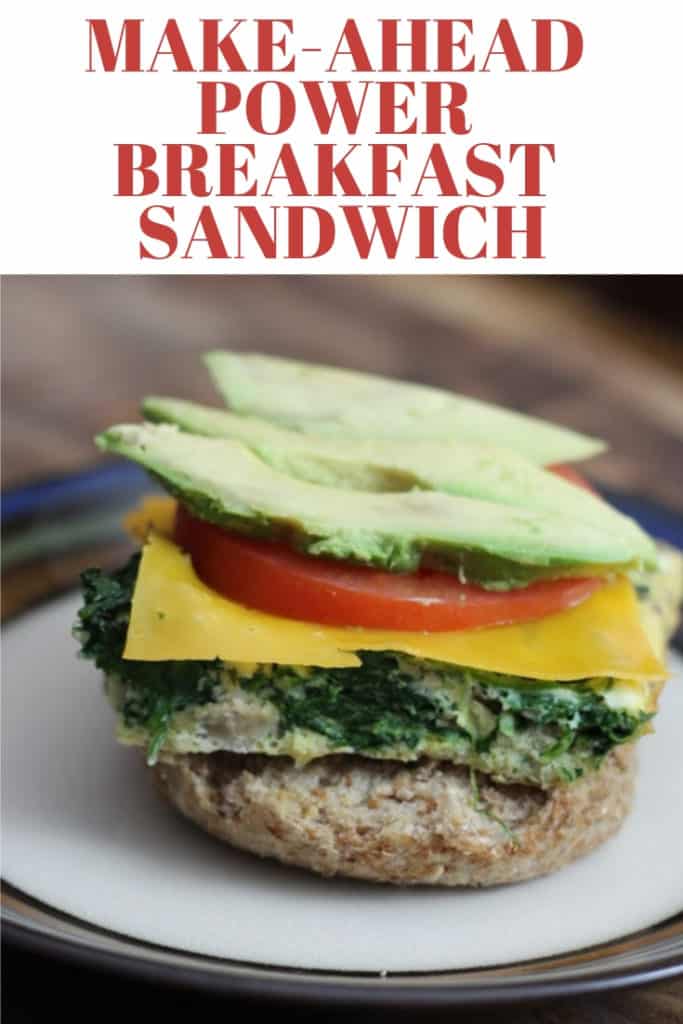 A few weeks ago I ordered a Power Breakfast Sandwich from Panera Bread. Next to green smoothies egg sandwiches are my favorite breakfast recipe. Actually, I'd say egg breakfast sandwiches beat out smoothies but green smoothies help me feel my best so I stick with those every morning. Anyway, I was in the mood for eggs so I got the Power Breakfast Sandwich.
I ordered the Power Breakfast Sandwich over the others because it was the least guilt-ridden option. It has egg white, avocado, tomato, spinach, and is on a sprouted grain flat. Of course I would love a chewy delicious bagel with bacon, egg, and cheese but I know I'd regret it within 5 minutes. Thankfully, the Power Breakfast Sandwich is delicious and hits the spot so I can eat it without guilt. 
Since I don't get to Panera as often as I used to, and I don't feel like spending $5 every time I want one, I decided to make my own version at home. Plus, it's been a while since I shared a make-ahead breakfast sandwich recipe.
Okay, let's get to it.
Make-ahead Breakfast Sandwich Power Recipe
First of all let's chat about why I'm calling this a "power" sandwich. Basically, everything about this make-ahead breakfast sandwich is good for you. It's filled with fiber, protein, and good fats! This means it's going to fill you up and keep you satisfied for a while. Also, it sits on a sprouted grain english muffin which means it's easier on your tummy and better for you.
I absolutely love Ezekiel Sprouted Grain english muffins. I think they have great flavor. However, if you're not used to sprouted grains or even whole grains you might not like this at first. Mike, and everyone else in my household, hates these english muffins. Haha…but seriously. They are definitely hearty and much more dense than your typical english muffin.
If you're looking for another option then I recommend Thomas 100-calorie whole wheat English Muffins. Before the Ezekiel brand, those used to be my go-to.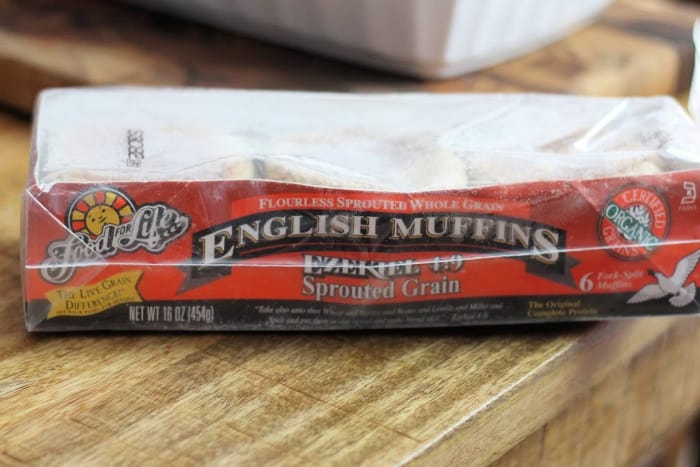 For the egg part of this make-ahead breakfast sandwich I prepared a simple egg bake made with half egg whites and half whole eggs. Using egg whites considerably cuts the fat while keeping it high in protein. If you want to use all egg whites you can but I like keeping it half and half.
For additional protein I included 6 (chopped) links of fully cooked chicken sausage. You can use any brand, and flavor, you like. I like Al fresco brand and Wegmans Organic Chicken Sausage.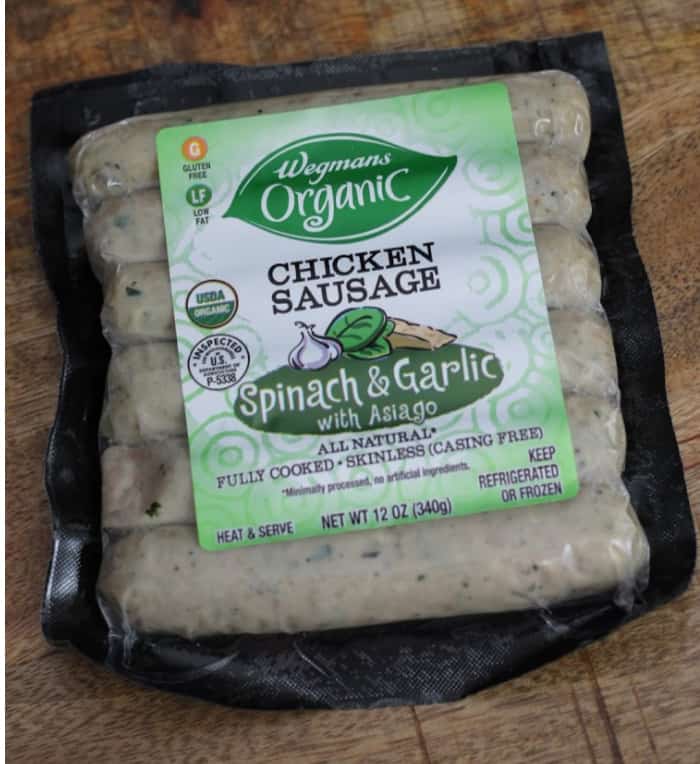 I also added baby spinach to this egg bake. There are a couple different options for the greens. This time around I used a large package (11 ounce) of fresh baby spinach. I put the spinach in a microwave safe bowl, with 2-3 tablespoons of water, and microwaved for a couple minutes. This is to get it wilted a bit.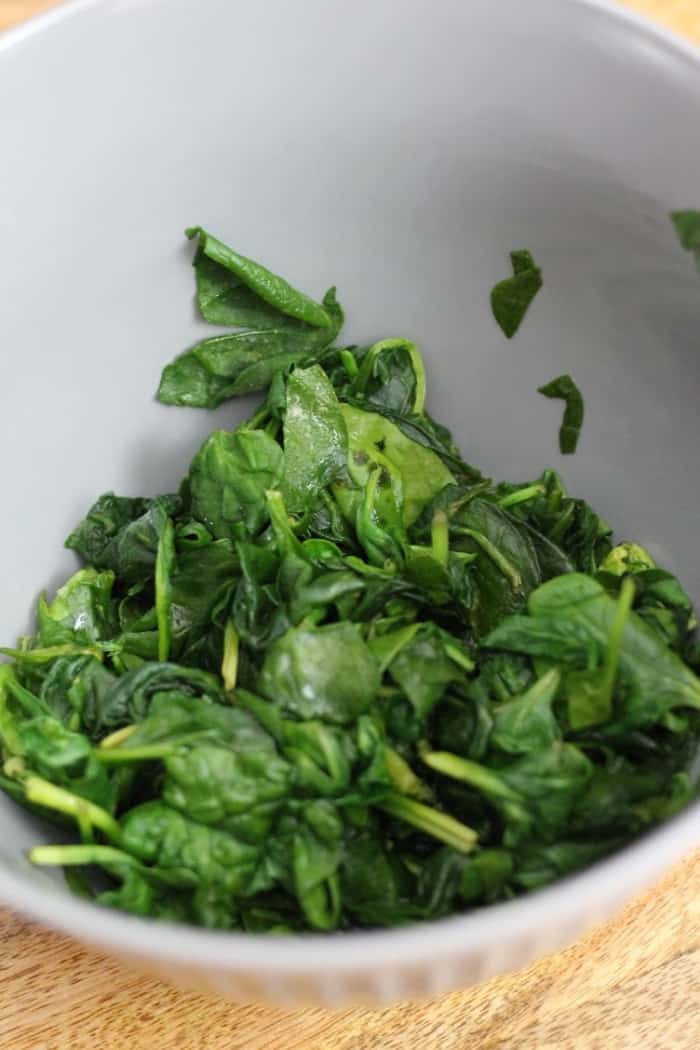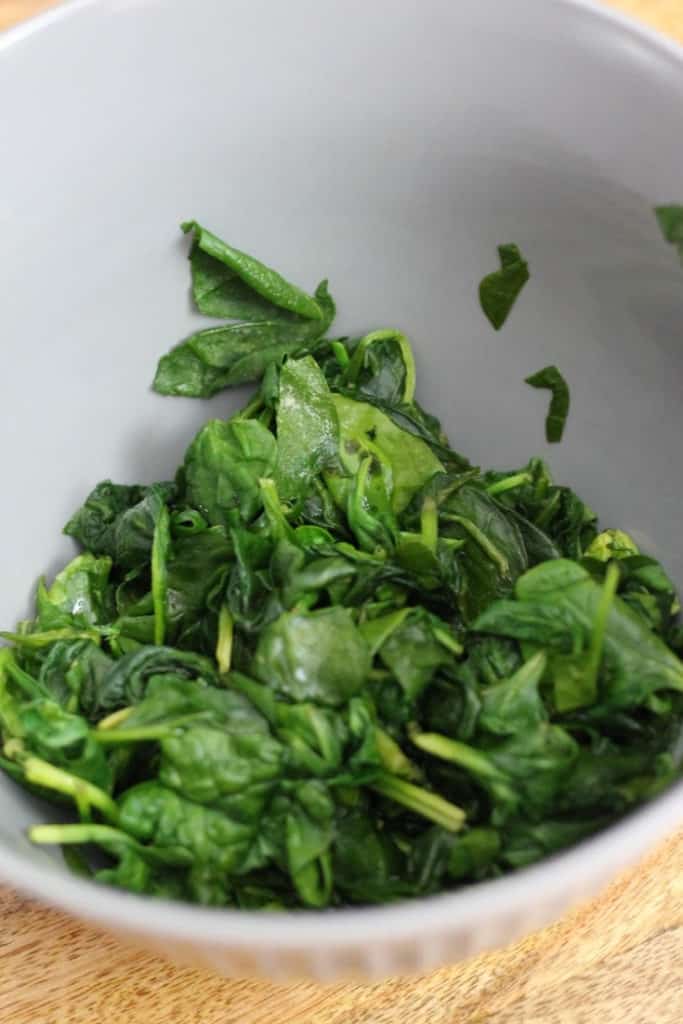 You can also used a thawed package of frozen spinach.
The important thing is to squeeze the excess water out of the spinach prior to mixing it in with the eggs. I should also mention you can use any greens in this recipe. Often I use super greens which is a mix of kale, baby spinach, and swiss chard.
After you whisk the eggs together you'll pour them into a 9 x13 baking dish sprayed with cooking spray. Then gently evenly distribute the spinach and sausage into the beaten eggs. I'll give it a couple soft stirs but mostly I use my hands to make sure everything is lightly coated with egg and evenly distributed.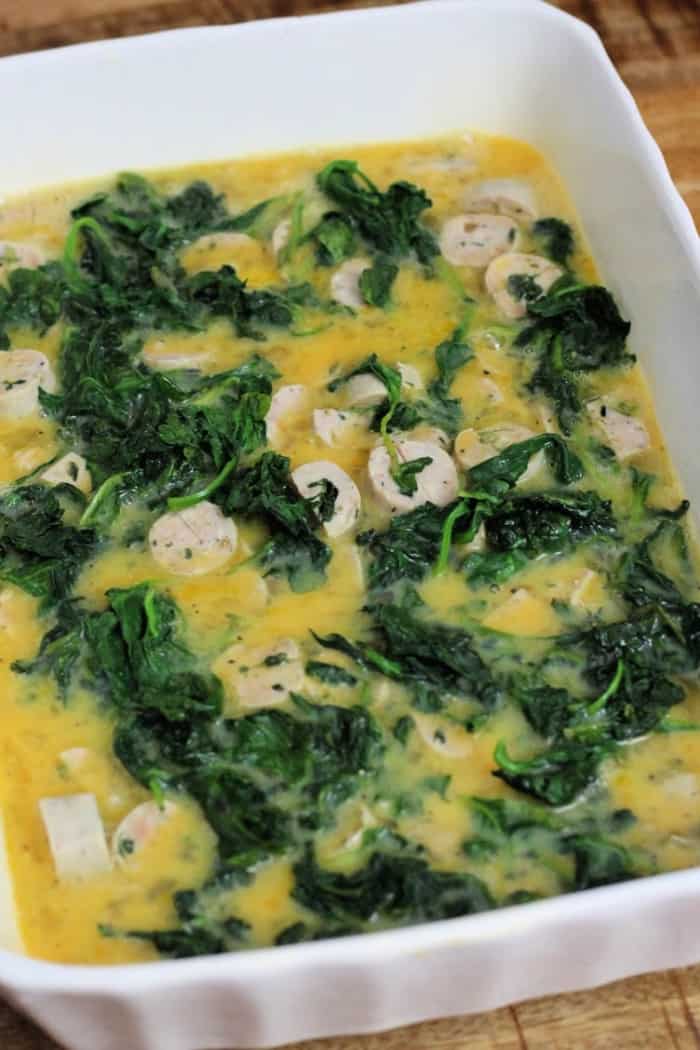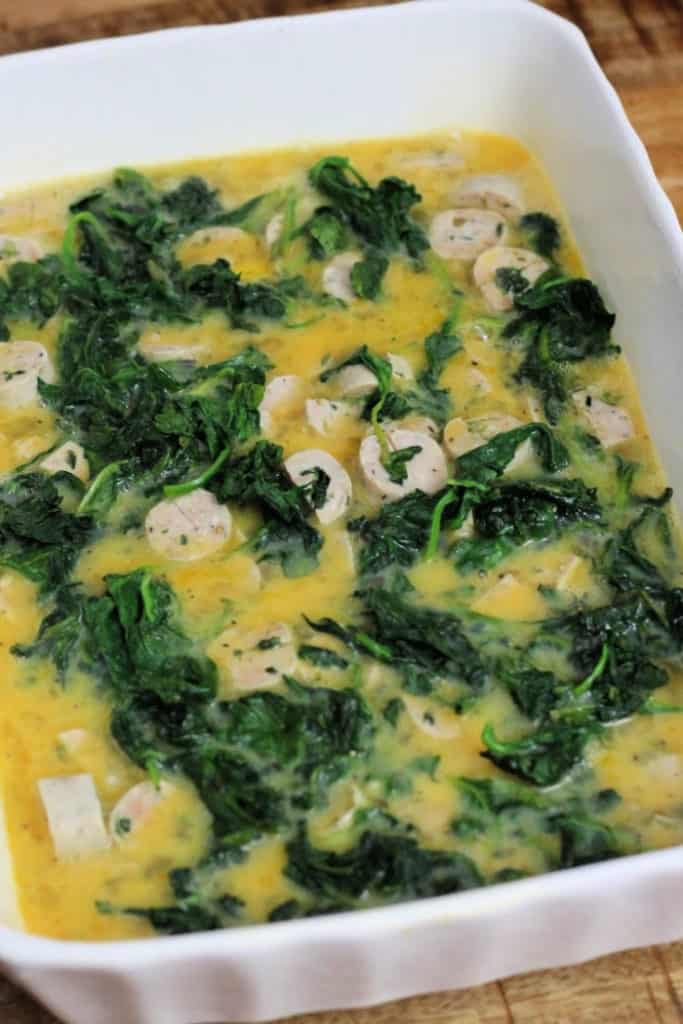 Bake the egg casserole in a 350 degree oven for 30 minutes or until the middle is just set.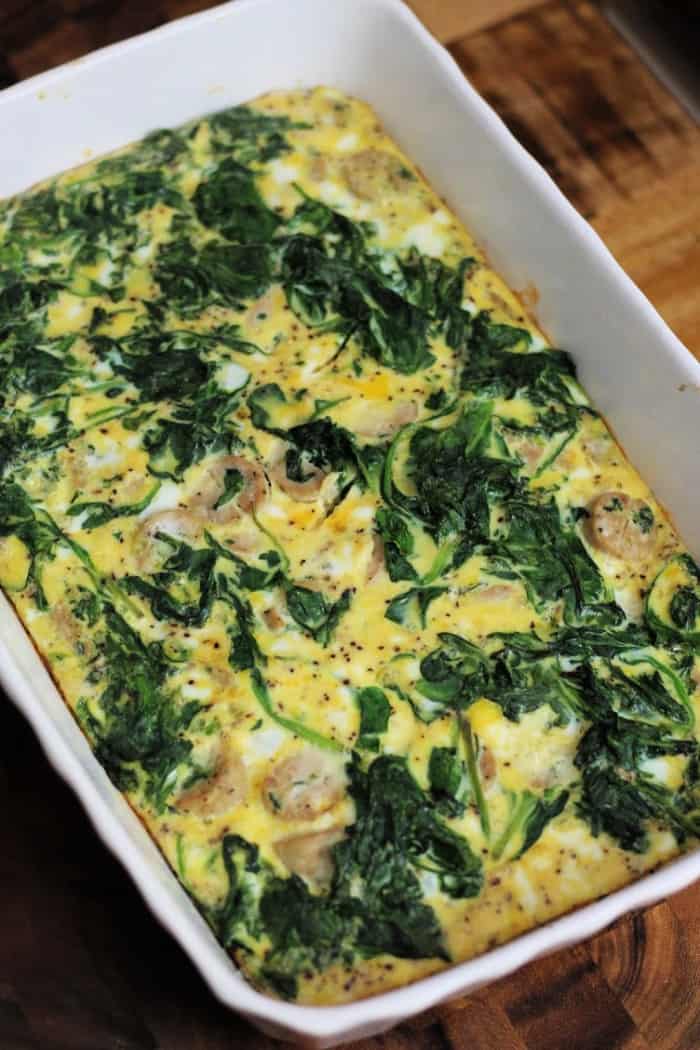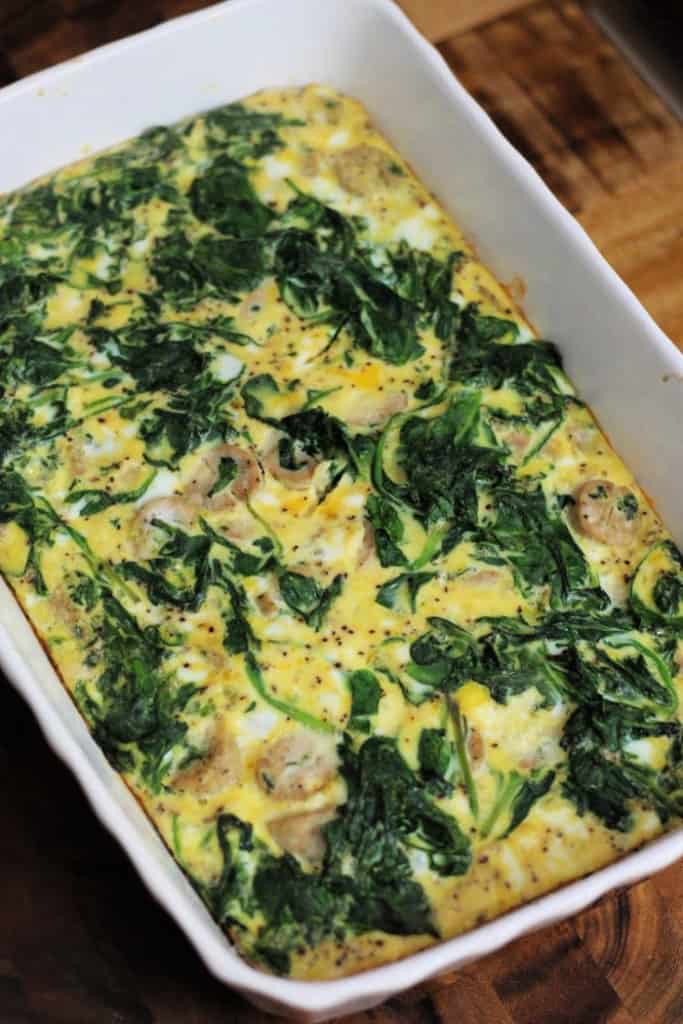 Take it out and cut into 8 squares. To make the Power Breakfast Sandwich place it on 1/2 a toasted english muffin and add 1 slice thinly sliced cheddar cheese, 1 slice tomato, and 1/4 of an avocado sliced.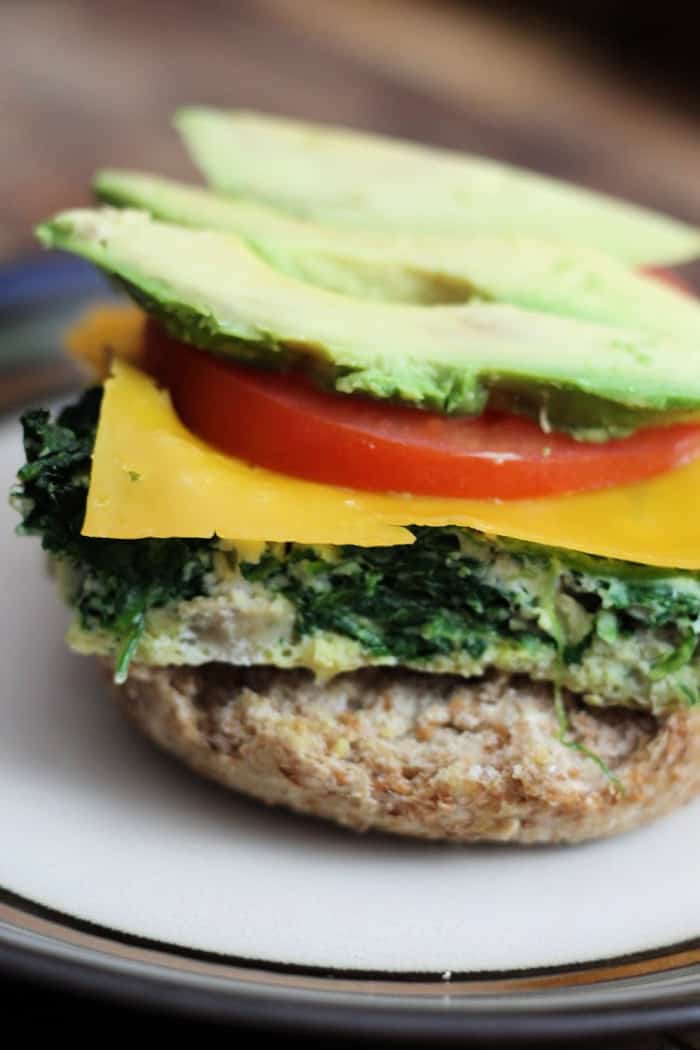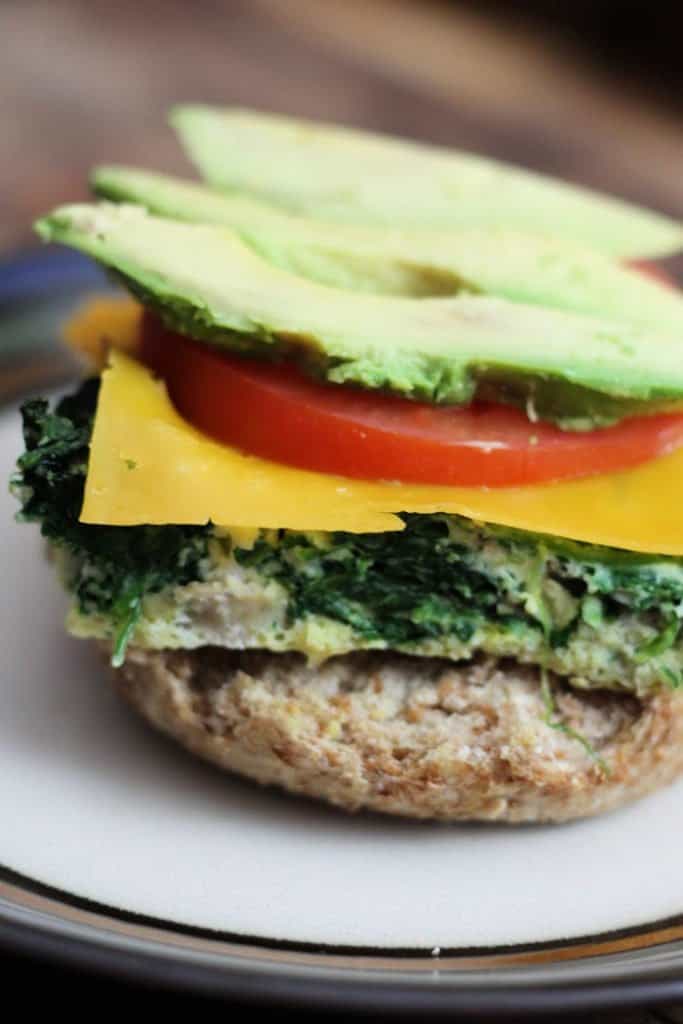 Real quick about the cheese. I love extra thin sliced cheese! It's only 43 calories and the perfect amount of cheese flavor. Of course if you want to further reduce calories or fat then leave it off but if you're a cheese and egg girl (like me) then this is a great solution. Sargento also has extra thin sliced cheese in different varieties.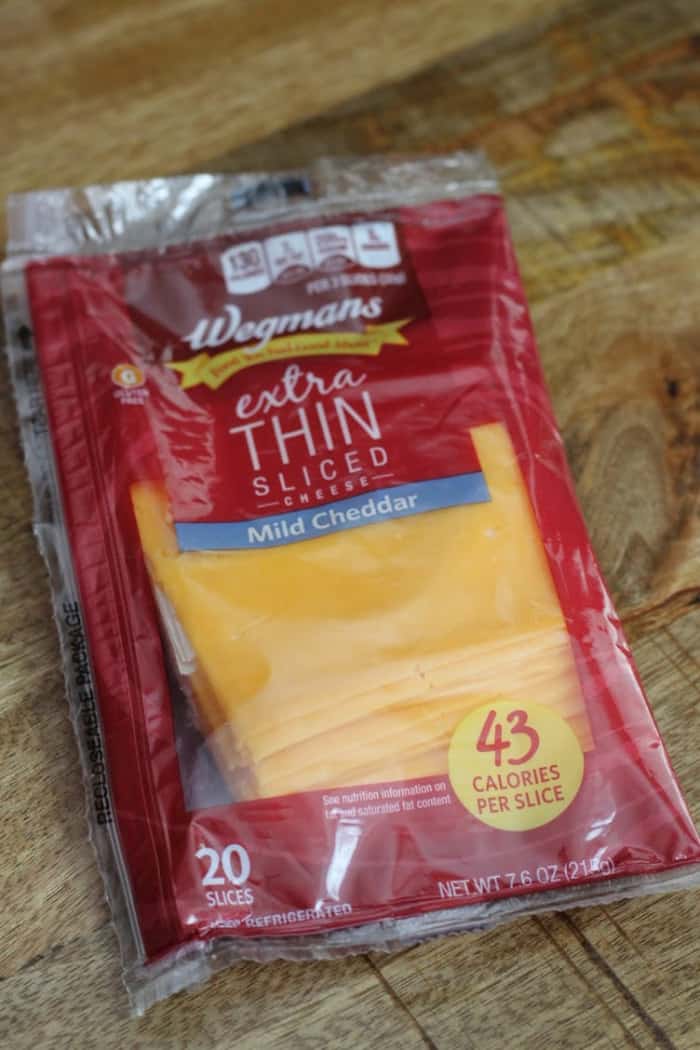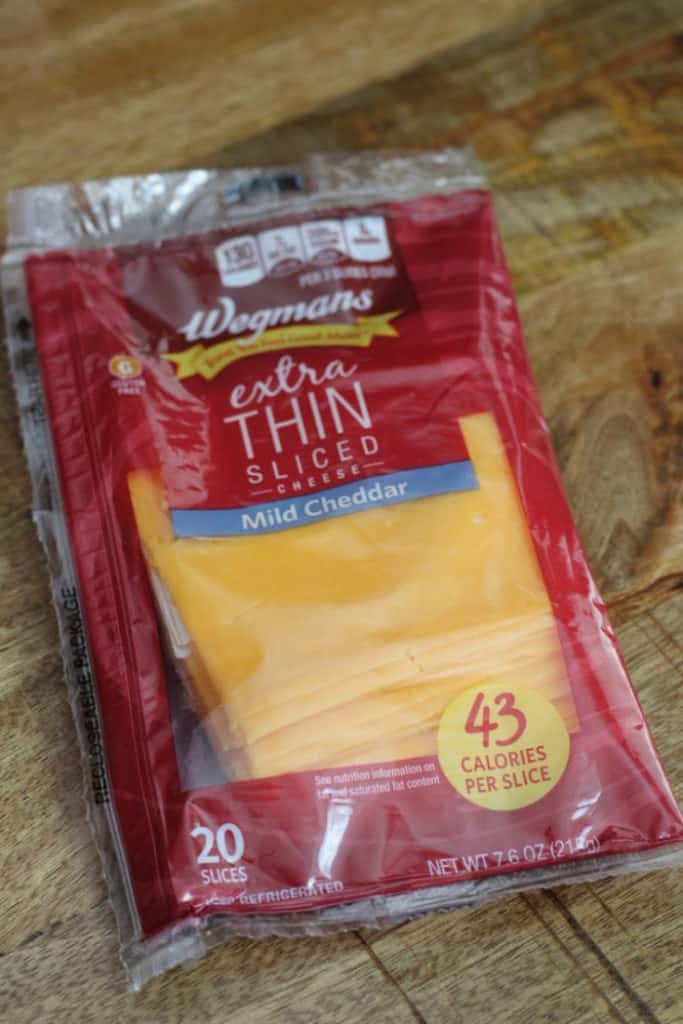 A few more things about this make-ahead breakfast sandwich. I decided to keep it open-faced because Ezekiel Sprouted Grain english muffins are 160 calories each. If you're using the Thomas Lite English muffins then I'd use the entire muffin.
Also, I only used 1/4 of the avocado because, as you probably know, as healthy as it is avocado is still high in calories and fat. 1/4 is plenty for this sandwich. To keep the leftover avocado from turning brown I recommend putting it into a glass container with lots of lemon juice and a little onion – that should do the trick.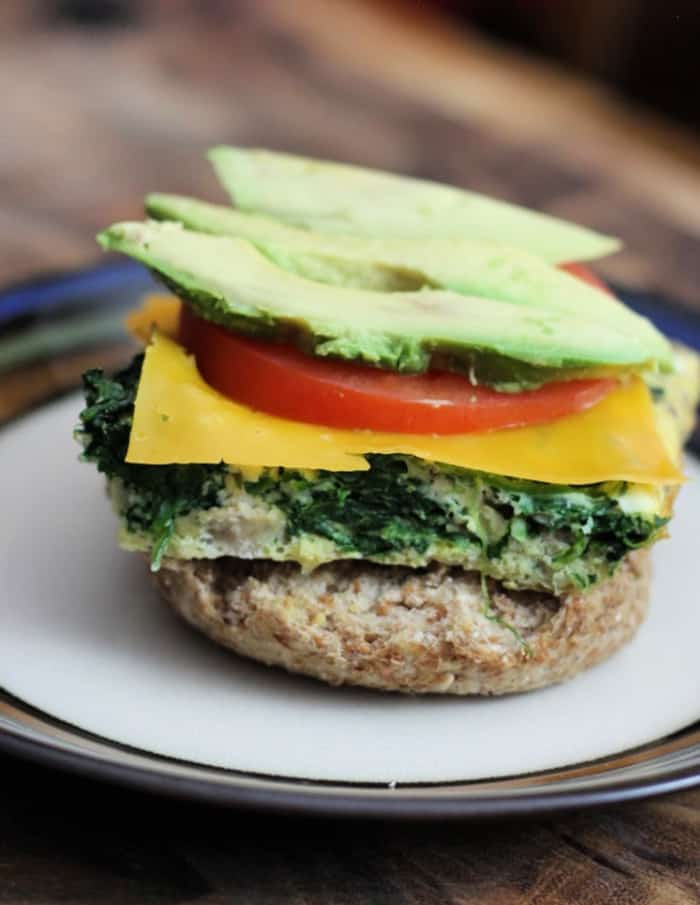 So what makes this a make-ahead breakfast sandwich? Well, the egg bake can (and should) be made ahead of time. After it cools just place the slices into a glass pyrex container and store in the refrigerator all week. When you're ready to eat simply warm up an egg bake square, toast the english muffin, and put your sandwich together.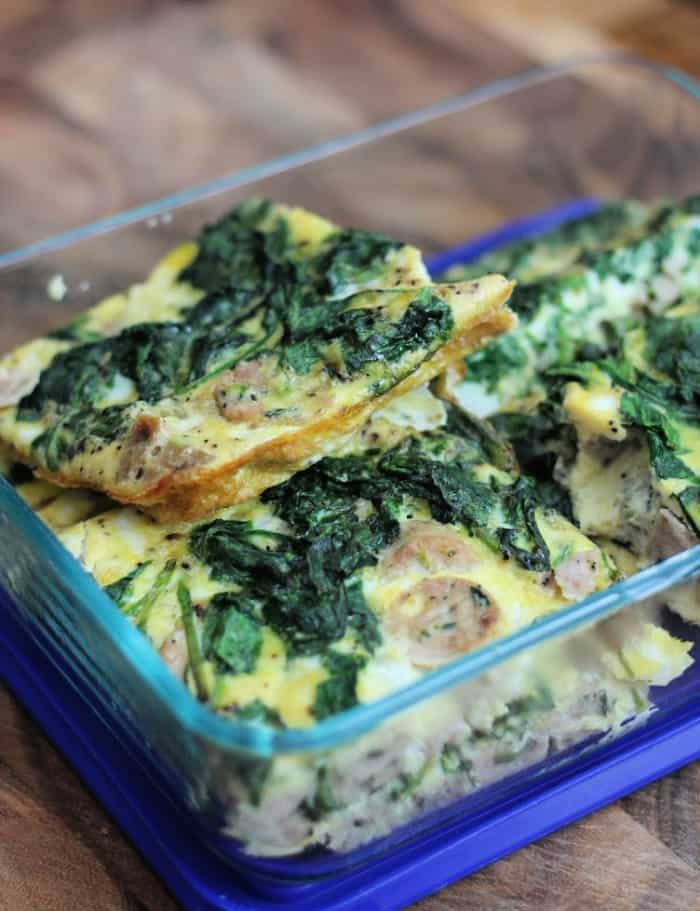 When I used to make breakfast sandwiches, using the other muffins, I'd make the sandwich completely (minus tomato and avocado) and then just warm up the entire sandwich in the microwave. I'd store them in the refrigerator all week or I'd even freeze them. This makes it truly grab and go. However, Ezekiel Sprouted Grain english muffins need to stay frozen until you are ready to toast them. You can't thaw, make the sandwich, and then freeze again. So I just put the sandwich together quickly in the morning. Preparing the eggs is the hardest part so having them ready is super helpful.
If you want to have the breakfast sandwiches grab and go ready then simply prepare them using regular english muffins (again, I recommend Thomas Lite), wrap in plastic wrap, and store in the refrigerator.
Either way, this is a delicious and very filling make-ahead breakfast sandwich to get you powered-up for the morning!
Here are the tools I recommend for this recipe:
Pyrex Simply Store Glass Container Food Storage Set

Make-Ahead Breakfast Sandwich: Copycat Panera Bread
This make-ahead breakfast sandwich recipe is inspired by my favorite Panera power breakfast sandwich. Egg whites, chicken sausage, avocado, and tomato on sprouted grain english muffin.
Author:
Organize Yourself Skinny
Ingredients
7 cups organic baby spinach (1 large container)
6 egg, Egg Whites
6 eggs Large Egg
1 teaspoon granulated garlic powder
1 teaspoon onion powder
½ teaspoon salt
½ teaspoon ground pepper
6 links, Organic Chicken Sausage - Spinach & Garlic With Asiago. sliced
8 slices, Thin Sliced Cheddar Cheese
8 slices, medium, Tomatoes
2 medium, Avocado, sliced
4 Eziekel English Muffin
Instructions
Preheat oven to 350 degrees.
Place the baby spinach and 2-3 tablespoons of water in a large microwave safe bowl and microwave for 2-3 minutes. Once it's cooled squeeze all of the access water out of the spinach. Set aside.
In another large bowl whisk together egg whites, whole eggs, granulated garlic, and onion powder. Pour into a 9 x 13 baking dish coated with cooking spray.
Place the chicken and spinach in with the eggs. Give it a couple stirs to make sure everything is coated with the eggs.
Bake for 30 minutes or until the eggs are set in the middle.
Cut into 8 squares and place one square on half of a toasted english muffin. Add a slice of cheese, tomato, and ¼ of an avocado.
Notes
sugar: 2 grams
Make-ahead instructions


The first way to make this sandwich ahead is to bake the egg casserole ahead of time. Cut into squares and store in the refrigerator. Heat up a square, in the microwave, when you're ready to eat. Then put the sandwich together
Or, if you're using regular english muffins, put the entire sandwich together minus the avocado and tomato. Warm up in the microwave when you're ready to eat and then add tomato and avocado.
Nutrition Information
Serving size:
1 breakfast sandwich
Calories:
373
Fat:
18
Saturated fat:
6
Carbohydrates:
24
Fiber:
7
Protein:
26
Here are some other egg bakes that would go great in a delicious make-ahead breakfast sandwich:
Check out my meal prep page for more make-ahead meal ideas.
Get Instant Access to My Best Meal Prep Tips & 20 Delicious Make-ahead Recipes!
Sign up now to receive your FREE ecookbook that I created exclusively for my email subscribers! That's you!