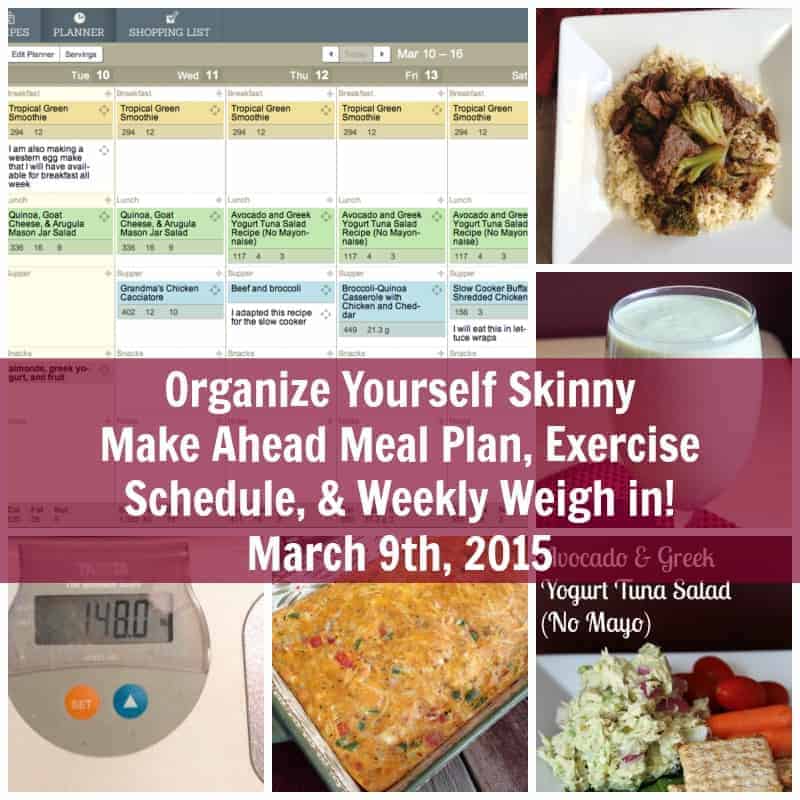 What a weekend!! Oh my! I went to 3 Garth Brooks concerts. I had an amazing time but let me tell you I aint know spring chicken. By Sunday I was useless. I have no idea how Garth does it. I mean seriously I am exhausted from just attending his concerts I can't even imagine how he is feeling from putting on 6 amazing shows.
Here is me in my Garth gear. I love my cowgirl boots. Yeehaaaww! I might be a born and raised Buffalo girl but let me tell you I am a country girl deep in my heart. That's right!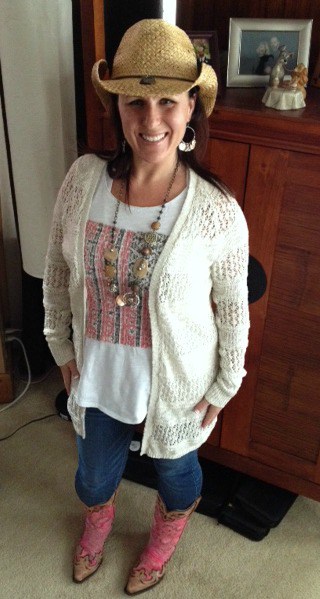 Okay let's get to my weekly weigh in.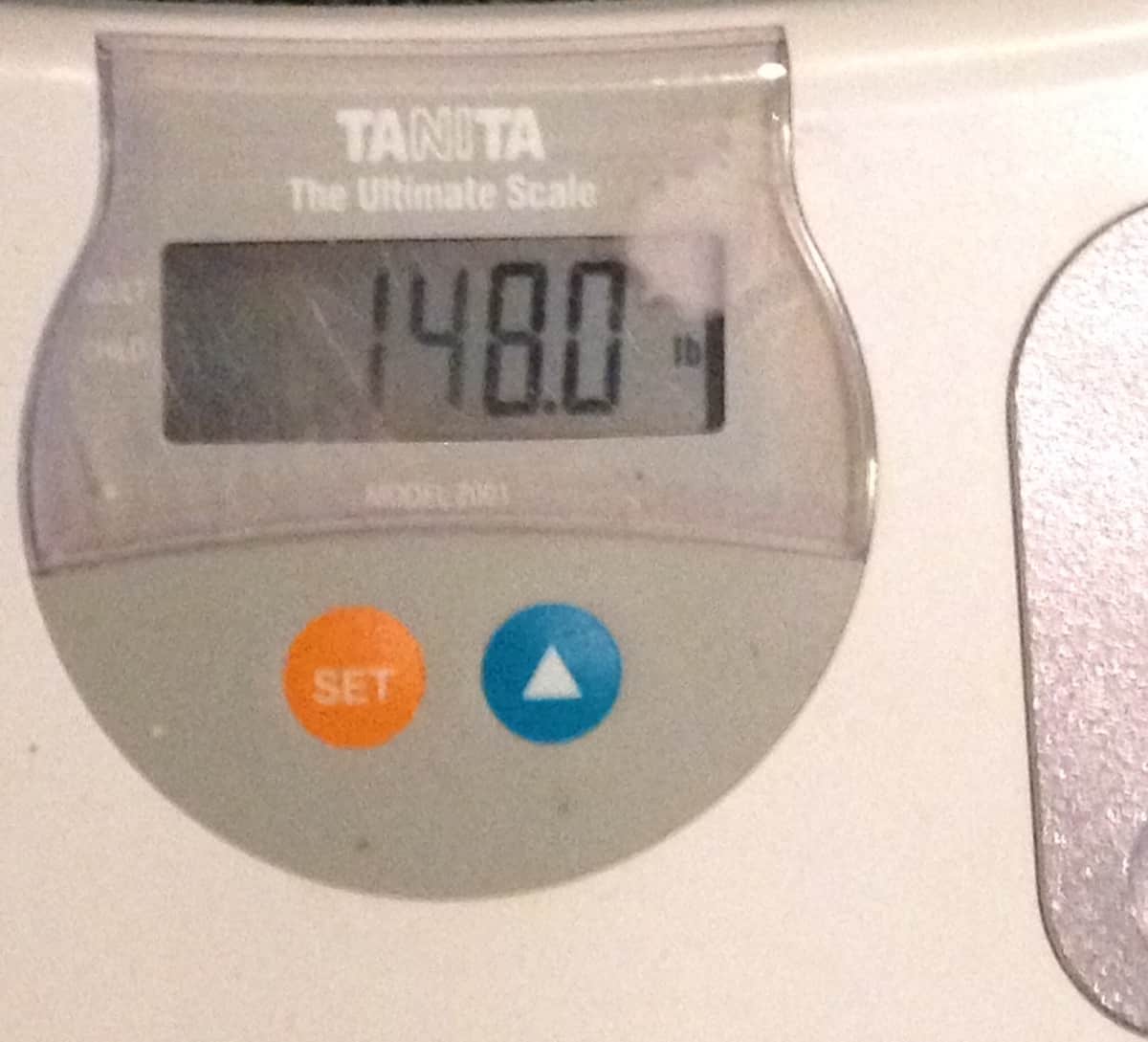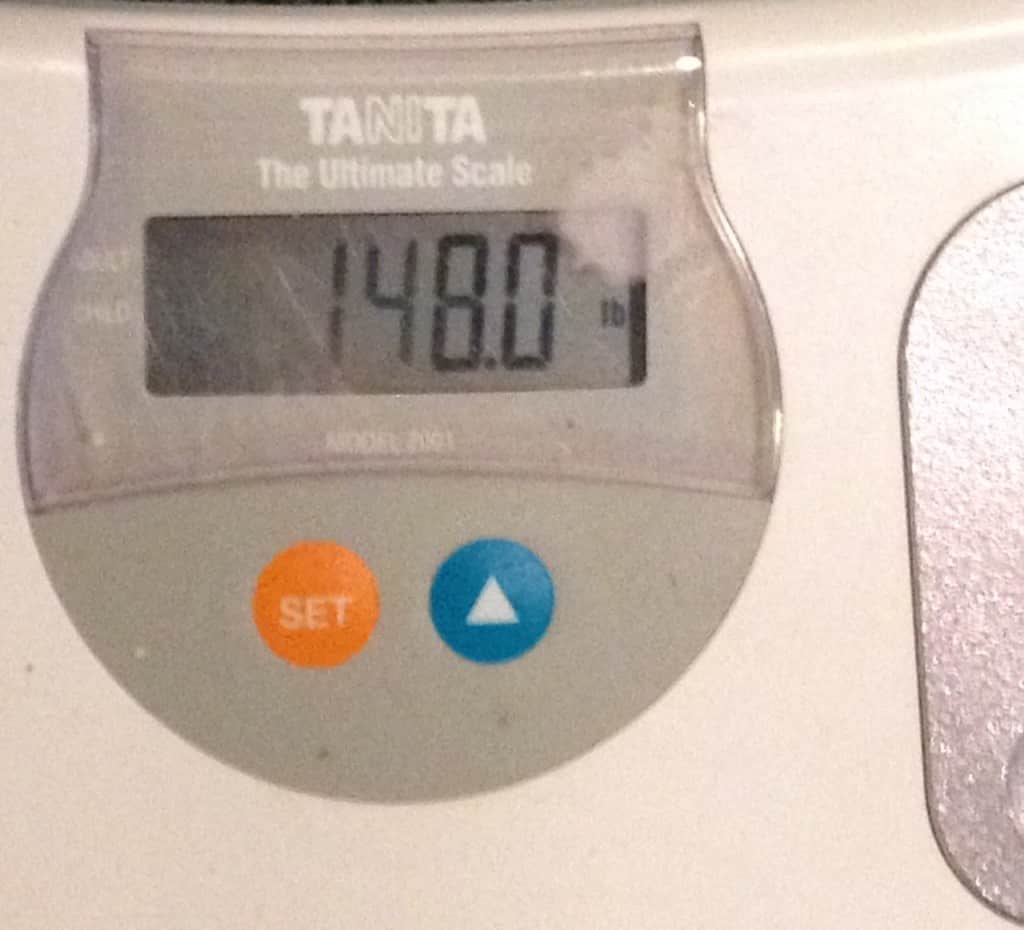 SW: 177
GW: 130
LWW: 148.5
CW: 148
PL: -.5
Well I did not lose as much weigh as I was hoping this week – only .5 pounds. I know it is still a loss but if I want to make my goal weight by June 1st I need to lose more than that. Actually I need to lose about 1½ pounds a week. I think that is realistic. That is if I can get off my couch. I don't know what it is but I am feeling completely burnt out. If I could I think I would stay in bed all day. Maybe it is the weather. I don't know but it is definitely hard for me to stay motivated. Is anyone else having this problem? Looking back I think this happens every year around this time. Hmmm this is something to think about and plan for next year.
I exercised 3 times last week. Not too bad but I would like to do more. I like to start my work out between 6am and 6:30am. However, that has not been happening. Most of the time I exercise after I drop the kids off at school, which then cuts, into my work time, which then pretty much throws off my whole day. I need to force myself to get back into my early morning exercise routine because honestly, my mid morning exercise routine is not working for me. So basically exercise continues to be a struggle for me. I hope you are starting to see that I am human too.
Here is my planned exercise schedule this week. I am going to keep it very simple and basic so I can focus more on the habit rather than fitting in a bunch of exercises.
Monday, Wednesday, Friday, Sunday
Cardio
Treadmill – 45 minutes (10 minute warm up, 20 minute run, 10 minute powerwalk on inline, and 5 minute cool down)
Core
2 – 3 (30 second planks) – These are killer!
3 reps of 8 russian twists.
Legs
10 – 12 reps of the single leg side squat using my exercise ball
Arms
8 – 10 reps of the lying chest fly using my exercise ball
My meal plan
I still have a lot of food in my freezer and pantry so my meal plan will reflect that. As always you can find my meal plan along with past ones on Plan to Eat. Over there you can print out grocery lists and adapt the meal plans to fit your needs. They offer a 30 day free trial so if you have not tried them out I highly recommend you do. If you do decide to subscribe make sure to friend me (username is organizeyourselfskinny). I try to approve all friend requests in 24 hours.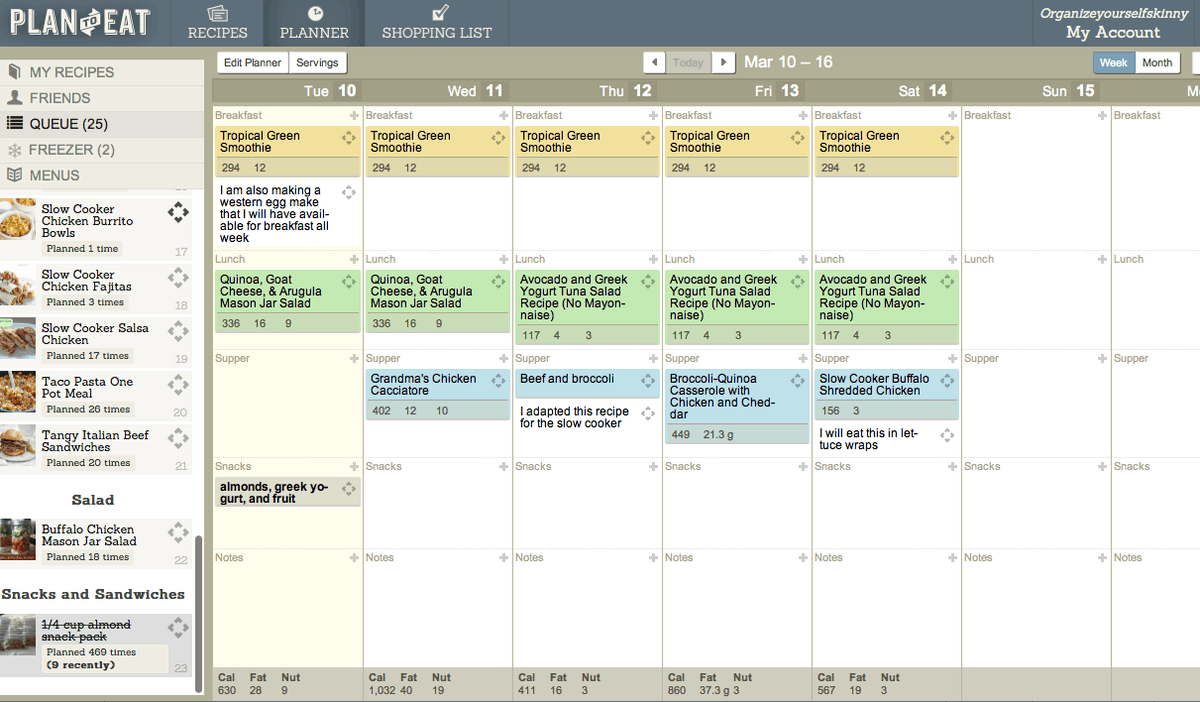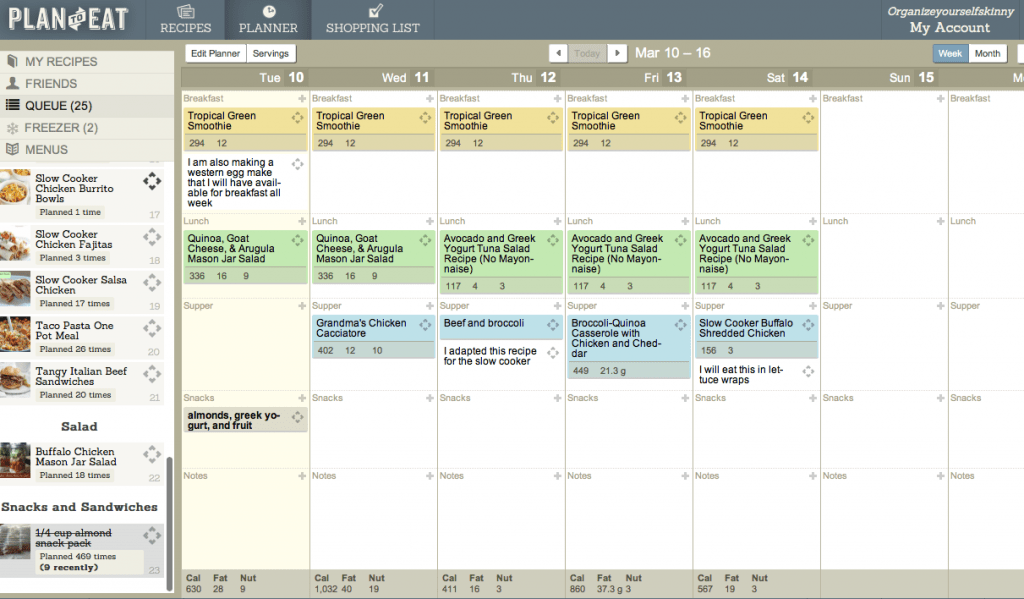 Breakfast
Vegetarian Breakfast Casserole
Make ahead tips
I will make my smoothies the morning off.
egg bake was prepared yesterday, cut into portions, and stored in the refrigerator.
Quinoa Mason Jar Salad
Make ahead tips
I still had a couple salad left from last week. They still taste great.
Tuna salad will be made tomorrow.
Dinner
Chicken cacciatore 
Leftovers
Make ahead tips
beef and broccoli was made yesterday. We ate it for dinner then I packaged up the rest into freezer meals.
I made the quinoa for the bake yesterday.
cacciotore is in the freezer.
Buffalo chicken will be made tomorrow.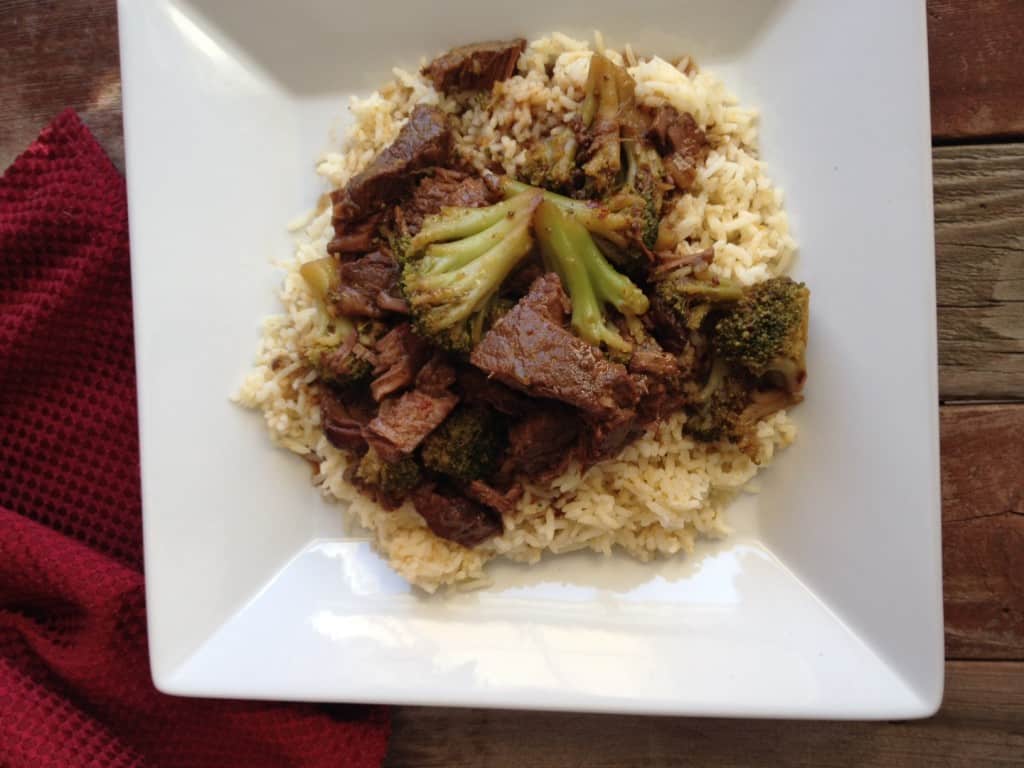 Snacks
apples and peanut butter
greek yogurt
almonds