Chicken Parmesan Burgers take everything you love about the Italian classic and turns it into a delicious healthy burger for grill season! If you're looking to add a twist to your summer cookout then this is the chicken burger recipe to put on the menu!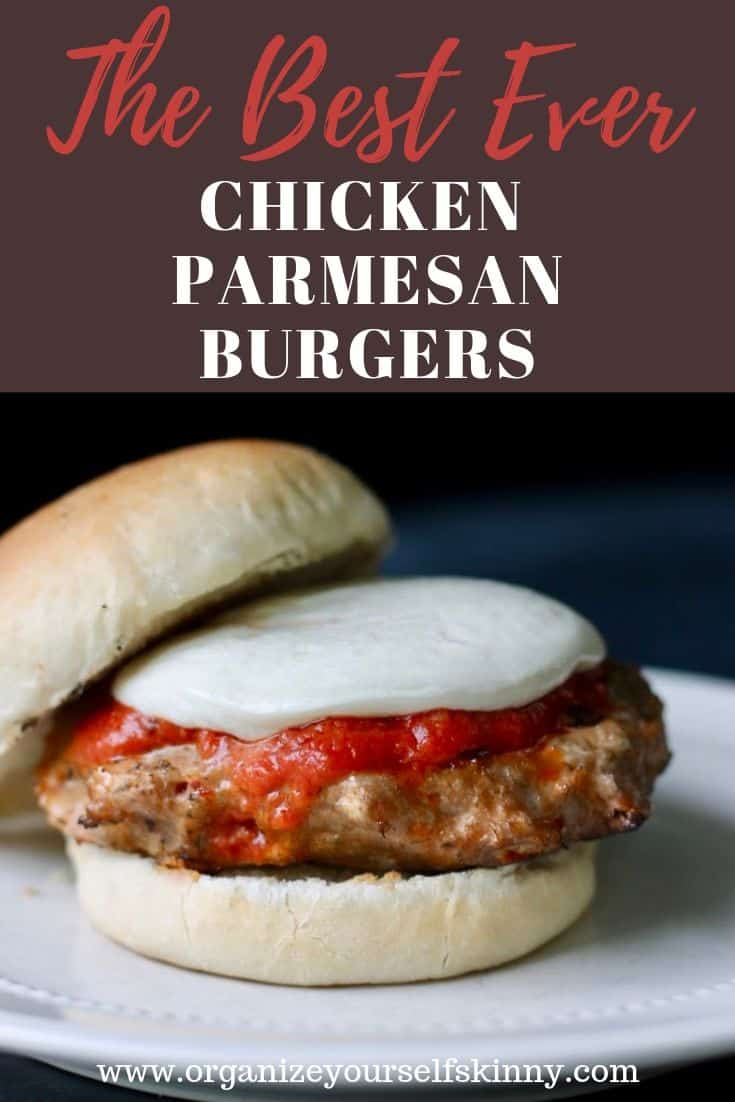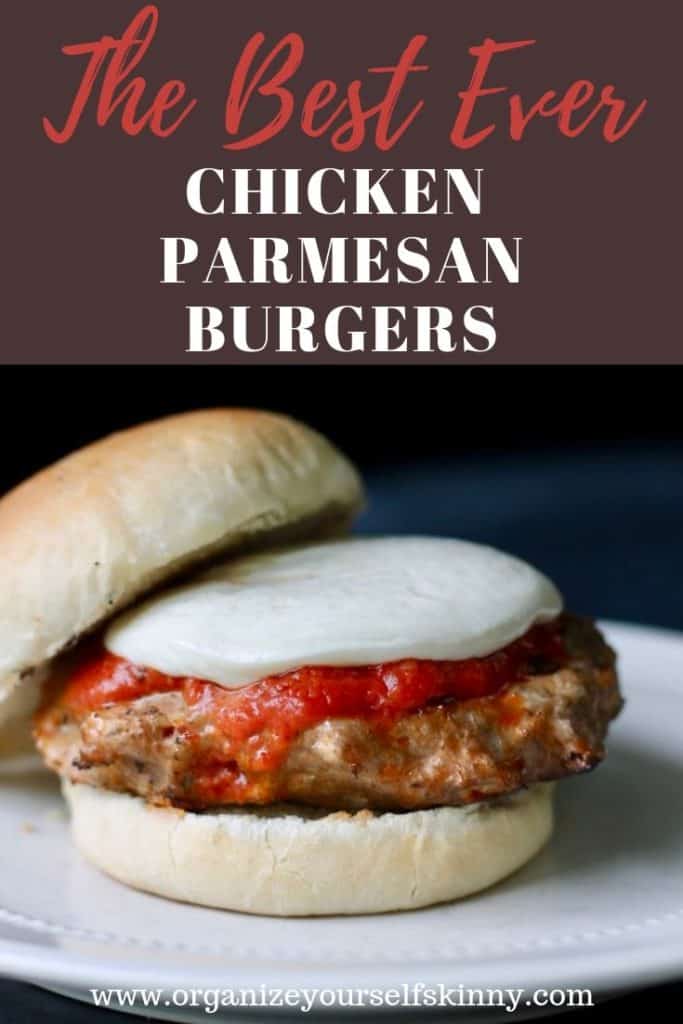 We love chicken parmesan in our house – like LOVE IT! And I'm assuming most of you do too because my baked chicken parmesan recipe is one of the most popular recipes on my blog. Seriously, it's been shared over 10k times!!
I get it. What's not to love about chicken, sauce, and ooey gooey melted cheese. Yum! The answer would be nothing. We love it all!
Now that the hot summer days are here I was thinking about how to bring delicious chicken parmesan out of the kitchen and onto the grill. Should I just grill up a chicken breast and then slather some sauce and cheese on it? Hmmm, that could work.
Or what about chicken parmesan burgers? Oh yeah!
By the way, this is the exact conversation I have with myself as I'm trying to develop recipes. Very technical and scientific.
Of course, when we think burger our mind goes right to beef…or even turkey. But for this recipe I wanted to use ground chicken. I mean we are talking about chicken parmesan burgers. Not beef parmesan or turkey parmesan.
However, I do get worried about using ground chicken in burgers. First, it's hard to get a juicy burger using chicken. You need to cook the chicken all the way through so the odds of getting a dry burger is a little on the high side. Don't worry I have some solutions for you.
Second, chicken burgers are messy so it takes a little finesse to get the ground chicken formed into patties and on the grill. But don't worry, I got you.
Alright, let's get right to this recipe for chicken parmesan burgers so I can share all my tips, tricks, and inner workings of my recipe development brain.
Chicken Parmesan Burgers
You are going to start with a panade. A panade is bread crumbs (or bread) and milk mushed together to form a paste.
This is trick number 1  for a juicy chicken burger recipe. I've shared this trick before with meatloaf and meatball recipes and I'll share it again because it works. If you want the best turkey meatballs ever, or a tender meatloaf, or a juicy chicken parmesan burger then use a panade. Trust me.
You want the panade to be wet. So if you think the breadcrumbs need more milk just add a little at a time.
I recommend using plain breadcrumbs or plain panko breadcrumbs. You can use Italian seasoning breadcrumbs too. I've used all of them and prefer the plain better.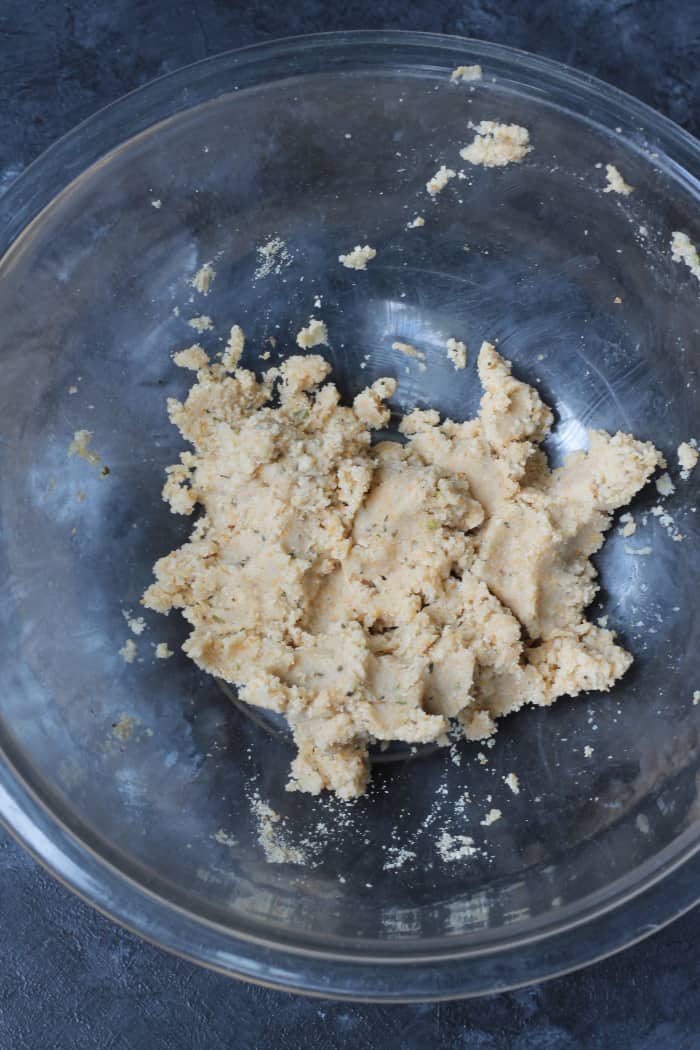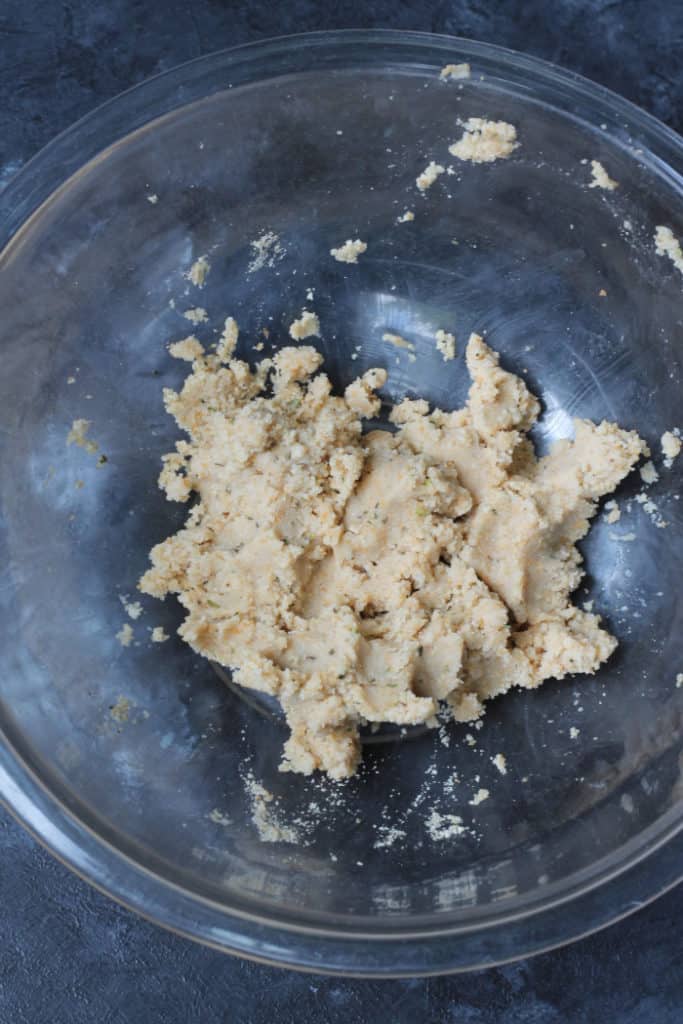 After you have the panade mixed together then just add in all the other ingredients.
The thing I love about making these chicken parmesan burgers is I control the ingredients. I know I say that all the time but I'm really picky about burgers. With this chicken burger recipe I used ground organic chicken from Wegmans. This is my favorite.
A couple more notes about the ingredients. The spaghetti sauce works to keep the chicken burger juicy and also gives it great flavor. My favorite jarred sauce is Rao's marinara sauce. It's on the pricey side but worth it. I can get a big jar, for a great price, at BJ's Wholesale.
Keep in mind, the flavor of the sauce you use will change the flavor of the burger. So if you use a roasted garlic spaghetti sauce then it'll have a more pronounced garlic flavor.
If you don't have Italian seasoning then use a mix of dried basil and oregano. Also, don't forget the grated cheese. I love grated romano but you can use parmesan or a mix of both.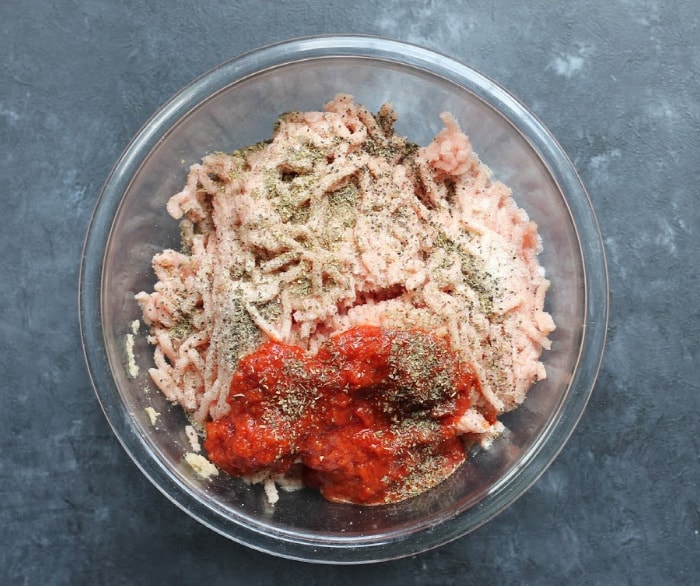 Give all the ingredients a few good mixes using your hands. FYI, this chicken burger mixture is gross and mushy so I recommend taking your rings off.
Also, you'll see some chunks of the panade in the mixture. That's normal and won't hurt anything.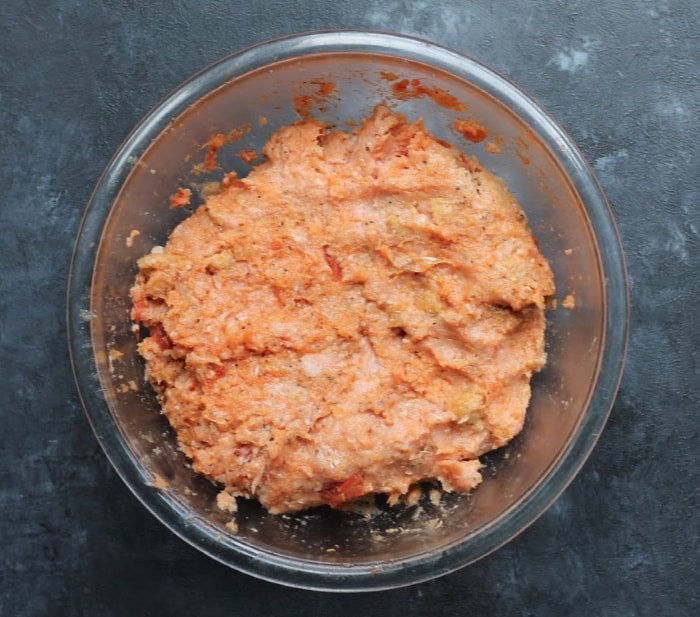 Now let's talk about forming the patties. Depending on the size of the chicken burger you should get about 8 chicken parmesan burgers from this recipe.
Keep a small bowl of water near because it makes it easier to form the patties.
Also, if I'm putting these burgers right on the grill then I'll use a cookie sheet (sprayed with cooking spray) to lay the formed patties on.
If you're going to prepare the chicken burgers for later then I'd place them on a plate and (if needed) use parchment paper to stack.
If you want to freeze these for later then check out my quick tutorial on how to make hamburger patties to freeze <– this works for chicken burgers too.
After you form the chicken parmesan burger mixture into patties they are ready for the grill. You want to make sure the grill is clean and sprayed with a grill spray or oiled. Chicken burgers don't have a lot of fat so they tend to stick more than beef burgers.
Each chicken burger will cook between 12-15 minutes. Only flip it once and don't push down on the chicken as it cooks. This squeezes out the juices and you don't want that.
After you flip the chicken burger, and when it's just about done, add a little more sauce and a slice of mozzarella cheese. You can use fresh mozzarella or regular. Once the cheese is melted then the chicken parmesan burger is done. The internal temperature should read 165 degrees.
Another trick to keeping any burger juicy, especially chicken burgers, is to let the burgers sit for a minute. This gives the juices an opportunity to settle in the burger instead of oozing out with the first bite. Just a little trick I learned from the Food Network. But hey, it works!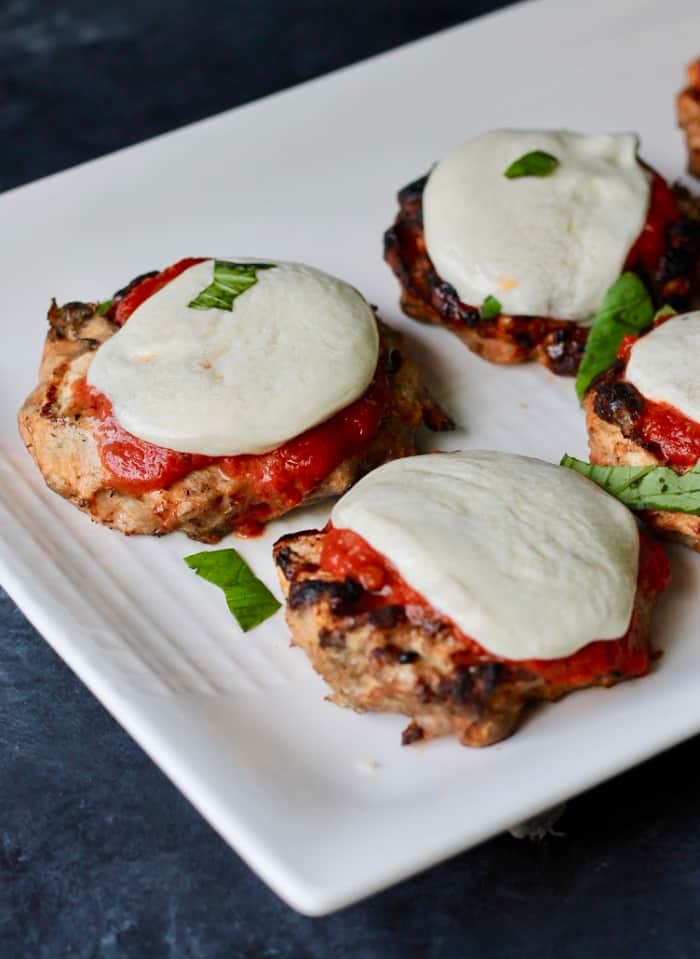 Then serve with or without a bun. If you want to get really crafty burgerish then spread some garlic butter on the roll and give that a minute on the grill. Oh mama!
Of course, I was good and enjoyed mine bun-less buuutttt Mike had one on a garlic butter bun and thought it was fantastic. Okay, maybe I had a bite of his – hey gotta make sure the end result is good 🙂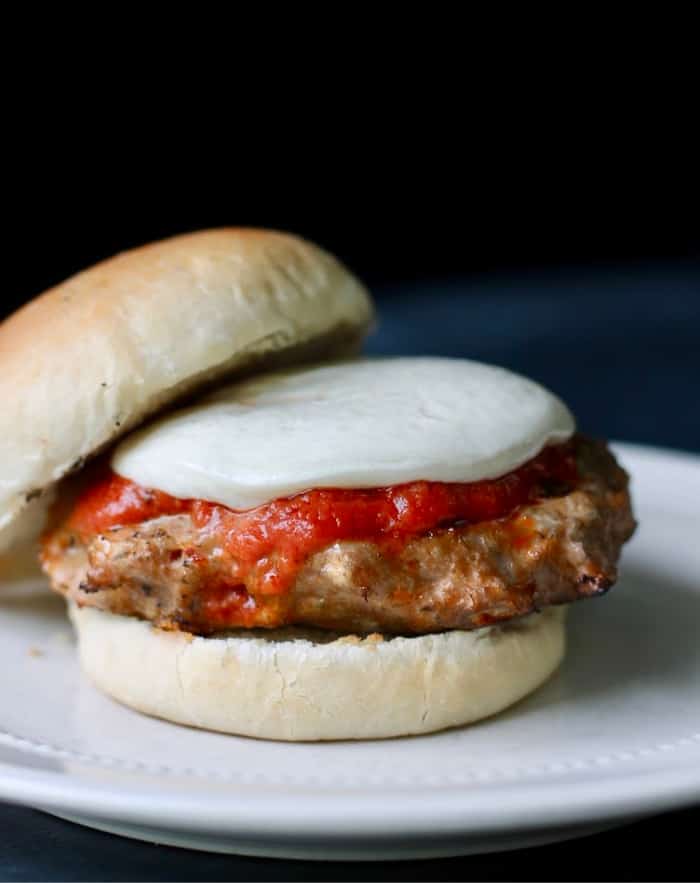 These chicken parmesan burgers were absolutely amazing! They were so juicy it was hard to believe that they were made with ground chicken breast.
Also, these are great for weekly meal prep too. I store the leftovers in glass meal prep containers and we enjoyed them a couple nights heated up in the microwave. They were still delicious even a couple days after the fact.
So, if you're looking for a low-carb, high protein, low-fat, totally delicious recipe to eat during the week, or to bring to your next barbecue, then these chicken parmesan burgers will hit the spot.
Supplies I used
Pyrex Mixing Bowls – these are my favorite glass mixing bowls.
Grill tools – If anything you definitely need a grill spatula. This basic set is under $20.
Grill pan – just in case you don't have a grill, then a grill pan will work just fine. Everyone loves this one by Lodge. It's under $19!
Cookie sheet – this is to lay all the patties on before they go onto the grill.
Glass meal prep containers – If you want to cook these up ahead of time for the week then these containers will work great. You can see this post for all the glass meal prep containers I use.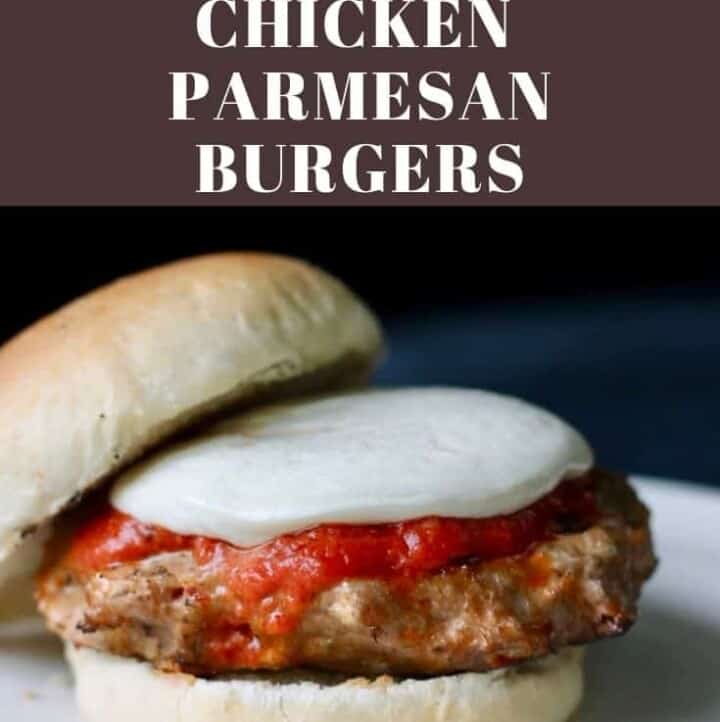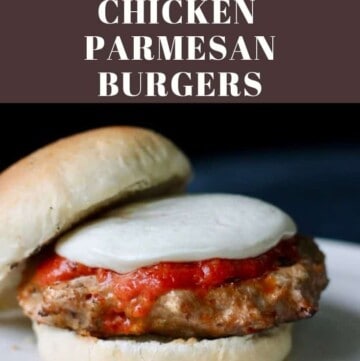 The Best Ever Chicken Parmesan Burger
Everything you love about chicken parmesan created into a delicious healthy chicken parmesan burger for the grill! This is a must have for summer.
Print
Pin
Rate
Ingredients
1/2

cup

plain breadcrumbs

panko or regular

1/4

cup

milk

1% or whatever you have on hand

2

lbs

ground chicken breast

1/4

cup

grated romano cheese

1

cup

spaghetti sauce

I like Rao's marinara sauce, divided

3

garlic cloves

grated

1

teaspoon

Italian seasoning

1

teaspoon

onion powder

1

teaspoon

salt

1

teaspoon

pepper

pinch

of crushed red pepper

8

slices

mozzarella cheese

fresh or regular

Rolls
Instructions
In a large mixing bowl, mix together the bread crumbs and milk until it forms into a mushy paste. You want this to be a little more loose than dry.

Add to the bowl the ground chicken, grated cheese, Italian seasoning, onion powder, garlic cloves, salt, pepper, crushed red pepper, and 1/2 cup of sauce.

Using your hands, mix until all the ingredients are evenly distributed. Don't over mix.

Form into 8 patties.

Grill for 12 - 15 minutes or until cooked through. The internal temperature needs to be 165 degrees.

When the patties are just about done divide the rest of the sauce among the patties and add the cheese. Cook for another minute or until the chicken is cooked through and cheese is melted.
Notes
Make-ahead tips;
These patties can be made 2-3 days ahead of time and stored in the refrigerator. You can also freeze these patties for up to 3 months. Just make sure they are completely thawed before going on the grill and cooked all the way through.
Nutrition
Serving:
1
g
|
Calories:
246
kcal
|
Carbohydrates:
28
g
|
Protein:
6
g
|
Fat:
12
g
|
Saturated Fat:
4
g
|
Sugar:
1
g