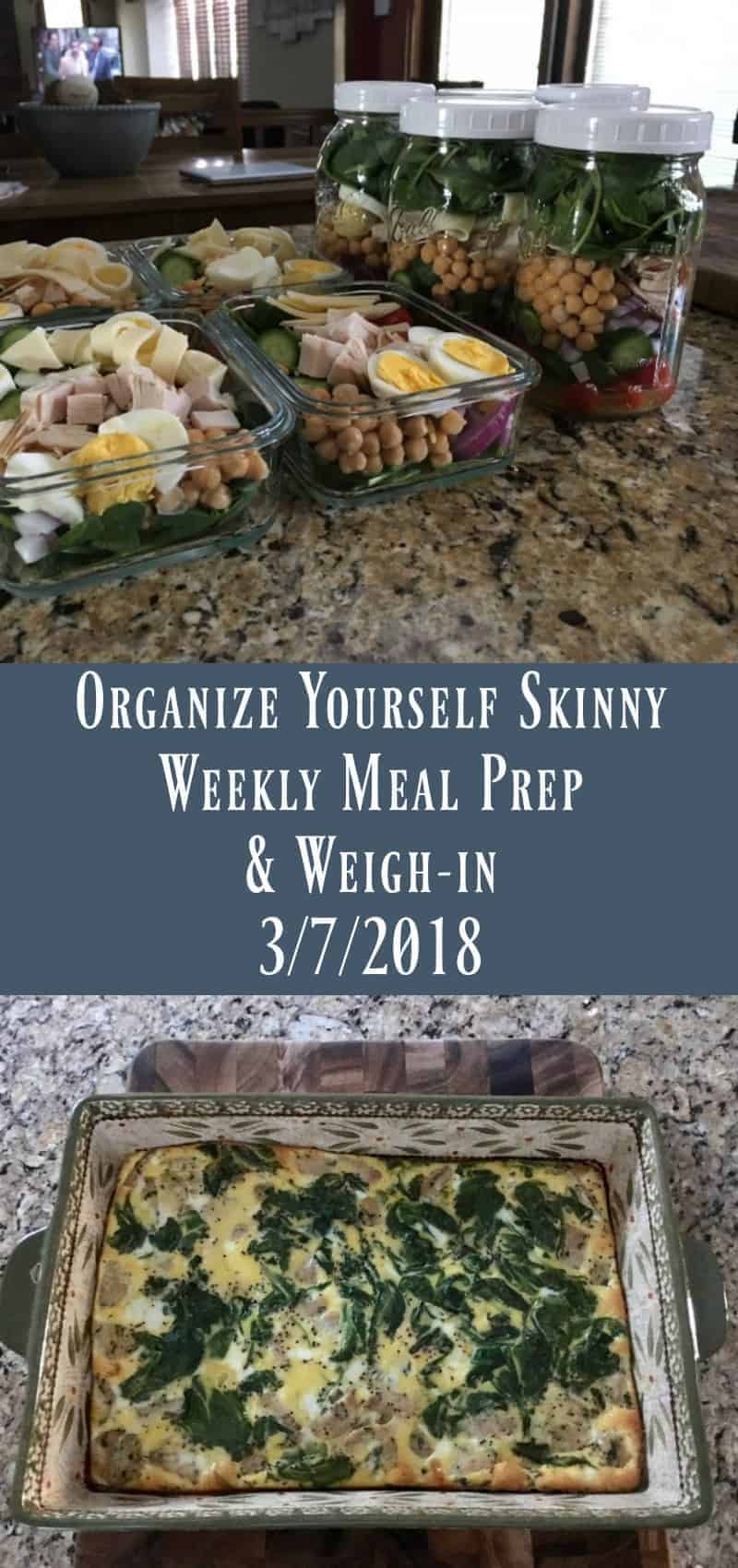 Hey there! I hope you had a great weekend and start to the week. I can't believe we're into the first week of March. Seriously, before we know it summer's gonna be here.
I'm actually super excited for summer to get here. First and foremost, I'm completely over the cold weather here in Buffalo, NY – honestly, it's like never ending.
Second, this is our first year with a pool! In case you didn't know, we bought a house this past October that came with a new above ground pool, a huge deck, and beautiful yard. I'm counting down the days till I'm sunbathing during the day and hanging out around a fire at night. Can't wait! I wouldn't say I'm 100% bathing suit ready but I'm almost there and looking forward to floating around in my pool with a tasty umbrella drink. Can you tell I've been day dreaming about summer?
I also have a vacation planned this summer to Colorado with my kiddos. So, needless to say, I'm really looking forward to summer. My goal is to find that perfect balance between making memories and being lazy. Living the dream!
In case you missed my announcement last week my new FREE 7-day meal prep email series is open. I've received a ton of awesome feedback from readers who've already gone through the series. I spent a lot of time putting this meal prep series together so it makes me feel good so many are finding the information helpful. If you're interested in learning about meal prep then you can sign up for the meal prep email series here. Remember it's free.
Okay let's get to my weigh-in.
Starting weight: 177lbs (October 2010)
First goal weight: 145lbs
Final goal weight: 135lbs
Last week's weight: 155lbs
Current weight: 153lbs
Pounds lost: -2 lbs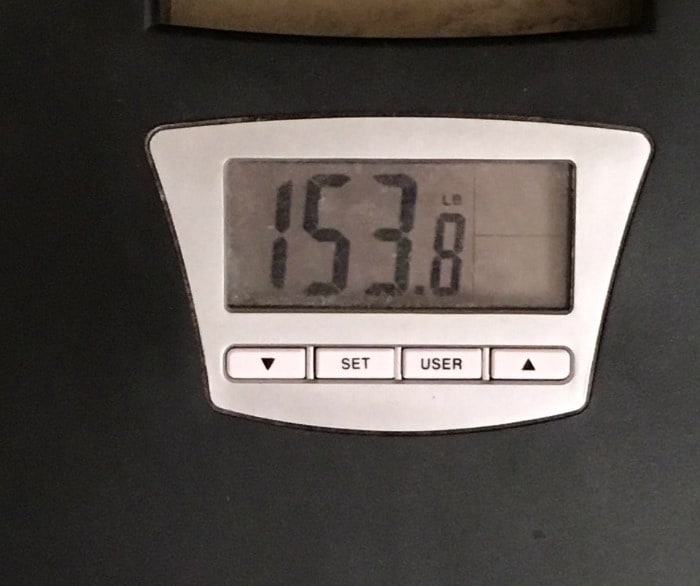 Well friends, I lost another 2lbs this week. Of course, I'm very happy to see a loss but I'm not going to get too excited just yet. In fact, I'm not going to get excited until I reach below 150lbs and stay there! Therefore, my goal is to buckle down to get below 150 by April 1st. Like I said, summer is right around the corner and I want to feel comfortable with all things summer. This means I don't want to hide behind towels, coverups, and bulky clothes. Nope, I want to wear my summer clothes proud.
How am I going to do this? Well I'm just going to keep on doing what I know works – staying consistent with tracking my bites, exercising, drinking water, and not eating past 7:00pm. I'm still slipping up on weekends so I'm going to pay extra special attention to Saturday and Sunday this week. Obviously, I'm not getting too off track because I'm losing weight but as I've experienced before it only takes 1-2 days of slip ups to ruin a weeks worth of staying on track.
I'm increasing my exercise routine to include 1 hour of cardio, and 20 – 25 minutes of strength-training, 4 – 5 times a week. I know I don't need to do as much cardio but I love it and it makes me feel good. Honestly, I feel like a million bucks when I'm a sweaty disgusting mess after a nice long workout.
A quick update on my coffee creamer addiction. I'm proud to say that I've measured all my creamer last week. Now I did have an extra cup a couple days last week (mostly weekends) but I measured and held myself accountable. So, I feel like I'm finally getting coffee creamer under control.
Okay let's get to my meal plan. Meal prep has been HUGE with keeping portions under control. If I didn't meal prep mason jar salads, egg bakes, and dinner kits I'd never eat healthy. Having breakfast and lunch ready each week has helped tremendously with staying on track.
Another thing that's helped is Instacart grocery delivery service. I think I've mentioned Instacart before, but if I didn't then let me say it right now – having the option to get groceries delivered to my doorstep is one of the best things ever. Honestly, it's been a HUGE time-saver. I have zero time, or desire, to go to the grocery store – especially on the weekends. Instacart works with my local grocery stores (Wegmans and Tops) to get grocery delivered to my home.
I place my order and an Instacart employee shops for my groceries. Then, within 2 hours, delivers them to my door. It does cost a little more than going to the store yourself but if money is time then you'll find Instacart to be completely worth the extra money.
I've been using Instacart since last September so I'm very familiar with this grocery delivery service. I know there's probably a lot of questions so I'm going to put together a review within the next week. If you have specific questions please list them in the comments and I'll answer them in my review.
My whole point is online grocery delivery has helped me stay consistent with meal prep. I don't need to worry about getting to the grocery store. I make my meal plan and then order my groceries online. Within 2 hours I'm ready to prep. You can see if Instacart is available in your area here.
Here's my meal plan
Breakfast
Super Greens and Chicken Sausage Egg Bake
Meal Prep tips
I made this on Sunday to eat during the week. I enjoy this with a piece of Ezekiel bread.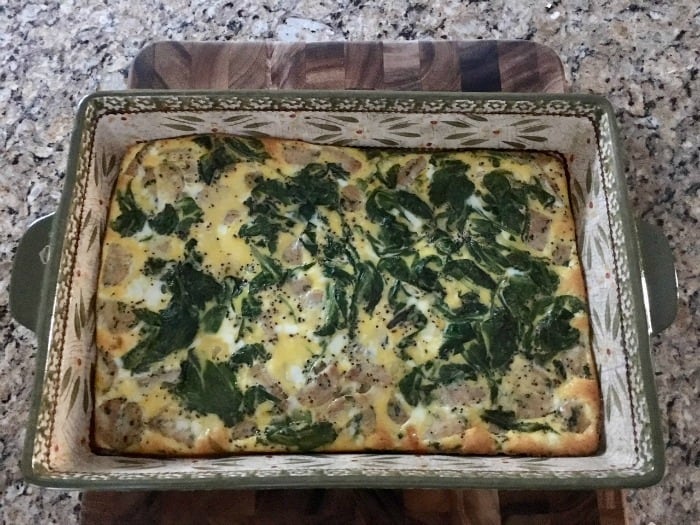 Lunch
Smoked Turkey and Chickpea Mason Jar Salad – I did a variation of this recipe.
Meal prep tips
I made these Mason Jar salads on Sunday. You can read my mason jar salad tutorial here. I also made 5 more salads for my boyfriend to take to work. He likes Cobb-style salads, and he brings his dressing with him, so I use glass square containers to make his.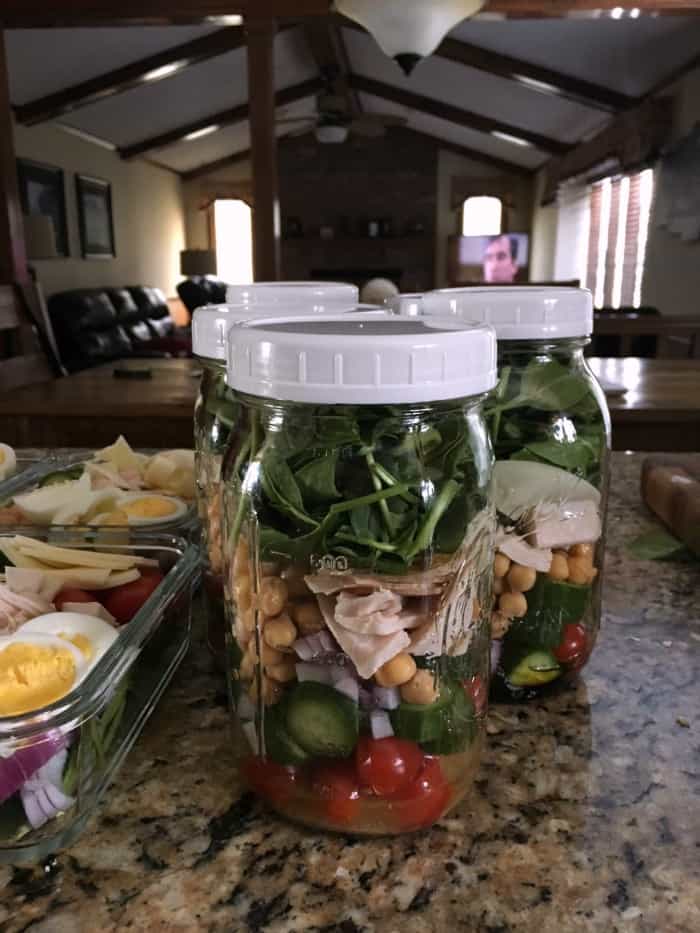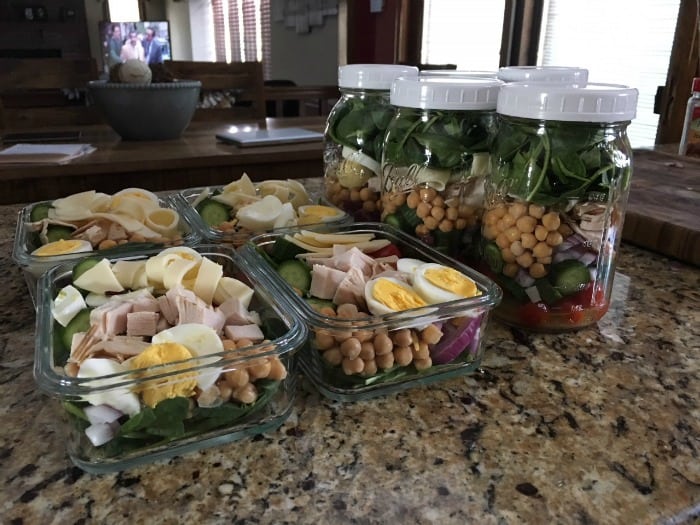 Snacks
Granny Smith Apples
Raw Almonds
Dinner
*For dinners I'm using up the last of the dinner kits I put together a month or so ago. I plan to make more next week. These were beyond helpful in getting healthy dinners on table quickly during the week.
One-pot Sausage and Recipe
Cheeseburger Meatloaf serve with brocolli
Homemade Pizza using the last of the dough I made
One-pot Turkey Sausage and Tortellini
Meal prep tips
Everything we're eating this week is in the freezer. Here's some pictures from when I made my dinner freezer meal kits.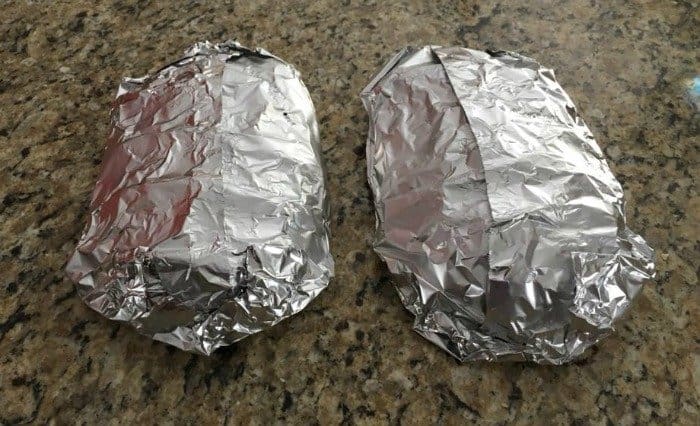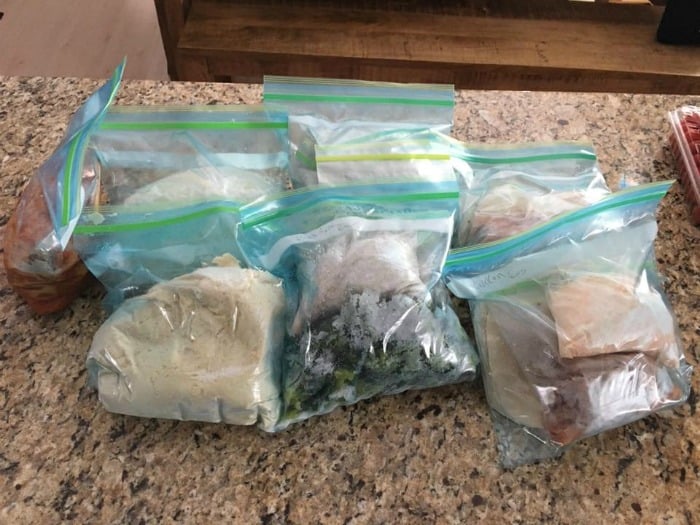 That's it for my week. Let me know if you have any questions.
Have a great rest of the week!