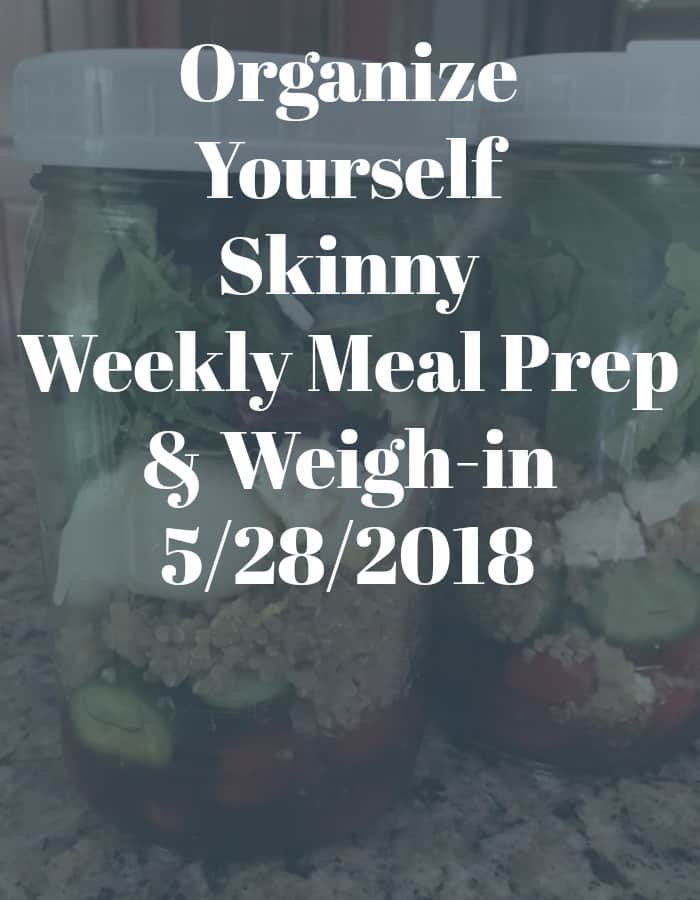 Hi there! I apologize I haven't shared a meal plan since May 7th. On Mother's day Mike and I lost one of our best friends in a tragic boating accident. It was one of the worst tragedies I've ever experienced. Forever life-changing. He was only 43 years old and had a wife and two little kids. It's a very sad time so please keep everyone in your prayers.
I've learned many lessons over the last couple weeks. First, whether you live a short life or long life you need to live it to the fullest. You need to be happy. You simply never know when your time is done on this earth. How do you want to spend it? Bitter and miserable or at peace and happy? Waiting for the right time or doing it now? Learn to let go and forgive. Learn to love unconditionally. Learn to simply enjoy the people around you. Of course, we are all human so there will be mistakes along the way but don't get caught up in things that don't matter. Also, make sure the people you love know you love them EVERY..SINGLE..DAY.
The second lesson is what kind of legacy do I want to leave on this world. How do I want to be remembered? Our friend Eric made a huge impact on people in all areas of his life. He left behind a strong legacy. I found it inspiring and comforting to see this as I met everyone coming to say their good byes. People, I haven't seen in decades, flew in because of the impact he had on their lives. It was incredible.
We can't control our destiny. When our time is up it's up. You don't know when, where, or how. Nobody is invincible when it comes to death. It's a real thing that we often forget about and take for granted.
Yesterday is gone and tomorrow may never come so all we have is today to live our life in the best way we can.
I just wanted to share that with you so hopefully you can take a moment to reflect on the things that you love in life.
Okay, let's talk about my weigh-in.
Starting weight (October 2010) : 177 lbs
First goal weight: 145
Final goal weight: 135lbs
Last week's weight: 152 lbs
Current weight: 157 lbs
Pounds lost:+5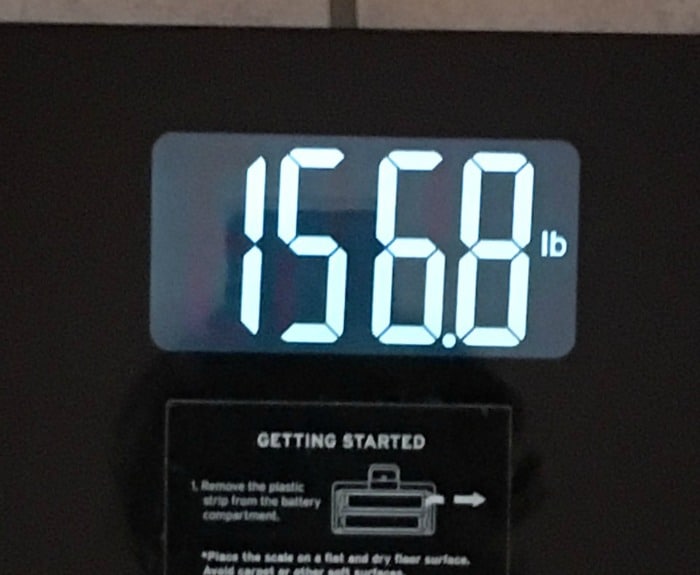 Well, as you can see, in the last 3 weeks I've put on 5 lbs. Any other time in my life I would be really hard on myself but right now I'm going to give myself a break. I tried to keep healthy food prepped and available but there were many days we weren't even home. So a lot of food went to waste. Also, I didn't exercise at all because I just didn't have the energy. My focus the last couple weeks was just to be there for whoever needed me.
However, now we are getting back into a routine. This has been helpful with the healing process. Whenever there is total chaos, and life is out of control, I always find comfort in routines. This gets me back on track. Also, I have two daughters that need me, a business, and household to manage so it's important that I find a way to get back to a new normal. Routines help with that.
This past weekend being Memorial day weekend was super busy for us too so I didn't get a chance to meal prep anything until yesterday. I will say this…thank goodness for Hello Fresh and Instacart! I had no desire or time to get to the grocery store. I forgot I even ordered Hello Fresh so it was a blessing to see my box show up on Friday. And seriously, how did I ever survive without Instacart. It makes ordering all my ingredients for mason jar salads so easy. Honestly, Instacart Grocery Delivery Services is key to keeping meal prep a priority. Who knows what I'd be eating the last couple weeks if I needed to go grocery shopping.
You can read my Hello Fresh review and Instacart Review for more information on these services.
Let me back up a little before I get to my meal plan. I want to talk about my exercise routine.
This week I've exercised the last couple days and plan to get in 1-hour workouts Thursday and Friday too. I mentally feel so much better when I exercise regularly so it's important to keep it a priority. Also, I'm continuing to focus on toning, specifically in my core area. I can't believe how difficult planks are. But my goal is to do a 1-minute plank a day, every day this week.
Okay, let's get to my meal prep. I don't have a ton of prep to share with you this week. All I had the energy to prep this week were mason jar salads.
Breakfast
egg white cheese omelet with 1 piece of toast
Meal prep tips
I'll make this the morning I eat it.
Mid-morning snack
Granny smith apple and peanut butter
Lunch
Quinoa, egg, and feta mason jar salads
Meal prep tips
I made these salads yesterday. I don't have a "recipe" for this I just wanted to make a meatless mason jar salad. You can see how to layer ingredients into a mason jar with this tutorial.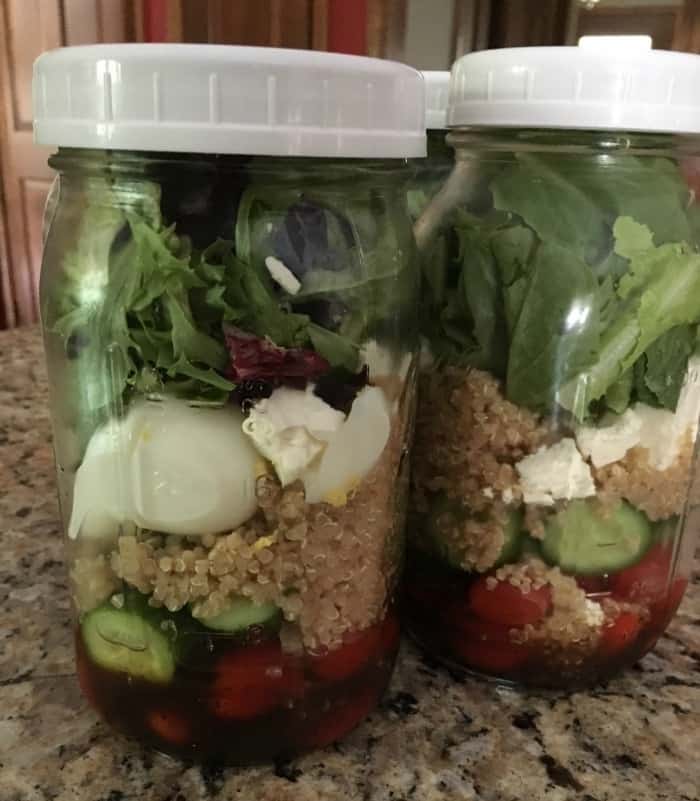 Afternoon snack
Kashi granola bar
Dinner
Homemade Pizza
Meal prep tips
Meals will be made the night we eat them.