Hearty breakfast cookie bars packed with wholesome grains and protein-rich peanut butter and Greek yogurt. Milk chocolate chips are sprinkled through for the perfect chocolatey sweet bite.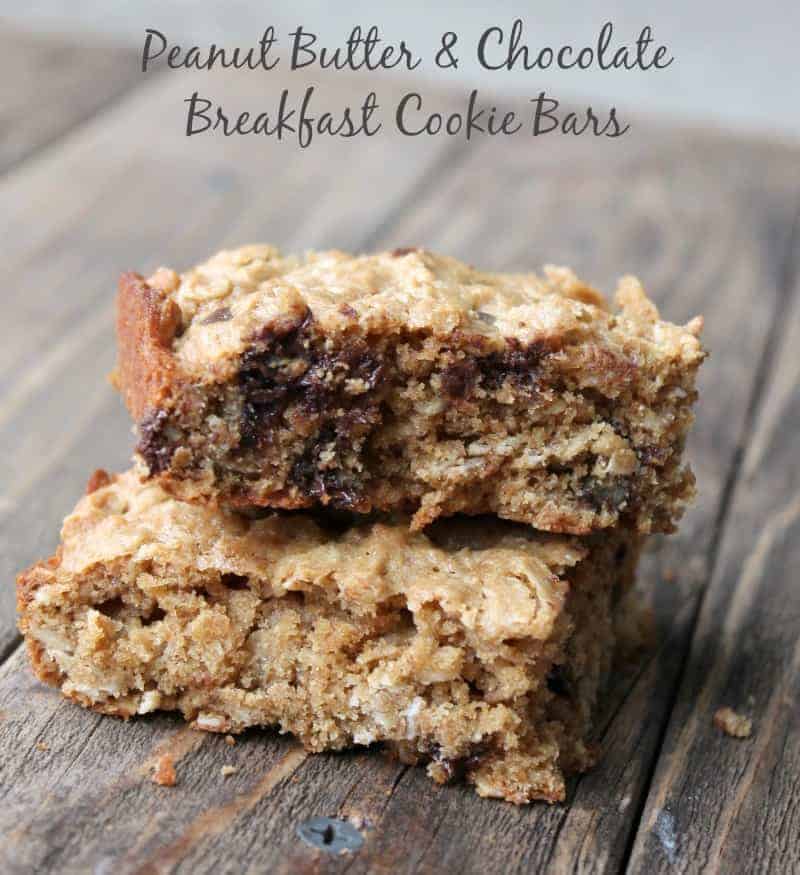 If I had to guess I would say chocolate and peanut butter are two of the most used ingredients on Organize Yourself Skinny. Okay, maybe that's a bit of a exaggeration but it certainly feels every time I make something sweet and somewhat "dessert like" I find a way to include chocolate and peanut butter. Let's take a quick walk down memory lane. First we have the chocolate and peanut butter overnight oats. Oh my! I want that now! Peanut butter and chocolate topped Triscuit. Come to mama! And let's not forget my chocolate and peanut butter "no bake" cheesecake jars. This is me showing my love for you. And what about my chocolate and peanut butter cookies. Again, another token of my love. xoxo
Chocolate and peanut butter own my heart and when I get the urge to whip of something sweet those are the two ingredients I turn too. This time around I found away to include them into another breakfast recipe. You're welcome 🙂
I'm somewhat obsessed with breakfast cookies. Not so much where I make them every week but enough where I'm always thinking up new breakfast cookie recipes. You see breakfast cookies are easy to make, can be filled with lots of wholesome goodness, and perfect for those of us that live out of our vehicles. Seriously, between driving to school, activities, and play dates I feel like I live in my truck. In fact, I recently invested in a small cooler for snacks because we spend so much time driving around. I also keep a 6-pack or larger of water on hand just in case my kids forget their water bottles. Basically, I try to be prepared so I'm not spending unnecessary money and my kids have healthy snacks and drinks.
Okay let's get back to the recipe. I started with sugar and butter. Okay, I know many of you will ask about sugar substitutes and butter alternatives. Here's the thing. I've tried them all and at the end of the day I prefer butter and sugar…and so do my kids. There's no point making a batch of anything if noone is going to eat it. So instead of removing the sugar I just reduce it as much as I can without compromising texture or flavor. Same goes with butter. Sometimes I use melted coconut oil in baking recipes but if I use butter (or coconut oil) I will use as little as possible without compromising flavor or texture. In my baking experience, I found that Greek yogurt creates a moist and tender texture so I often will add that to a recipe in place of some of the fat. That's what I did with this recipe. I used 1/4 cup of butter and 1/4 of vanilla greek yogurt and that was a perfect combination for this recipe.
The first thing I did, using a hand mixer, was cream together the butter and sugars.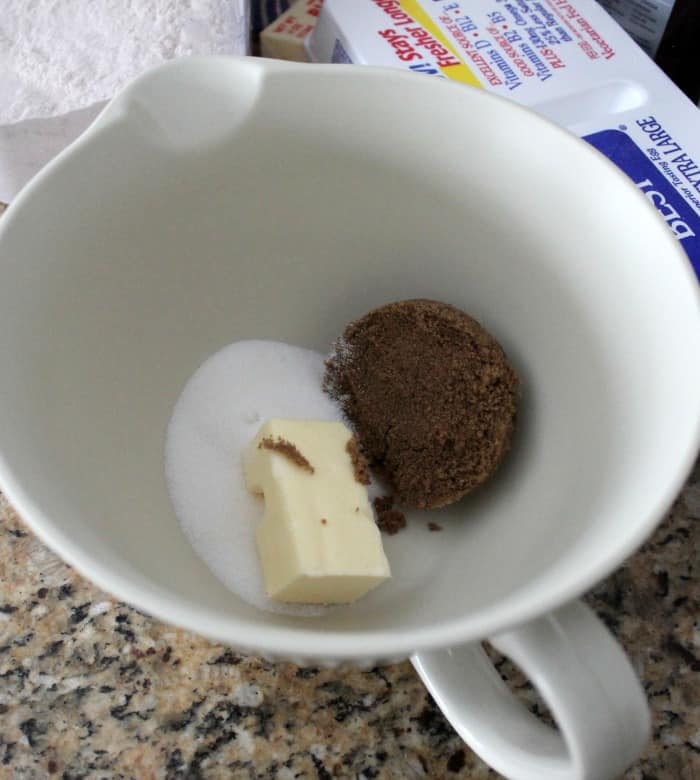 Then I mixed in the eggs, peanut butter, Greek yogurt, and pure vanilla extract. I used organic natural peanut butter. Since oil rises to the top with natural peanut butter it's important to give it a couple stirs before using it in this recipe. So it's easier to handle I recommend the peanut butter being at room temperature before adding it to the recipe.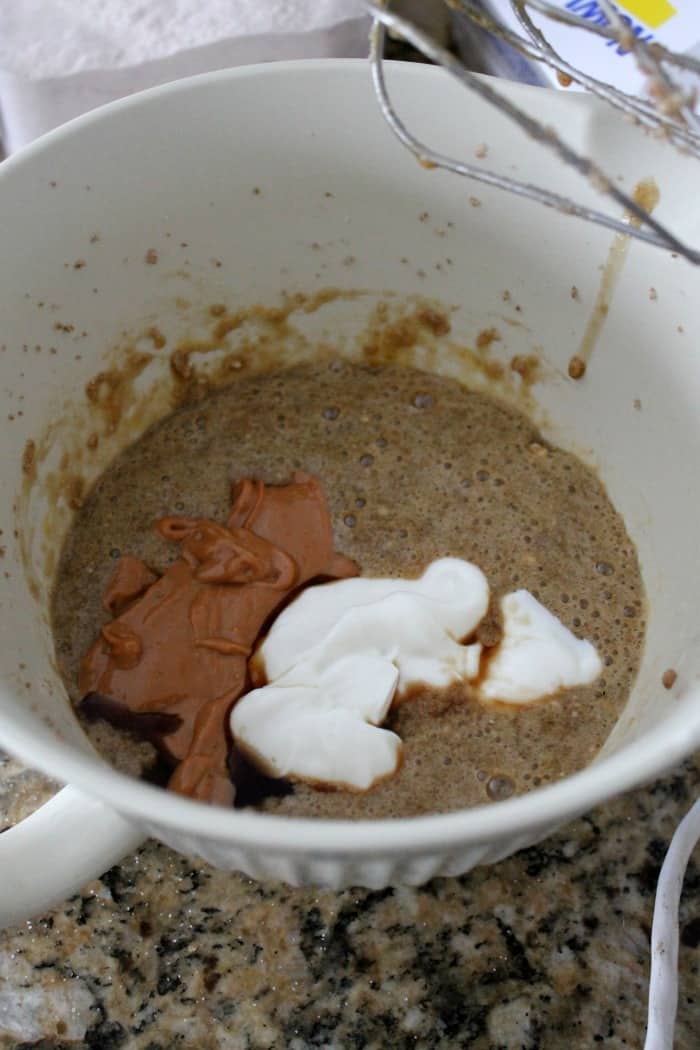 Mix the wet ingredients until blended. Don't mind my chunks of butter. It wasn't as soft as it should've been before I use it.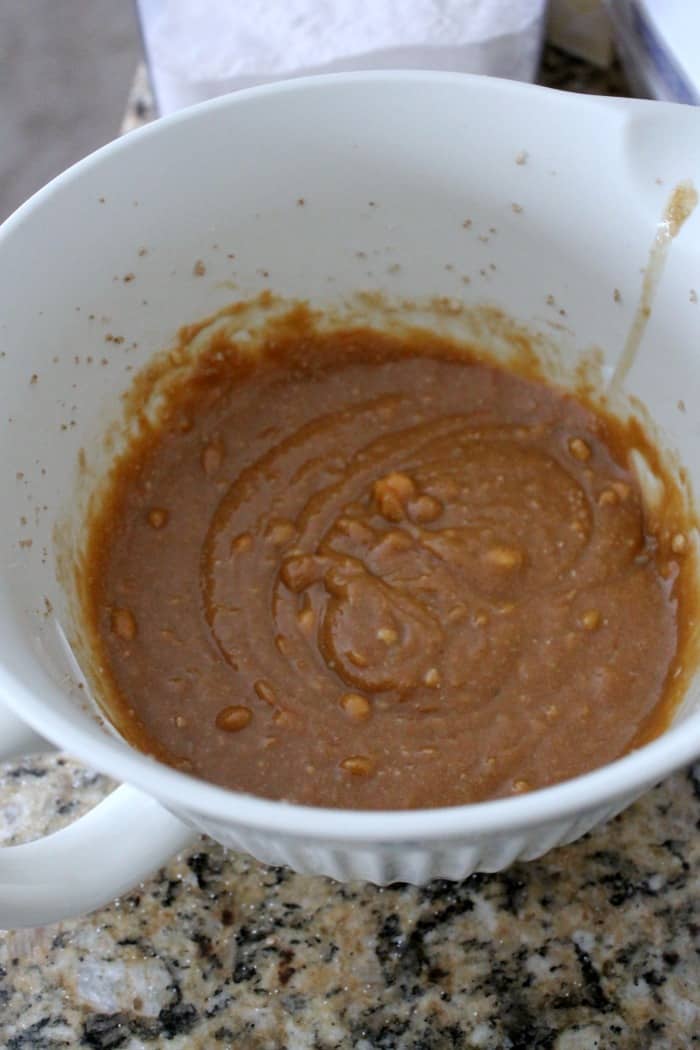 Next I added all the dry ingredients on top of the wet. In a non lazy world I would mix the dry ingredients separately but why dirty another dish? I'm all about 1-bowl recipes.
I used white whole-wheat flour, wheat bran, and hearty rolled oats. This recipe is wholesome and delicious! I spiced it up with a little cinnamon. Trust me between the peanut butter, grains, and a touch of cinnamon it will be true love at first bite. My favorite brand for oats and wheat bran is Bob's Red Mill.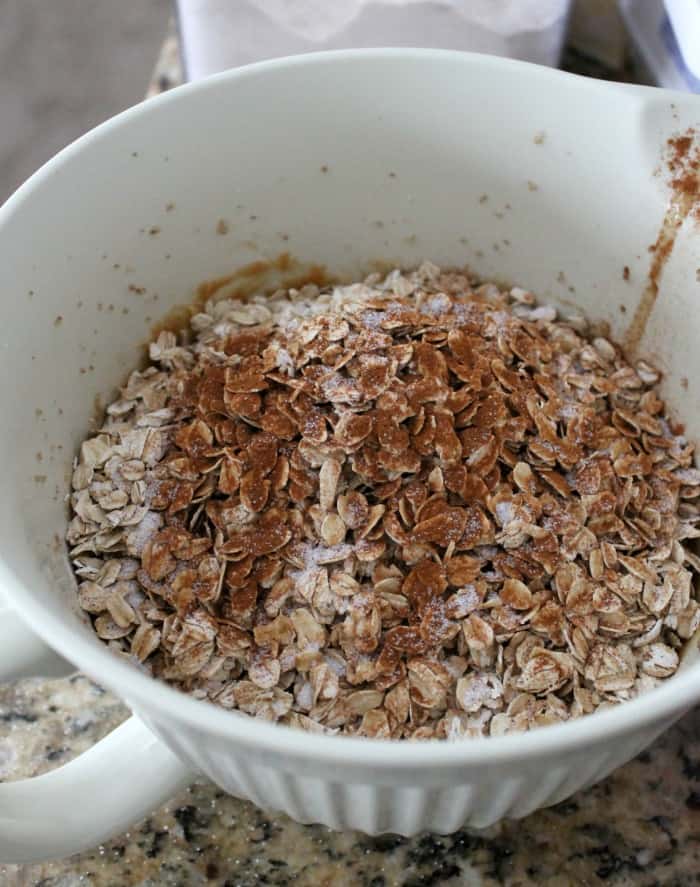 And then I mixed everything together just until the wet and dry ingredients were combined. This is a wet spreadable batter. If you choose to make cookies you might need to wet your hands a little to keep the batter from sticking.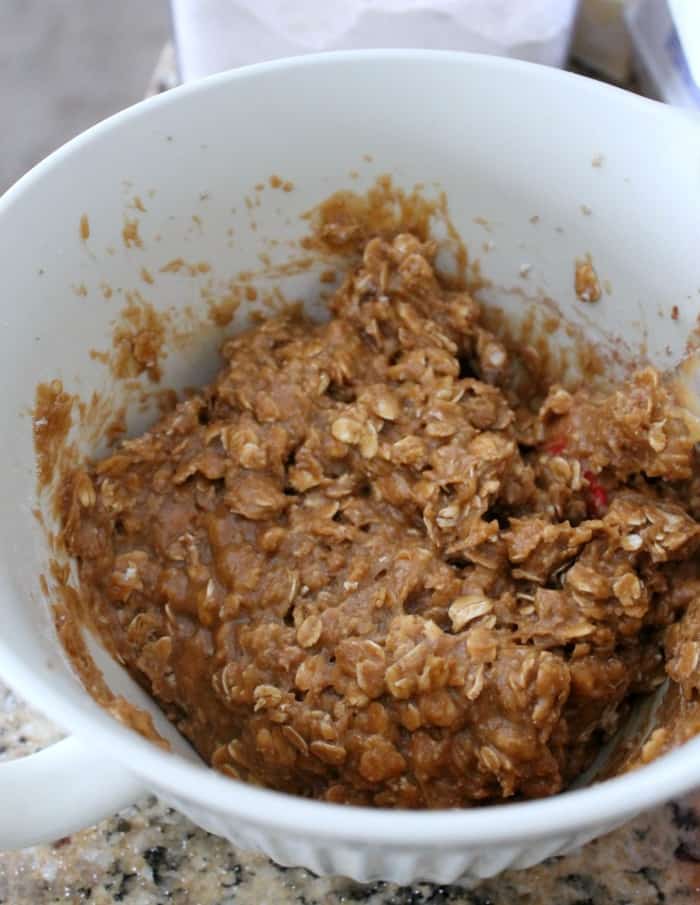 Last I stirred in the chocolate chips. I used milk chocolate chips and a little bit of dark chocolate chips because that's what I had on hand. Use whatever you want. I bet a mix of peanut butter and chocolate chips would be good too.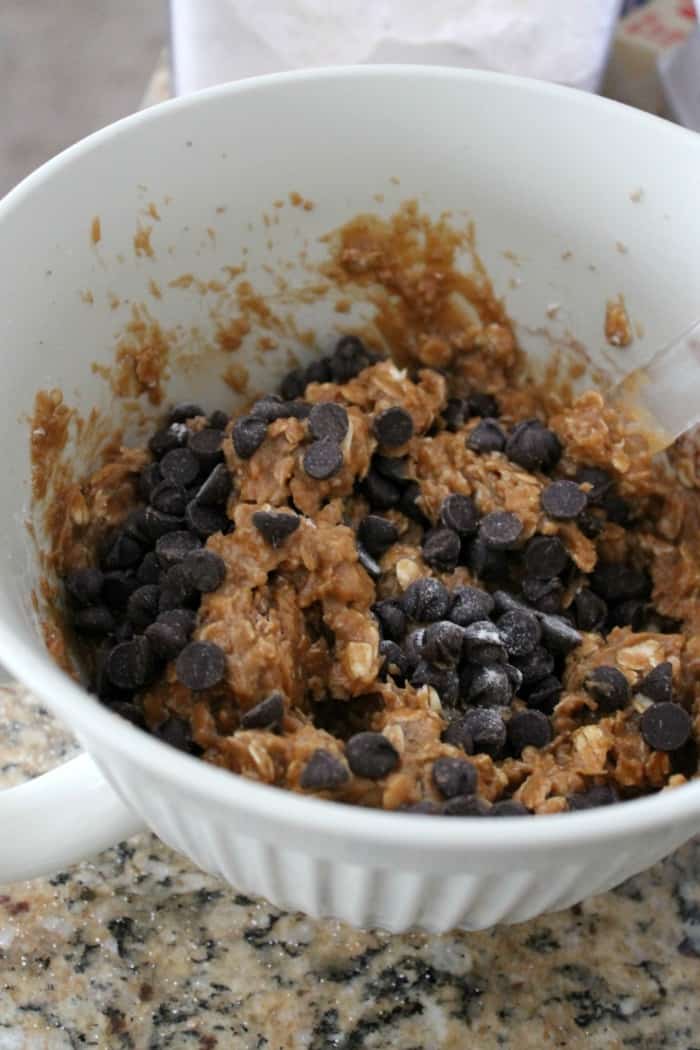 On a normal day I would make a breakfast cookie. However, I was lazy and didn't have a lot of time so decided to throw the cookie batter into a 9-inch pan and make bars instead. By the way I just want to say that I LOVE my 9-inch Recipe Right Wilton Pan. I bought it last year and have used it many times to make lots of brownie and bar recipes.
These peanut butter and chocolate breakfast bars came out great. Tender, moist, and full of peanut butter flavor. Again, you could make cookies. If you do then follow these baking instructions.
I cooked these breakfast cookie bars for 23 minutes at 350 degrees. I have an electric oven so this amount of baking time worked great. Keep an eye on the bars as they bake because you don't want to over bake them. Doing so might cause the breakfast bars to dry out. From my experience, it helps to under bake breakfast cookies by a minute or so to keep them moist and tender. Also, these bars taste better the next day and the day after that. So they're perfect to make ahead of time for breakfast and snacks.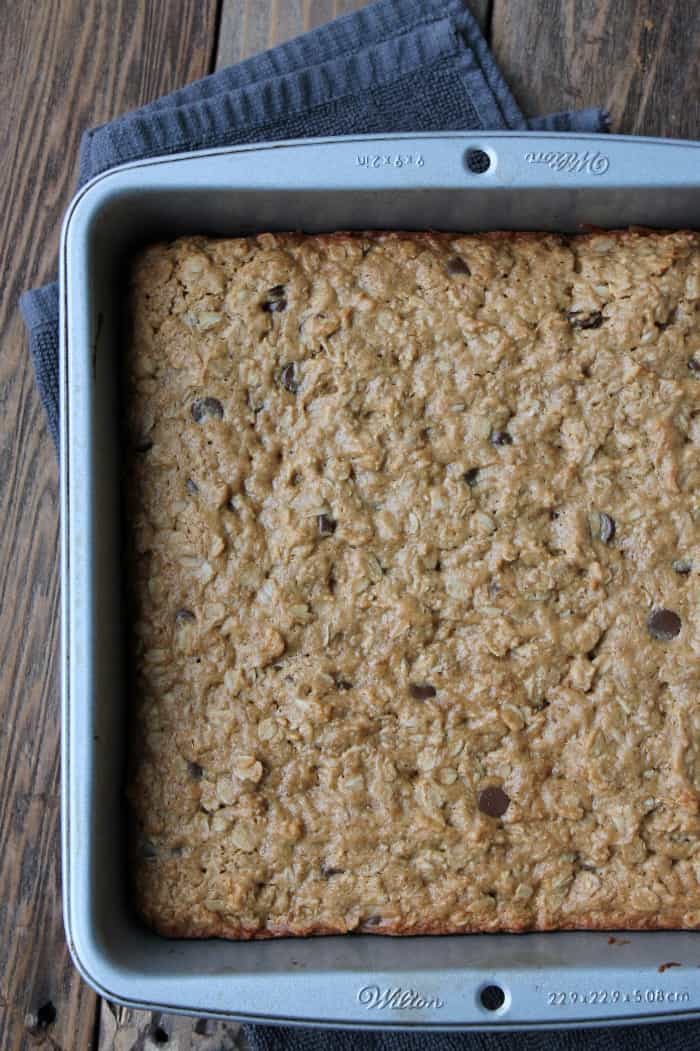 My kids LOVED these breakfast bars. I kept a bag of bars in the truck for them to enjoy on the way to school for breakfast or after school for a snack. Don't mind my lack of symmetrical cutting below. You can get 12 good size squares out of this recipe. If you plan to eat with a smoothie, yogurt, or fruit then cut the squares smaller. It's easier to cut these bar after they are fully cooled.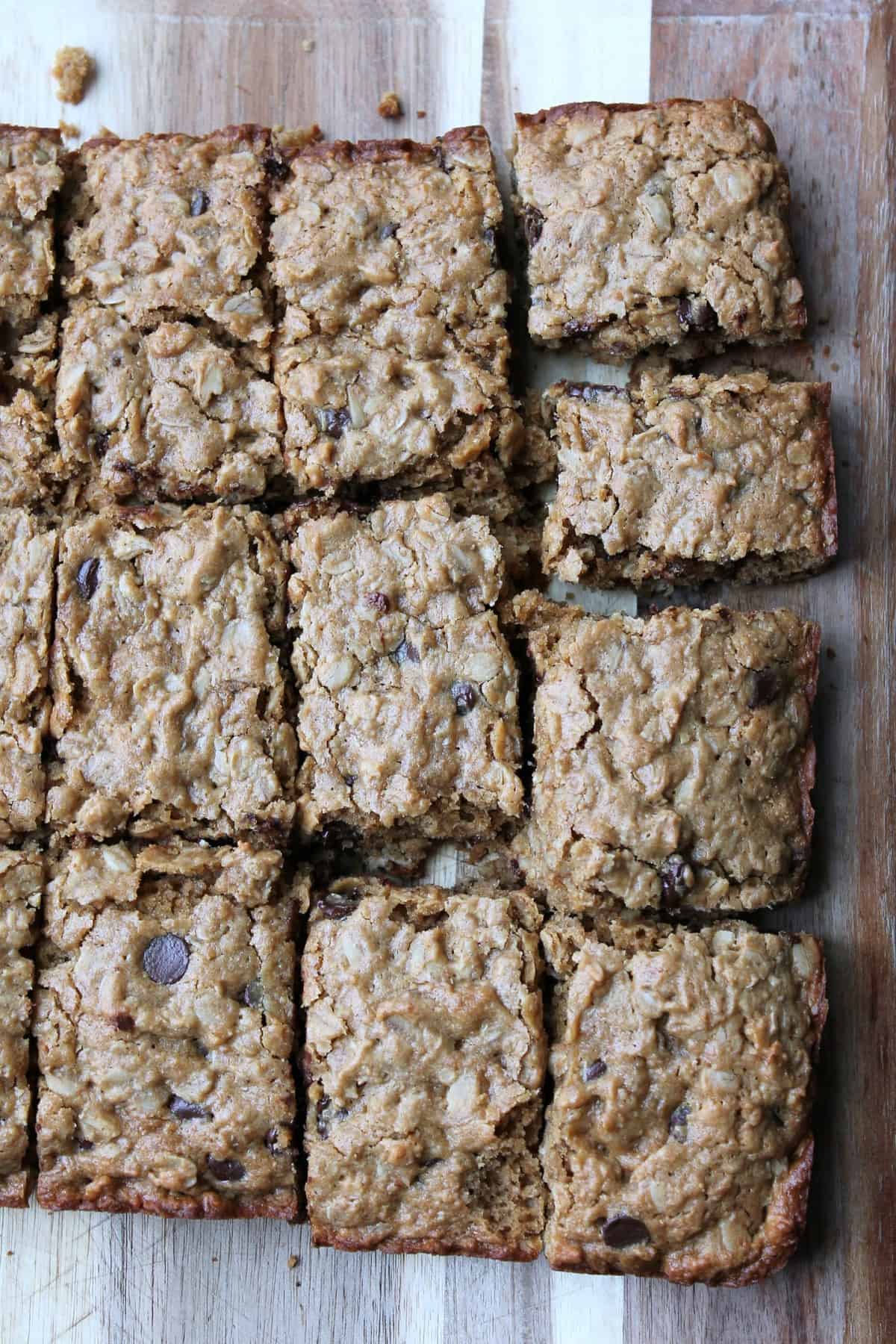 These were such a hit I plan to create other breakfast bar variations using the foundation of this recipe. Stay tuned for those.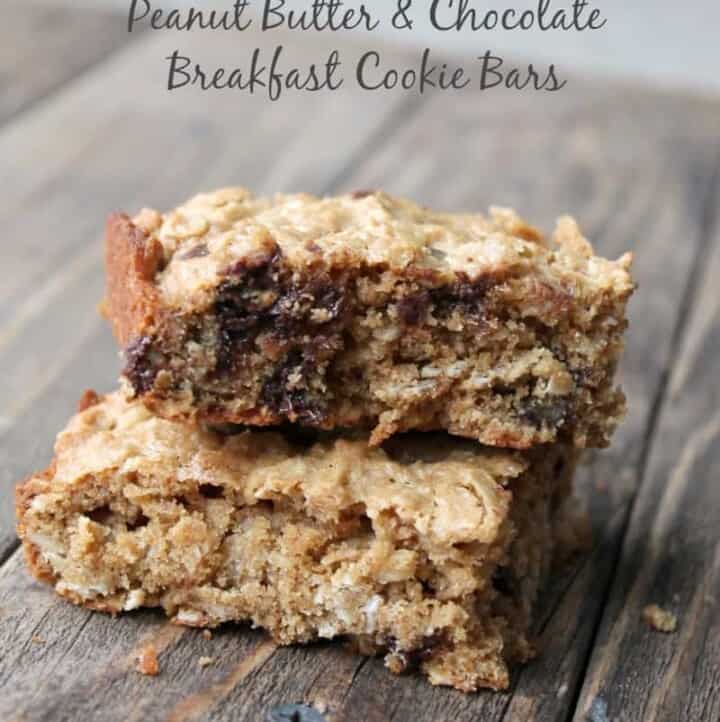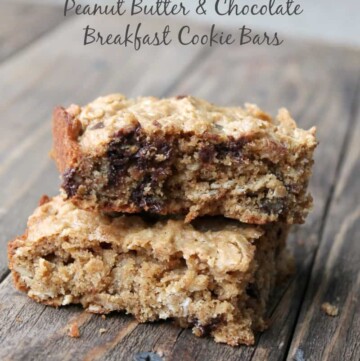 Ingredients
¼

cup

softened unsalted butter

½

cup

lightly packed brown sugar

¼

cup

granulated sugar

2

large eggs

¼

cup

vanilla

or plain greek yogurt

½

cup

creamy natural peanut butter

1

teaspoon

pure vanilla extract

½

cup

white whole- wheat flour

¼

cup

wheat bran

1 ½

cups

rolled oats

½

teaspoon

ground cinnamon

¼

teaspoon

salt

½

teaspoon

baking soda

½

cup

milk chocolate chips
Instructions
Preheat oven to 350 degrees.

In a large bowl mix together butter, sugars, and eggs. You can use a hand mixer or a whisk.

Add in the Greek yogurt, peanut butter, and vanilla extract. Mix until all the ingredients are combined.

On top of the wet ingredients add the flour, wheat bran, rolled oats, ground cinnamon, salt, and baking soda. Stir until the wet and dry ingredients are combined.

Slowly stir in the chocolate chips.

Spread batter into a 9-inch baking dish sprayed with cooking spray.

Bake for 22-23 minutes or until sides are lightly browned. It's ok if the bars are a little under cooked in the middle. You don't want to over baked because the bars will dry out.

Let the bars cook completely before cutting into 12 squares.
Notes
Sugars: 20g
Store in a plastic container or bag for up to 5 days. These can be frozen up to 3 months. If frozen, let the bars thaw on the counter for 45 minutes prior to enjoying them
Nutrition
Serving:
1
g
|
Calories:
290
kcal
|
Carbohydrates:
41
g
|
Protein:
6
g
|
Fat:
13
g
|
Saturated Fat:
5
g
|
Fiber:
7
g