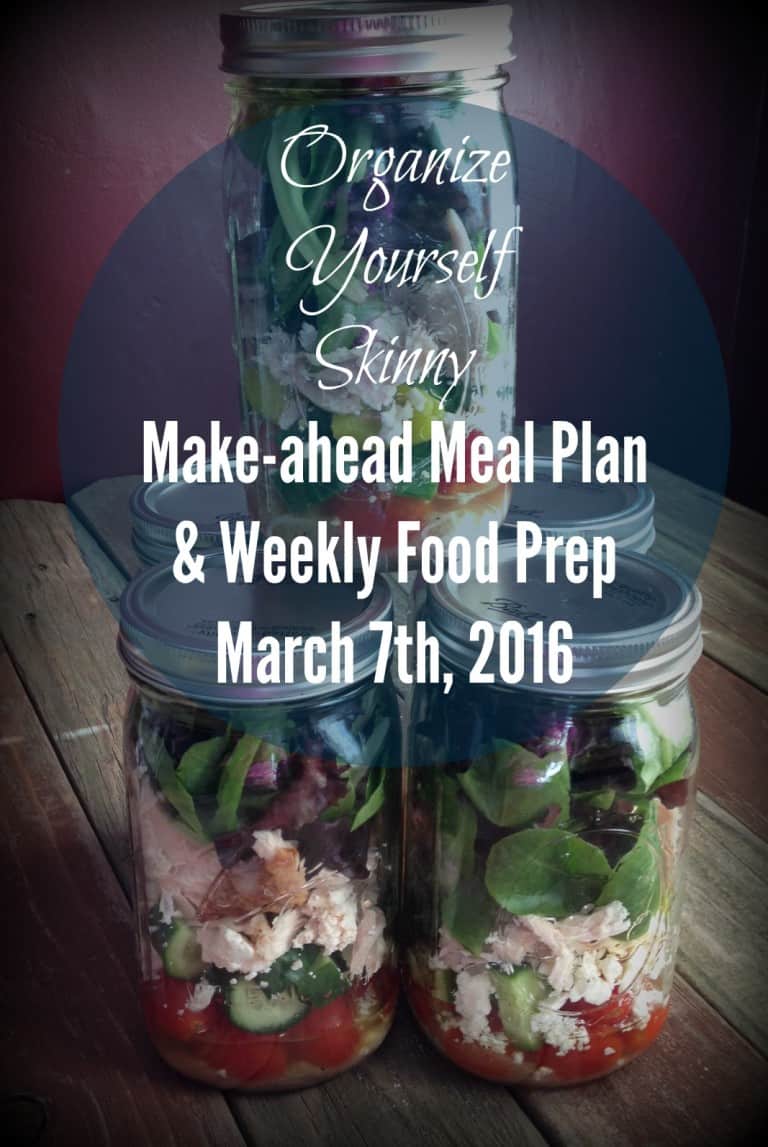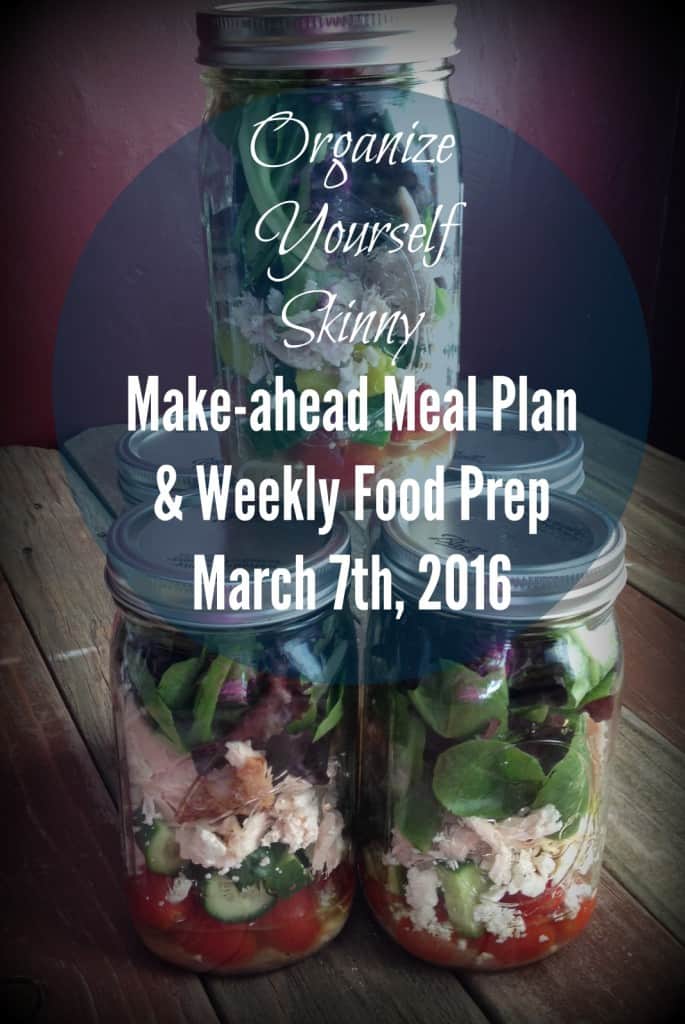 Hey hey! Today's meal plan post is going to be short and sweet. I think I say that every week but today I mean it. I haven't been grocery shopping yet (yikes!) so I'm will give you a glimpse into what we are eating this week now, go grocery shopping, and then post pictures of my meal prep on Instagram. I'll update this post wth the pictures too. Typically, I would just write up the post tonight or tomorrow but I have a full schedule and don't want to risk my meal plan post falling through the cracks.
Like always, you can find my meal plan over on Plan to Eat. The other day I was surfing around their website and was reminded on what a fabulous resource it is. This little blurb, I give in my weekly meal plan post, doesn't even give Plan to Eat justice. In the next few weeks I'm going to offer more "how to" meal planning posts and highlight some of my favorite Plan to Eat features. Do you have any meal planning questions? Is there anything specific you want me to touch on with Plan to Eat? If so, leave your questions in the comments. I read them all!
Here's my meal plan. If you subscribe to Plan to Eat make sure to friend me. My username is organizeyourselfskinny (one word). From there you can access all meal plans, adapt as needed, and print out grocery lists.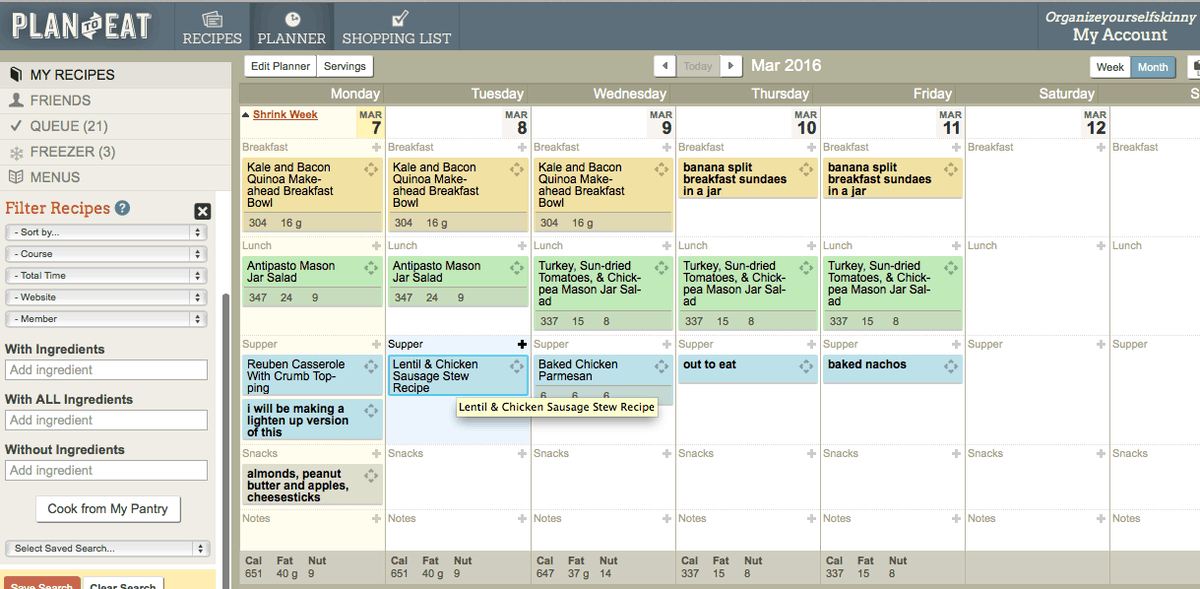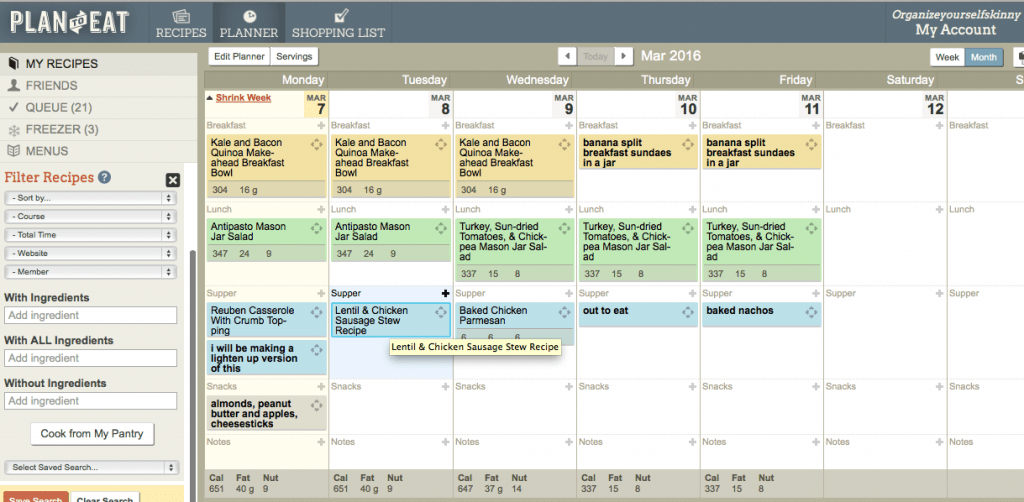 Breakfast
Greek Quinoa Bowls – new recipe. I have the kale and bacon recipe listed in Plan to Eat. This new recipe will be similar.
Banana Split Breakfast Sundaes – new recipe
Make-ahead tips
The quinoa was made last week and will be used for the breakfast bowls tomorrow. I plan to freeze leftovers into portions using these containers.
Breakfast sundaes will be made on Wednesday. They will be layered and stored in 16-ounce mason jar containers.
Lunch
Smoked Turkey with Chickpeas and Sun-dried Tomatoes Mason Jar Salad
Make-ahead tips
Dinner
Lightened Up Reuben Casserole – I will be making a version of this recipe.
Chicken Parmesan Skillet – new recipe
Lentil and Chicken Sausage Stew – I will be making a version of this recipe.
Baked Nachos – new recipe
Make ahead-tips
The casserole will be made today.
The chicken for the parmesan will be prepped tonight.
The stew will be prepped tuesday night for wednesday.
Taco meat will be made tomorrow.
All of the prepared food will be store in Pyrex glass containers or these meal prep containers.
Check out my ebook for more information on meal planning and meal prep along with the other weight loss strategies I use.
Get Instant Access to My Best Weight Loss Tips & Strategies!
Sign up now for a free step-by-step 7-day email course that I created exclusively for my email subscribers! That's you. I will teach the best habits, strategies, and insider tips so you can enjoy a lifestyle that encourages and supports weight loss! Stop relying on willpower and take control back over your life! You can do this. Let me help!