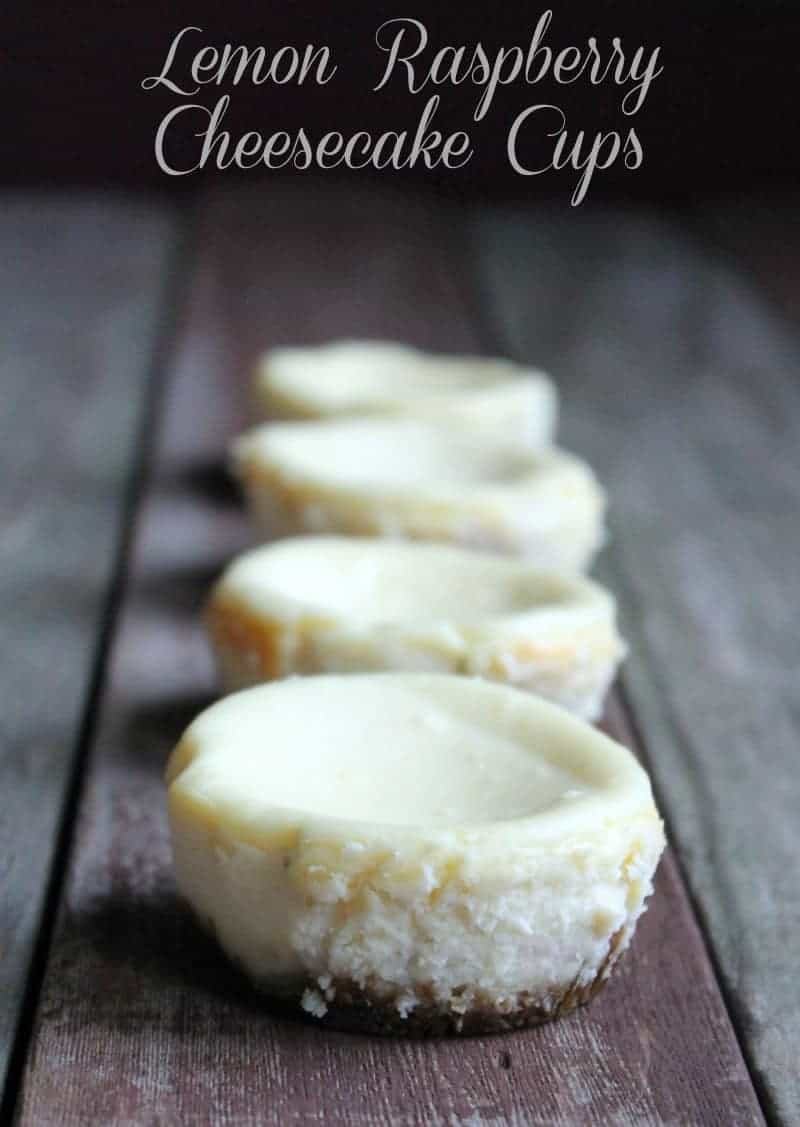 Yes I am posting a cheesecake recipe. But, in my defense, it is a portion control cheesecake recipe prepared with less sugar and fat than many original recipes. So don't be upset with me I am still looking out for your best interest :). Trust me, life with out desserts is just plain depressing. You know that.
I found this cheesecake recipe in my Weight Watchers One Pot Cookbook – see even Weight Watchers is friends with cheesecake. Anyway, when I saw the recipe all I could think was genius! Cheesecake made in muffin tins? Honestly, these simple discoveries are world changing for me. Muffin tins, I swear, are one of the best portion control weapons out there. I have used my muffin tins, many times, to freeze portions of soups, steel cut oats, kale, among other things. In my opinion, muffin tins hold the perfect amount of food for a serving.
Preparing individual cheesecakes in a muffin tin does take a little finesse. They don't just pop out like a muffin would so you need to create a little sling to lift them out of the tin. Don't let this step scare you because it is actually quite easy. All you need to do is cut strips of aluminum foil and place them in the bottom of the cups and have the strips hanging over the side.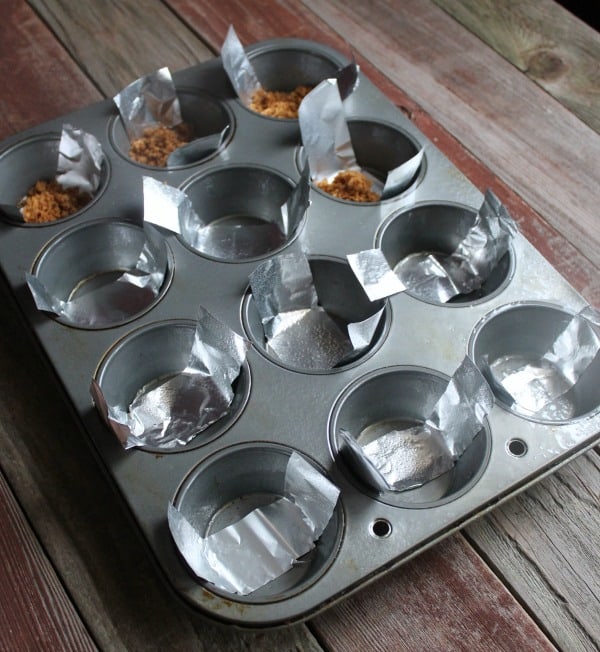 Let's talk ingredients. The crust is made up of 12 gingersnaps and 1 tablespoon of butter. You don't get a very thick crust with this amount but, in my opinion, it is the perfect amount. Pressing the crumbs into the bottom of the tins for the crust was a little tricky but it worked out fine.
After the crust chilled for 15 minutes the recipe calls for 1 teaspoon of raspberry preserves to be spread over the crust. Again, I found this to be tricky because it caused the crust to crumble a bit. So I just spread what I could but did not force it.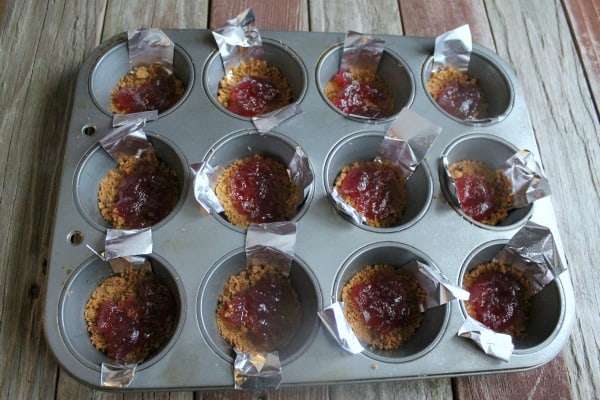 Then I scooped the cheesecake mixture into the tins.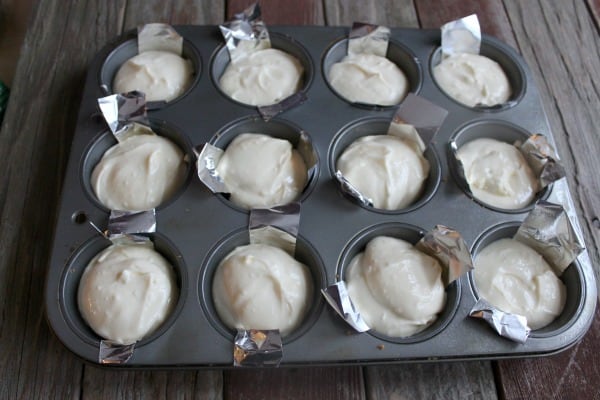 The original cheesecake recipe called for 2 packages of low fat cream cheese. I am not a big "low fat ingredient" person so I opted to use 1 package of low-fat and 1 package of regular cream cheese. I also added one tablespoon of lemon juice on top of the 1 teaspoon of lemon zest it called for.
These cheesecakes turned out absolutely delicious!! I love the pop of lemon combined with the flavors of the raspberry preserves and gingerbread crust. YUM!
Each cheesecake is 197 calories and 5 weight watchers points! Perfectly portion-controlled cup of deliciousness!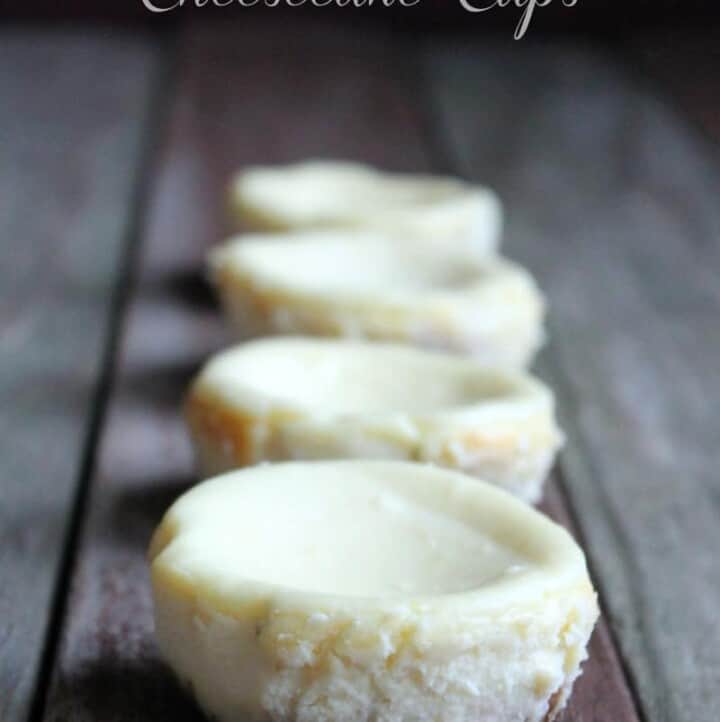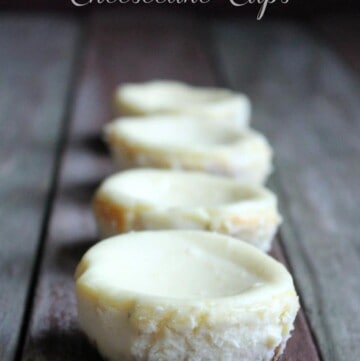 Ingredients
Cooking spray

12

gingersnap cookies

1

tablespoon

unsalted butter

softened

12

teaspoons

red raspberry preserves

1

8 ounce package low-fat cream cheese, softened

1

8 ounce package regular cream cheese, softened

1/2

cup

sugar

2

eggs

1

teaspoon

grated lemon zest

1

tablespoon

lemon juice

1

teaspoon

pure vanilla extract
Instructions
Preheat oven to 350 degrees.

Place a 2 x4 inch strip of aluminum foil into each cup of a regular 12- cup muffin pan.

Spray pan with cooking spray.

In a food processor combine gingersnaps and butter. Pulse until ingredients form a course crumb mixture.

Press down 2 teaspoons of crumb mixture into each of the muffin cups. Divide any leftover crumbs among the cups.

Place pan in the refrigerator for 15 minutes to chill.

As the crust is chilling make the cheesecake batter. Using a hand mixer, beat the cream cheese until smooth. Slowly add in the sugar and continue to beat until fluffy. Beat in eggs, lemon juice, lemon zest, and pure vanilla extract until blended.

Spread 1 teaspoon of raspberry preserves over the crumb mixture among the cups.

Divide the cheesecake batter evenly among cups.

Bake for 20 minutes or until the cheesecakes are set but centers are still jiggly. Mine baked for exactly 20 minutes and turned out great.

Let cool in the pan on wire rack for 30 minutes.

Refrigerate for at least 4 hours or overnight.

Slide a sharp knife around the cheesecakes. Then using the slings, remove the cheesecakes from their cups.
Notes
Make ahead tips
This recipe can be made up to 3-4 days ahead of time.
Nutrition
Serving:
1
g
|
Calories:
197
kcal
|
Carbohydrates:
18
g
|
Protein:
4
g
|
Fat:
12
g
|
Fiber:
1
g
|
Sugar:
5
g