These wholesome muffins made with bananas, peanut butter, and Greek yogurt are packed with protein and fiber to keep you satisfied for hours. Each muffin has chocolate chips sprinkled throughout because…everything is better with a little chocolate.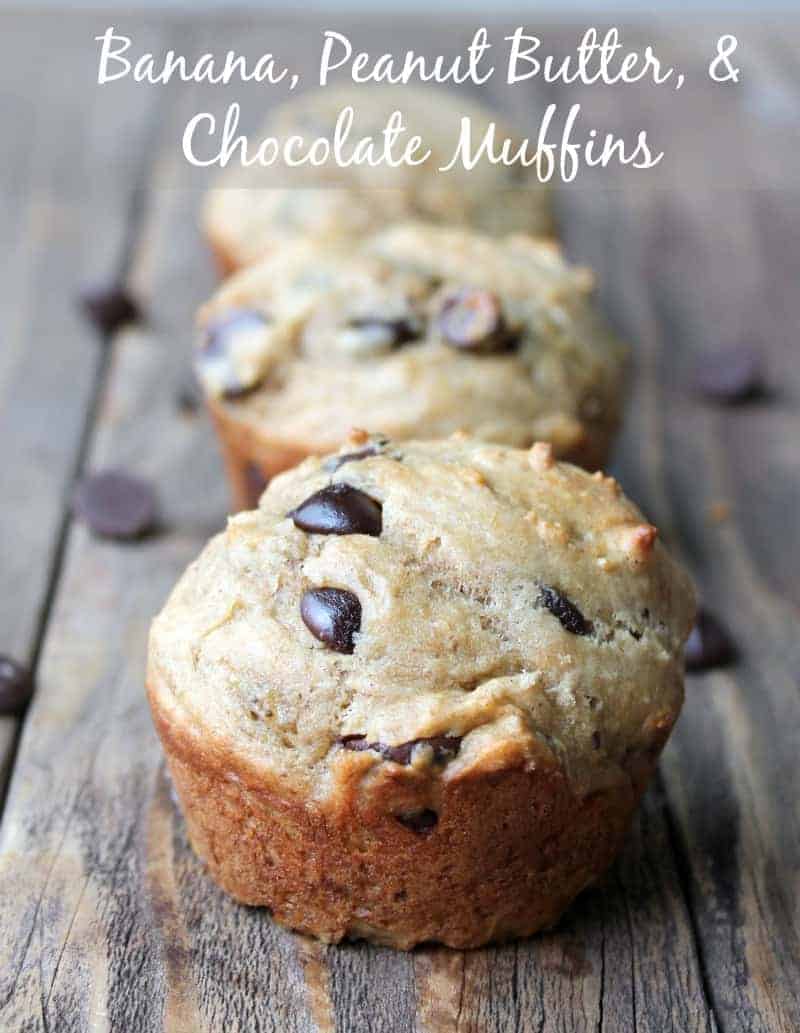 This month I'm on a mission to fill my freezer with make-ahead snacks. The end of the school year is upon us and I'm up to my eyeballs in dance and end of the year activities. There are days I want to throw my hands up and go back to bed…for the entire weekend. Unfortunately I can't do that so instead I plug along and try to find ways to keep my life sane. One way I do this is to have grab and go snacks.
If I don't have homemade snacks that I can grab on my way out the door I can guarantee we are stopping somewhere for something. That somewhere can be Tim Hortons or even the grocery store to grab food that I don't want to spend money on and does nothing for my scale. Regardless, if I make food choices in the "hot zone" they're never good. Considering I write this blog, and try my best to keep healthy living on the brain, you'd think I'd be strong enough to avoid drive thru temptations. Well let me assure you there are many days my kids are "starving" and begging for a muffin from Tim Hortons. And because I'm human there are days I give in. Yep, it's true.
However, because I write this blog and I truly want my family and I to be fit and healthy I do my best to stay on track. One way I do that is to keep homemade healthy snacks on hand. If my kids want muffins then I will make muffins for us to have when the craving strikes.
These banana, peanut butter, and chocolate muffins are everything we love about those 3 flavors baked into a moist tender muffin.
Let me digress a tad…
A year or so ago I shared these banana and chocolate chip oatmeal cups and you my lovely readers went wild. Same with these double chocolate banana muffins or this banana chocolate overnight oats recipe. In fact, it seems that every time I use banana in a recipe you become very happy and share and pin it like crazy. Me love you for that. Since I always seem to have ripe bananas laying around I decided to whip up more banana recipes just for you.
Hence my new banana recipe. I think I love banana and peanut butter just as much as I love chocolate and peanut butter. Well okay maybe not which is why I decide to throw all three of my favorite flavors into this muffin.
Let's begin.
I started by mixing together the sugar and eggs until blended. I used my hand mixer for that. Then I mixed in the bananas, peanut butter, Greek yogurt, pure vanilla extract, and coconut oil. I love using Greek yogurt in baking recipes. It's a great way to reduce the butter and/or oil without losing flavor or texture.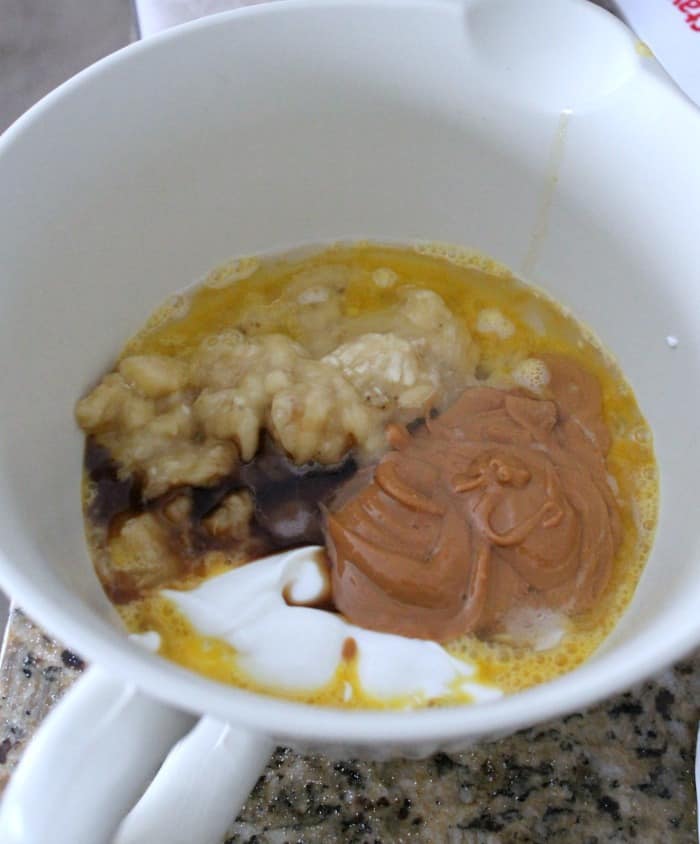 I mixed until all the ingredients were blended together.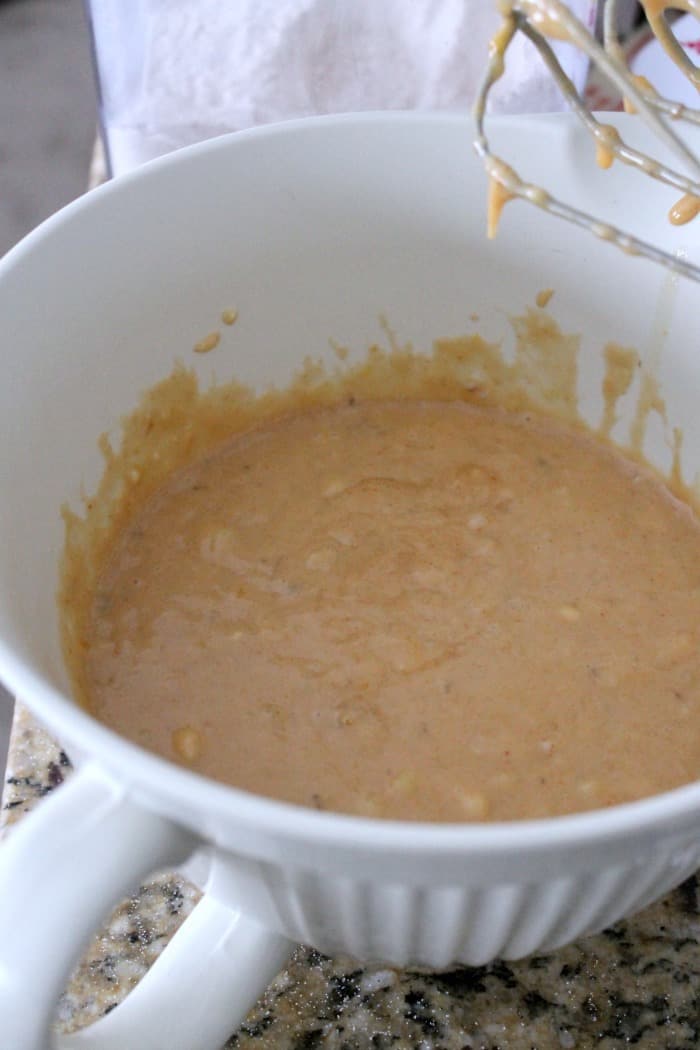 Then on top of the wet ingredients I added the flour, salt, baking soda, and cinnamon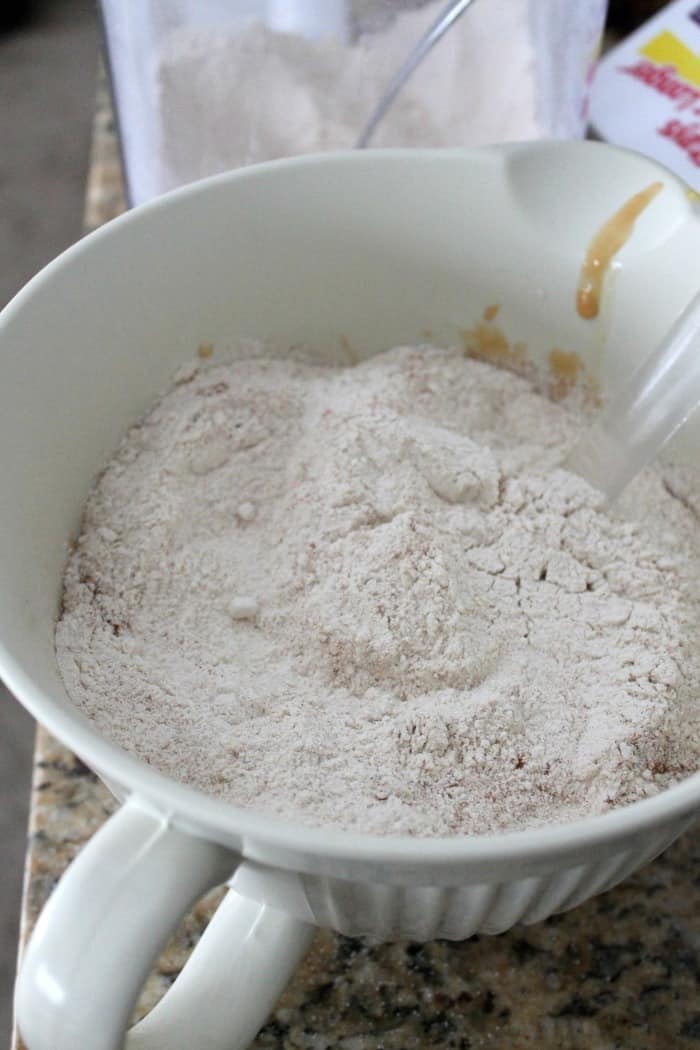 Next I stirred in the chocolate chips. I used dark chocolate but milk chocolate would taste just as yummy. Use whatever you like.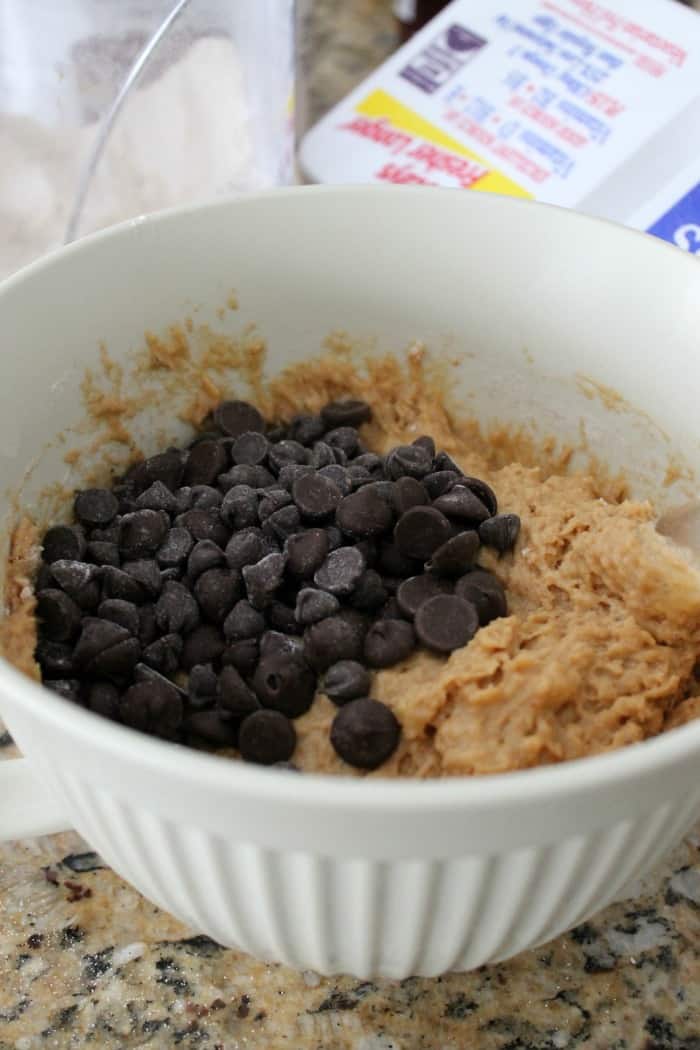 Mix until just blended. The batter is not to thick and not to thin.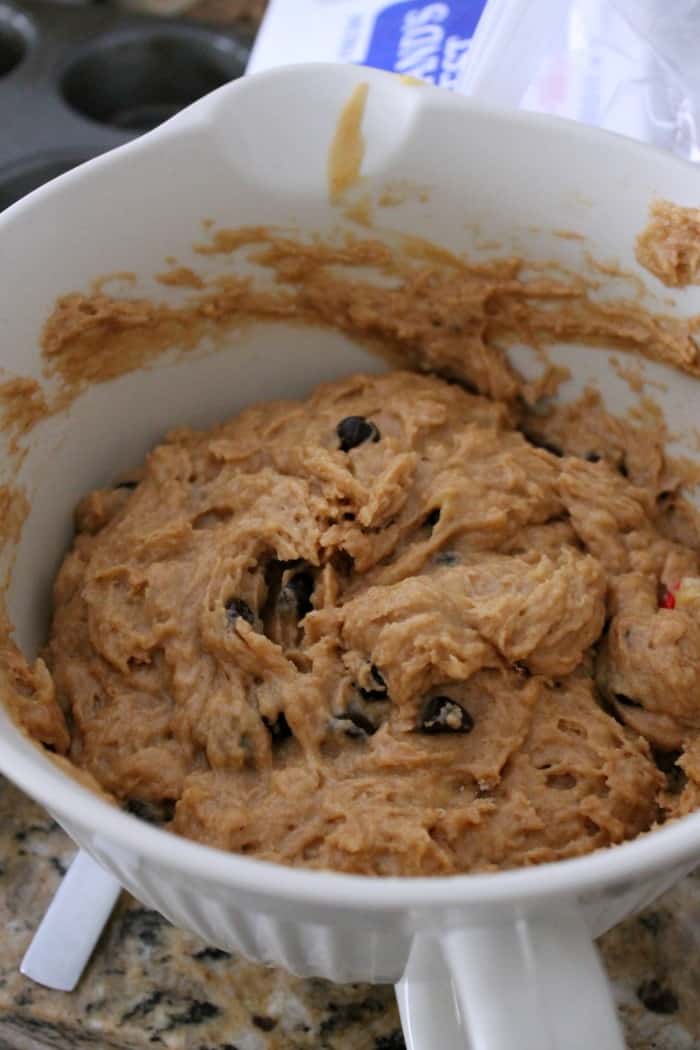 Then I divided the batter between 15 muffin cups. You could fit it into 12 but I wanted to keep portions under control so I stretched it out to 15. I let the muffins bake for 18 – 20 minutes. Don't over bake the muffins or they will dry out. You want the batter to slightly stick to a toothpick or knife when you test to see if they're done.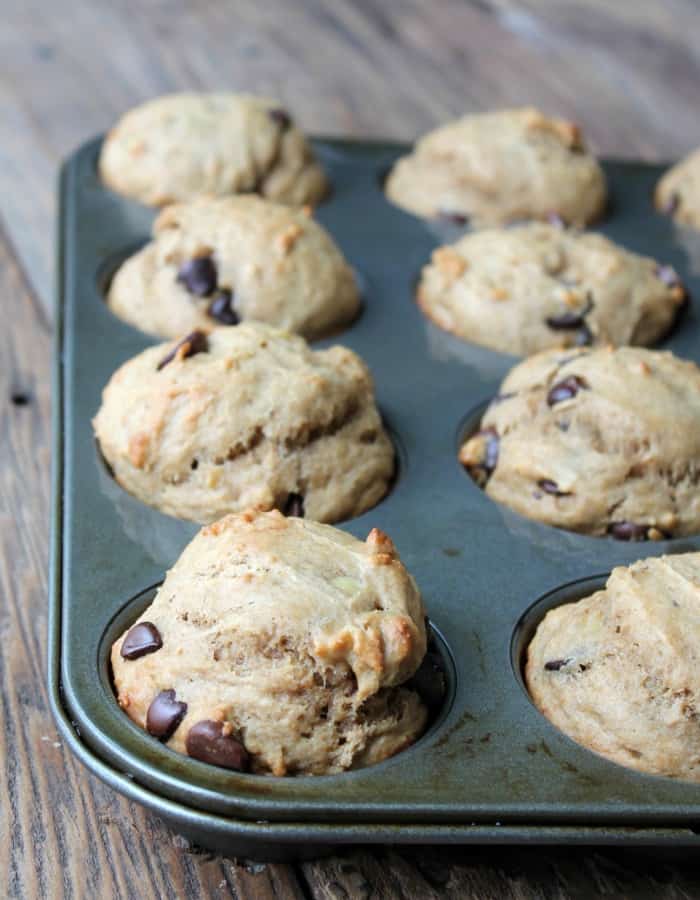 We LOVED these muffins. They are hearty, sweet, and delicious. Have one for breakfast with some fruit or take one with you for an afternoon snack. These will surely keep you out of the morning drive thru.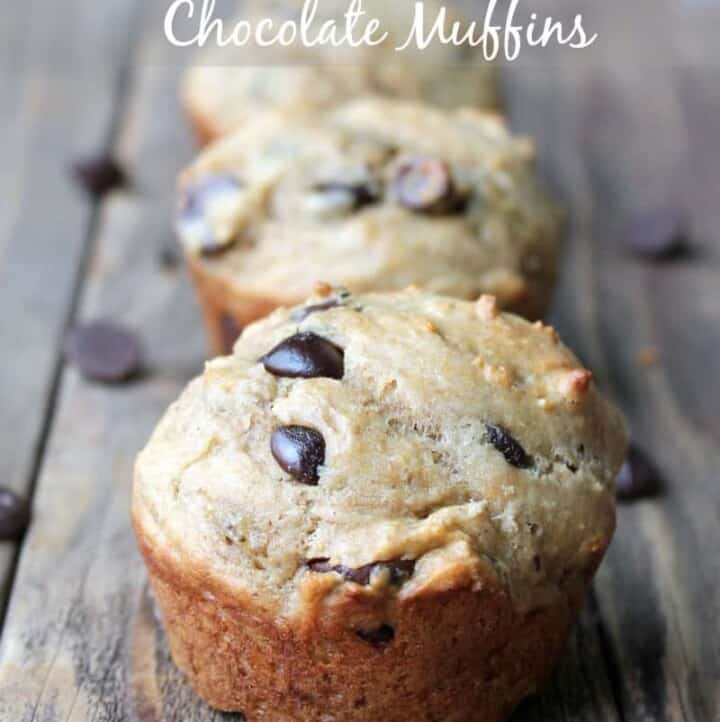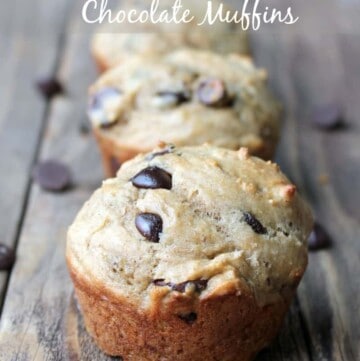 Ingredients
2

large eggs

1/4

cup

white granulated sugar

1/4

cup

lightly packed brown sugar

4

medium bananas

1/2

cup

creamy natural peanut butter

1/4

cup

vanilla

or plain greek yogurt

1/4

cup

melted coconut oil

1

teaspoon

pure vanilla extract

2

cups

white whole wheat flour

1

teaspoon

baking soda

1/2

teaspoon

salt

1/2

teaspoon

ground cinnamon

1/2

cup

chocolate chips

milk chocolate or dark
Instructions
Preheat oven to 350 degrees.

In a large bowl mix together sugars and eggs.

Add in the bananas, peanut butter, greek yogurt, coconut oil, and pure vanilla extract. Mix until all the ingredients are combined.

Add to wet ingredients the whole wheat flour, baking soda, salt, and ground cinnamon. Stir the ingredients just until everything is combined.

Slowly stir in the chocolate chips.

Spray a muffin pan with cooking spray. Divide the batter among 15 muffin cups. You might need to bake a second pan. Bake for 18-20 minutes. Don't overcook.

Let sit for a few minutes then remove the muffins from the pan and let them finish cooling on a cooling rack. Serve warm or cool.
Notes
sugars: 14
Make-ahead instructions
muffins can be made ahead of time and store in the refrigerator all week or frozen up to 3 months. If frozen let the muffin sit on the counter for 1/2 hour or so to thaw.
Nutrition
Serving:
1
g
|
Calories:
235
kcal
|
Carbohydrates:
33
g
|
Protein:
6
g
|
Fat:
10
g
|
Saturated Fat:
5
g
|
Fiber:
7
g