Trunk Club, a Nordstrom Company, is a clothing styling service for men and women. Basically, the way it works is a personal stylist handpicks 12 items (clothing, shoes, jackets, and/or accessories) based on your detailed personal profile and a conversation with you. Then those items are delivered to your door beautifully packaged in a sturdy "trunk". You have 5 business days to try on everything and keep the items you want and send back the rest. I've tried Trunk Club 3 different times and this is my honest Trunk Club review. If you're ready to schedule a trunk then click here.
**This post contains affiliate links. I will receive a small commission, or referral credits, if you decide to use Trunk Club. However, this is my completely honest review and you're by no means obligated to use my links. If you do, thanks so much for supporting my site.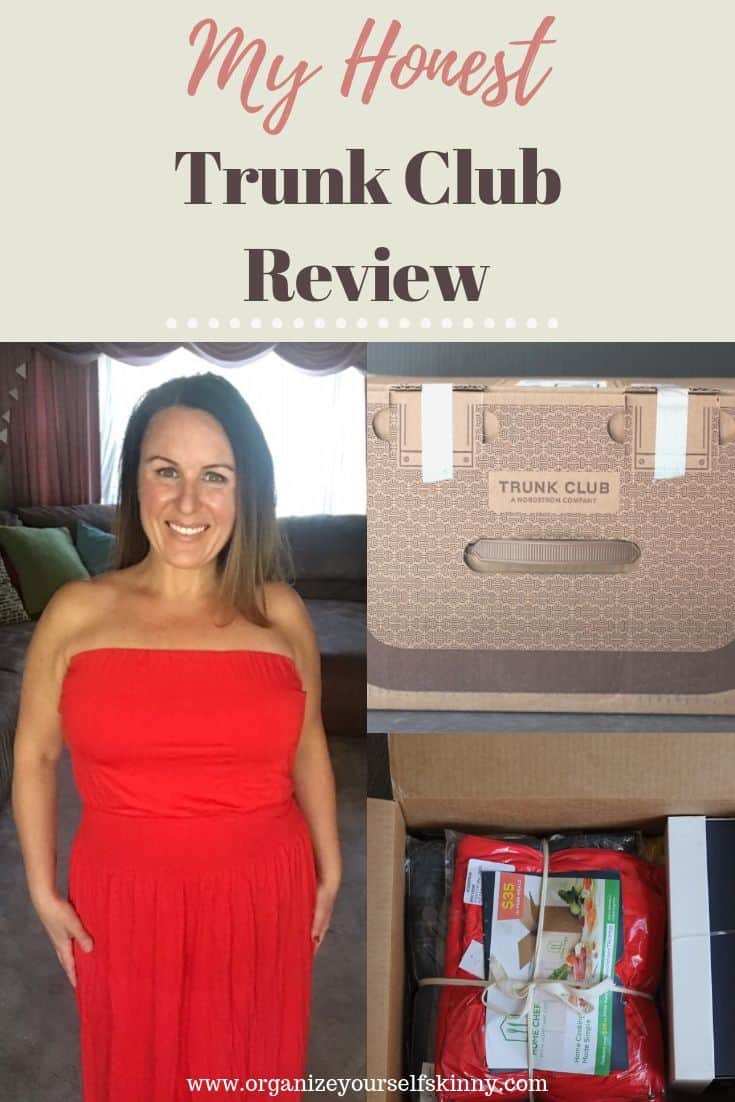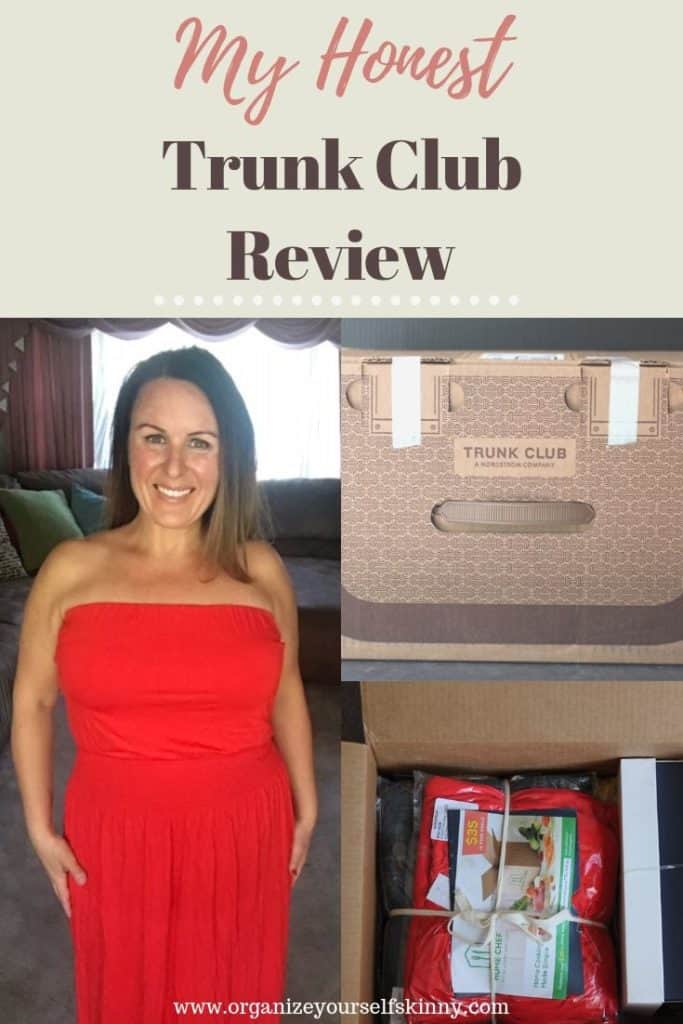 I'm really excited to share my Trunk Club review with you! Like, super duper excited!
I know amidst all the meal prep recipes, and weight loss advice, found on my blog it might seem a little odd to see a fashion related post.
But here's the thing…
I discovered a new love for clothes after I dropped 30lbs. It felt amazing to have the confidence to wear clothing that showed off my figure instead of hiding it. I started wearing more colors and styles I never would've wore 10 years ago. Skinny jeans and strapless dresses I'm looking at you. It felt really good to step outside the norm of stretchy gaucho pants and black tops.
The only issue is I'm not a shopper. I love the idea of wearing cute stylish clothes but have no clue about brands or how to shop for anything. Honestly, I don't even like to shop. I just don't have the time, patience, or knowledge to make a trip to the mall worth it.
Also, I work from home so I don't need many stylish outfits –  I can get away with a closet full of sweatshirts and jeans. So, I don't really feel a sense of urgency to purchase anything new. That's until I have somewhere to go, then I'm racing around trying to find something decent to wear.
Anyway, this is why I started turning to online styling services. Honestly, I feel like I'm the perfect candidate for these companies.
I started building my wardrobe a couple years ago with Stitch Fix. Not every box was a hit but I did get some nice pieces, and lots of quality denim, that I wear all the time.
My wardrobe has come a long way in the last couple years, but it still has far to go.  I have a few really nice outfits but most of my clothes are sweatshirts, jeans, and leggings.
I still use Stitch Fix but, a few months ago, I decided to try Trunk Club.
If you don't want to read my entire Trunk Club review then click here to schedule your first trunk.
Before I show you the clothes Trunk Club sent, and my personal thoughts, I want to give a quick overview. My goal with all of my reviews is to give as much information, along with my honest feedback, so you can decide whether or not it's a good fit for you.
You'll also find some comparisons between Stitch Fix and Trunk Club because these are the two online personal stylist companies I have experience with. Plus, while they do offer the same service there are actually a lot of differences between the two.
Overview
Trunk Club, a Nordstrom Company, is a personal styling service for women and men. Trunk Club is not a subscription service, you order trunks as you want them.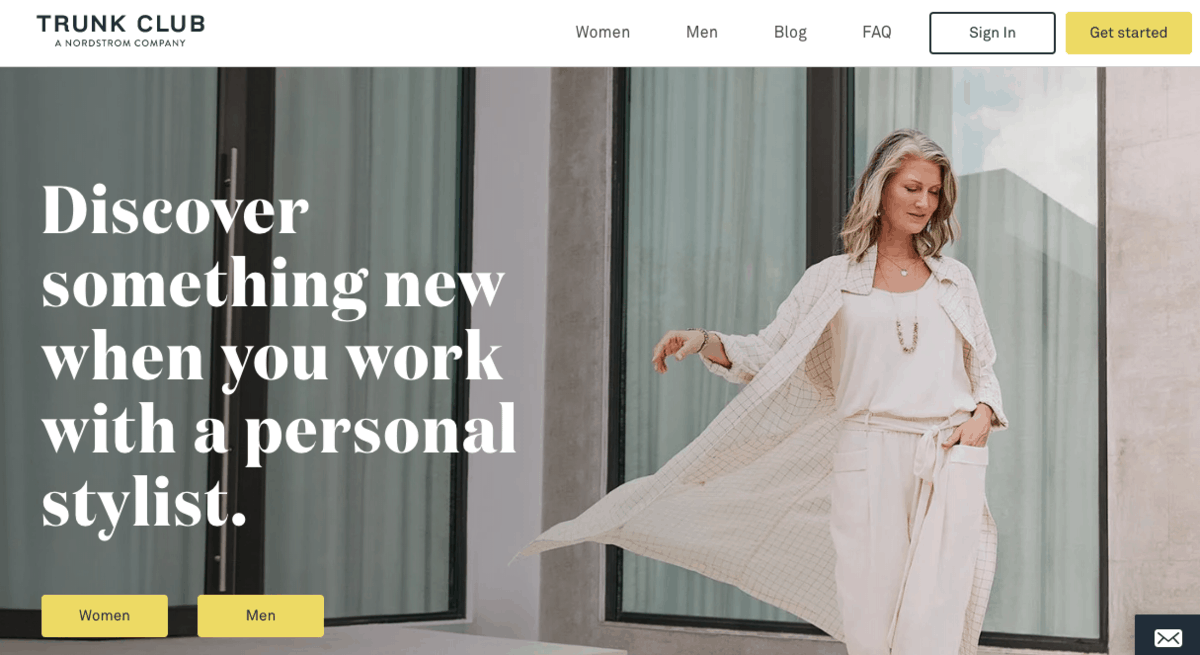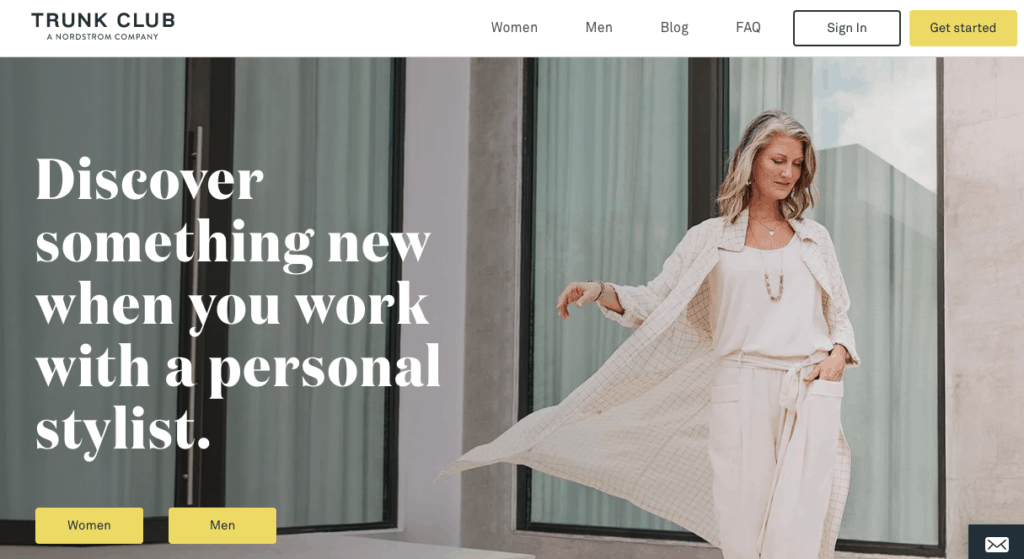 To get started you fill out a profile. This helps your stylist get a feel for the type of clothing you like – aka your style. This is also where you can put your sizes, budget, payment information, and other info. This is where you'll also see your past trunks.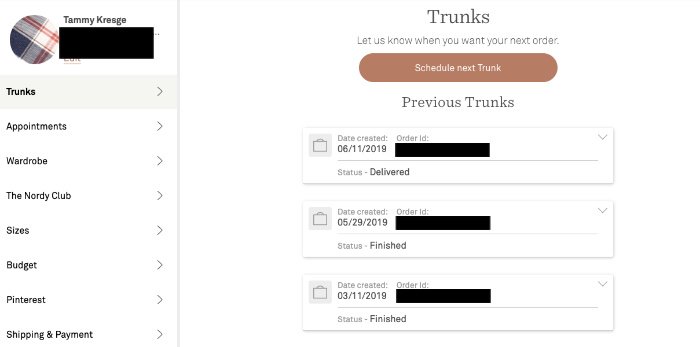 After you fill out your profile a stylist will be paired with you. From there you'll communicate the clothing you're looking for. This really sets Trunk Club apart, and one of the reasons I'll continue to use them. You don't just send a quick note letting your stylist know the items you're looking for – like Stitch Fix – you actually have a conversation with them. I talked on the phone with my stylist and also used the Trunk Club messaging service on the website and app to communicate. This way I could clearly communicate the items I'm looking for and also let her know whether or not I like certain items. I love this about Trunk Club.
After you talk with your stylist, she'll put together 12 items for your trunk. This is also different from what I'm used to with Stitch Fix who only sends 5 pieces. Personally, I love getting 12 items rather than 5. I work with online personal stylist services because I want to build my wardrobe, not just add 1 or 2 pieces at a time.
Those 12 items can include clothes, shoes, jackets, and accessories. However, your stylist will only send what you want. If don't want earrings then you won't get it. If you want all dresses then that's what you get. Again, you communicate the items you're looking for and that's what your stylist will search for.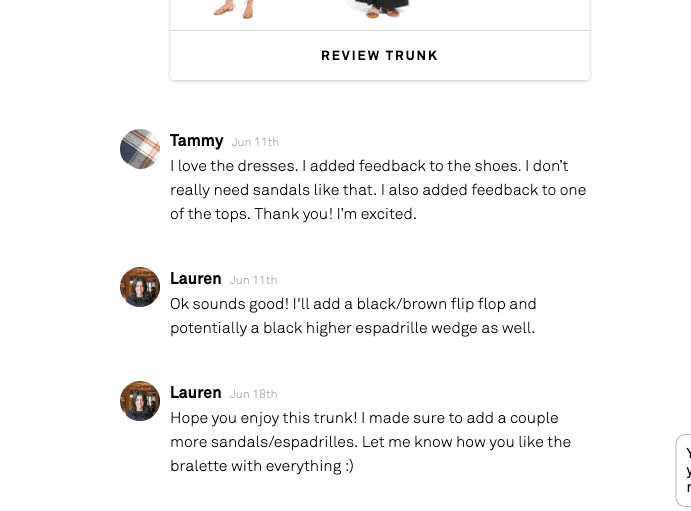 If you don't want to read my entire Trunk Club review then click here to schedule your first trunk.
Another thing I appreciate about Trunk Club is you need to approve all items before they are sent out. Your stylist won't send any item you don't want.
This is huge!
One of the biggest issues people (including myself) have with Stitch Fix is you have no clue what items you're getting sent until they arrive at your door. Sometimes I like that element of surprise but it can also be really disappointing, and waste of time, when I'm counting on filling my closet with clothes being sent to me and I don't like anything.
Trunk Club sends more clothes and I know what I'm getting ahead of time. However, if I want my stylist to surprise me with a few different things, she can do that too.
Once your trunk is put together it's shipped out. After you receive it you have 5 business days to try everything on and keep what you want and send back the items you don't.
Another area that sets Trunk Club apart is your stylist will put together outfit suggestions based on the items you sent. You'll find those suggestions in your profile but also an email will be sent.
If you have questions, or need some feedback, you can send pictures of yourself in the outfit using the messaging app.
Here's one of the conversations I had with Lauren, my stylist, about a top I wasn't sure about. I absolutely love this feature.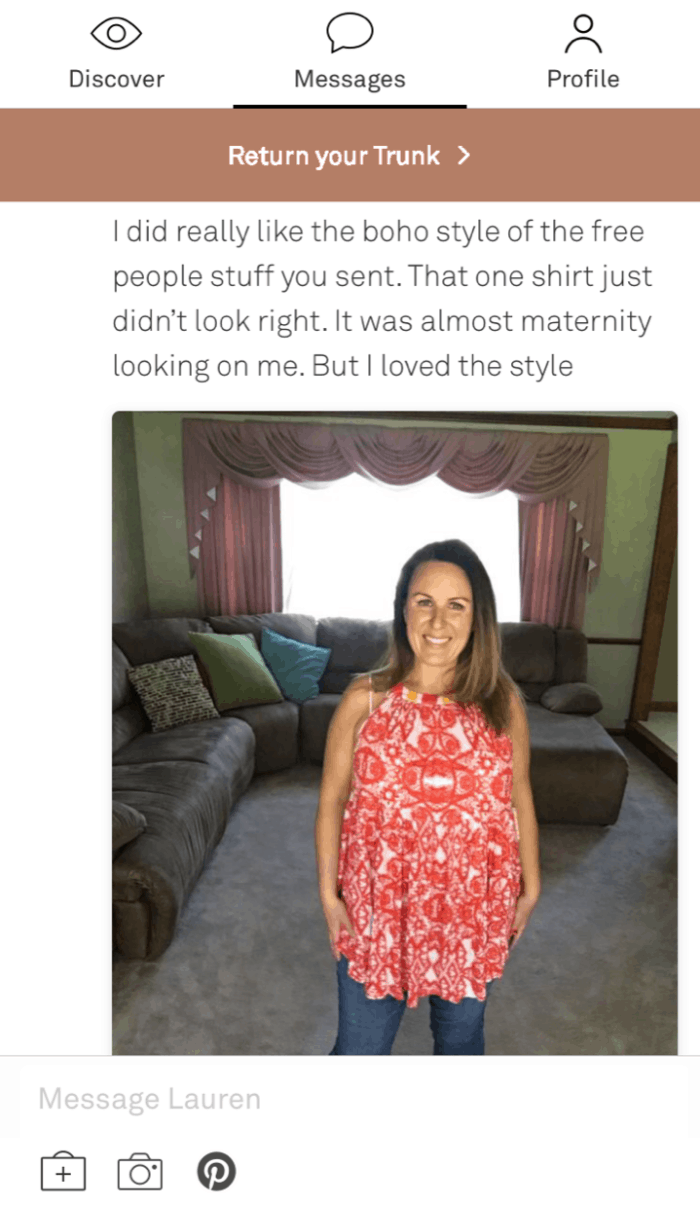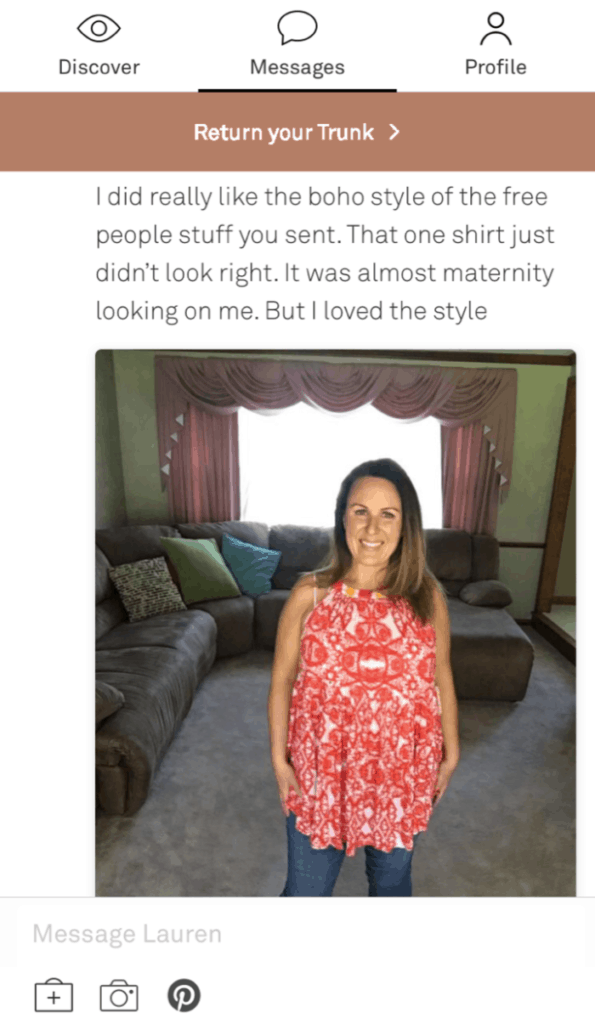 If you don't want to read my entire Trunk Club review then click here to schedule your first trunk.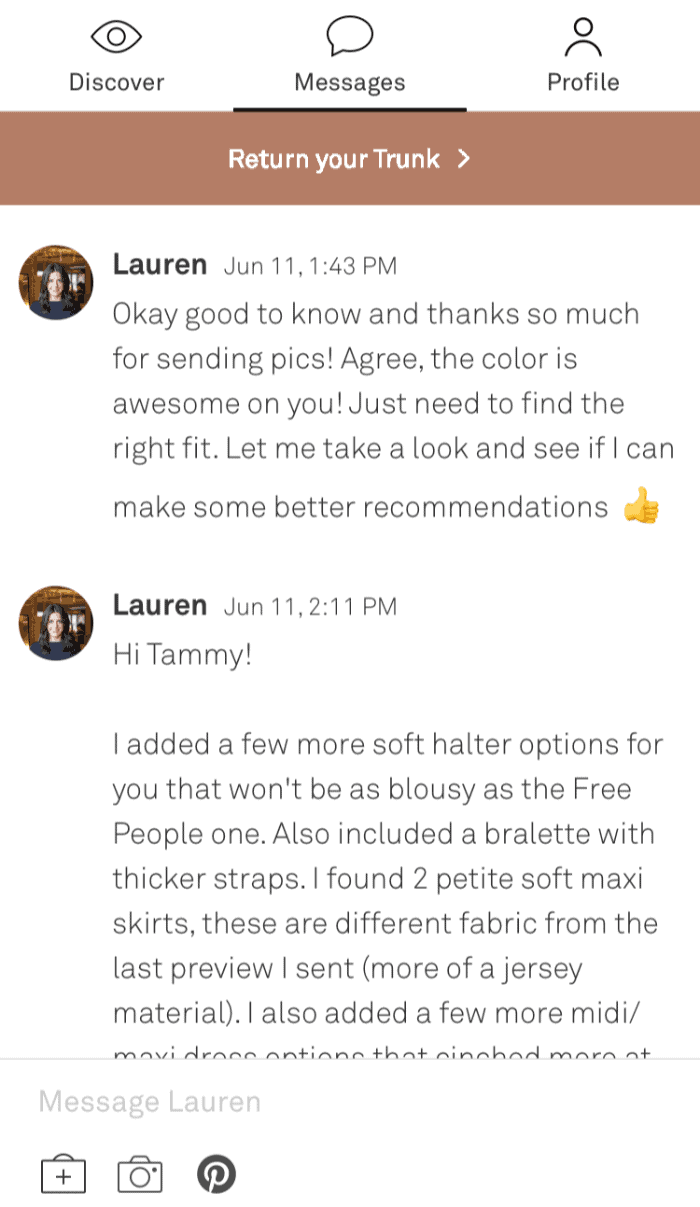 Returns are super easy. All the items you're returning go back into the trunk. They send a return label and 2 pieces of tape to seal the trunk. After you get the trunk ready to be shipped back all you need to do is bring it to UPS or have it picked up. Seriously, it couldn't get any easier than that.
Last, you won't receive another trunk unless you schedule one. That's another difference between Trunk Club and Stitch Fix. Stitch Fix is a subscription box that sends boxes automatically. Yes, you can skip boxes and also schedule time in-between but it's still automatic. Trunk Club doesn't automatically send boxes, only when you ask for one.
If you don't want to read my entire Trunk Club review then click here to schedule your first trunk.
How much does Trunk Club cost?
There's a $25 styling fee. That fee is deducted off any item you decide to keep. Of course, if you choose not to keep anything then you loose that fee. If you use a Nordstrom credit card then that fee is waived.
How much are the clothes?
All of the items are right off the shelves at Nordstrom so naturally the clothing is going to be on the pricier side. Everything is name brand and the quality is outstanding.
However, in your profile, you can choose a budget range for your stylist to follow. You can also communicate how much you're willing to pay for each item.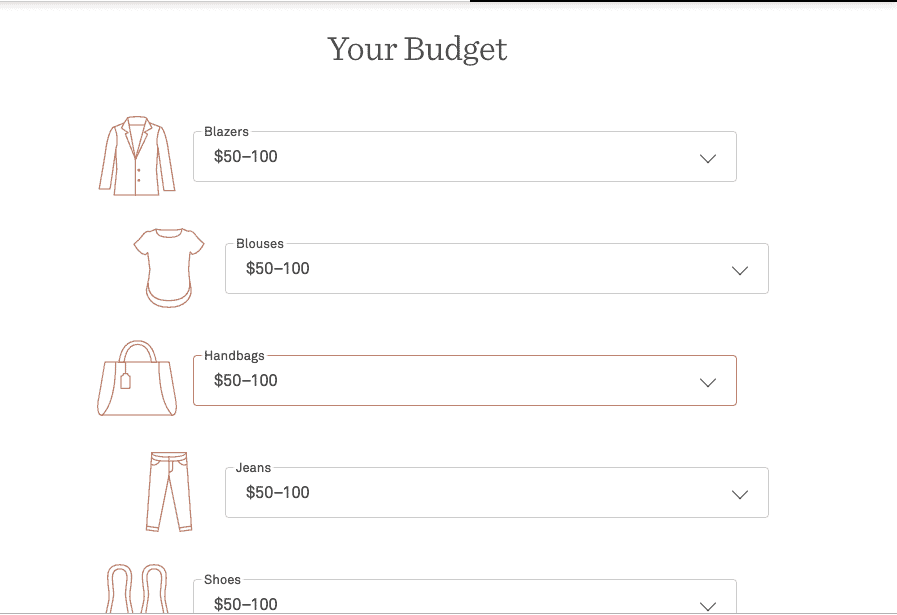 If you don't want to read my entire Trunk Club review then click here to schedule your first trunk.
I will say that the prices have been very comparable to what I pay for clothing sent by Stitch Fix. Also, I get some of the same brands.
The only big difference is if you choose to purchase all 5 pieces from Stitch Fix you get 25% off your total order – I got some good deals this way.
Trunk Club doesn't offer a discount like that. However, if your items go on sale within 14 days of purchase they will price match. Also, if it goes on sale before you check out then you get the sale price. For example, these espadrilles I purchased were 37% off when I went to purchase them. I was like WOOHOO!!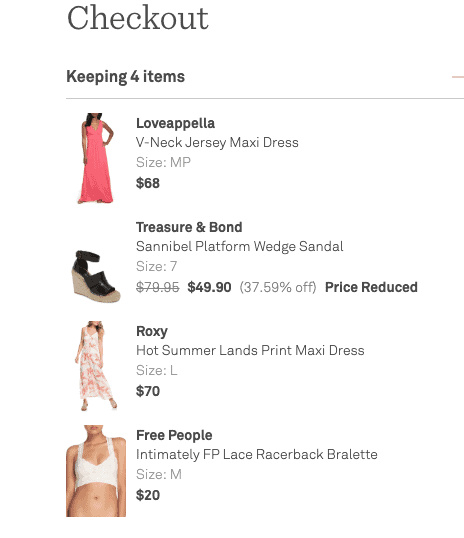 Overall, the pricing reflects the quality and name brands of the clothing you're receiving.
Another perk is Trunk Club keeps a record of the clothing you purchase within your profile on their website and app. You can find everything in the wardrobe section. I find this to be super helpful because not only can I see everything I purchased but all the outfit suggestions my stylist made are there too. Like I said, I'm clueless so having all this right there for me to access on their website, or in the app, really works for me.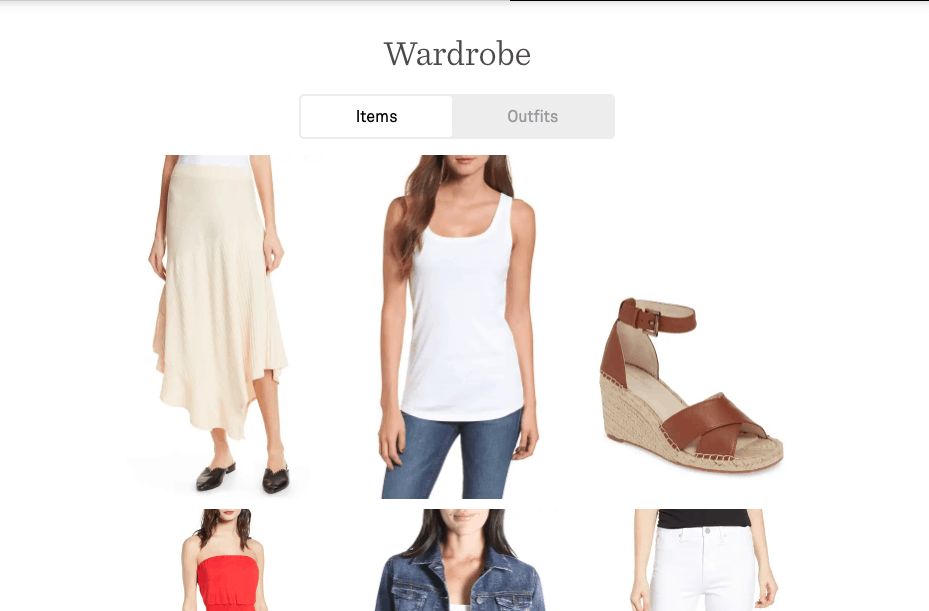 Okay, let's go through one of my Trunks
If you don't want to read my entire Trunk Club review then click here to schedule your first trunk.
Trunk Club Review
All of your items are sent in this sturdy box..or trunk. This is the same box you use to send everything back so make sure it doesn't get thrown out. Of course, if you choose to keep everything then you keep the trunk too.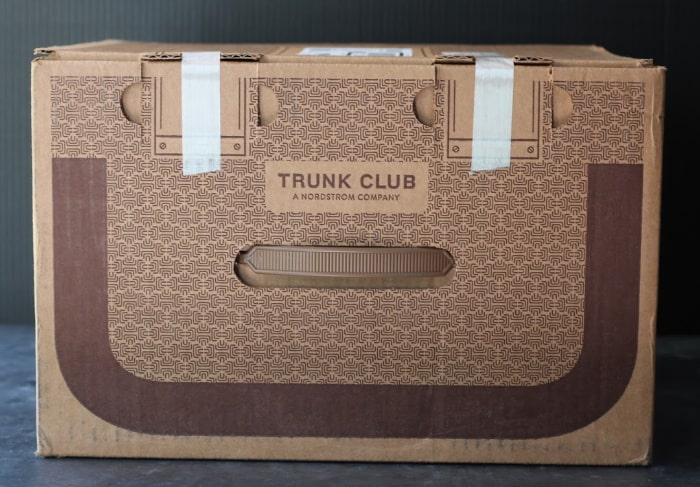 Everything comes neatly packaged. Like I said, everything I got has been in it's original packaging. I don't know if this is standard but it's been my experience for the last 3 trunks I've received.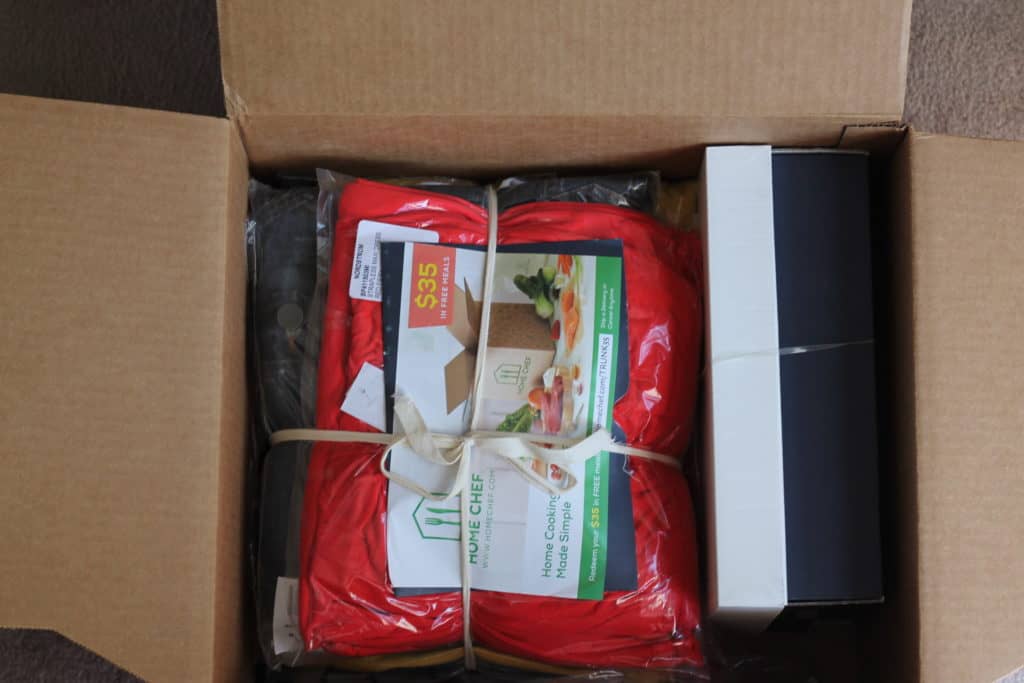 Here's what everything looks like right out of the trunk.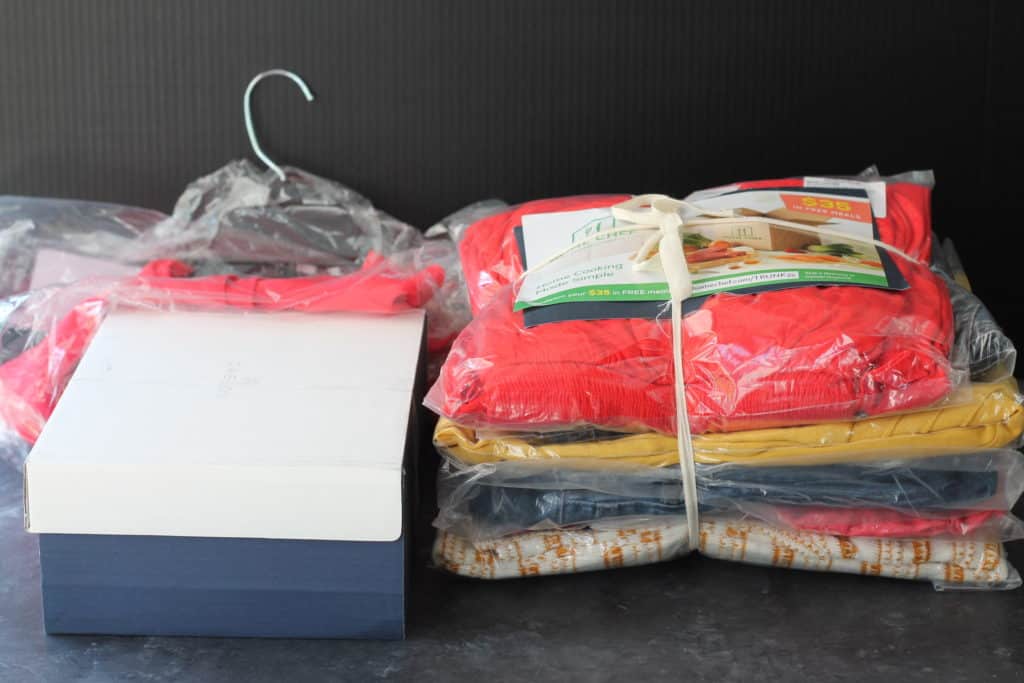 For this trunk I told my stylist I was looking for dresses to where to a graduation and a rehearsal dinner, casual dresses, a denim jacket, cropped denim, fun tops, and tan espadrilles.
This is what I was sent:
KUT From the Koth Unhemmed Denim Jacket – $79
Free People
Endless Summer by Free People Beachwood Skirt – $58
Here's a look at the items.
This is the Lou & Grey Crochet Stripe Midi Dress. I actually liked this dress, and Mike really loved it, but it was too big. Plus it was a little pricey ($89.50) for being a casual dress that I'd have to get altered.
I sent this one back.
Here's the same outfit with the KUT From the Koth Unhemmed Denim Jacket. Again, I really liked this outfit.
I saved the best for last! This was my absolute favorite item in my trunk. I love every single thing about this BP. Strapless Maxi Dress. The color is beautiful. The fabric is soft and comfy. The fit is fantastic, I love the way it cinches in the middle. It's a tad long but doable with the espadrilles I received or other heals.
I love the way this dress makes me feel! Happy and confident!
My overall thoughts
When I do my reviews I try not to rave about whatever I'm reviewing. I like to give the facts, my experience, and then my general overview thoughts. Like I said, my goal is to give you as much information as possible so you can decided whether or not it's a good fit for you.
With that said, I do want to rave a little bit because Trunk Club truly did exceed my expectations. Maybe I'm just the perfect candidate for Trunk Club but I felt it really worked for me. I've filled my closet with some beautiful pieces of clothing and feel confident when I need to wear something other than leggings and a sweatshirt.
In all the times I've attempted to shop on my own I've NEVER left the store with as many pieces of clothing as I do with Trunk Club. I always end up purchasing things I already own (like black tank tops) or something I thought was cute but never actually wear it.  My stylist gives me clothes I'm comfortable with but still pushes me outside my comfort zone a little. Honestly, with the help of Trunk Club, I feel like I'm finally coming into my own style. I wish I would've tried Trunk Club much sooner.
Of course, Trunk Club is on the pricier side so I need to budget or else I'll go broke. But, I've learned, I'd rather spend extra money on quality clothing that I'll actually wear then less on clothes that'll sit in my closet or I can't wear anywhere but at home.
These are the top 5 reasons I'll continue to use Trunk Club:
Direct communication with my stylist.
This is by far my favorite thing about Trunk Club. Instead of just writing a note, and hoping for the best, I get to have a one on one conversation with the person who's styling me. I also get to send her pictures of me in the outfits and get feedback.
12 pieces are sent.
I use Trunk Club to build my wardrobe. I like to have a bunch of options to choose from because then it's more likely something will work out.
No surprises.
This is huge too. I like that I get to see and approve everything that's being sent to me. Like I said, I'm looking to buy so I want to make sure I'm getting stuff I'll like.
The Trunk Club App.
Their app makes it very easy to talk to your stylist, approve trunks, give feedback, purchase, and return.
Clothing is beautiful.
Trunk Club has helped me add some beautiful stylish outfits to my wardrobe. Yes some things are on the pricier side but overall I think the prices are reasonable for the quality and brands.
Of course, Trunk Club isn't going to be for everyone. If you're already good at putting together outfits and have a style that works then you might not see the benefits. Also, if you're a discount queen and know how to find the best deals on the best clothes then Trunk Club probably won't work for you.
However, if you're like me…
Someone who likes clothes but doesn't know how to shop, or have the time, then Trunk Club will work great. Also, if you don't mind spending a little extra on quality clothing then you'll really love Trunk Club.
Last, if you're someone who recently lost a bunch of weight and don't even know where to start with style then I reccomend giving Trunk Club a try, at least once. I think it's super helpful to work with a stylist who can guide you to a style that would work great for your new confidence and lifestyle.
If you have any questions about Trunk Club go ahead and leave them in the comments. If you're ready to get your first trunk then click here. I hope you found my Trunk Club Review helpful.
**This post contains affiliate links. I will receive a small commission if you decide to use Trunk Club. However, this is my completely honest review and you're by no means obligated to use my links. If you do, thanks so much for supporting my site.