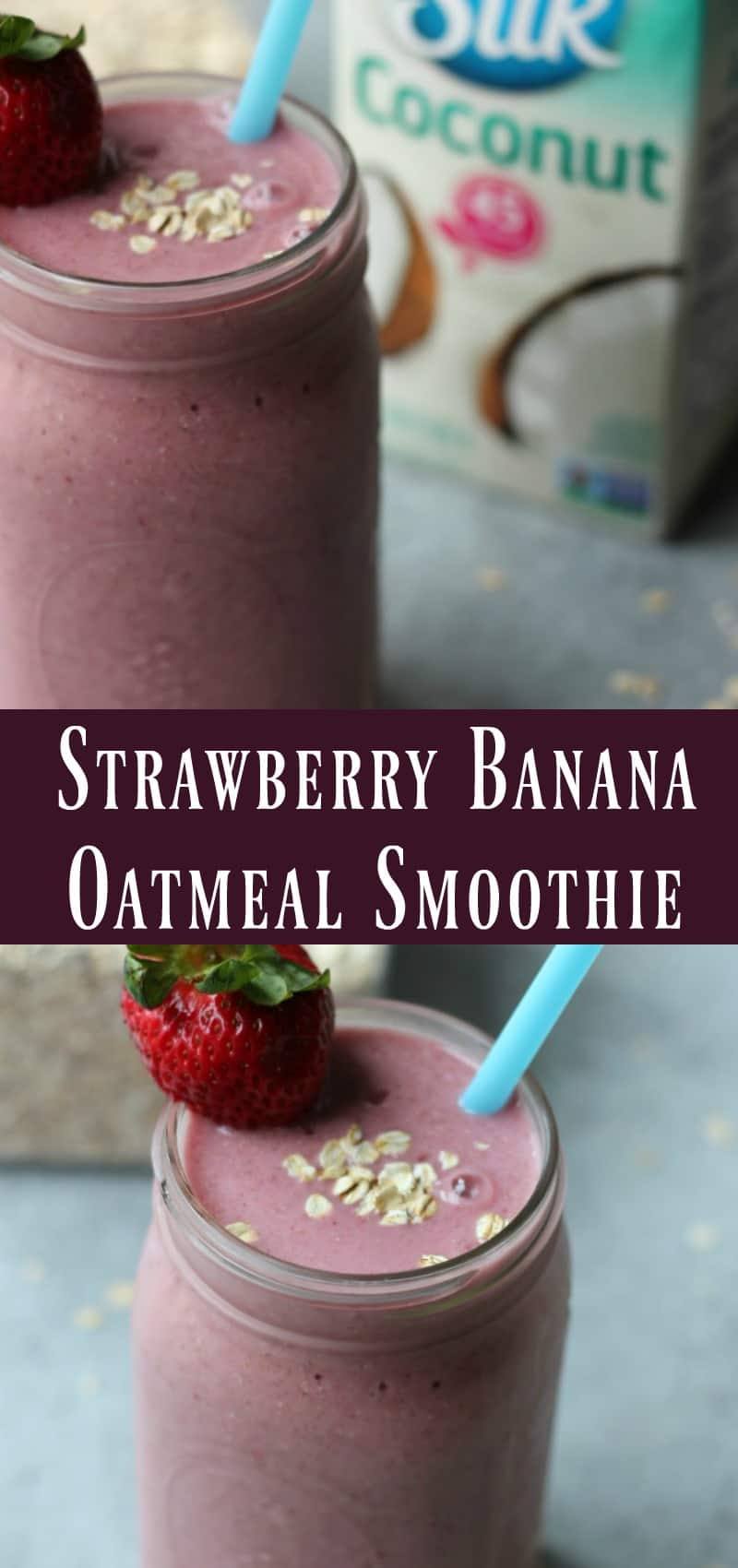 One of the things I love most about smoothies is you can sneak all kinds of wholesome goodness into them and nobody bats an eye. By "nobody" of course I'm referring to my children. My kids enjoy smoothies as long as it isn't a bright green color. This isn't much of a problem considering a ripe banana and berries can mask just about any green. Yep #momwin again!
In the last few months I've been meaning to try oatmeal smoothies. Personally, I prefer a smoothie with just unsweetened coconut milk, berries, apple, and spinach but I wanted to prepare something with a little more oomph for my kiddos. They eat breakfast quite early and need something that will keep their bellies full all morning. Unfortunately, my girls don't have the luxury of enjoying midmorning snack time like I do. Anyway, I decided to give oatmeal smoothies a try because my kids like smoothies, they're easy to make, and adding in some oatmeal will give that extra burst of fiber to stay satisfied until lunch.
You might be wondering where I got the idea to add oats to my smoothies? Um….Pinterest of course. And just like every recipe on the planet you can find a million different variations through one Pinterest search. Some oatmeal smoothie recipes blend in cooked oatmeal, some let the oats sit overnight in the liquid, some throw the oats in whole, and others blend the oats first.
How to Make a Strawberry Oatmeal Smoothie
I decided to blend the uncooked oats prior to blending in the rest of the ingredients. Why? Simply because I wanted to prevent either child from being "grossed out" by locating pieces of oats in the smoothies. You get it.
Here are before and after pictures of the oats.
Blending the oats turns them into a flour of sort. AKA…no one will know the oats are there.
Then I added frozen strawberries, a ripe banana, chia seeds (for added fiber and protein), and 1 cup of Silk Unsweetened Coconut Milk. If you need more liquid then add in more coconut milk or use water.
I've been using Silk Unsweetened Coconut Milk for YEARS! In fact, you can walk into my home at anytime, go into my refrigerator, and find a carton of either Silk Unsweetened Coconut Milk or Almond Milk. I use both in my smoothie and pretty much any recipe that would call for dairy milk.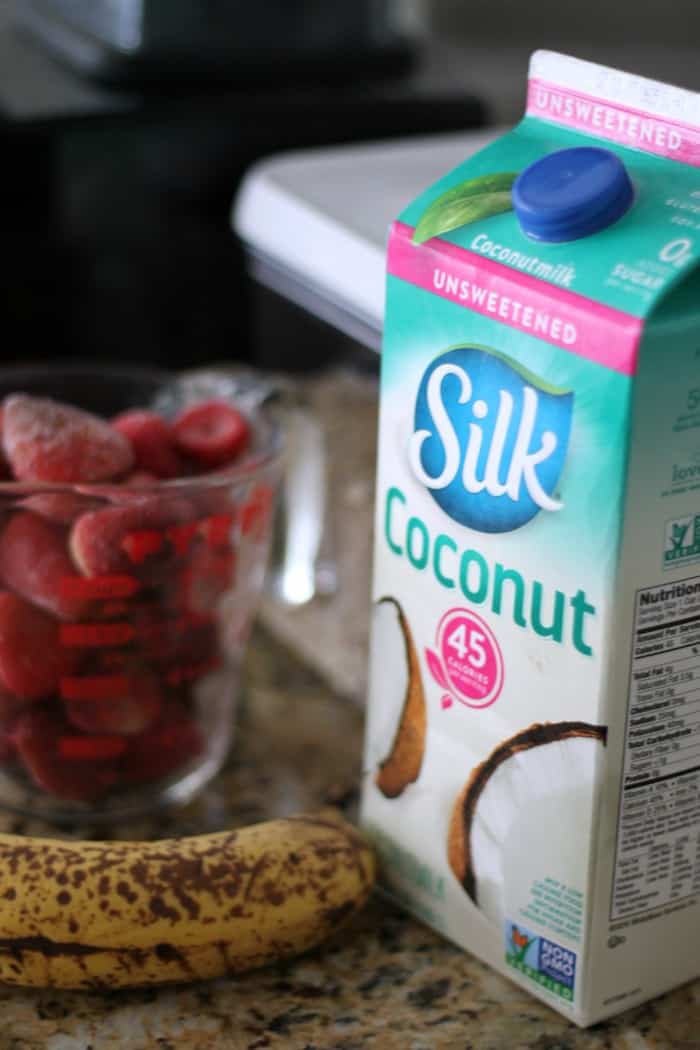 I decided to use strawberries with this recipe but use any fruit or berry you like. Don't skip the ripe banana though because that adds sweetness.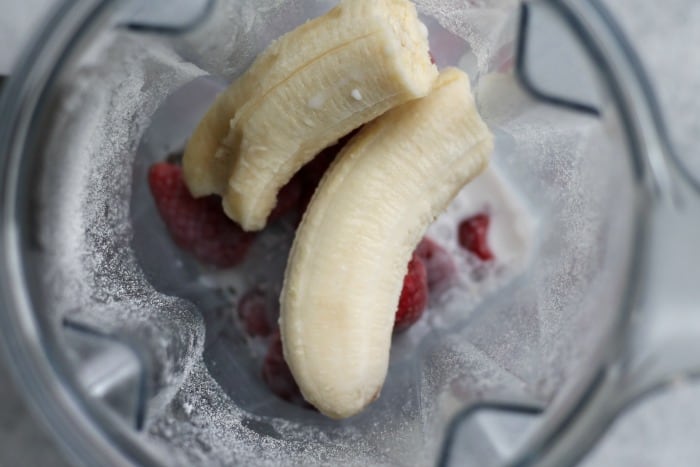 Blend blend blend….
Again, you'll probably need more liquid to get the consistency you want so either use more coconut milk or water.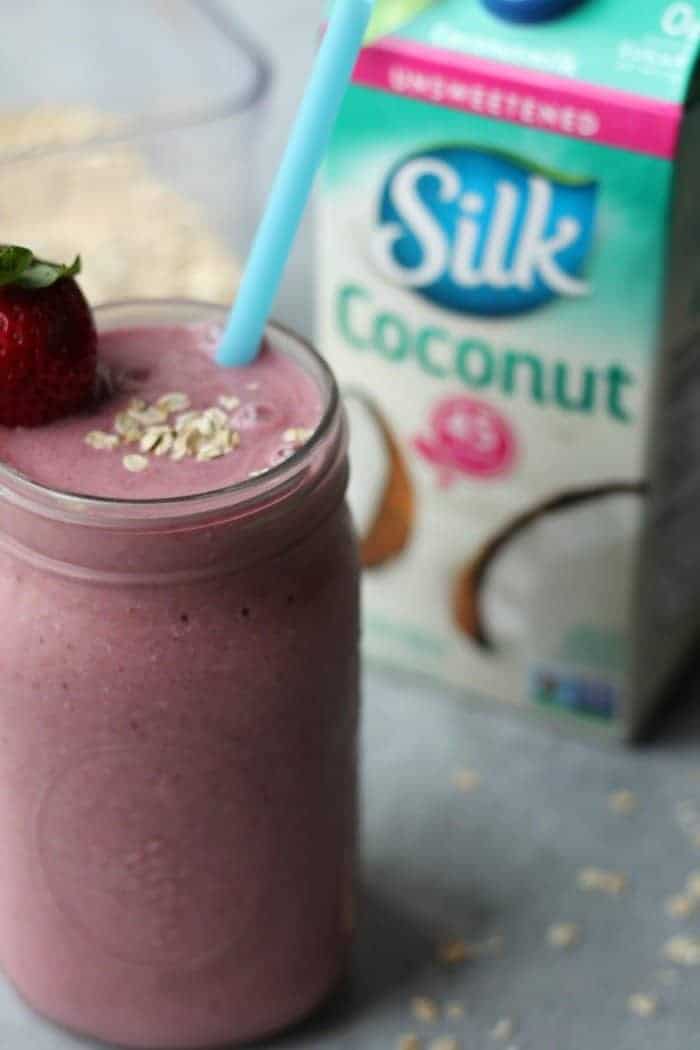 This is a simple kid-friendly smoothie. It has a milkshake-like consistency and is very tasty. The oats do mute the flavor just a little so if you need extra sweetness I recommend adding 1-2 teaspoons of pure maple syrup or honey.
On mornings my girls drink this smoothie I feel good knowing they are going to be full until lunch. I don't have to worry about either of them being unfocused or tired because of hunger.
If you're looking for a way to add more bulk to your smoothies I recommend blending in 2 tablespoons – 1/4 cup of rolled oats. This little extra will keep you satisfied all morning long.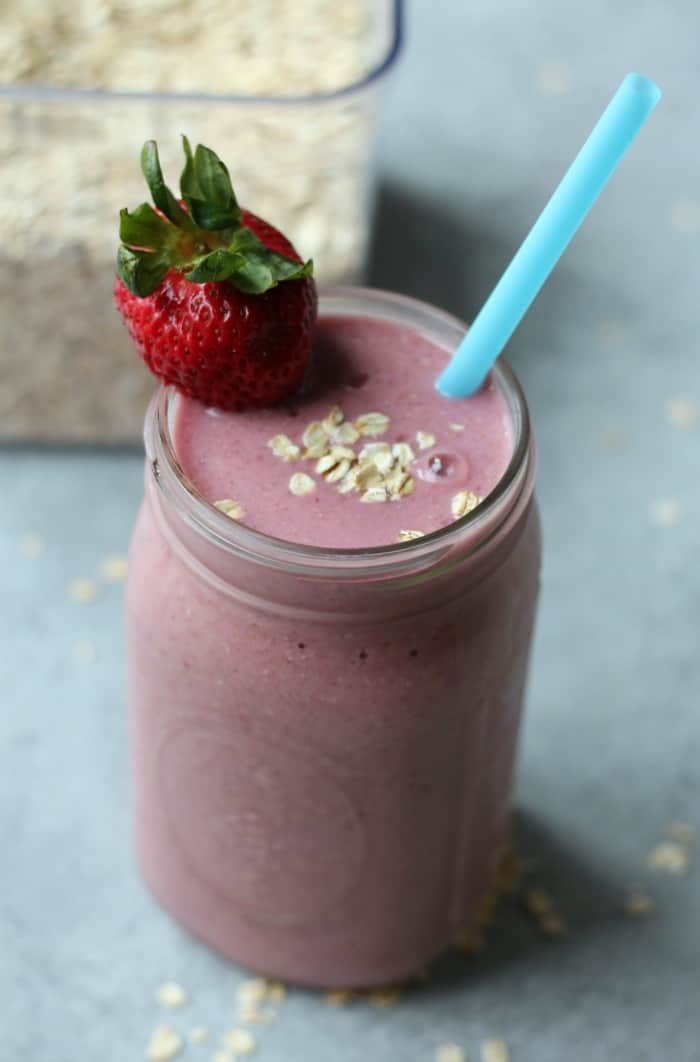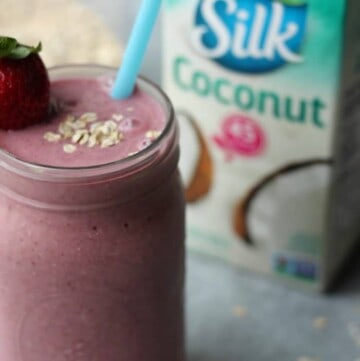 Ingredients
1/4

cup

rolled oats

2

cups

frozen whole strawberries

1

medium ripe banana

1

tablespoon

chia seeds

1

cup

Silk Unsweetened Coconut Milk

water

maple syrup

optional.
Instructions
Place rolled oats into the blender and blend until they become a flour-like consistency. Add the strawberries, banana, chia seeds, and Silk Unsweetened Coconut Milk to the blender and blend until smooth. Add water until you get the desired consistency.

If you need more sweetness add 1-2 teaspoon of pure maple syrup.
Nutrition
Serving:
16
g
|
Calories:
199
kcal
|
Carbohydrates:
37
g
|
Protein:
5
g
|
Fat:
5
g
|
Fiber:
9
g