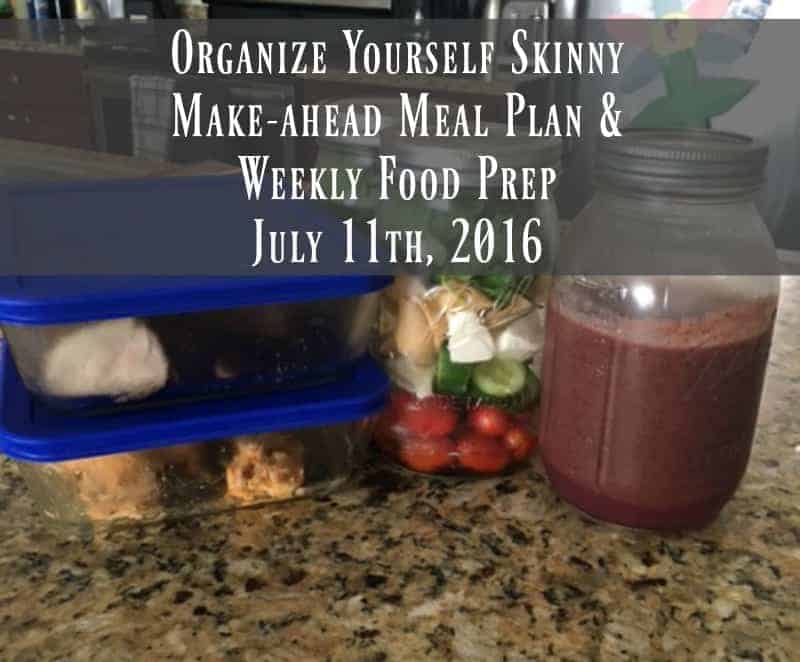 Please tell me how we are already into to the second week of July! I want summer to SLLLOOOOWWW down. It is so nice to have nothing to do and nowhere to be. In the beginning of the summer I committed myself to having a 1980s summer. No camps. No activities. No busy schedules. Just waking up when we feel like it, swimming all day, lots of barbecuing, campfires, and hanging out with friends. It's been amazing and I can't remember the last time I felt this relaxed.
I've been having so much fun with my kiddos and lots of fun with my friends. This is my girlfriend Rachel (on the left). I wanted to share this picture with you because it documents the first time in recent years wearing a strapless dress. I think the last time I wore a strapless dress was at my senior prom.
I love the way strapless dresses look on other people but never thought they looked good on me. Well I found this maxi dress in the Junior section at Kohls, put it on, and fell in love with it. I was shocked that it fit and looked flattering on me. It's soooo nice to try on clothes and actually like the way I look in them. The past couple weeks I've been a green smoothie queen, staying on the low carb side, and running 3-4 days a week. I feel good inside and out and when I tried on this dress I felt my hard work pay off.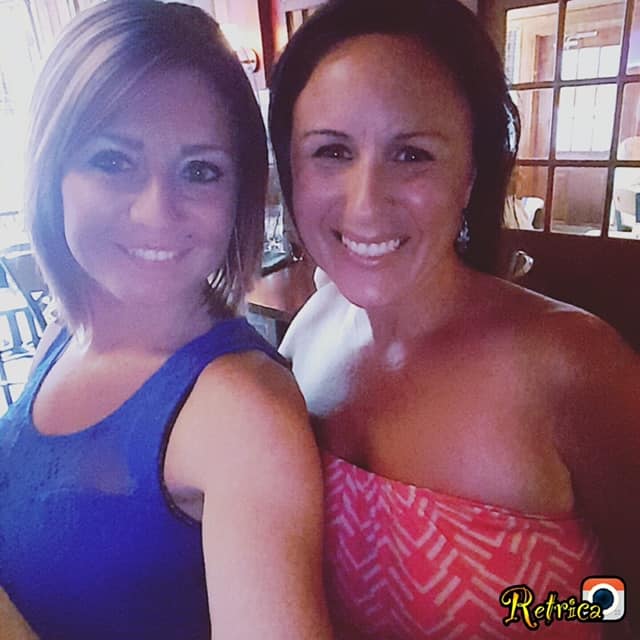 My whole point in sharing this is that hard work does pay off. When you consistently eat clean foods, keep portions under control, and take the time every week to exercise you will see results.
Before I get to my meal plan I want to talk about the new Organize Yourself Skinny Facebook Group I started this weekend. I've been meaning to start this group for a long time, but with everything else I have to do for my blog, I never got around to making it a priority. Well this weekend I decided to just start it and see what happens. In a day 350+ people joined!!! Whoa! I'm excited!
Now I do like to be a bit more strategic with my blog planning – I'm not one to hit go without a detailed plan and check list of everything I need to do. However, I procrastinated so long on this group and wanted to get it going so I pulled the trigger this weekend and glad I did.
My goal with the FB group is for all of us to get to know one another better. To hold each other accountable, to motivate and encourage one another, and share out challenges and successes. I want everyone to share their weekly weigh ins, meal prep, and anything else that's working (or not) for them on their weight loss journey. The difference between a group and a FB page is all of you can communicate more with me and each other. It's hard to do that on a FB page.
I posted a live video yesterday in the group welcoming everyone and talking more about the goals for the group. That was my first time using Facebook live so I apologize for the glitches. I had a lot of fun live streaming and plan to live stream once or twice a week once I get into the swing of things. If you want to join the OYS FB group click here. I approve all requests and will get to them as soon as I can. I can't wait to meet you.
Okay let's get to my meal plan.
Like I said I've been a green smoothie queen. Last week I made a bunch of detox smoothie freezer kits and still have a few left. Each kit makes about 2 (32-ounce) mason jars so I'm good for the week. I have a how to video coming very soon on these kits.
I also have a couple mason jar salads leftover from last week and a pasta and veggie salad I made for Sargento cheese. I plan to eat that up this week for lunch.
Snacks will mostly be hard-boiled eggs, almonds, yogurt, or hummus and crackers. I have to say the hard-boiled eggs last week were clutch. The protein and fat from the eggs filled me up and kept me satisfied between meals. I love having a bunch in the refrigerator ready to eat. My kids eat them too so it's a healthy cheap snack.
Dinner will be buffalo mac n cheese made with the leftover buffalo chicken. I want to keep my carbs low so I'll make this for the kids but I might just throw some chicken in a low carb wrap for me.
Here's some of the food I have left from last week.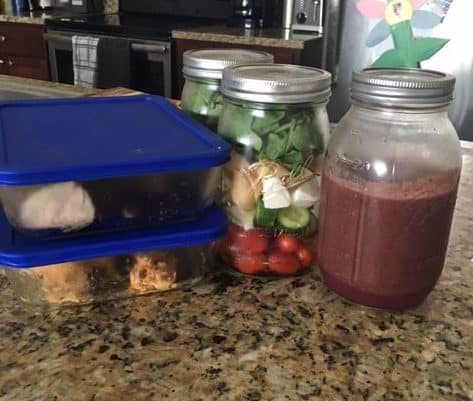 I'm also going to make my quinoa greek salad for dinner this week. I'm going to make the quinoa tonight and then put the salad together.
For the rest of the week I'm going to keep it easy with tacos and some pita pizzas. Both of those recipes I'll just make the night of.