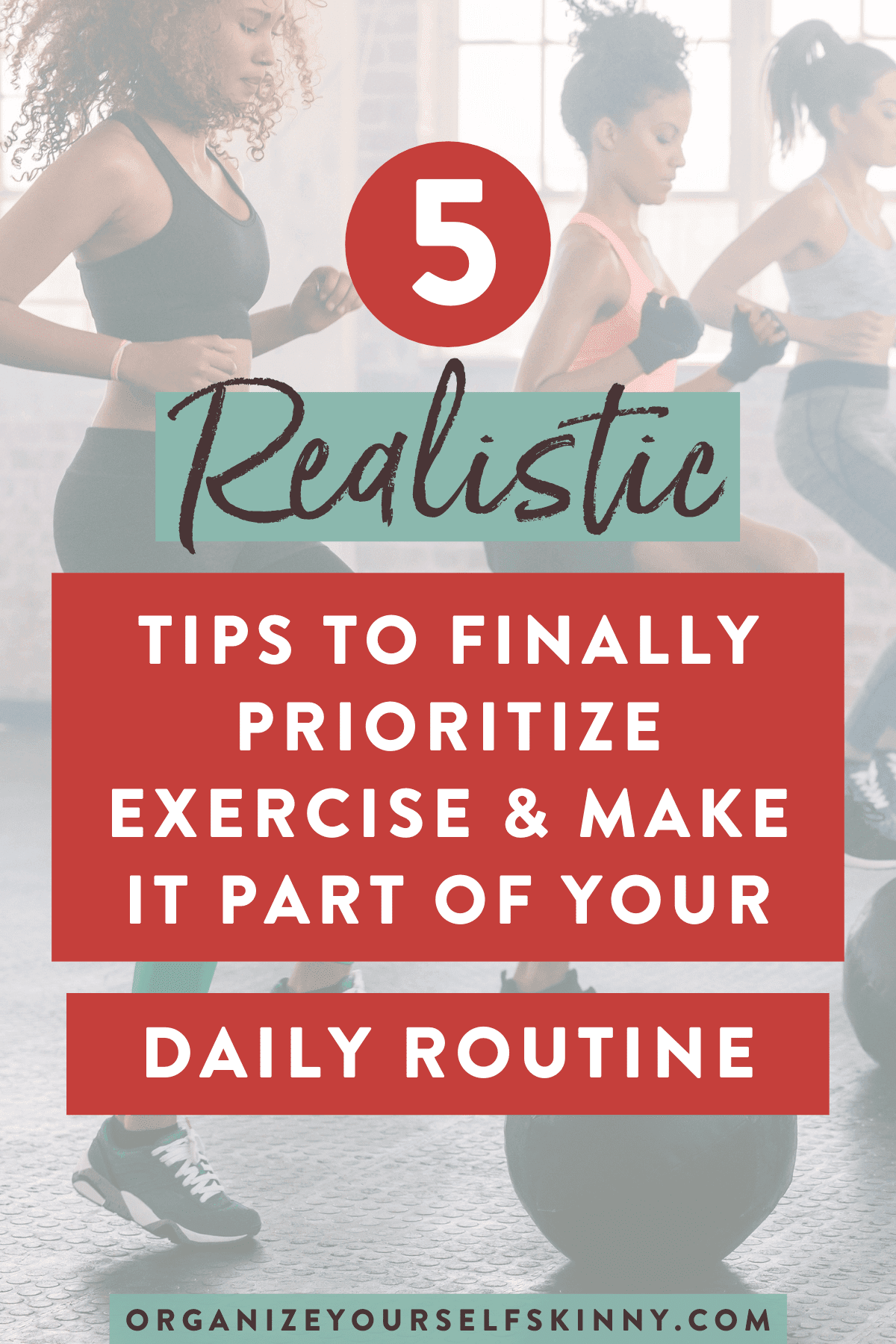 Everybody knows that exercise and a healthy body go hand in hand. This is not new information. However, most people still find it difficult to consistently fit an exercise routine into their daily lives.
Whether it be the time, lack of motivation, or "fill in the blank" there is always some sort of excuse to prevent people from breaking a sweat. Whatever the reason, staying motivated with exercise is not easy.
Even I am guilty of neglecting exercise and I write a blog about living healthy and losing weight. Things that make you go hmmm.
The truth of the matter is you can lose weight by just changing your eating habits – I lost 30lbs with minimal exercise. However, I will tell you that it does take longer and becomes much harder to maintain over the long run without regular exercise.
So for the purpose of losing and controlling weight, along with maintaining a healthy lifestyle, it is important to prioritize exercise.
Yes we all want to look our best and exercise can certainly help us with that but there are other reasons why exercising on a regular basis is a good idea.
5 Reasons – Besides Losing Weight – Exercise is Important
Increases energy.
Exercising on regular basis improves your muscle strength, increases endurance, and helps your lungs and heart work more efficiently. All of this combined gives you more energy to move about your day.
Reduces stress.
Whether it's a bad day or just feeling overwhelmed a quick workout can help to relieve stress. It doesn't need to be anything strenuous, just talking a brisk walk can make all the difference.
Helps you sleep better.
As long as you don't exercise to close to bedtime exercise can help you fall asleep faster and stay asleep longer.
Puts some spice back in your sex life.
Typically, increased energy + reduced stress + more sleep = hubba hubba. See it's not just about food here on OYS..
Improves your mood.
Well let's see, with exercise your stress is reduced, energy is increased, you are sleeping better, and you are having frequent better sex with your partner – yep that would put me in a good mood too 😉
As convincing as those reasons are a lot of us still don't do exercise.
A while back I asked my readers what stops them from exercising and these are the top 2 reasons.
No time.
This is the number one most of us are not exercising. While I completely understand the lack of time I also know that when something is a priority we make the time.
No energy.
Life in general will suck the energy right out you. Now add onto that the lack of exercise and it is no wonder we are ready to pass out by 8:00pm. Like I said earlier, exercising on a regular basis will give you more energy. Sometimes we have to give ourselves that added push to get started but once the ball is rolling it gets easier.
How to Commit and Make Exercise a Priority
Please know this is a habit that I struggle with as well. I personally find it to be a constant battle to fit exercise into my life. However, I know it is really important for my long term weight maintenance to keep trying and never give up.
Here are some tips that have helped me in the past.
Start slow and be realistic.
Throughout my entire weight loss journey I have moved at a snail pace. I don't like to do anything drastic because in the past that method has not worked for me. Setting small achievable goals has been what works – for me anyway. For example, instead of going into the week thinking I am going to run on my treadmill everyday I will set a smaller goal of running twice.
You always want your goals to be realistic to your lifestyle. Exercise needs to fit seamlessly into your life. If you have to adjust your life too much just to work out more than likely it is not going to happen.
For example, I cannot tell you the number of times I joined a gym only to go once and never again. Reason being that after work the last thing I want to do is leave my kids for another hour or so to go workout. As much as I would try to convince myself it was fine, I just could not do it. So guess what would happen? I stopped working out all together. Exercise needs to be an activity that fits around your lifestyle.
Get exercise into your calendar
I always say that if something (anything) is not in my calendar it does not exist. When you physically write (or type) exercise into your calendar you are taking the steps to be intentional, make it a priority, and to hold yourself accountable. It is much harder to forget about exercise when reminders pop up.
Plan ahead
Once you have exercise in your calendar it is much easier to plan ahead. For example, if you run on Tuesday mornings you know to have your running clothes and sneakers ready the night before. With time being of the essence, if you had to search around the house for sneakers that could trigger an excuse to ditch the workout. Planning ahead, as with everything, always helps to keep goals moving forward.
Get the family involved
This is a big one, especially for busy moms. There are honestly times where getting on the treadmill or going for a run is very difficult or downright impossible.
When I can't get a traditional workout in one of the best ways I have found to get on a good sweat is turn the radio on and dance. My kids love this. We do more than just dance. We do jumping jacks, squats, sit-ups, running in place, anything that gets the heart pumping. If it is nice out we go for walks. The point is to get active.
Purchase inexpensive workout videos or equipment
I think one of the biggest misconceptions with exercise is the need to join a gym or purchase expensive equipment. This is absolutely not true. In fact, turning on the radio and dancing, like I mentioned above, cost no money and potentially can help you burn hundreds of calories.
If you want to get a treadmill or other exercise equipment you can purchase used or on sale. Equipment is not necessary however even if you purchased brand new over the long run it is cheaper than a gym membership.
If you prefer to workout using exercise videos you kind finds them for very inexpensive at the thrift stores, garage sales, or on Amazon. You can most likely get exercise videos for free from the library or there are 1000s of workout videos on Youtube. You will also get a good laugh with some of those.
What tips do you have to prioritize exercise?