As a cruise newbie, I'm certainly not a "cruise expert", but I can offer some first time cruise tips to help you have an amazing time while also sticking to your weight loss goals – if you choose.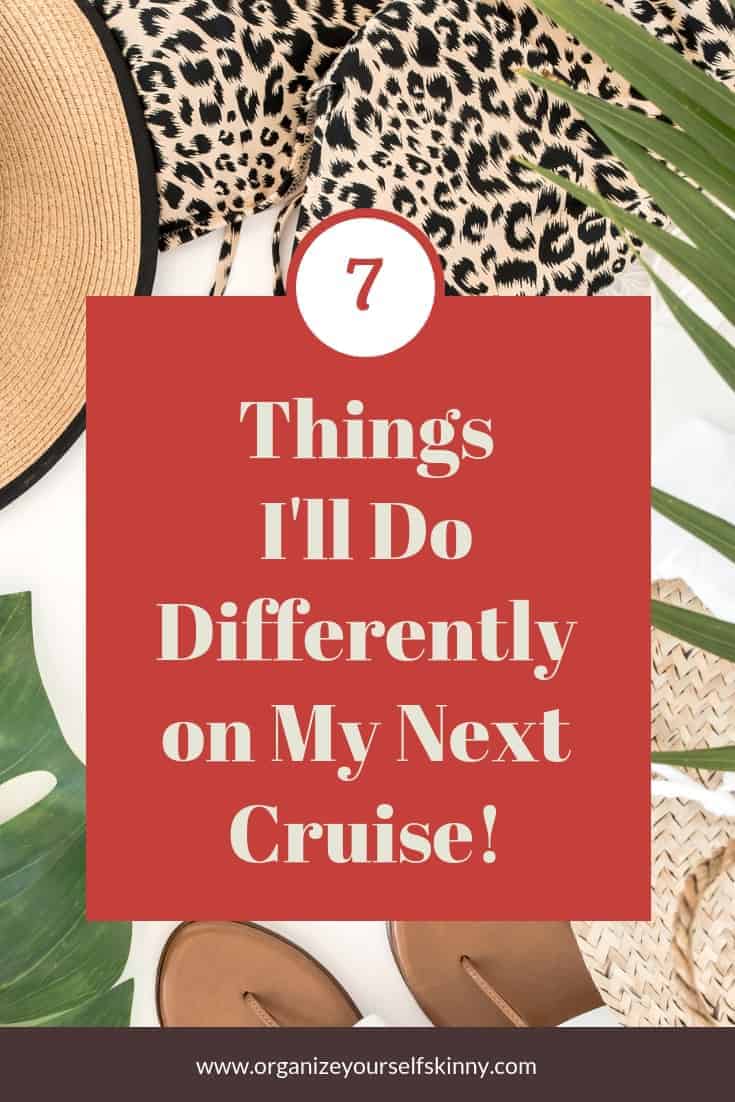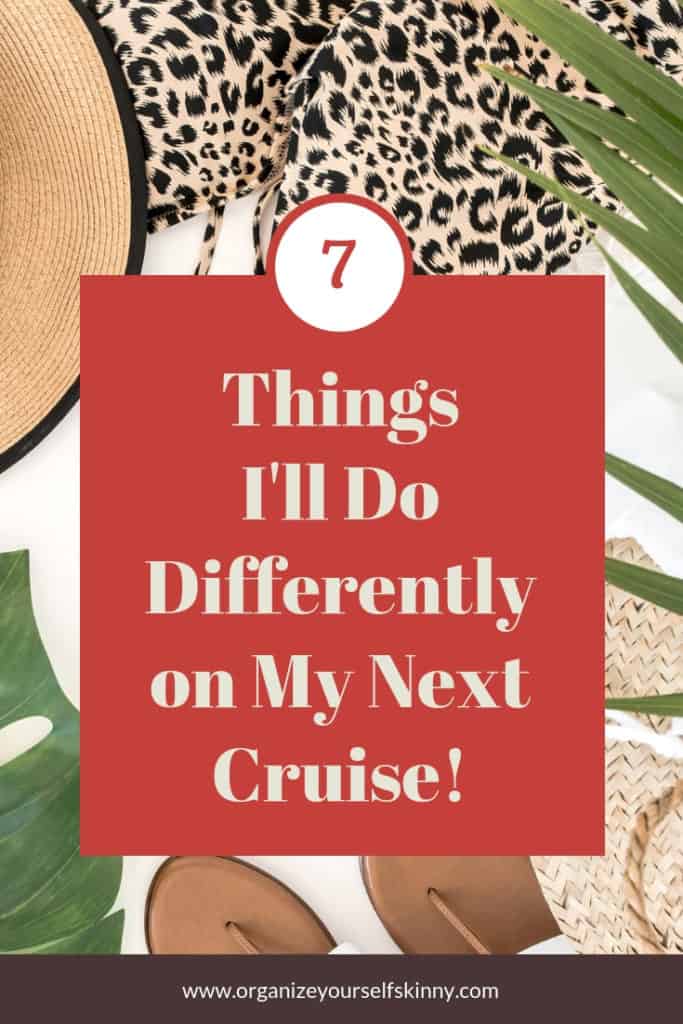 Last week I went on my first cruise. In short, it was amazing! It was a much needed vacation and the first (of many) that Mike (soon to be hubby) and I will take together. We made a ton of memories and I'm already counting down the days till our next vacation.
Of course, one cruise does not make me an expert – far from it. Trust me, there are TONS of websites, blogs, vlogs that can tell you everything needed to choose the best cruise and have the best time on it.
However, as a cruise newbie I can definitely offer some first time cruise tips, especially if you're trying to stay somewhat healthy on vacation.
Before I get into my first time cruise tips lets talk about the actually cruise. Mike and I went on the Norwegian Bliss, which is Norwegian Cruise Line's newest ship. It was spectacular. The food was amazing (tons of healthy options), pools were clean, bars were fun, and the entertainment was spot on.
We stopped in St. Thomas, Tortolla, and the Bahamas. Each one was beautiful – my favorite was St. Thomas. Mike and I took a tour around the island and then hung out at the beach for a little bit. Honestly, I could've stayed in St. Thomas for a few days. It was very peaceful. Many people were all about the shopping but there is much more to this beautiful island besides discount Michael Kors and cheap diamonds. We had a wonderful time.
This is us at the top of St. Thomas.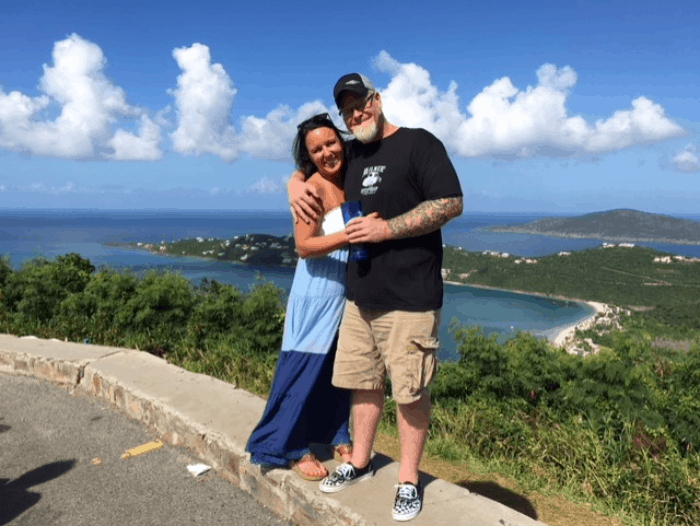 I'm not going to do an actual review of the Norwegian Bliss, or any of the islands, if you want to learn more then do a quick Google or YouTube search.
In this post I want to offer some first time cruise tips – specifically 7 things I'd do differently next time. This is not to put a damper on my cruise but to make my (and your) next cruise that much better.
Throughout the cruise I found myself taking notes for "next time". So, I thought it would be helpful if I shared some of these "lessons learned" with you.
Not only will many of these first time cruise tips enhance your cruise experience, but will also help you make healthier choices while on vacation.
First Time Cruise Tips
Bring a filtered water bottle
THIS ONE IS HUGE! Out of all my first time cruise tips this is the most important one – in my opinion. Once you get on the cruise ship the only water you'll have access to is $6 bottles of water and tap water. Not to mention, tap water is either from the bar (where you need to wait for it) or in your room (where you only have small glasses). Basically, filtered water is a hot commodity.
We all know staying hydrated is important, it's even more important when you're laying in the sun all day, drinking alcohol, and eating foods higher in sodium. If you're used to drinking a lot of water you'll definitely feel the negative effects by the second day if you don't bring a water bottle with you.
Everyday I wished I brought a water bottle, specially one that filters tap water. This would've been so helpful in saving money and staying hydrated. For our next vacation a filtered water bottle is going to be first on the list of "things to bring on vacation".
If you don't own a filtered water bottle then I highly recommend this SurviMate Filtered Water Bottle. It has great reviews and you can get it for under $30 on Amazon.
Now you might be thinking "I thought we can't bring water on airplanes or cruises". Just pack the water bottle empty and fill it up when you get past security. Trust me, you'll thank me later!
Bring a portable phone charger
Cruise ships, and Caribbean islands, don't have phone charging stations distributed all over the place. And if they did, I'm sure there'd be a long line trying to get your phone charged. Plus who wants to stand there for an hour while our phone is charging.
Like many of you, I use my phone to take pictures so it was important for it be charged. Unfortunately, I wasn't smart enough to bring a portable charger with me so my phone died many times over.
Having a portable charger ensures that your phone is charged for everything. So if you plan to use the My Fitness Pal app to track calories, or the Map My Run app to track exercise, or even listening to your music while in the fitness center, or laying at the pool, then bring a portable charger with you. The last thing you want to do is go back to the room just so you can get a charge on your phone.
Portable chargers are relatively inexpensive. This one on Amazon has over 13,000 reviews and is under $40.
Don't forget your wireless earbuds
Thankfully, I did bring wireless earbuds with me but still wanted to add them to the list so you don't forget yours. The one thing about a cruise is there's a lot of people and it's loud all the time. So if you're looking for a quiet peaceful vacation then a cruise might not be your best bet.
However, if you still want the cruise experience yet would like to enjoy some peaceful moments then I highly suggest bringing wireless earbuds with you.
During a couple of the "at sea" days I laid out by the pool squeezed between 2 other people. Oh and a live band was playing. I stuck my earbuds in to watched a couple shows on Hulu and also listen to music. I was instantly transported into my own little world. Having wireless earbuds made it helpful to tune everything out and just relax.
Also, if you plan to use the fitness center than you'll definitely need ear buds. Unless you're one of those people that can workout without zero music or sound. I am not one of those people so I made sure to have my earbuds with me at all times!
I only suggest wireless because that's what I use and find them to be the most practical. Of course, any earbuds will do.
One thing to keep in mind with wireless earbuds is they need to be charged so just another reason to bring a portable charger with you.
These are the wireless earbuds I have. They are under $25 on Amazon – nothing fancy but they do the job!
Bring lots of bikinis and coverups
Okay, this really depends on how you'd like to spend your days on a cruise. We spent ours at the pool and pool bar. This meant the only thing I needed to wear was a bikini and coverup. I brought 3 with me but definitely could've used more. Next time, I'll bring 5-6 with me.
It's kind of funny because I packed all of these outfits and most days hung out in my bathing suit. Although, we did get dressed up for dinner at night so those outfits got utilized.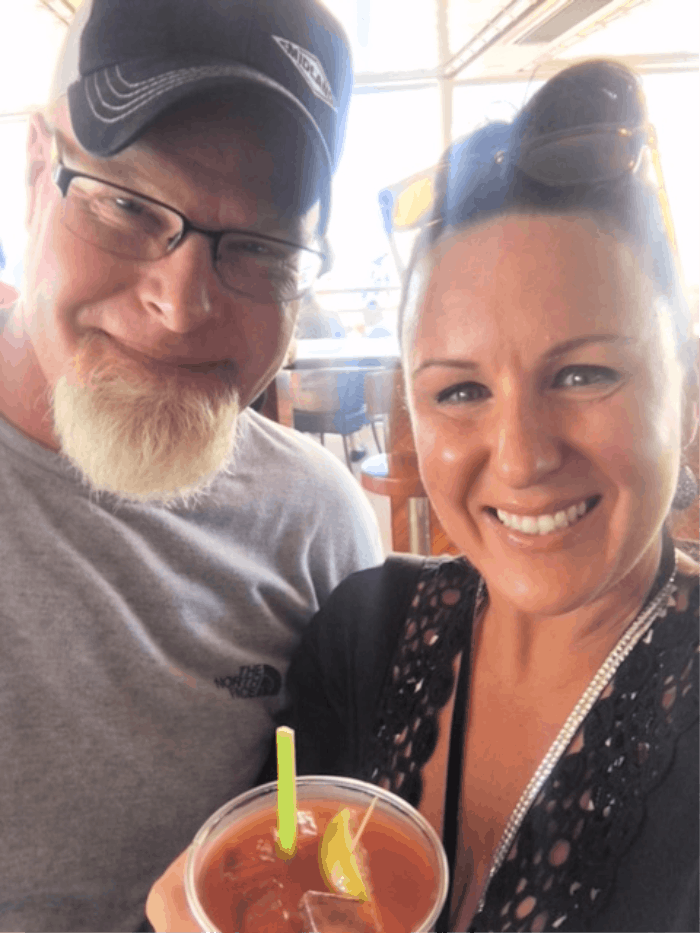 Another thing about wearing a bikini (or any bathing suit) is it keeps you focused on eating healthier – at least it did for me. The last thing I wanted was to feel bloated in bikini!
I got all of my sun dresses, cover ups, and some bathing suits from Venus.
Don't forget running sneakers and exercise clothes
I'm embarrassed to say this but I didn't bring any exercise gear with me. I had comfortable sandals, and Converse sneakers, which I used to walk around the boat and on our excursions. However, I didn't bring my running sneakers or any workout clothes. I guess a part of me thought I would just use that week to relax – which I did – but looking back I should've planned better for exercise because by the second day I wish I had all my gear.
Here's the thing with a cruise. When you're at sea you have A LOT of time on your hands. Of course, I wanted to relax and just take it all in but there was more than enough time to get in some solid exercise. Not to mention the Norwegian Bliss has a beautiful fitness center.
My advice is, even if you don't think you'll want to exercise, bring all your gear anyway. At the very least bring a pair of sneakers so you can enjoy the running track.
Plan dinner reservations ahead of time
I like to eat dinner around 6:00pm. I know on vacation I need to have some wiggle room but I really do try to cut off eating no later than 7:00pm. Well, that was impossible because the speciality restaurants we ate at only had reservations for after 7:00pm. We still had an amazing time but something to think about for next time.
My advice is to book dinner reservations as soon as you can. This assures you can eat at the time you want.
I will say this about the food. We ate at the buffets and 3 of the nice restaurants. I found it much easier to eat healthy at the buffets. Seriously! There were tons of healthy options at the buffets and you can essentially create your own meals. For example, everyday for lunch I made a big spinach salad with grilled chicken. For breakfast they had all kinds of fruits, oatmeals, eggs, and everything in between. Essentially, it was up to me to make the best food choices.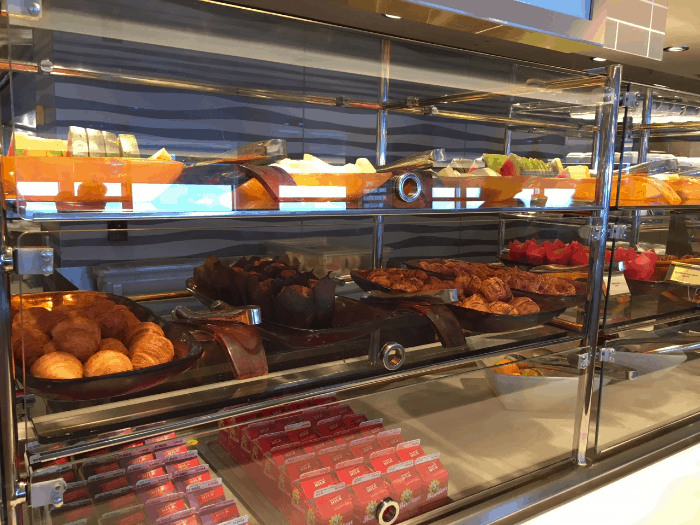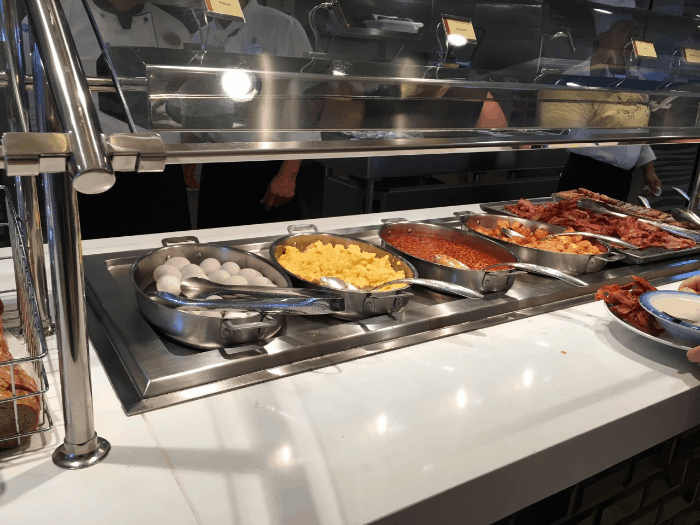 At the restaurants the choices were not as healthy. Also, it was easy to overeat because we got appetizers, dinner, and dessert.
My advice is if you're really concerned with sticking to a healthy eating plan than maybe skip the speciality dining. You're more likely to get healthy options at the buffet.
Plan more excursions ahead of time.
Unlike sea days, when you get to an island, time is of the essence. Meaning, if you want to do or see anything then you need to move fast. My original plan, was to get to the islands and just "go with the flow". Big mistake.
First of all, everything right off the ship is just shops. And not cute boutique shops but rows of duty-free junk. Sure you can get a cheaper pair of Coach sunglasses or possibly save a few bucks on a diamond bracelet but again, there's more to life than that – at least for Mike and I. We had no desire to waste time on "shopping". The islands are gorgeous and we wanted to explore.
Fortunately, we were able to sign up for an amazing St. Thomas island tour. After we got back on the ship I planned out our next island days. Even though we had a great time I wish I took more time before our trip to plan out the excursions. There's so much to see with very little time so planning ahead is essential. When you only have 6 hours in St. Thomas and the Bahamas, "flying by the seat" of your pants is not the best option.
Thankfully, we made it to a beautiful beach bar in St. Thomas. That was the life!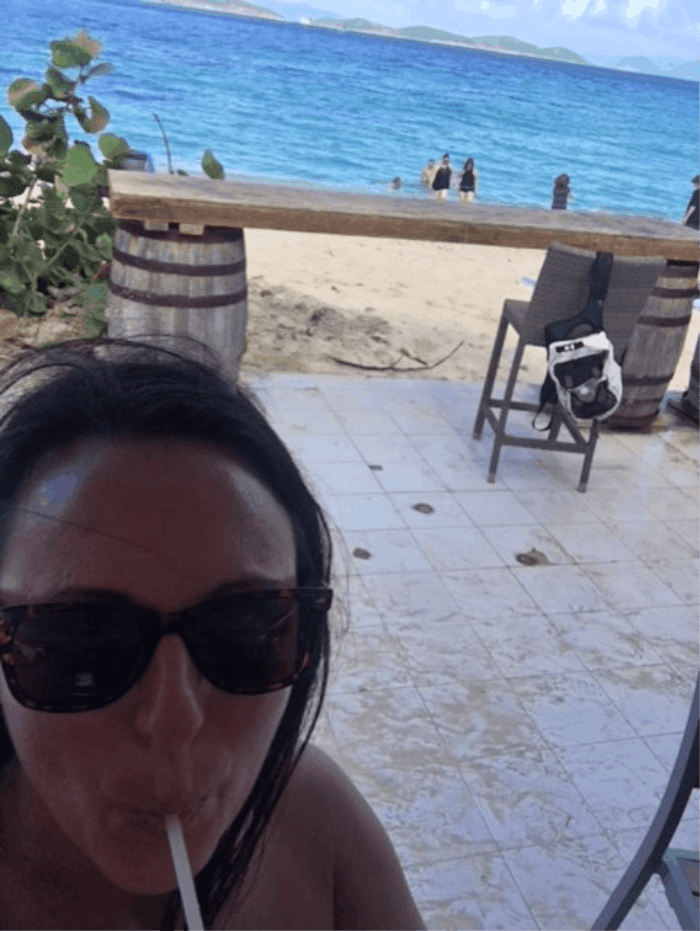 My advice is to research the islands you're going to visit ahead of time – even if you simply ask friends on Facebook. Get an idea of what the island offers, what you're interested in, and then book it. I'll say it again…there's more to island than what you experience at the duty-free strip mall.
Overall, our first cruise together was a great experience. We spent a lot of quality time together and made memories that'll last a lifetime. The tips I'm sharing will only make our next trip that much better.
This was the last night from our balcony!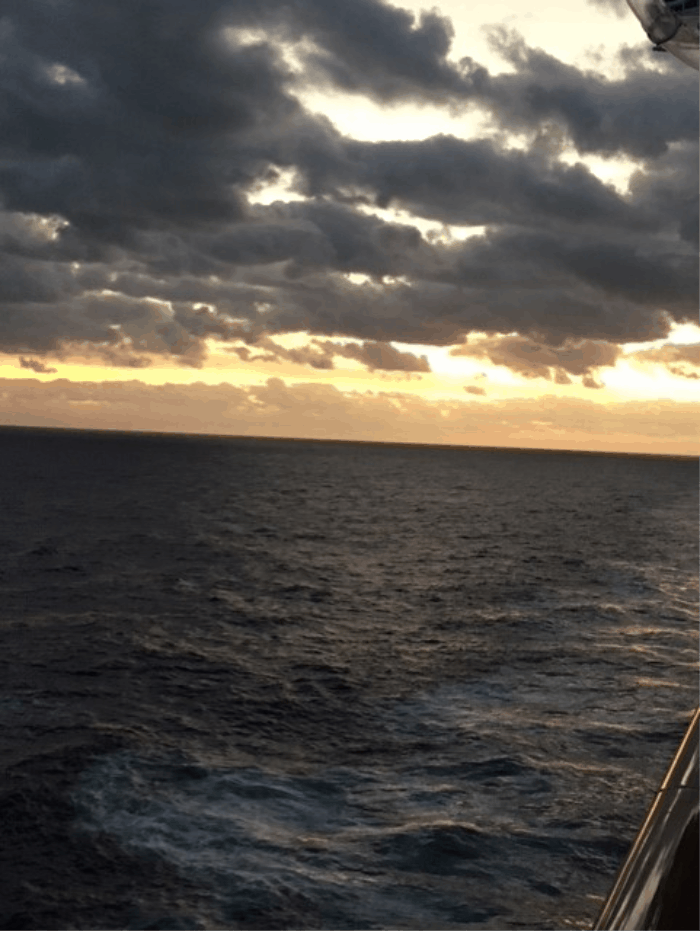 What are some of your first time cruise tips? Think back to your first cruise, what advice would you give?