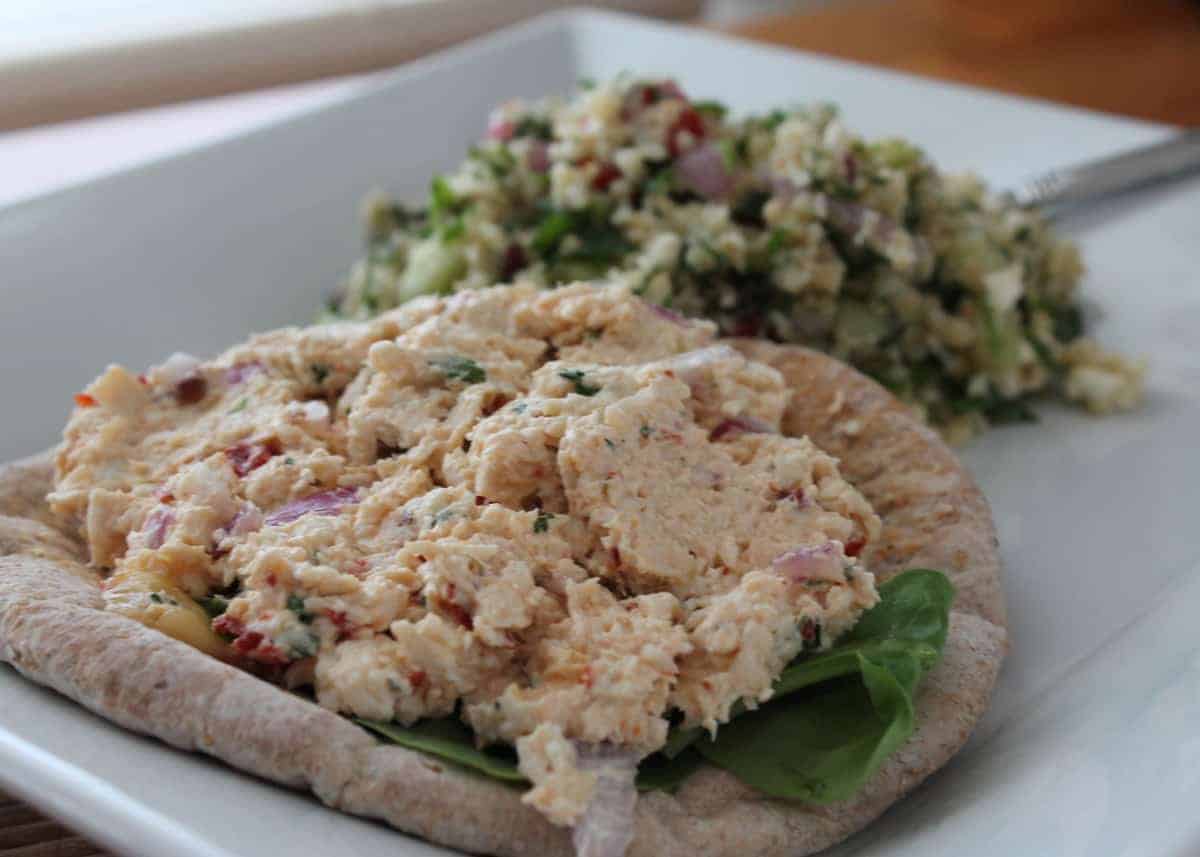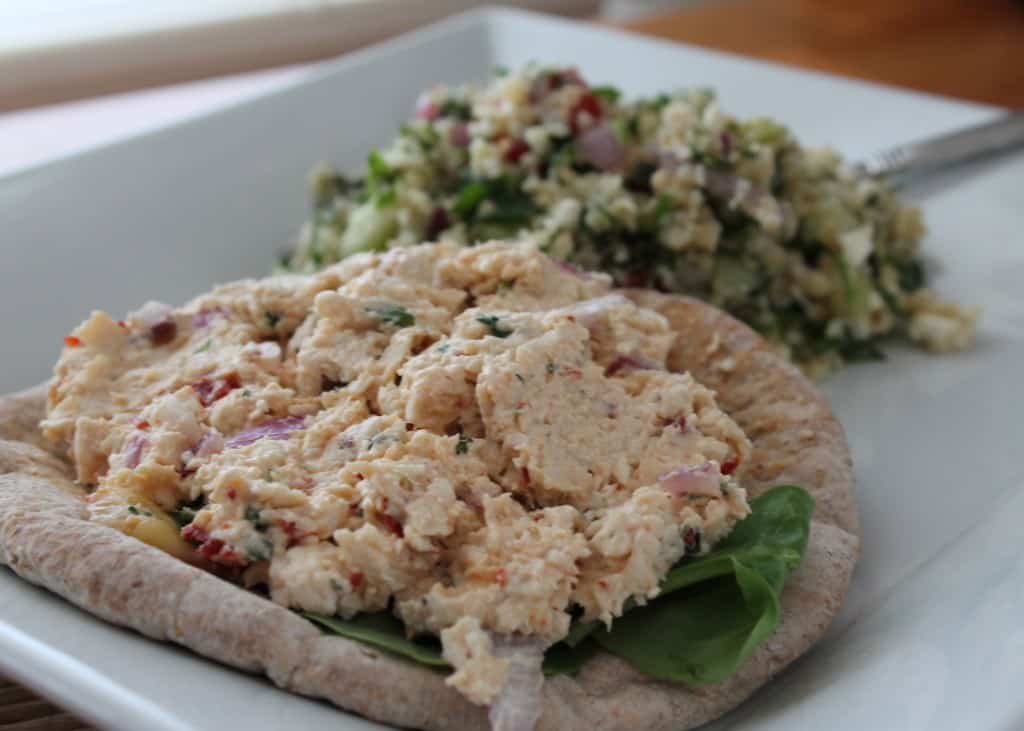 I love sandwiches and salads year round but during the hot lazy summer months they become a necessary staple on my menu plan. Who the heck wants to turn the oven on during sticky humid 80 degree days – not this girl!
Chicken salad is one of my favorite sandwich fillings. It is easy to make ahead of time for easy lunches and dinner throughout the week. I Greek Yogurt Chicken Salad but this time around I was looking for something with a little more kick.
My original plan was to make this curried chicken salad recipe from Eating Well. But for the life of me I could not find mango chutney and I forgot to buy currants. I am sure chutney is easy to make at home but I was looking for convenience and this recipe was not giving it to me. I thought if I was struggling making this recipe most likely so will some of you. Therefore I scratched it and went back to the drawing board.
So I decided to make up my own so I looked in my freezer and fridge to see what ingredients I had that would be tasty in a chicken salad recipe. I found chipotle peppers, cilantro, and red onion – can you say chipotle chicken salad. Oh yeah!
This salad is made with mostly plain yogurt and light mayonnaise. I rarely use "light" products but decided to do so with this recipe because regular mayo adds so much fat and calories. Then I threw in the peppers, cilantro, and red onion. The more chipotle pepper you add the spicier it will be so make it to suit your tastes.
Most chicken salad recipes call for the chicken to be chopped. I like my chicken to be cut finer than that so I decided to throw it in the food processor. If you like it "chunkier" then cut the chicken any way you like.
Also, if I had a lime I would have added a squirt or two in. But I did not have any limes on me so I didn't. But if you do try it with lime I bet it would be yummy!
This recipe tastes even better the next day and the day after so this is the perfect summer recipe to make ahead of time. You can eat this plain, in a lettuce wrap, stuffed in tomatoes, in a regular wrap, in a sandwich, or on top of a pita (like I did). This chicken salad recipe can be used however you want.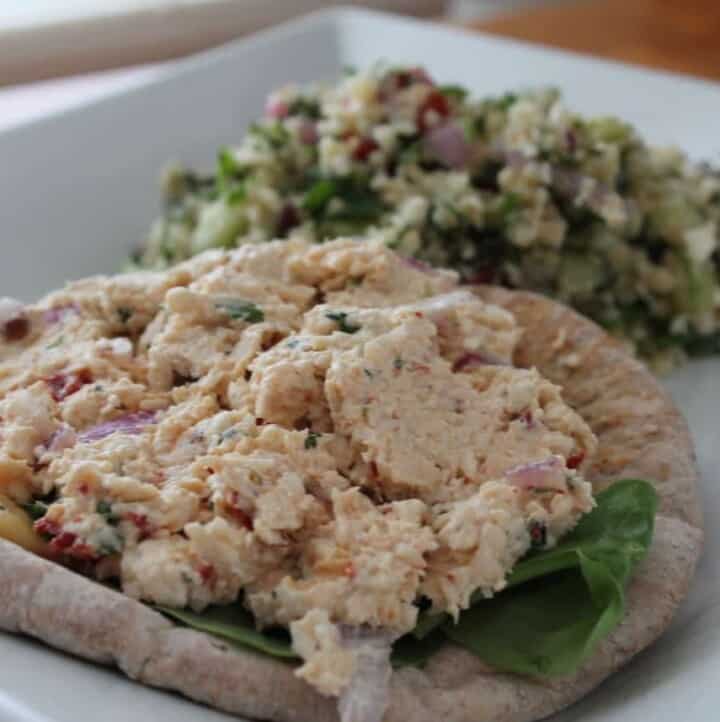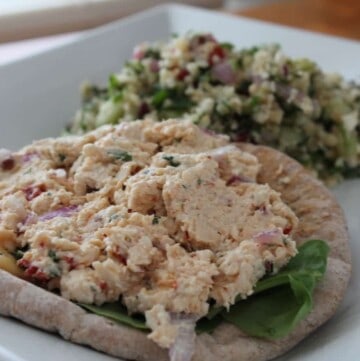 Ingredients
4

chicken breasts

½

cup

plain greek yogurt

1/3

cup

light mayonnaise

2-3

chipotle peppers in adobe sauce

seeds removed and finely chopped.

1

teaspoon

adobe sauce

from the chipotle pepper can

1

garlic clove

grated or very finely chopped

½

red onion

finely chopped

¼

teaspoon

salt

¼

teaspoon

fresh ground pepper

¼

cup

finely chopped fresh cilantro

fresh lime juice to taste
Instructions
Cook chicken breasts in boiling water until cooked through, about 10 – 15 minutes. Remove from water and set aside until cooled. After cooled put into food processor and pulse a few times until the chicken is to the consistency you would like. You can also shred or chop the chicken. Whatever suits your tastes.

In a medium bowl combine the yogurt, mayonnaise, chipotle peppers and adobe sauce, onion, garlic, cilantro, salt, pepper, and lime juice if using. Place in refrigerator until chicken is ready.

In a large bowl, after the chicken is cooled and processed, combine chicken and yogurt mixture. Place in the refrigerator for an hour or better yet overnight. Serve cold.
Notes
Make Ahead Instructions
This chicken salad can be made ahead of time and stored in the refrigerator for up to 4 days.
Also, you can freeze any leftover chipotle chills.
Nutrition
Serving:
1
g
|
Calories:
194
kcal
|
Carbohydrates:
2
g
|
Protein:
31
g
|
Fat:
6
g
|
Fiber:
1
g
|
Sugar:
5
g