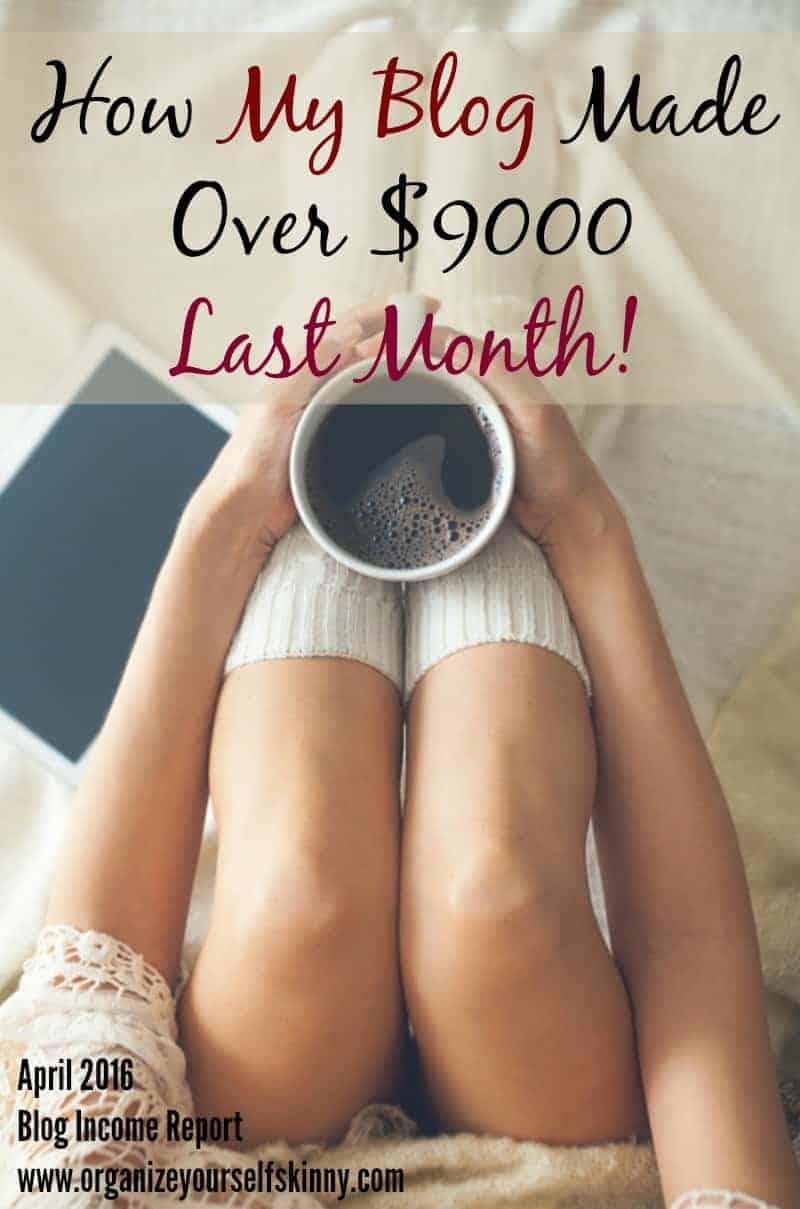 Hey everyone! I can't believe it's already time for my monthly income report – these months are flying by! Now I know some of you (probably more like many of you) have zero interest in the behind the scenes of Organize Yourself Skinny or the amount of money I make. I know it seems weird to post my monthly income here but honestly if it weren't for other bloggers sharing their blogging journey, when I first started (5 + years ago), I would never be where I am right now. #truestory. So I decided to start sharing my blogging experiences to give back and pay it forward to aspiring bloggers, or maybe seasoned bloggers who need some fresh ideas.
Now you might be thinking "Why can't you share your experiences without your salary?" Well I'm not sharing my salary because I want to brag or say "HEY LOOK AT ALL THE MONEY I MAKE". I'm sharing my income so you know I'm legit. I am a full-time blogger who provides for my family soley on the money I make on this blog. I want you to see for yourself that it is completely possible to make a good living working as a blogger. It's not easy work but it's rewarding and can be done.
If these blogging reports are not your cup of tea then I won't be offended if you skip right over them. Maybe check out the popular post Meal Prep Like a Boss I shared last month – it was a reader favorite. If you are interested in the business side of blogging then grab a cup of strong coffee, sit back, and let me entertain you a bit. I will say that pretty soon these reports, along with more of my blogging tips, will be moved over to my new blog. It's almost ready and I can't wait. Sign up for my newsletter to be the first to know. I have like 5+ years of blogging experience to share with all of you. Not to mention I have a ton more work to do with this blog so I look forward to continuing this journey with those that want to be a part of it.
Ok let's get to the numbers.
Here's my blog income:
Adthrive: $5304
AOL: $19.13
Amazon Associates: $1078.80
Bluehost: $65 <– This income comes from this page where I give step by step instructions on starting a blog.
Plan to Eat: $150
Swoop: $233.65
Tapinfluence: $975
Organize Yourself Skinny Ebook: $1076.73 – Become an affiliate here.
Meal plans: $249.25
**some of these are affiliate links
Total blog income: $9260.31
Here are my blog expenses:
Staff: $675.78
Synthesis hosting: $147
Convertkit email service: $199
Facebook advertising: 141.76
WP Site care: $99
Coschedule: $30
Feedblitz: $15
Paypal fees: $87.73
Home internet: $129.84
Phone/hot spot: 170.68
Groceries:$122.30
Total blog expenses: $1818.09
Total blog income after expenses: $7442.21
My Blog Traffic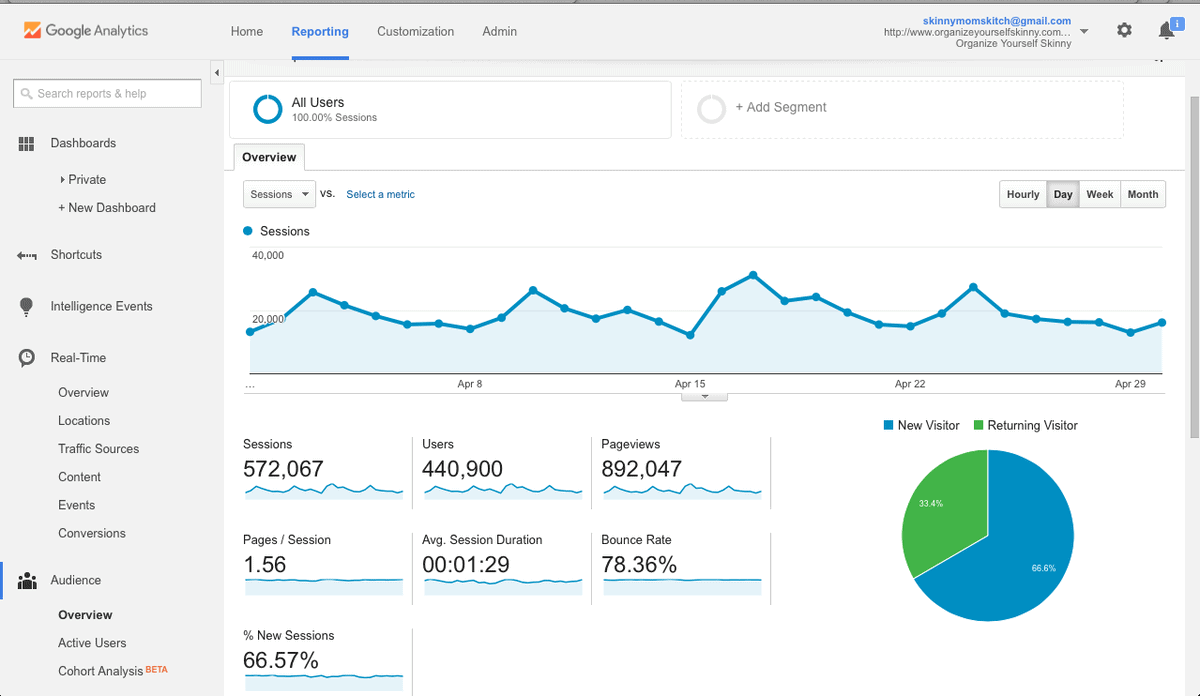 My top 10 posts for the month.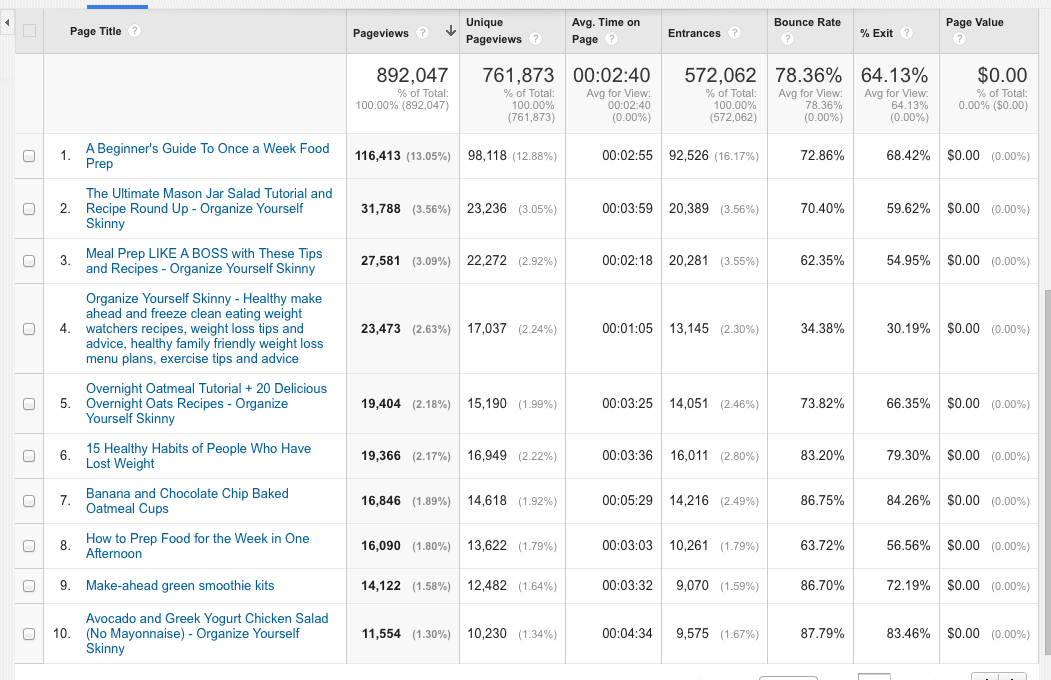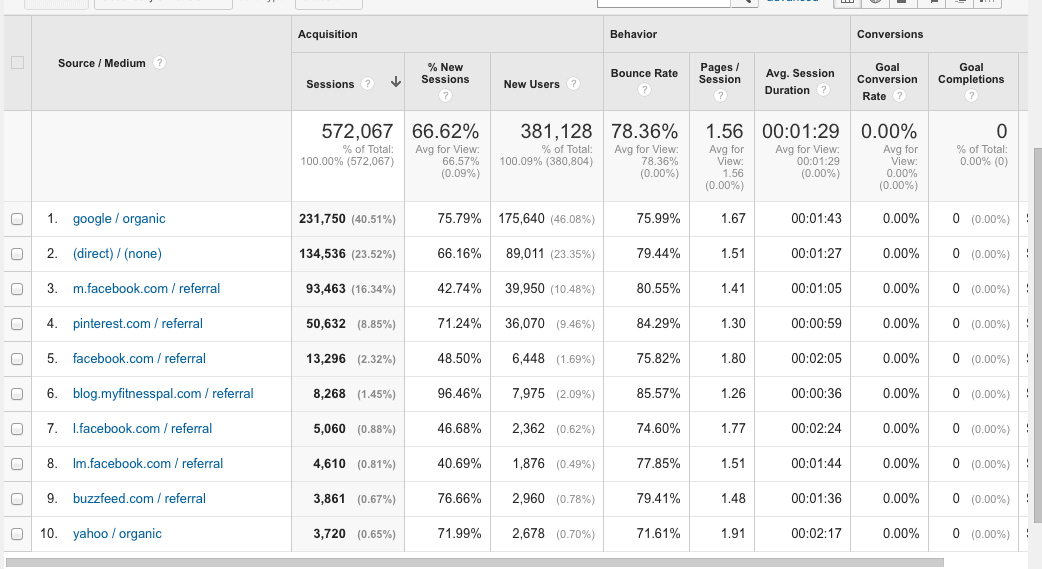 My top traffic sources.
My thoughts.
Blog traffic is going to be the death of me. Yes I know that's a little dramatic and I know over 800k pageviews a month is a lot but as I've said in previous posts I want my traffic to be over 1 million pageviews a month. I hope that doesn't sound whiney. Haha! I don't mean to whine or sound ungrateful but I know I can do better because I have.
Last April my traffic hit 1.2 million pageviews. It was actually over 1 million for the first half of 2015. But here's what's interesting…last year I made $1000 less with 300k more pageviews. I'm pretty sure the reason for this is because my advertising was not optimized like it is now. I was trying to do it all myself and now I work with Adthrive which clearly makes a huge difference.
Also, last April I made less than $50 off Amazon. This April I made over $1000. Ummm HUGE difference. So it's not that I'm not grateful for all my pageviews but if I had the traffic I did last year, plus knowing what I know now, my income would be much higher. I mentioned a few months ago that my goal was to double my traffic this year. That's still my goal.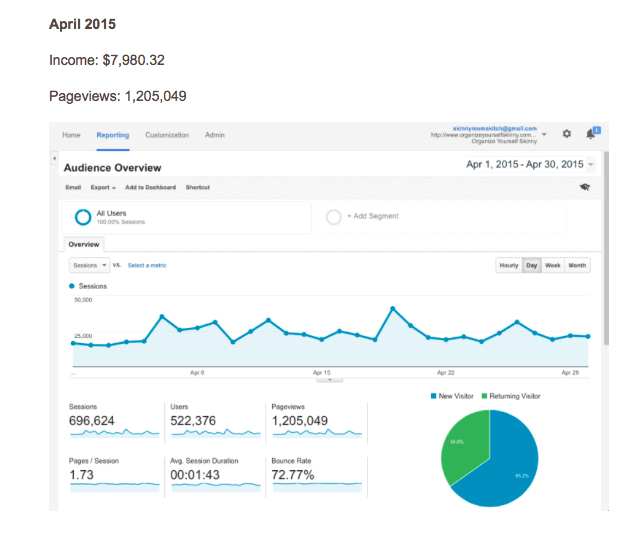 Before I talk more about traffic I want to chat a little bit about my ebook. My sales went up by a few hundred dollars this month. I boosted one of my meal plan posts and I think that helped with the increase in sales. However, I spent $141 in advertising and my sales went up by $300 so after expenses I only made an extra $150 give or take. I know I can do better. I talked last month about my lack of marketing strategy with my ebook. One of the goals I had this month was to utilize my email list better. Specifically, I wanted to put together a course or some other type of subscriber only email content. I just started to use Convertkit for my email service and love it! Like beyond love it. I know it has great potential to connect with readers and market my ebook, I just need to harness the power. This month flew by so I didn't focus on it like I wanted to. However, the month is not over yet so I plan to take some time in the next week or so to brainstorm ideas and outline a strategy for my ebook.
Let's move onto Amazon Associates. I'm really happy with the way Amazon Associates is performing for me. For so long I made pennies off them and now it's consistently bringing in $1000+ a month. Personally, I think Amazon Associates is a great fit and win win for everyone. I naturally link to products I'm using and if readers are interest, want to learn more, and/or purchase they can just click on over to Amazon and grab it. I think it fits seamlessly into the content I talk about. I feel confident that as my traffic goes up so will my sales. There's a lot of potential with Amazon and, like I said in previous income reports, I would like this to be one of my top income streams by the end of the year.
Back to traffic. My traffic generating strategies have not changed from my previous income reports. I plan to focus on content, email list, and social media. In that order. The content I write is going to focus on tutorials, habits, and recipes. Based on my Google Analytics that's what my readers want and that's what I will give them. The other OYS writers are focusing on exercise, recipe round ups, and other healthy eating/habit topics. I also have a new series starting June 1st that highlights readers who have lost over 30lbs. So there's going to be a lot of content coming from the Organize Yourself Skinny crew. This alone will help boost traffic or at least keep it consistent.
I already talked about email but I'll just say again that I'll be working on numerous strategies to increase my email subscribers and harness the power of my email list.
And then there was social media. Does anyone else feel like they spin their wheels with social media? I feel like I'm not utilizing it in the best way. My blog posts are shared throughout the day but it doesn't generate the traffic or engagement I feel it should, especially considering I have almost 400k FB likes and 63k Pinterest followers. Don't get me wrong I get a decent amount of traffic but for the "numbers" I have it should be more. I need to refocus my thoughts around my social media channels. I want all of my channels to feel more like a community and not just a place to share posts. Make sense? I will talk more about this in a future post.
Okay I think that's it for now. I hope you find my blog income reports helpful. If you want to get these income reports delivered to your email along with more of my blog tips then sign up for my newsletter. My email subscribers will be the first to know when my new blog is launched.
If you're brand new to blogging, and need help starting a blog, check out my step by step to getting your blog set up on wordpress.
Also, one of my absolute favorite blog resources – Food Blogger Pro – has opened up enrollment. Lindsay and Bjork from Pinch of Yum run Food Blogger Pro and they filled it with so many amazing resources. You'll find over 300 how to videos, discounts on other tools specifically for food blogger, and a fantastic community forum. It's worth every penny. Check it out here.