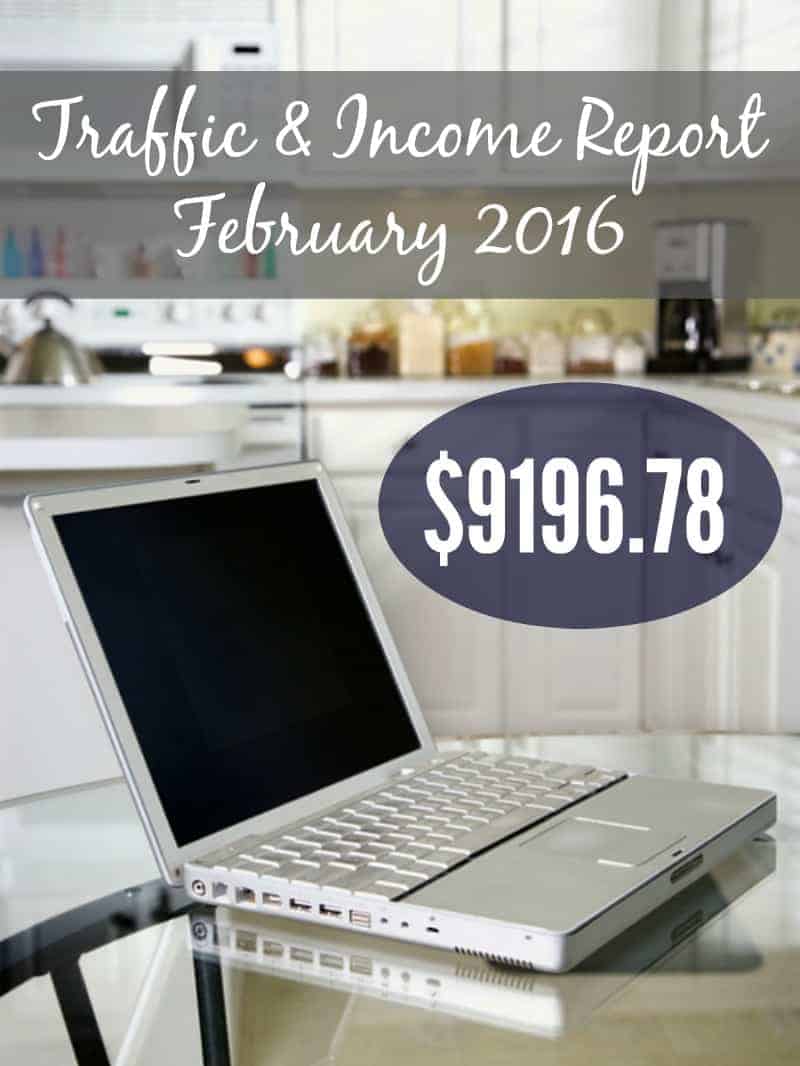 Hey everyone! Last month, in my annual income report I promised to start sharing my monthly blog income and traffic reports. Like I said before, if you're not interested in the "behind the scenes" of blogging then feel free to skip over these posts. Instead, you might want to check out the new Reuben meatloaf I shared the other day, Melissa's new post on hydration, or Alexis's post on the eating habits that helped her lose 100lbs. Basically, if you don't want to know about the money I make working full-time on my blog Organize Yourself Skinny then there's plenty for you to read up on.
If you are interested then take a seat because I have lots to talk about today. I know it might seem weird for someone to talk about money this way but keep in mind these posts are not meant to provide a platform for me to brag or to be intimidating. These income posts are meant to inform, inspire, and motivate. That's what I want you take anyway from my income reports each month. I want you finish reading it and think, "I can do this" and then use the information to take action on your own blogging goals.
Let's first go over the numbers then we'll chat about traffic. Looking at some of the comments in my last income report, and in a couple blogging groups I'm a part of, traffic seems to be the topic everyone wants to learn about. Trust me I get it. Blog traffic can make even the most seasoned blogger lose their mind. But we'll get to that in a second.
My blogging income
Adthrive: $4672.48
AOl Lifestyle Collective Partner Program: $1093.37
Tapinfluence (sponsored posts): $975
Organize Yourself Skinny Ebook: $813.13 – you can become an affiliate for my ebook here.
Amazon Associates: $611.07
Swoop: $393.39
Bluehost: $260 – this income comes from a page I put together to show aspiring bloggers how to easily start a blog.
Meal Plans: $219.34
Plan to Eat: $159
Total: $9191.78
My blogging expenses
Staff: $343.57
Phone/internet: $165.53
Aweber: $149
Synthesis hosting: $147
WP Site Care: $99
Home internet: $89.99
Paypal fees: $62.26
CoSchedule: $39
PayFlow: $30
Total: $1125.35
Total blog income after expenses: $8066.43
Thoughts on my income…
Obviously most of my income comes from advertising. My goal is to change that. I don't plan to remove advertising from my site but I would feel more comfortable if my other income streams caught up so I can remove a little bit. The two areas I've been focusing more on is my ebook and affiliate marketing.
I know my ebook can make much more money than it currently brings in. Right now, I have a Facebook ad running. I'm seeing a little bit of a return on that investment but not sure yet. I will get back to you on that. I also want to increase the number of ebook affiliates I have. Right now I have like….2. Haha! I think my ebook would be a GREAT fit for any lifestyle, weight loss, healthy food, and/or mom blog. Seriously if you talk about any of these topics and looking for an extra income stream then join my affiliate program. Email me and I'll send you a copy of my ebook to look over. Let's work together.
I also plan to add more links to my ebook in posts I write and add links to old posts. Basically, I'm going to be more active in getting the word out about my ebook.
Next we have affiliate marketing. My main focus since the middle of November has been Amazon Associates and it's paid off. Check out this increase! I went from $49.25 in November to getting paid $1608.35 this month! That's like a 10000% increase. I can write a whole series just on the Amazon Associates Program but let me sum up what I did and write more about it later on.

I started with going through all my popular posts and adding in Amazon links where appropriate.
I went through the rest of the posts (still working on it) and adding Amazon links where appropriate. If I talked about a slow cooker I linked to Amazon. A zester? I linked to Amazon. My food prep containers? I linked to Amazon. If it could bought on Amazon then I linked to it.
I added the Amazon Native Shopping ads to all my popular posts and going to through and adding them to the rest. I love the Native Shopping ads and if you haven't started using them yet then you should. The Native Shopping ads read your post and then pull products from Amazon that complement your content. I put the ads at the end of my post. It's awesome. Give it a try.
In a nutshell that's what I've done to increase my Amazon earnings. I'm excited to finally see the full potential the Amazon Associates program has. I look at it as a win win. Everybody shops at Amazon and all I'm doing is linking to products that I use everyday.
My goal is for Amazon Associates to be one of my top earners by the end of the year.
Two other services I'm affiliates with are Plan to Eat and Hello Fresh. I've been a Plan to Eat affiliate for a few years and also work with them on other projects. They are an amazing service and I want to work on increasing my affiliate commissions with them. One idea is to put more posts together where I can highlight Plan to Eat genuinely and naturally.
Also, I just started using Hello Fresh last week and totally fell in love with service. I was pumped to see they have an affiliate program. I submitted my application and waiting to hear back.
So Amazon, Plan to Eat, and Hello Fresh will be my affiliate focus this year and hopefully beyond.
In February, I made $975 in sponsored posts and this month I tripled that. All of my sponsored posts come from Tapinfluence. They are a great organization to work with. My problem with sponsored posts are they're not consistent and a lot of times I have to turn a post down because it's not a good fit for my blog. My goal is to establish relationships with 3-4 brands that I use all the time and would be willing to work with me consistently. I'll keep you updated on this.
My blog traffic for February 2016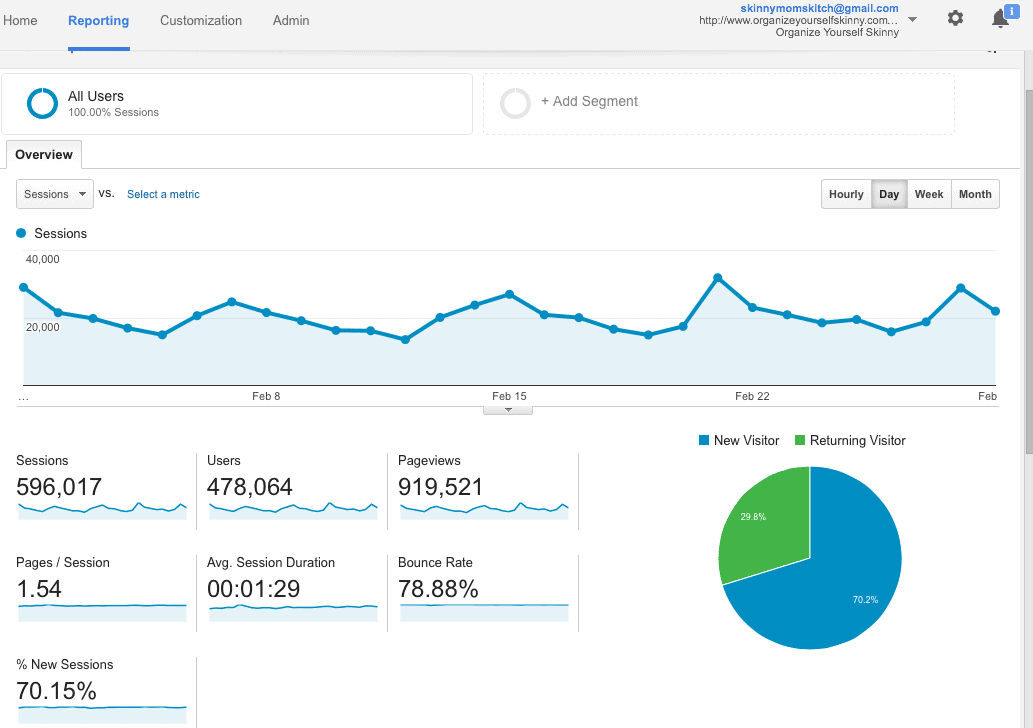 This month I received under 1 million pageviews. Trust me, I know 919k is still real good but for someone who's been blogging 5 + years and professional over 18 months now I feel my traffic should be higher. The highest my traffic ever got was in January 2015 at 1.6 million pageviews. Last month it was 1.4 million so obviously February saw a big drop. I've come to learn this is normal. My blog for the past few years has seen huge pageviews in January and then it drops off in February. This seems to be the case for many blogs. Last year my traffic stayed steady all year at 1 million + pageviews until the end where it dropped between 700k – 800k. See what I mean about traffic making us bloggers crazy?
My goal is to double my traffic by July and for it to stay consistent the rest of the year and on. Sounds easy enough? Ha!
Here are the traffic strategies I plan to implement to double my blog traffic this year. In the past, when I put laser focus on these strategies I saw an increase in my traffic. Kind of interesting how consistency is always key to success. I talked about the same thing with losing weight.
Use google analytics to create blog content readers want.
Do you know which posts are doing well on your blog? Do you know what people come to your blog to read? How about the posts that make you the most money? Google analytics will show you all of that information. If you're not using google analytics yet then you need to.
Here are my top 10 posts.

Clearly, my readers like tutorials and "how to's". Specifically, they like posts on meal prep. However, they also want to be motivated and inspired because my 15 habits posts that I wrote almost 2 years ago IS STILL one of my top 5 posts.
I also find it very interesting that most of my popular posts are ones I wrote 2+ years ago. What the heck? haha. But readers like what they like.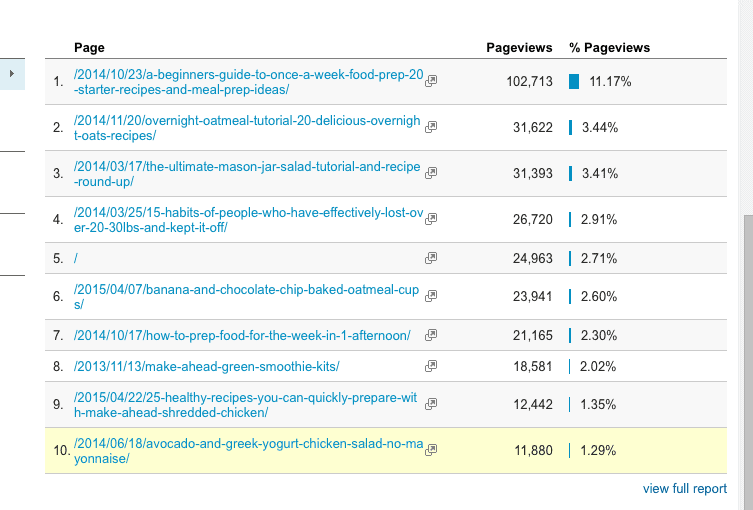 These past few months I've been working on more meal prep, tutorial, and motivational posts and plan to ramp it up the rest of the year. Also, simple portion controlled recipes do best on my site so that's what I will continue to make.
My advice to you (and me) is listen to your readers. Create posts that teach, offer value, and motivate. Give readers the content they are searching for.
To create more posts like my "top 10" I sat down and did some old fashion brainstorming with pen and paper. I wrote out as many topic ideas as I could. Then I organized them and listed them out. I plan to go down the list until I have each one put together and posted. Check!
Another thing I did was hire more writers. Now if you're just starting out you might not be in a place to do this yet. Don't fret. I wrote alone for 3 years before I brought Melissa on and then it was just her and I until last month when I brought on Alexis and Cheryl. You can read about the OYS team here. I'm really excited to have these amazing woman on board. Having writers helps to keep the amazing content flowing on Organize Yourself Skinny and frees me up to work on other projects ("How to" Youtube videos, tutorials, ebooks, workshops, etc).
If you don't have the cash to hire writers consider opening up your blog to guest posts. You can do this by contacting bloggers you like and read, putting a request out via your email list or a blog post, or connecting with other bloggers via Facebook groups. I love the Blogging with Becky and Paula Facebook Group and The Inspired Bloggers Network Facebook Page and the Blogging Boost Facebook Page. All 3 of these pages are filled with bloggers that I'm positive would be happy to guest post on your blog and you theirs.
Create a social media strategy to increase blog traffic.
I recently hired someone to help me with social media because it's a beast within itself. Cheryl is not only one of my new writers but she's also my social media manager. BEST. MONEY. SPENT. Without a doubt. Again, you might not be in a place to hire someone so my recommendation is schedule, schedule, schedule ahead of time. We use CoSchedule to schedule all of our Facebook and Twitter posts. Before that I did it manual via the Facebook schedule and it took me forever. CoSchedule is waaay better. We use Tailwind for scheduling Pinterest. Both of these scheduling tools are money well spent.
Here's what my social media strategy will look like.
Schedule at least seven times a day on FB. These posts will be a mix between OYS posts and content from other bloggers. If you have blog posts that would be a great fit for OYS, and you want them shared on the OYS FB Page, email me ([email protected]) the post(s) and I will pass it on to Cheryl to look over and get it schedule if it fits.
We will focus popular content during our high traffic days and popular times. Currently I get the most traffic from Facebook on Saturday, Sunday, Monday, and Tuesday. Fridays are my slowest day. My popular times on FB where we get the most views and reach are 7am, 9am, 11am, and 10pm. If you haven't viewed your FB page insights then you need to do that because just like Google Analytics there's a wealth of information there.
Start using FB ads and boosts. I just started to play around with FB ads to promote my ebook. I'm not sure how I feel about it yet. I'll keep you posted. I haven't boosted a post yet but will start doing that more soon. I'm interested to hear from anyone that boosts their FB posts and any tips or thoughts you have.
Schedule 30-40 pins a day on Pinterest. Again without Tailwind this would send me and Cheryl to the looney bin. We don't have a set Pinterest strategy just yet but Tailwind creates time slots for your pins during times they figured out to be popular times. I would have to say my Pinterest traffic has increased since using Tailwind.
Create better pictures for my content posts using Canva. Canva is awesome and I don't know why I didn't find out about and use it sooner. Basically, it's a website that offers beautiful stock photos that are either free or just $1. I just started using canva to create all the photos for the content photos this past month. At some point soon I plan to go back through old posts and update them with new higher quality photos. I haven't fully unleashed the power behind canva so I can't offer to much information about it. However, so far I love the stock photo option. I will say this… purchasing stock photos for blog posts that you don't have a photo for is worth every penny. FYI the photo I used for this income post is from canva and then I edited it n Pic Monkey.
Write, write, write, and then create some videos.
My goal is to have between 5-6 new high quality blog posts up a week. Again, I hired writers so this goal should be more than doable. If it were just me I would aim for 3-4 posts a week. The more content that's up the more it can be shared and bring traffic to my site. Obviously, not every post is going to bring in tons of traffic but each post will bring in a little bit and over time those little bits will add up.
I also plan to utilize Youtube as another channel to grow Organize Yourself Skinny. Here's my channel if you're interested in subscribing to it. There's not a lot up right now but I plan to start making quick videos to enhance the popular content on OYS.
Okay that's in for my first monthly blog income report. I hope I didn't throw to much at you…I'm almost at 2500 words! Let me know your questions and comments. I want to write about the things you want to read about!