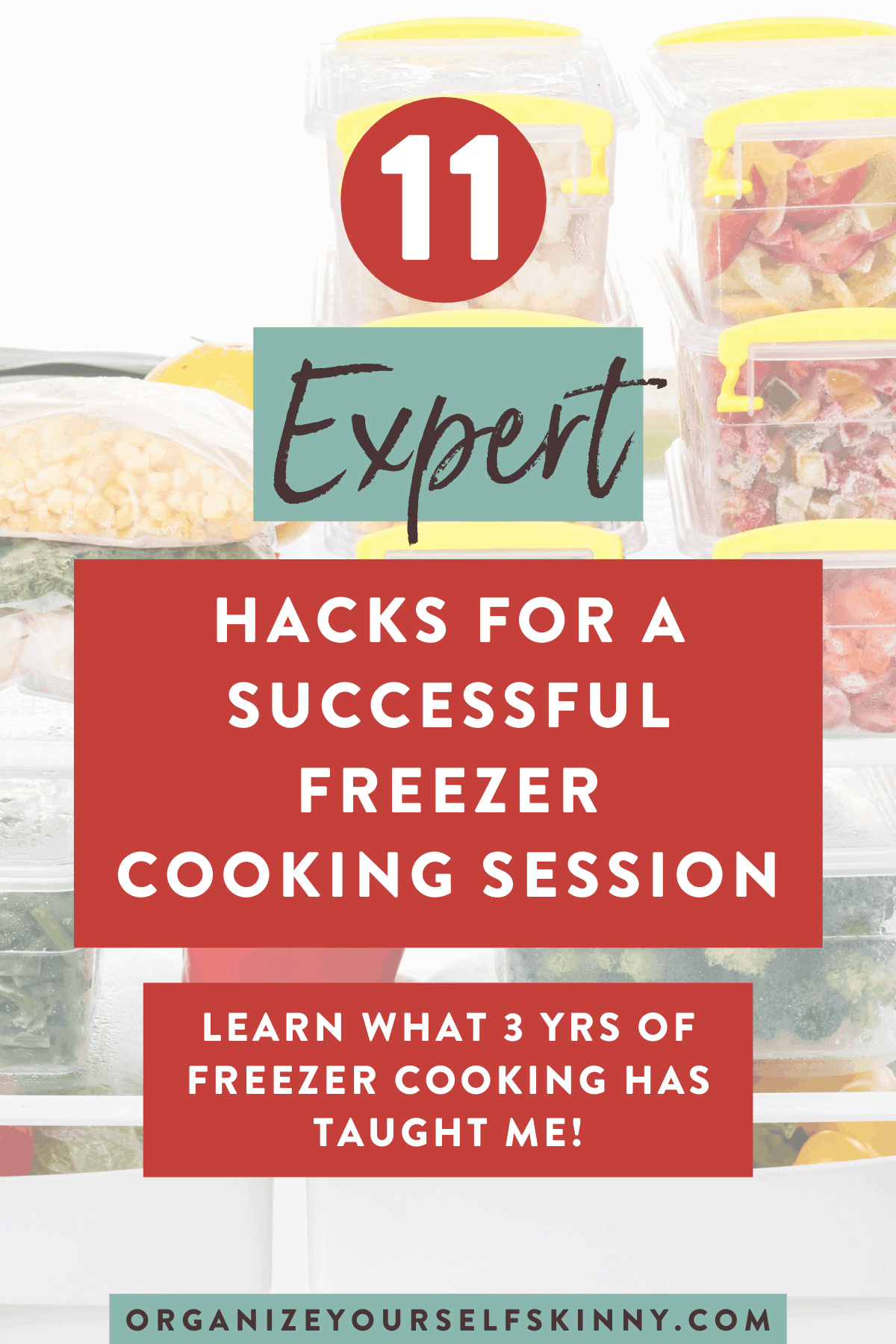 Freezer cooking can be a busy mom's best strategy in providing her family with healthy home-cooked meals. Even though there are so many benefits to having a freezer full of meals many people still get overwhelmed when thinking about dedicating a chunk of time to freezer cooking. I am not going to say it does not work. It does take work but the rewards you will experience will make your efforts well worth it.
There are many different freezer cooking methods available. With my lifestyle and from my experiences I have found large batch freezer cooking every 2-3 weeks to be the most beneficial. This way, if I am lucky, I only need to think about meals twice a month.
In the 3 years I have been freezer cooking here are 11 tips that I can offer to help you achieve successful freezer cooking sessions.
Start with an organized clean kitchen and freezer. Clutter and mess almost always lead a person to feel overwhelmed. Taking 20 minutes or so to clean the kitchen and freezer along with organizing the utensils, spices, ingredients, and other supplies will start you on the right track.
Make sure you have all your freezer cooking supplies. Look at your recipe list and take note of the supplies you need. If you don't have them then add them to your grocery list. There is nothing worse than having a kitchen full of food and no containers to store it in. Believe me, I have been there.
Pick easy tried and true recipes that you can double or triple. There is no need to be a super chef mom and create elaborate recipes. Depending on the amount of time pick about 5-7 healthy recipes that your family enjoys. For example, when I freezer cook I always make a triple batch of taco meat, a double or triple batch of clam sauce, and about 30 turkey meatballs. If the recipe can't be doubled or tripled, mostly likely, I will not make it. I rarely try a brand new recipe when freezer cooking. It is not worth the time or money if my family does not like it. I may experiment a little with putting different recipes together using frozen meal starters (e.g easy crockpot shredded chicken) I have on hand but brand new recipes are typically saved for the weekend.
Make meal starters and complete meals. It is important to note that you do not always have to put together complete meals. I really like putting together meal-starters such as shredded chicken, shredded pork, rice, beans, etc. That way I am not committed to a specific dinner idea and I can be more creative with recipes when putting together my weekly menu plan. However, I do prepare some complete meals.
Have recipes available to refer to. This might sound silly but there have been many times that I am getting ready to make a meal and I have to spend 5-10 minutes or more looking for the recipe. When you are making 5-7 meals that can lead to an hour or more of wasted time.
Start right away the recipes that can go in a small kitchen appliance. Before I start any cooking on the stovetop I get recipes going in the crockpot, rice cooker, and bread machine. For the most part, once they are put together, they require very little maintenance. This means I can set it and forget till the food is done.
Prepare one food group at a time. When freezer cooking I like to break up my session up by food. For example, I will start with beef recipes, move on to poultry, and then finish up with pork and fish. After I am done with meats I will move on to vegetarian recipes and/or baking. I actually hate handling raw meat so I try to get that out of the way first so I can then completely sanitize my kitchen and move on to other meals.
Create realistic goals, a timeline, and a plan. The more you freezer cook the more you will be able to accurately gauge the amount of time you need to complete recipes. The worst thing you can do is try to prepare more recipes that your time allows. This will only make you frustrated. Be realistic with what you can accomplish. Look at your recipes and write out a plan for how you are going to tackle them. This will help keep you focused as you move through your day. It also helps to take notes along the way. These notes will help you adapt as needed for future freezer cooking sessions.
Take breaks. This is really important and should not be overlooked. Taking a day to freezer cook is exhausting and you need to schedule in breaks. Not long breaks because you don't want to lose momentum but long enough where you get some energy back. I try to take a 20-minute break every 2 hours.
Wear comfortable shoes. Please do not take this tip lightly. If you don't wear sneakers or some form of comfortable shoe you will be feeling pain by the end of the day. Standing in the kitchen all day takes a toll on your legs. Wearing comfy shoes will absolutely help you get through an all-day freezer cooking session.
Have entertainment for the kids. My kids love to help me in the kitchen but even with their high energy they can not withstand a long freezer cooking session. I don't want them sitting in front of the TV for hours at a time so I try to mix up activities to keep them entertained. Also, my husband is very helpful and will take care of them while I cook.
These 11 tips have helped me time after time move through freezer cooking sessions efficiently. I am sure I could think of many more but these are the main tips I mostly follow.
What tips can you give to help a freezer cooking session run smoothly? What freezer cooking questions do you have?