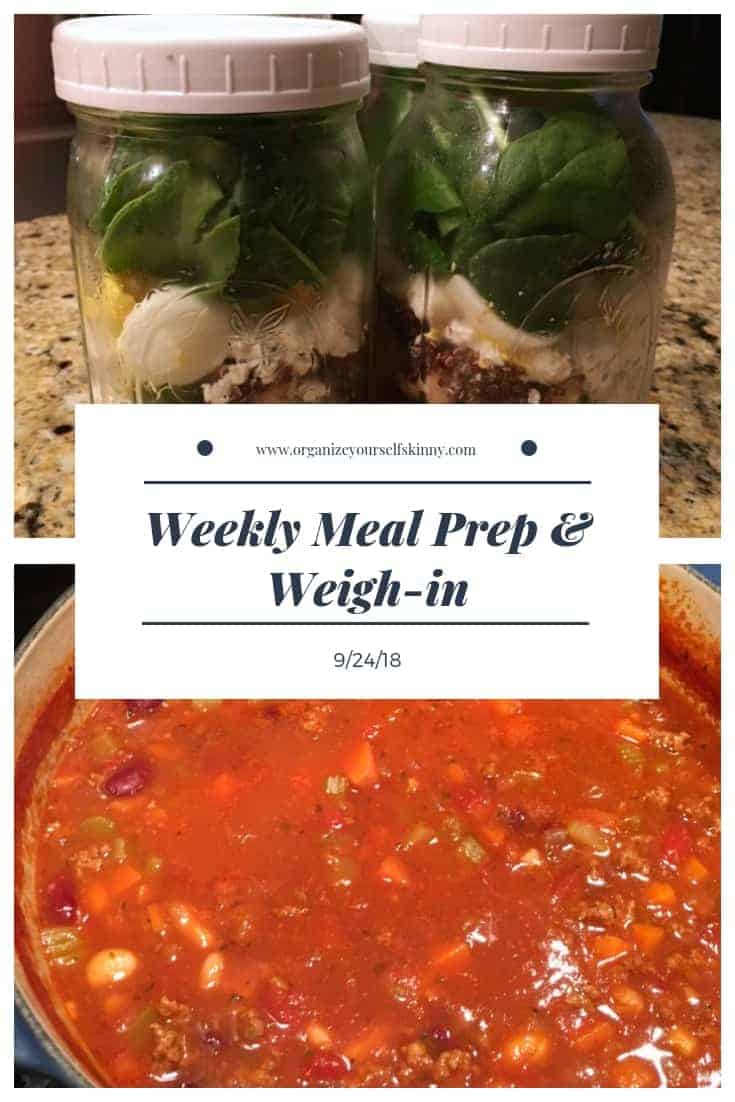 Hey hey! Soooo, this is an exciting time for Organize Yourself Skinny!
Not sure if you've noticed yet, but Organize Yourself Skinny has a completely new look. Over the past couple months I've been working with the wonderful Lauren over at Restored 316 to create a brand new custom design – this even includes a new logo.
Organize Yourself Skinny has come a LONG way since opening it's doors back in March 2011.
Let's take a quick walk down memory lane.
Those of you who've been with me since the beginning might remember that I used to be Skinny Mom's Kitchen. I can't even believe it when I look at this. It seems like a lifetime ago!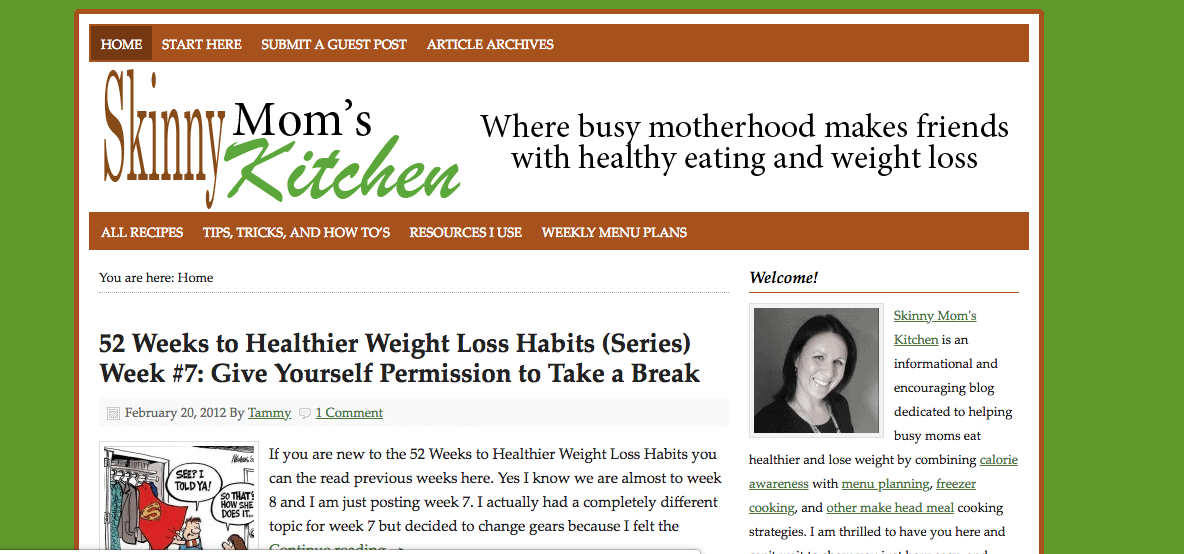 Because of circumstances beyond my control, in December 2013, I changed from Skinny Mom's Kitchen to Organize Yourself Skinny. Now, even though I wasn't planning on this change it actually was one of the best things to happen to my blog. So, the lesson I'm sharing with you is this…embrace change no matter how scary it is. Keep moving forward and be solution-focused. If you focus on the negative then that's what will happen.
I kept this design for almost 5 years! To be honest, I wasn't crazy about this design and wanted to change it many times over but a new blog design cost money and it just wasn't in the budget.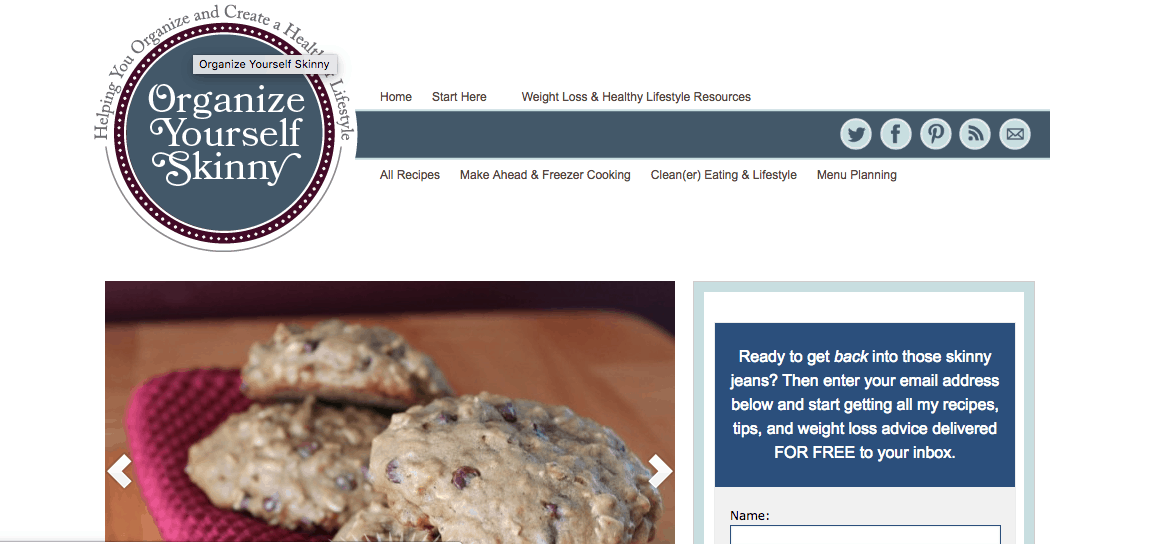 Well I saved for a year or so and FINALLY had the funds set aside to get a new logo and design. I've been a huge fan of Lauren from Restored 316 so I knew she was the one I wanted to use. I contacted her back in June and we got to work.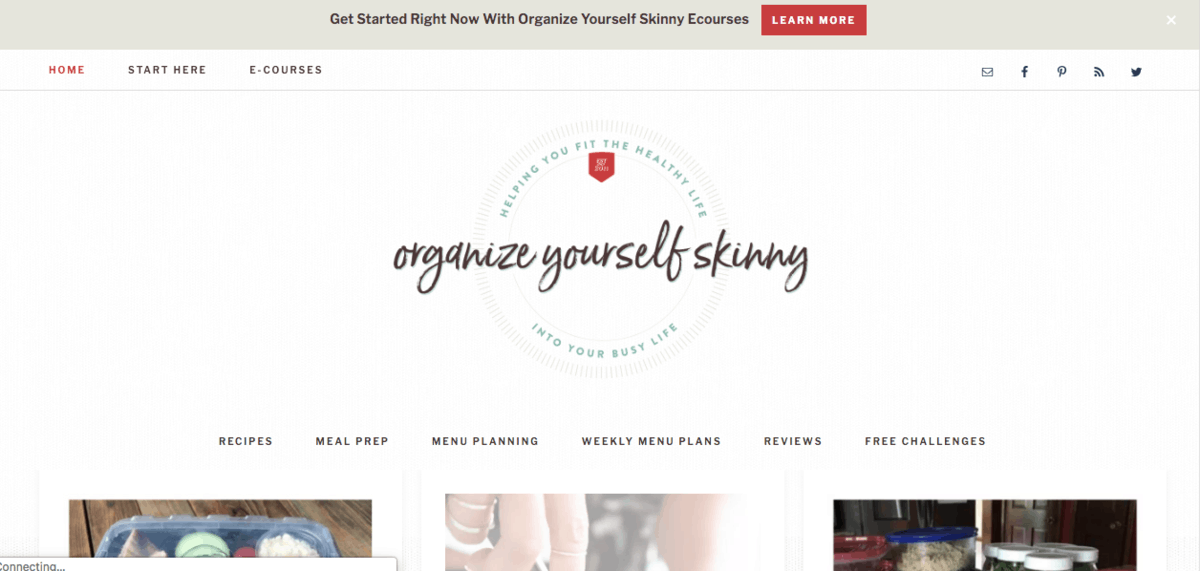 I can cry when I look at my new blog design, especially now comparing it to the beginning and seeing how far this blog has come.
The new design includes a new logo and tag line. I feel this accurately represents what I'm all about. My goal is to help YOU fit the healthy life into your busy life. Everything I create and share is about this message!
We also created a design that highlights the content, products, and services I offer through my blog. For example, my free challenges and the Organize Yourself Skinny ecourse are front and center. Also, the homepage highlights the most popular categories making it easier for you find what you're looking for.
Last, I want readers to get to know me so I put a 1 minute video on the homepage. This little video took me FOREVER to create.
Anyway, there are a few more tweaks I need to make but for the most part this is the new design. I'm beyond happy and I hope you like it too.
The biggest piece of advice I can give when starting a business/or blog, and even with losing weight, is to keep going. Believe in your vision and keep moving forward. Embrace the challenges and celebrate the wins. You need both to be successful.
If you've been with me for awhile, thank you so much for sticking with me over the years. This blog wouldn't be nearly where it is without the support of my readers. You're all the best.
If you're finding OYS for the first time then welcome to our community!
Okay, let's get back to work.
Here's my weekly weigh-in.
Starting weight (October 2010) : 177 lbs
First goal weight: 145lbs
Final goal weight: 135 lbs
Last week's weight: 153lbs
Current weight: 151.8 lbs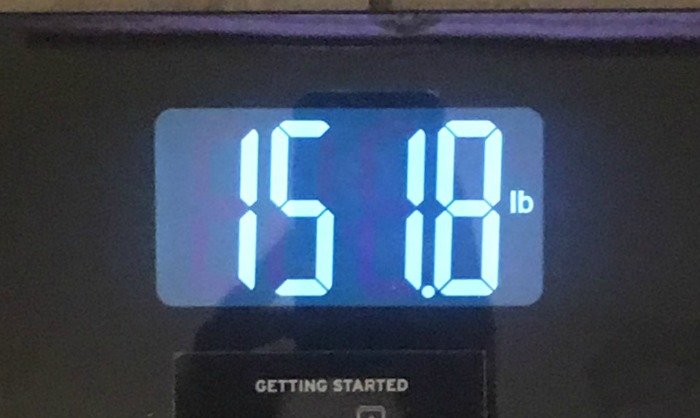 I lost just about 2lbs – I'm so close to being under 150 but I don't want to get ahead of myself. As I've learned, many times over, a lot can happen in a week. However, I'm still happy and will take the win this week.
This is what it comes down to. If I keep calories under 1500 a day AND exercise 3-4 days a week I will see a loss. Honestly, even if I just kept calories in check I'd see a loss every week. Food makes all the difference, exercise just moves it along faster.
So this week, I'm going to continue to pay attention to the food I eat. One of the things that helps me is to only eat at my "scheduled" times. This keeps me from snacking in-between meals. My brain gets trained to only eat at 7am, 10am, 12:30pm, 3:00pm, and 6:00pm. This is helpful. If you're all over the place with food during the day try getting yourself on an eating schedule and see if it works. Hey, sometimes we need to go back to the baby basics!
Last week I got in 4 days of exercise – I plan to do the same this week.
Okay let's talk food.
Before I get to my meal plan I just want to make sure you saw my new Butcher Box Review. I got a box of meat last week and I was very happy with my experience. I don't think it's for everyone but some of you I think would really enjoy this service.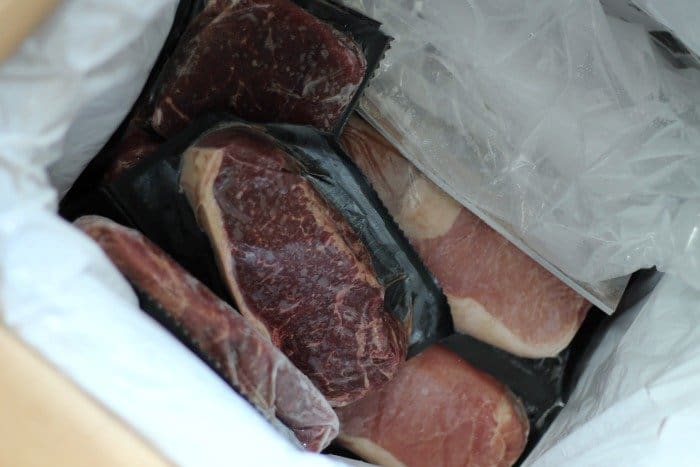 Here's what I'm eating this week.
Breakfast
Meal prep tips
I still have 2 more smoothie freezer kits ready so I'm going to make more later this week, or this weekend.
Morning snack
KIND Bar
Lunch
Meal prep tips
I made these salads on Sunday.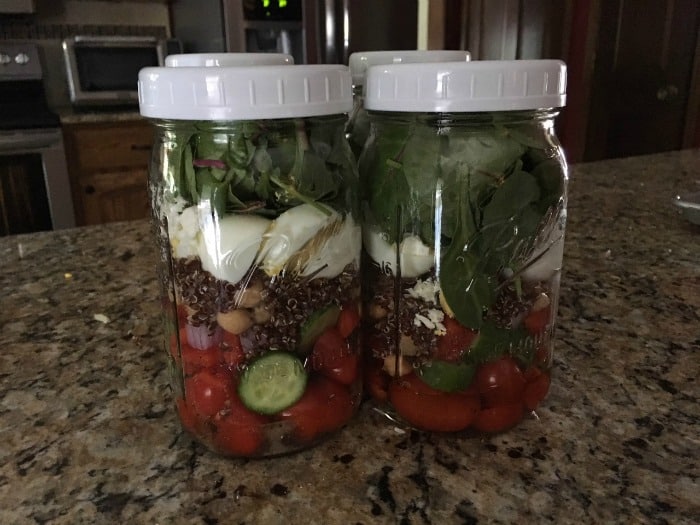 Afternoon snack
cheese stick and 6 triscuits
or apple and peanut butter
Dinner
Pasta Fagioli – I made this with Butcher Box ground beef and mmmmmm.
Tortellini with Chicken Sausage and Broccoli
Steak Salad with spinach and crumbled blue cheese – Again, using Butcher Box steaks for this meal.
Taco Meatloaf with rice and green beans
Leftovers
Meal prep tips
soup was made yesterday.
Tortellini was made on Sunday.
steak salad and meatloaf will be made the night we eat.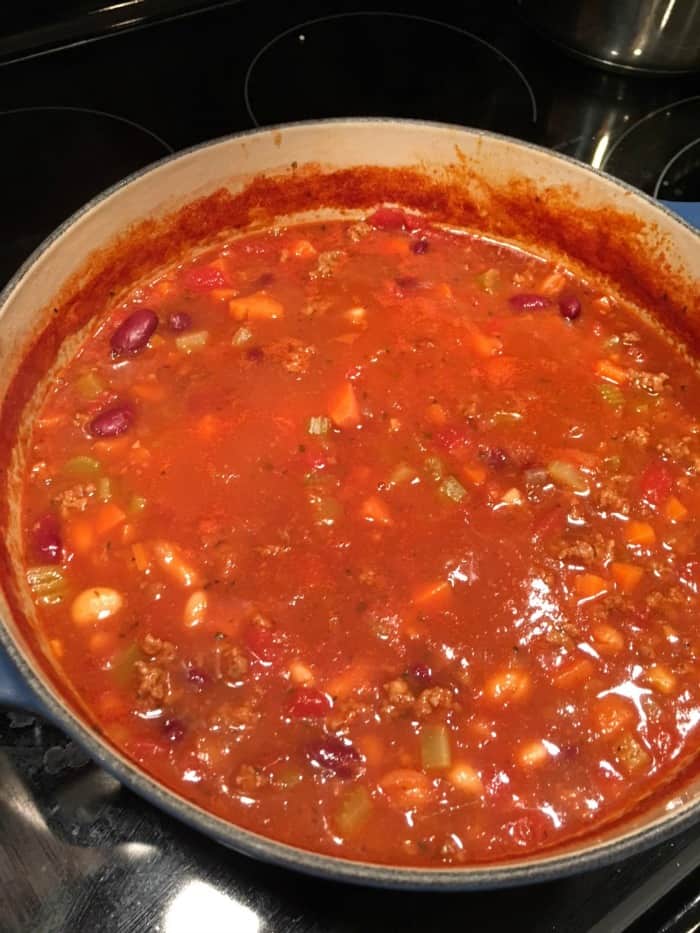 Okay that's it for this week! Again, don't forget to check out my new blog design.
Have a great week!