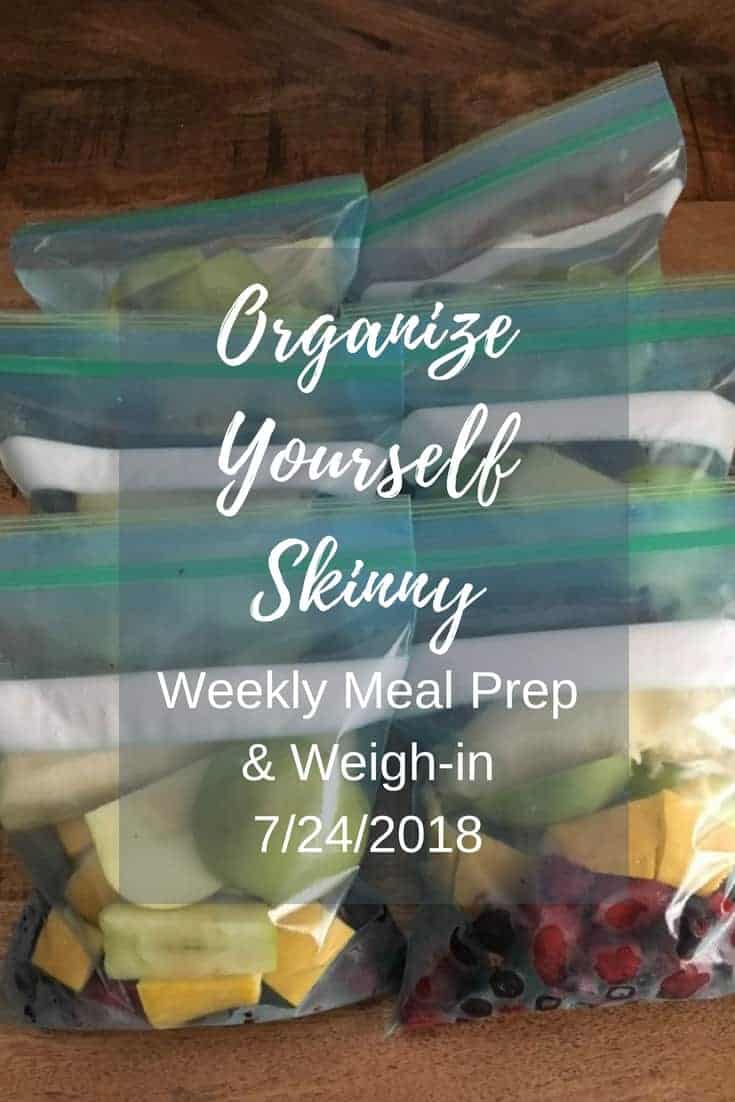 Well I almost got my meal prep post up on time. I guess I should be happy that I got it up at all considering my time is stretched thin between children, a brand new puppy, and trying to keep my house in some kind of order. Trust me, it's not easy. Although I shouldn't complain because I absolutely adore having Kenworth (our new puppy) in our home. I just need to learn to balance it all and find a new routine. I pride myself on being the routine queen so I know I got it in me to make everything work seamlessly – I just got to find my groove.
Okay, let's talk about it being the end of July. Incredible! We leave for Colorado soon and then when we get back it'll be Back to School shopping mania. I think this might be the fastest summer on record.
Another thing that's been pretty awesome is our garden has been producing some serious vegetables. Yesterday I pulled out a ton of zucchini, cucumbers, and squash.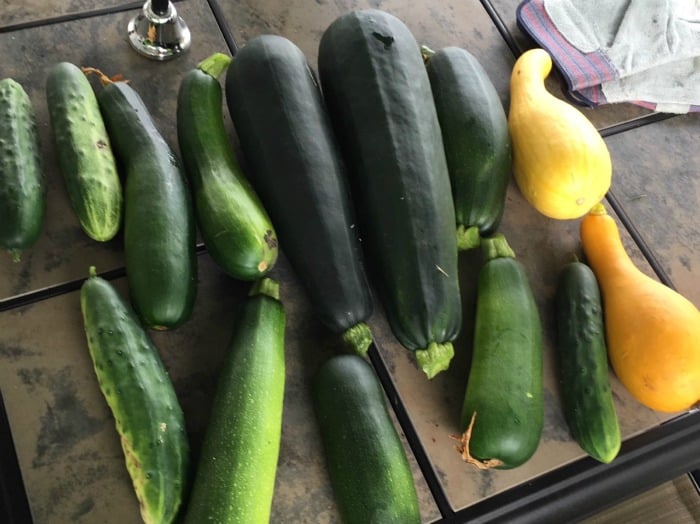 Check out this massive zucchini! I couldn't believe when I saw this monster, it's double the size of Aubrey's head. I bet you can guess what's on the menu this week – lots of zucchini.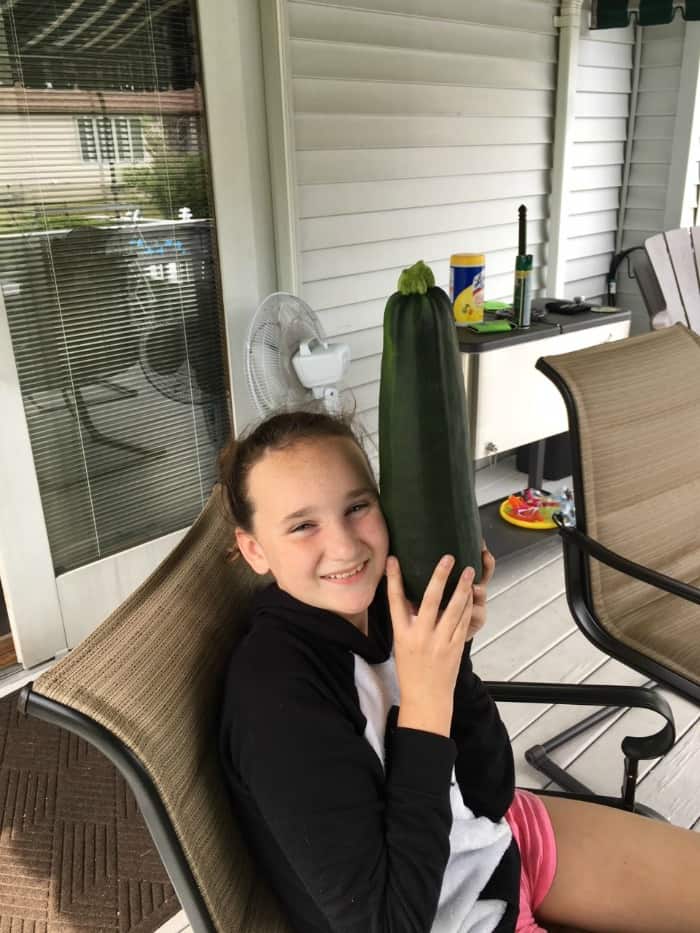 Before I get to my menu let's first go over my weekly weigh-in.
Starting weight (October 2010) : 177 lbs
First goal weight: 145lbs
Final goal weight: 135 lbs
Last week's weight:154.2
Current weight: 154.6
Pounds lost: 0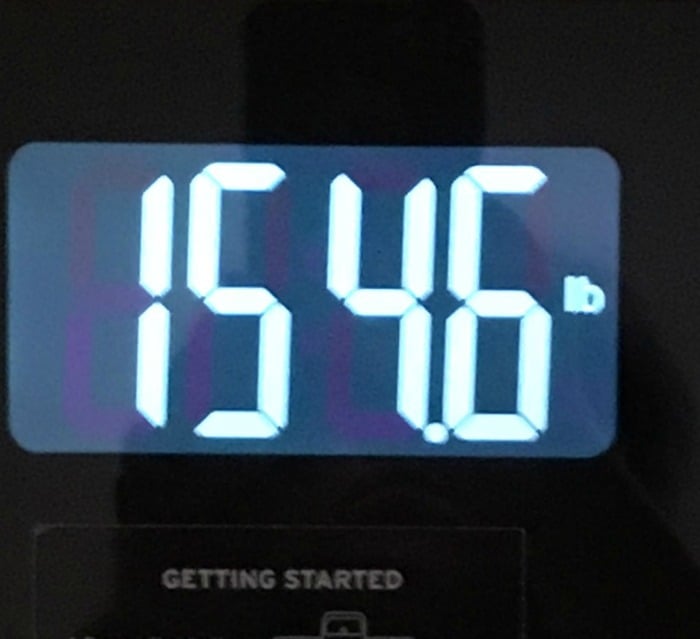 This week my weight stayed the same and I'm content with that. First, it's always a good week when the scale doesn't go up. Second, I happy to be below 155 for a second week in a row. Last week, was tough sticking to a routine. I didn't get to exercise much but I did keep portions under control and really paid attention over the weekend. I'm confident that's what kept my weight stable this week.
I feel good going into August. Overall, I lost 2lbs in July. I know this isn't a lot but I feel good about it. Also, I've been consistent with staying intentional with food. Every week I, at least, meal prep mason jar salads and there's always healthy snacks ready. If I don't have time to meal prep smoothie kits I, at least, have all the ingredients in the freezer.
Honestly, if it wasn't for getting my groceries delivered using Instacart I can't say I'd be as consistent with meal prep. However, I order mason jar salad ingredients, other lunch stuff, and stuff for dinner each week and that saves me a trip to the grocery store and about 2-3 hours. Of course, grocery delivery isn't for everyone but it works for me. You can learn more about Instacart on their website or read my Instacart review.
This week I'm working hard to get back into an exercise routine. Kenworth has been sleeping through the night so that makes it easier for me to get on treadmill in the morning. Thank goodness we are on the same sleep schedule because this mama needs her sleep.
Before I get to my meal plan, let's go over some questions from OYS readers. If you have a question you'd like me to answer just post it in the OYS Facebook group with hashtag #OYSquestions or email it to me [email protected].
What is your best piece of weight loss advice?
I love this question. My best piece of advice is to stay consistent. You can't exercise once in a while, or eat healthy when you feel like, and plan to lose weight. You must consistently work on your weight loss goals daily. I wrote more about staying consistent in this post.
Okay, let's go over my weekly meal plan.
Breakfast
Berries and Squash Smoothie – new recipe
Meal prep tips
I made freezer smoothie kits yesterday.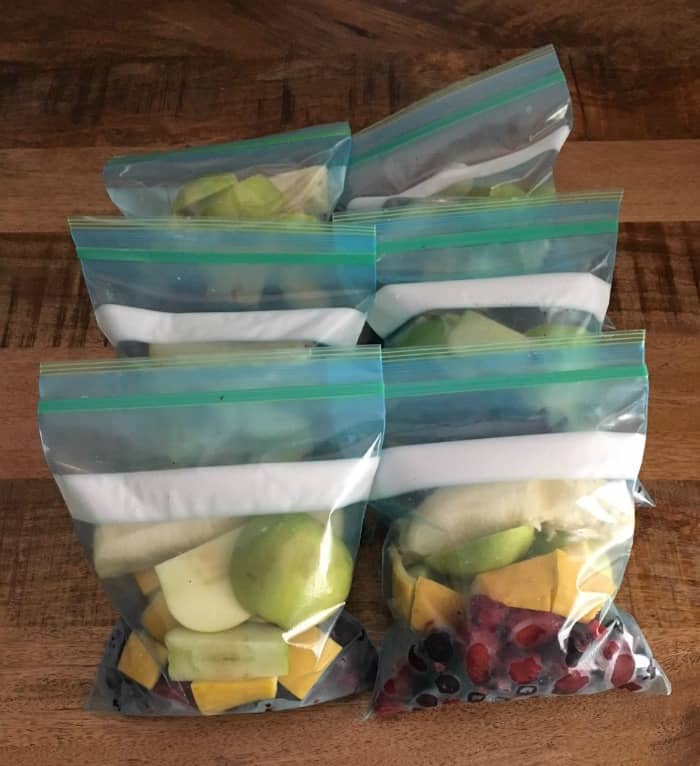 Lunch
Protein Power Mason Jar Salad
Meal prep tips
I made the salads yesterday. I forgot the quinoa so I put that into a seperate bowl and will add it to my salad when I eat it.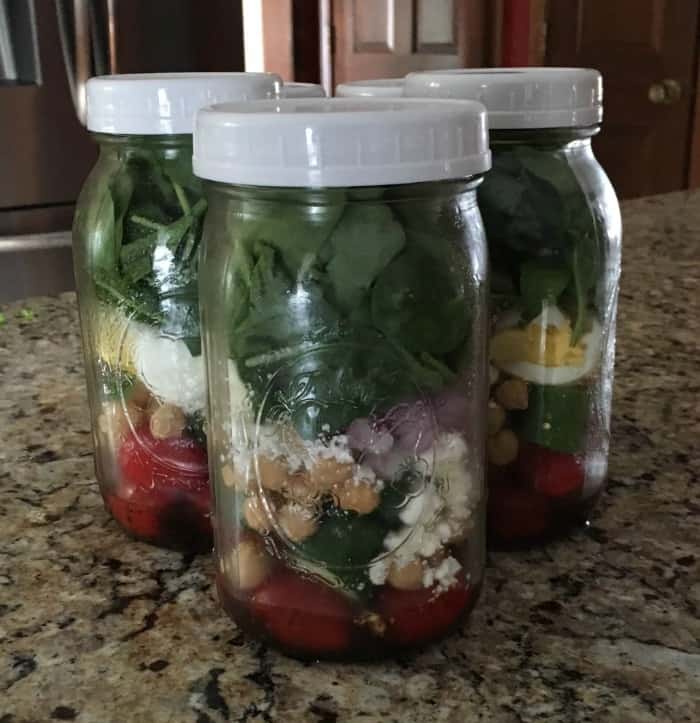 Snacks
Fruit salad with yogurt
Cheese stick
Meal prep tips
I made the fruit salad yesterday. I also cut up a watermelon to snack on.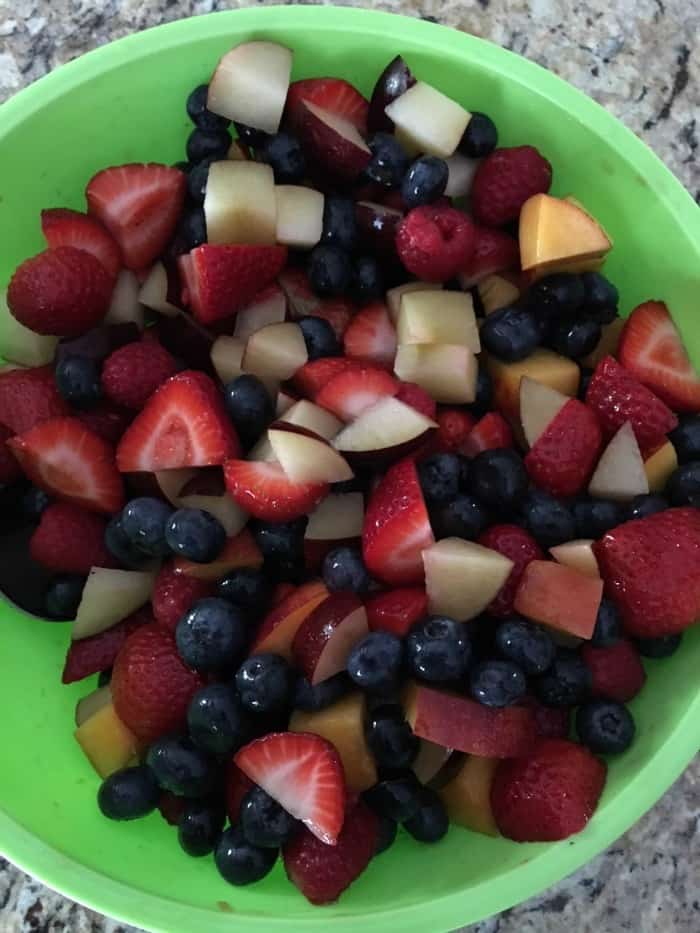 Dinner
This week I got 3 meals from Blue Apron (mushroom burgers, shrimp penne, and a coconut chicken). I ordered this again on accident. At first, I was annoyed, again, but now happy that I don't need to worry about figuring out dinner. You can read my Blue Apron review.
Buffalo Macaroni and Cheese with parmesan baked zucchini
Turkey Burgers and/or Grilled Chicken
Zoodles with Shrimp
Meal prep tips
I made the macaroni and cheese yesterday and plan to make the rest of the dinners the night we eat them.
That my plan for this week.
What's on your menu? Anything you want to share about your weight loss journey? Any questions I can answer?
Have a great week!