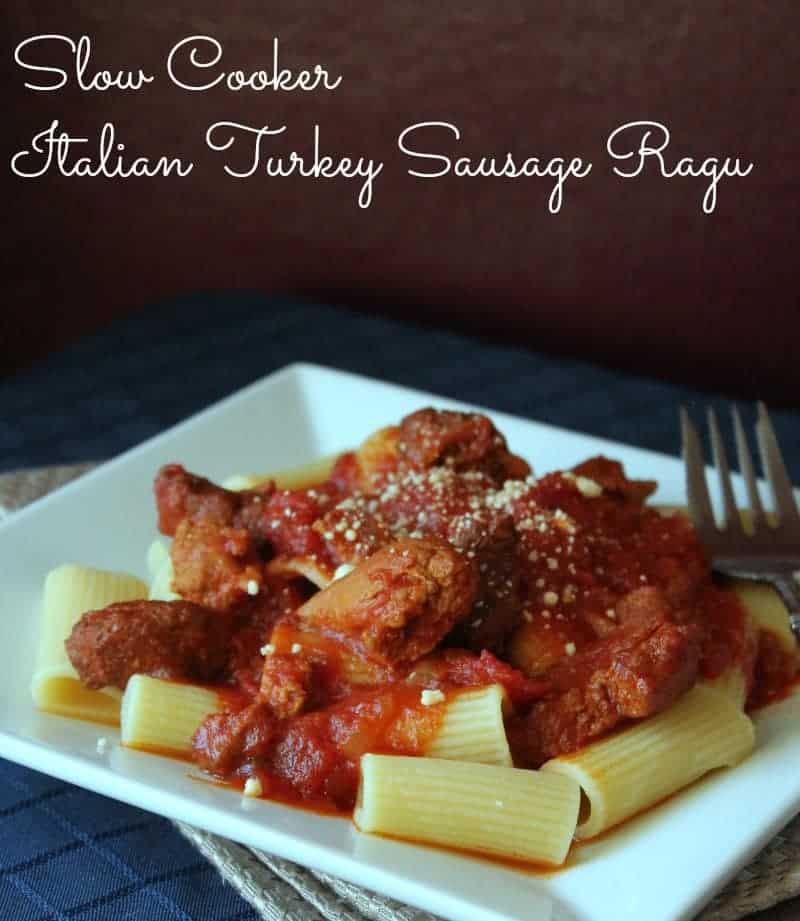 I remember when I was younger my mom used to freeze spaghetti sauce all the time. She would make a HUGE pot on Sunday then it would be used for dinners all week. On Thursday or Friday she would freeze the rest. At the time she probably did not realize she was freezer cooking she just didn't want to waste leftovers. So, when I first started to freezer cook, sauce recipes where the first I experimented with.
Red sauce recipes freeze great! In fact, after you reheat it, you would never know it was frozen. It tastes just as fresh as the day it was made. They are also so versatile. They can be used over any pasta, ravioli, lasagna, or however you would use sauce.
The key to freezing sauce is to freeze in recipe ready portions – about 1-2 cups depending on recipe. You don't want to freeze in 5 cup or more portions because, unless you are feeding a lot of people, you won't need that much.
This new Turkey Sausage Ragu recipe has earned a spot on my sauce and slow cooker rotation. Ragu is just a fancy way to say sauce with chunks of meat in it. Anyway, this ragu is delicious and cooks all day long. My house smelled like an Italian restaurant as it was simmering away in the slow cooker.
As with many of the slow cooker recipes I make this one also needed a little extra love before hopping into the crock. I browned the turkey sausage in some olive oil, added them to the crock,  then cooked the onions, garlic, tomato paste, oregano, and red pepper flakes in the same pan. I deglazed the pan with beef broth then dumped everything into the crock with the sausages. Next I stirred in all the tomatoes, turned it on to low, and let it cook for 10 hours.
I know the prep is kind of annoying but honestly I find it worth the extra effort with so many slow cooker recipes. Good news you can prep the ingredients the night before in the crock then just store in the refrigerator. In the morning, place the crock back into the slow cooker then turn on. If your crock does not come out of the slow cooker then just store ingredients in a freeze bag or container.
The only issue with this recipe is I had trouble finding a 15-ounce can of crushed tomatoes. The original recipe – found in my America's Test Kitchen Slow Cooker Cookbook – called for a 28-ounce can of crushed tomatoes. Because I halved the recipe I did not need that much. So I just bought the 28- ounce can and measure out about 2 cups. Honestly, it probably did not matter if I threw the whole can in but I wanted to be accurate with ingredients. I froze the reste of the crushed tomatoes in a Ziploc bag for a future recipe.
We enjoyed this ragu over some rigatoni. I know this is white pasta but rigatoni is one of my guilty pleasures that I allow myself to have on occasion. I froze the leftovers into 2 cup portions for dinner down the road.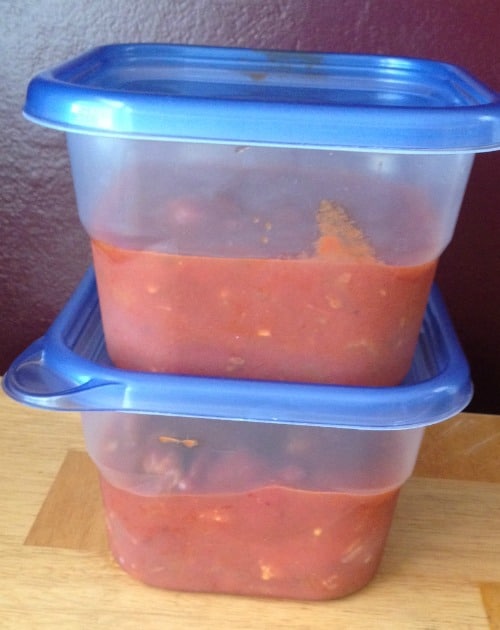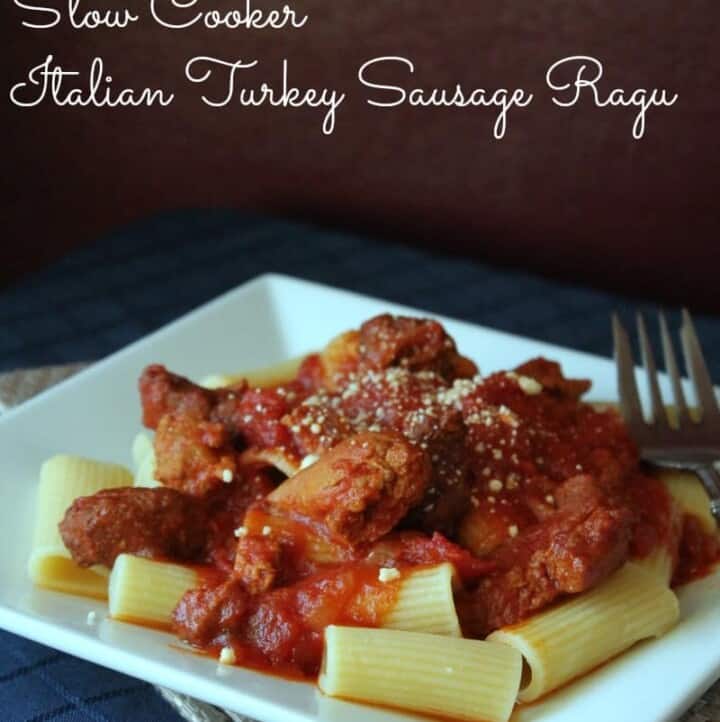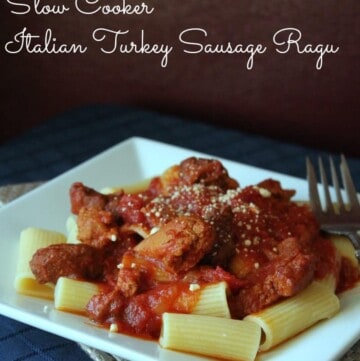 Ingredients
1

tablespoons

olive oil

1

pound

Turkey Italian sausage

medium or hot, casings removed

1

medium onion

minced

4

garlic cloves

minced

1

tablespoon

tomato paste

½

teaspoon

crushed red pepper flakes

1

teaspoon

dried oregano

1

cup

beef broth

1

15 ounce can crushed tomatoes or 2 cups

1

15 ounce can diced tomatoes

1

15 ounce tomato sauce

salt and pepper to taste
Instructions
In a medium skillet, heat 1 tablespoon olive oil until hot. Add turkey sausage and cook until browned. Break into pieces as it cooks. Put sausage into the slow cooker.

Using the same skillet cook onion, garlic, tomato paste, oregano, and red pepper flakes. Cook until onions are softened.

Pour beef broth into the pan to deglaze pan. Make sure to scrap up any brown bits. Transfer to the slow cooker.

Add crushed tomatoes, diced tomatoes, and tomato sauce to the slow cooker. Stir ingredients together.

Place lid on top, set to low, and cook for 9-11 hours. Mine cooked perfectly at 10 hours. Add salt and pepper to, if needed, to taste.
Notes
Make ahead tips This sauce can be made completely ahead of time and frozen.
You can also prep the ingredients the night before in the crock and store in the refrigerator. In the morning place the crock in the slow cooker and turn on.
Nutrition
Serving:
1
g
|
Calories:
233
kcal
|
Carbohydrates:
18
g
|
Protein:
21
g
|
Fat:
8
g
|
Fiber:
4
g
|
Sugar:
6
g