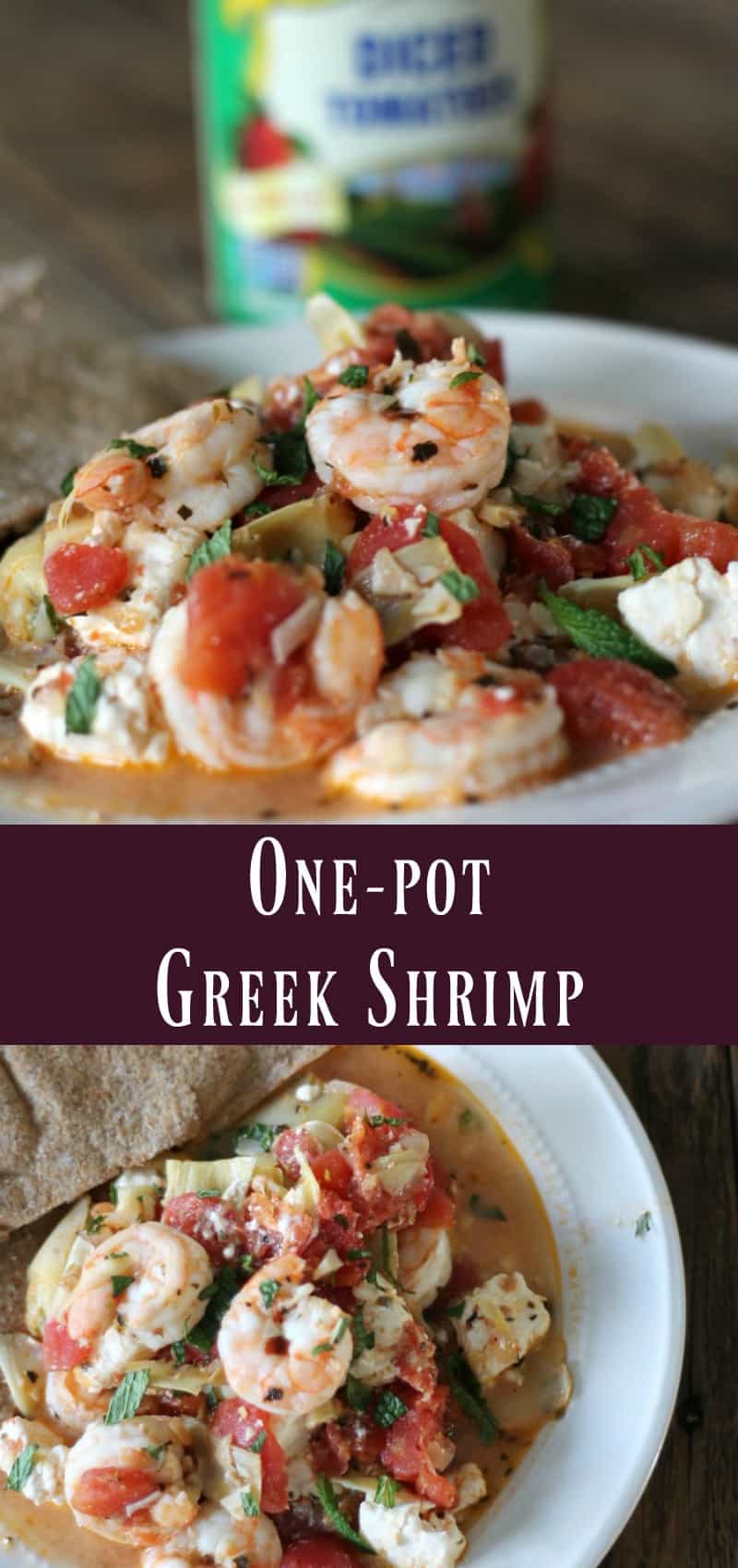 Thanks to Tuttorosso for sponsoring this recipe and blog post today. I was compensated for my time however all opinions and thoughts are my own. You can visit the Tuttorosso website for more recipes, product information, along with information on the Crush Hunger Campaign.
---
One of my favorite ways to eat healthy, while also saving money, is to cook pantry meals. What do I mean by pantry meals? A pantry meal simple means preparing a recipe with ingredients that are found in your pantry. When you're stocked with healthy basics many recipes can come together in minutes.
One item often found in my pantry are canned tomatoes. I have diced tomatoes, stewed tomatoes, tomato sauce, crushed tomatoes, and of course whole tomatoes. With a can of tomatoes, beans, and some spices you can easily throw together a healthy batch of soup or chili. Or mix together some whole grain rice, diced tomatoes, and cheese for a simple casserole. If you're feeling Italian, then a delicious marinara sauce can be made by sautéing some onion and garlic before crushing in a large can of whole tomatoes. Of course meat and seafood can be added to any of these recipes! The healthy recipe options with a well-stocked pantry are endless.
If you're heading to the grocery store this weekend I recommend picking up a variety of canned tomatoes to fill your pantry with. Personally, I use Tuttorosso Tomatoes because the taste and quality of their tomatoes are unmatched. Did you know they are the best selling Italian inspired canned tomato brand in the US. Yep! Tuttorosso doesn't use any artificial colors, flavors or preservatives because their tomatoes are not "processed food" – just canned using only steam to preserve them. I spent some time last year at the Tuttorosso tomato facility in Indiana and was beyond impressed with their operation. This company is owned by a wonderful family and everyone that works there take such pride in the product they create. Since then the only tomatoes I use in my recipes are Tuttorosso tomatoes. You can use their store locator to find a location that offers Tuttorosso tomatoes near you.
Also, for each can of Tuttorosso tomato product purchased during the month of October, they will donate one meal to a family in need; with a goal of 2 million meals donated to Feeding America® food banks! Read more about the Crush Hunger Campaign here.
Okay, let's get to the pantry meal I made.
I've been in the process of moving into our new home – and it's been a process! Well, last week we needed to eat up the food in our refrigerator and pantry because the less food in my kitchen the less we had to move.
Like I said, my pantry is always stocked with canned Tuttorosso tomatoes so I had plenty to choose from. I decided on diced tomatoes. I searched around for other recipe ingredients and found all kinds of things. I had beans, rice, quinoa, canned clams, corn, and about 10 different types of pasta. However, the ingredient that caught my eye were artichoke hearts. YUM! I don't even remember what I originally purchased artichoke hearts for but there they were ready to use up.
Then I looked in my refrigerator and saw a block of feta cheese. I don't know about you but I purchase feta cheese a lot. Mostly, I use it in mason jar salads but this time around it was waiting to be used in something else.
At this point I knew something Greek was brewing in my mind. We have tomatoes. We have artichokes. We have feta!
Now for the protein. At first I thought beans but then decided against it. As I dug into my chest freezer I found a bag of shrimp. Umm seriously, how did this bag of shrimp get past me? Oh well, I ask no questions. I grabbed the shrimp and decided I was going to make one-pot Greek shrimp.
Ha! There you have it folks! The highly detailed scientific way I go about creating a recipe.
This one-pot Greek shrimp came together quickly. Let me show you the steps.
I started with shallots and garlic. Also, I opened the diced tomatoes and artichokes. This recipe moves fast so you want to have all your ingredients ready to go.
By the way, don't those tomatoes look juicy and delicious? I used diced tomatoes with basil, garlic, and oregano but you can certainly use plain diced canned tomatoes. That's what I had in the pantry so that's what I used.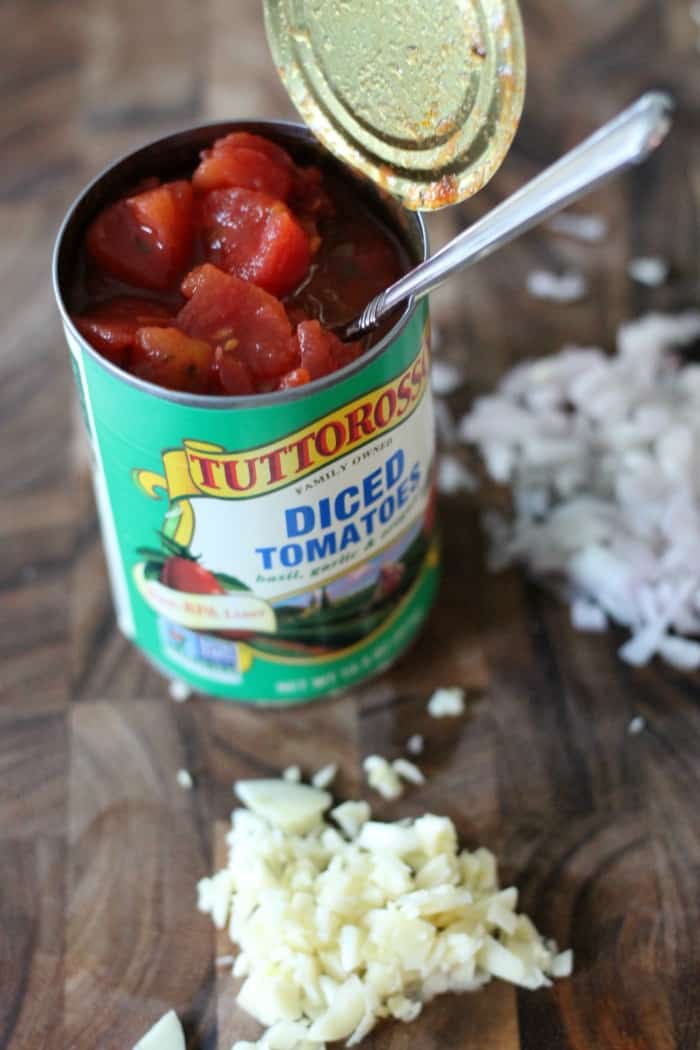 I started by sautéing the garlic and shallot in olive oil. After about a minute I added the spices. I like to add my spices into the oil to cook for a little, this gives them a chance to bloom – I learned that from a cooking show.
Next, I added chicken stock and the diced tomatoes. If you have white wine around then use that in place of the chicken stock or just use the chicken stock. Again, use what you got.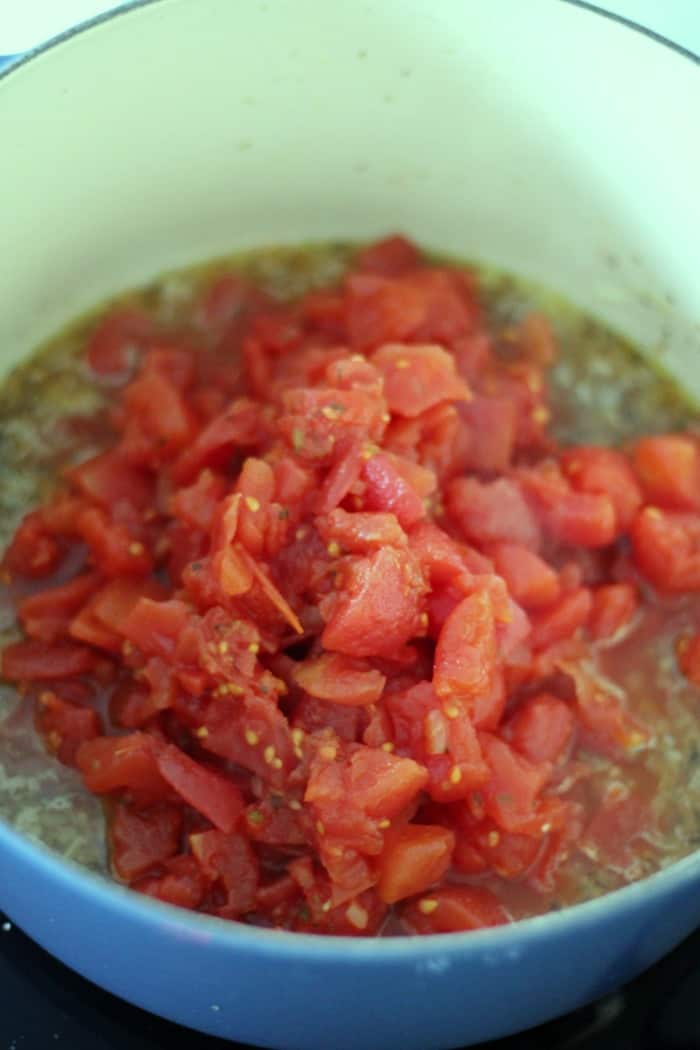 Now let's stir in the artichokes hearts. I cut the artichokes into quarters before adding to the sauce. Also, this sauce would taste great with all kinds of vegetables. If you have spinach, mushrooms, or anything else then throw them in.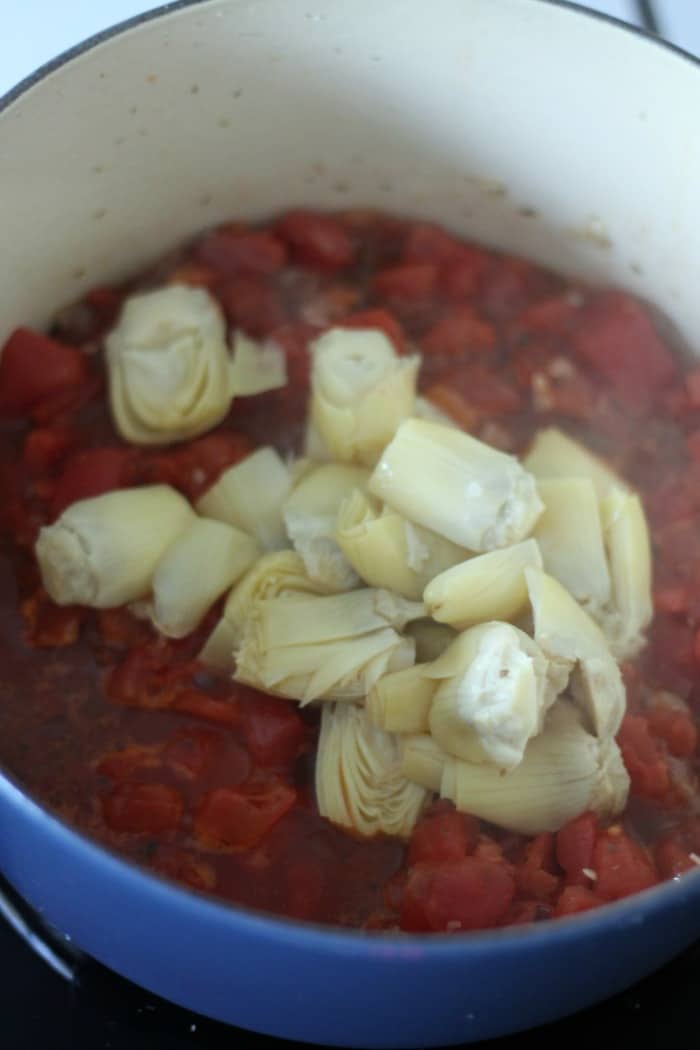 I gave the sauce a couple stirs and let it simmer for about 15 minutes. I like tomatoes to cook down a little bit, I feel this gives them the best flavor.
Now add in the shrimp. Remember this is what I had in the freezer, if you have chicken that would work great too. I recommend cooking the chicken first, shredding or chopping it, and then adding it to the sauce. Or keep it vegetarian and add more veggies.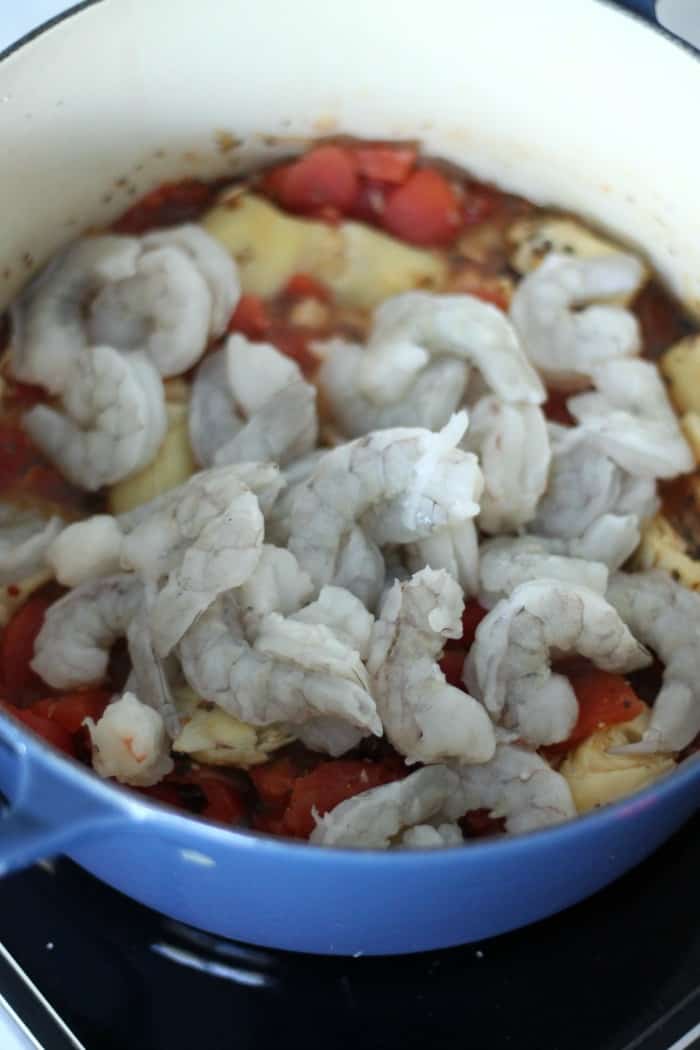 The shrimp takes about 3-4 minutes to cook. You want it to be pink and opaque.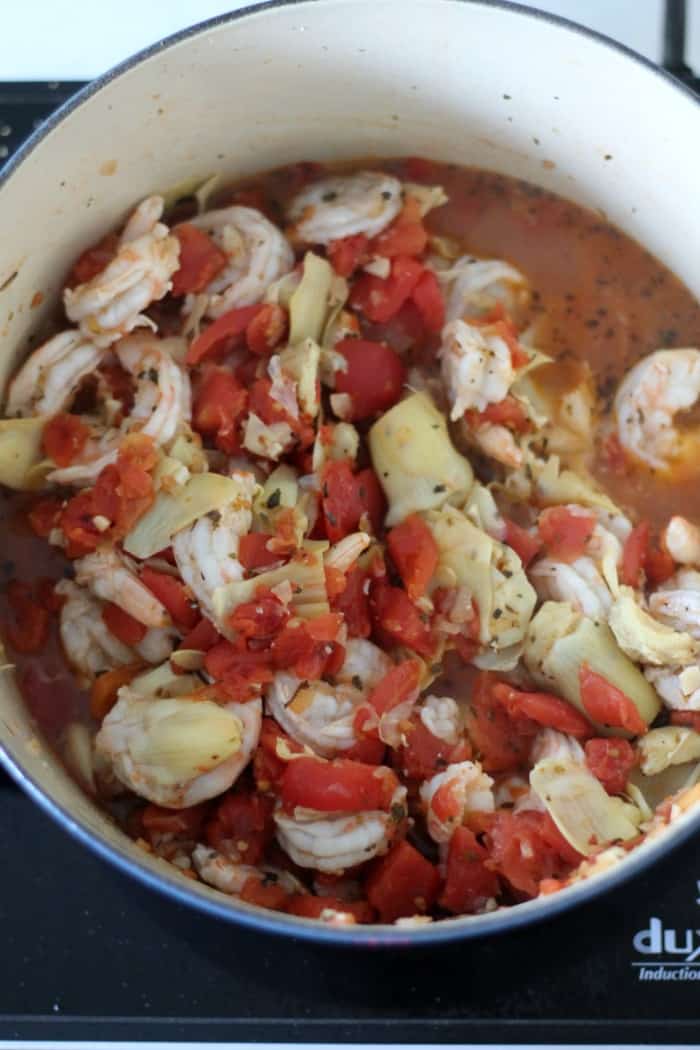 And now my favorite part! The feta! You can certainly use crumbled feta in this recipe but I had an 8-ounce chunk of feta I chopped up. I tossed it into the sauce, gave it a coupe stirs, and let it cook for another 2-3 minutes or until the cheese softens.
Give it a taste for seasoning and add in a pinch of salt and pepper if needed.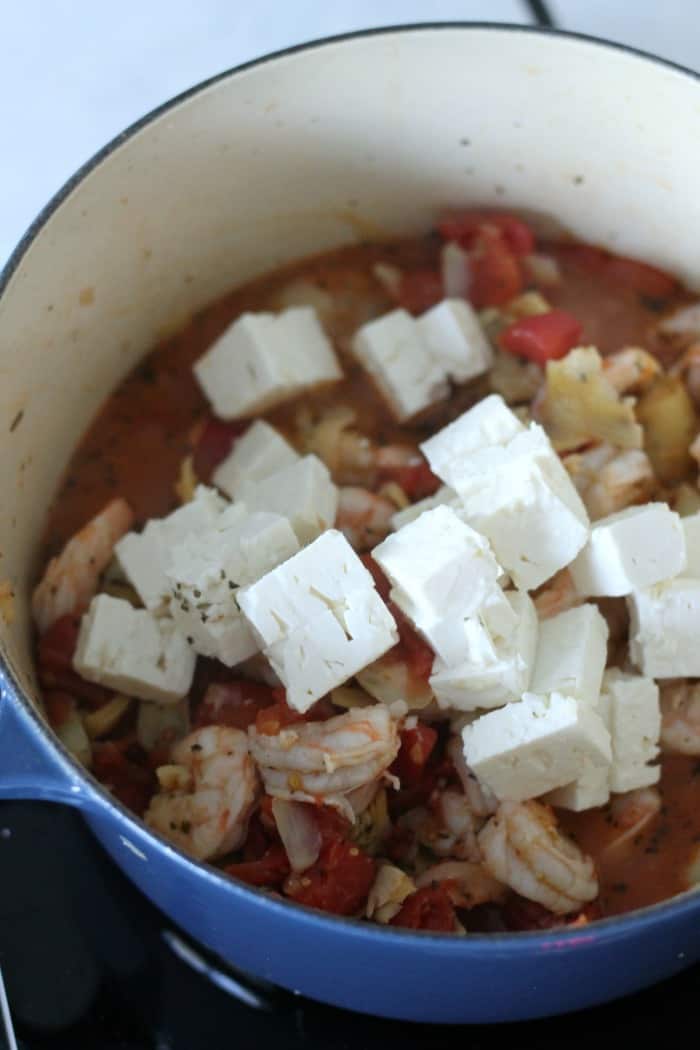 This One-pot Greek Shrimp was absolutely delicious! It came together in less than a half hour and I had all the ingredients on hand.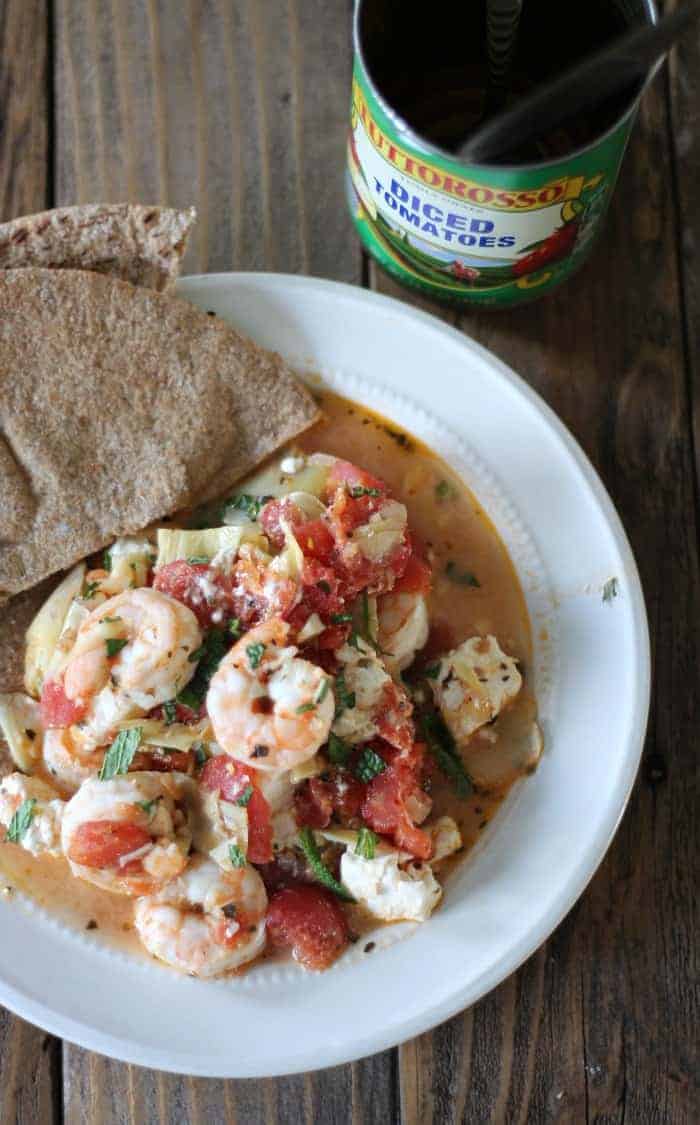 After I plated the dish I sprinkled some fresh mint on top but no worries if you don't have that because this recipe is delicious with or without it.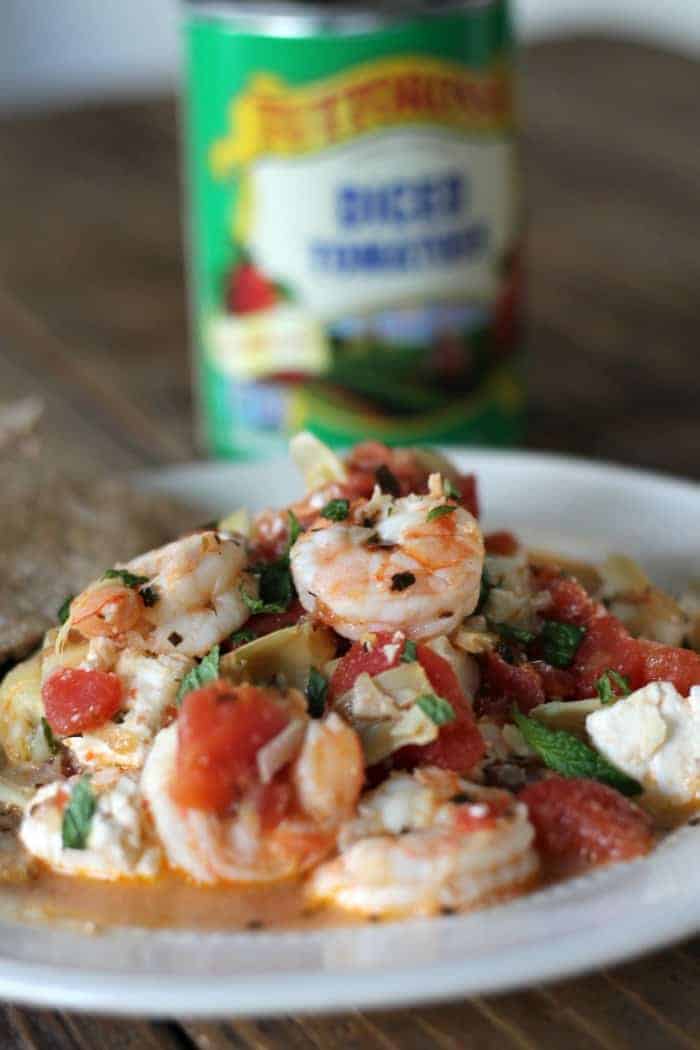 There are a couple different ways to serve this recipe. If you're trying to stay low-carb then you can enjoy this shrimp recipe on it's own or with a small piece of pita bread. The sauce is scrumptious and needs to be slurped up either with a piece of bread or a spoon! However, if you're feeling carbs then this is delicious over pasta or rice.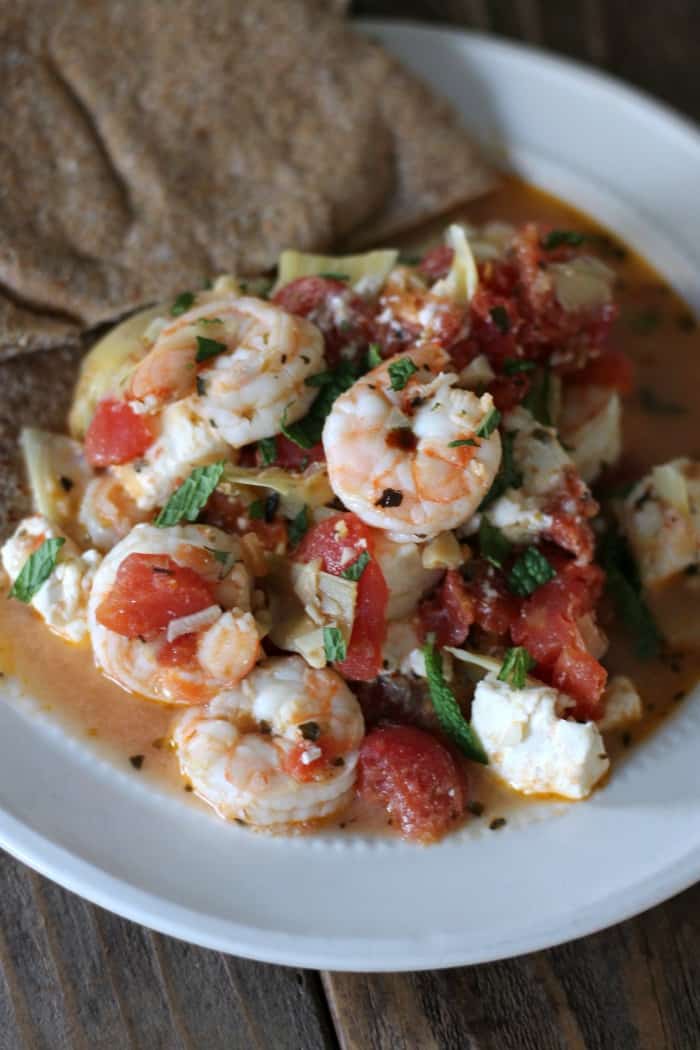 This is just one of the many pantry recipes I've created over the years. I hope you take some time this weekend to stock your pantry with healthy basics. Remember if you purchase Tuttorosso tomatoes they will donate one meal to a family in need; with a goal of 2 million meals donated to Feeding America® food banks! Read more about the Crush Hunger Campaign here.
Thank you again to Tuttorosso for sponsoring this delicious One-pot Greek Shrimp recipe. All opinions and thoughts are my own.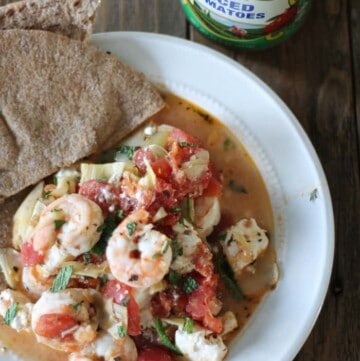 Ingredients
2-3

tablespoons

olive oil

1

shallot

minced

4

cloves

garlic

minced

1

teaspoon

dried oregano

1

teaspoon

dried basil

1/4

teaspoon

crushed red pepper

1/2

cup

chicken broth or white wine

2

cans diced Tuttorosso Tomatoes

drained

1

can artichoke hearts

quartered

1

lb

medium shrimp

cleaned and shelled

1

8-ounce block feta cheese, chopped

salt and pepper

chopped fresh mint
Instructions
Saute the shallot and garlic in olive oil over medium heat in a large saucepan. After 1-2 minutes add in the oregano, basil, and crushed red pepper. Cook for another minute.

Pour in the chicken broth or wine and let it cook for about a minute.

Add in the tomatoes and artichokes and cook for about 15 minutes.

Stir in the shrimp and cook until the shrimp are pink and opaque, about 3-4 minutes.

Stir in the feta cheese, cover, and let it cook for another 1-2 minutes or until the cheese is soften.

Add a pinch of salt and pepper and sprinkle with mint if using.

Serve wth pita bread, pasta, or rice.
Notes
sugar: 8
Make-ahead instructions
This recipe can be made completely ahead of time and stored in the refrigerator up to 3 days.
Nutrition
Serving:
1
g
|
Calories:
379
kcal
|
Carbohydrates:
26
g
|
Protein:
35
g
|
Fat:
15
g
|
Fiber:
11
g