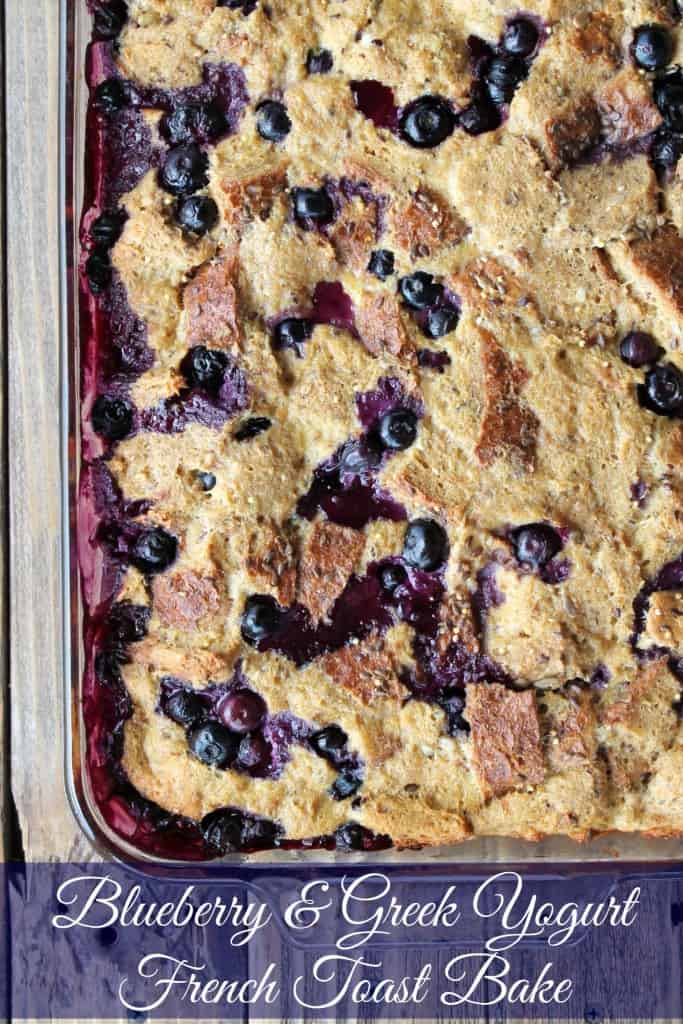 It's that time of year! Blueberry season!! I swear us Buffalonians wait all year to pick blueberries in August. As you probably know the weather isn't the best in Buffalo so when summer comes around and it's time to pick fresh berries we are all over it.
Over the last couple months this Blueberry & Greek Yogurt French Toast Bake has made it's way into my dreams. Back in March I made a basic French Toast bake and it was a huge hit at my house. The smells alone are enough to convince you to make this. Intoxicating. It seemed only natural to make a blueberry version.
As I began to think about the components to this blueberry French toast I was inspired by two of my blueberry muffin recipes. The first one includes lemon and the second uses yogurt as an ingredient. Both are equally delicious so I decided to combine the flavors of the muffins and create this Blueberry & Greek Yogurt French Toast Bake.
Here is a quick step by step. Sorry the pictures aren't the greatest. I made this in our cabin and there isn't a lot of light in the kitchen.
The first thing I needed to do was pick a bread for the French toast bake. I chose a hearty whole grain bread from the bakery at my local grocery store. It was about 14 inches long. My kids love whole grain bread but my youngest suggested one without seeds next time. So just a mental note for me and a FYI for you.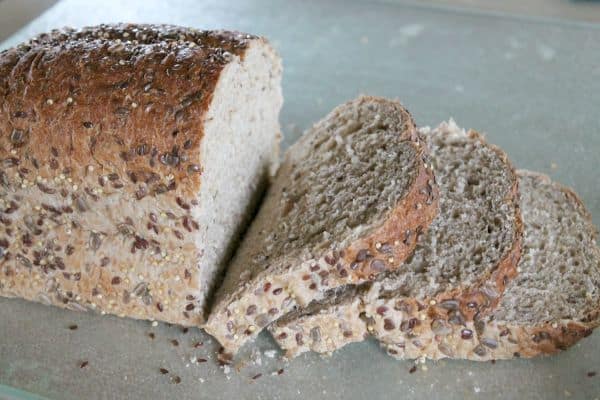 Next I cut the bread into cubes. At first, I thought I should cut the bread into uniform pieces but after the first slice I figured it doesn't matter. I was right. Don't go crazy trying to get the perfect pieces. Place the chunks of bread into a 9 x13 casserole dish sprayed with cooking spray.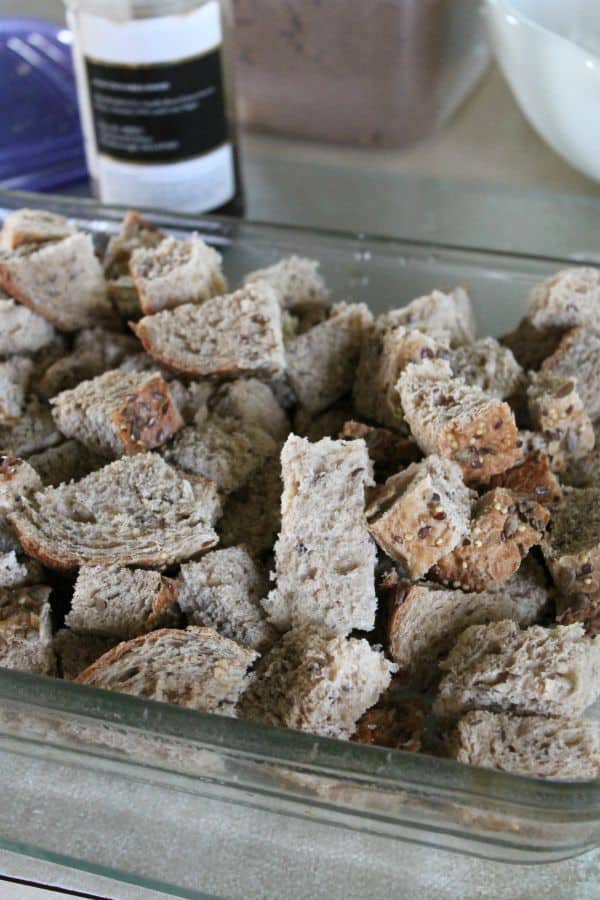 Now it's time to make the custardy liquid. I started with the brown sugar and 1 egg. I whisk them together until completely blended. Then I whisked in the rest of the eggs. Make sure the eggs are all blended before adding in the rest of the ingredients.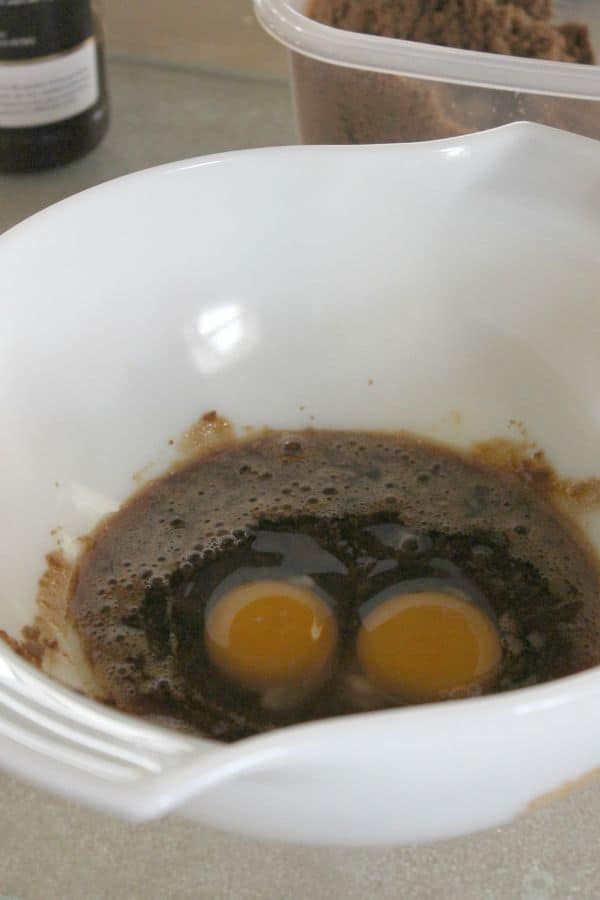 Then I stirred in the coconut milk, yogurt, vanilla extract, lemon juice, and lemon rind. Mix until all the ingredients are combined. I loved using greek yogurt in this recipe. It provides a great custardy rich consistency after it bakes.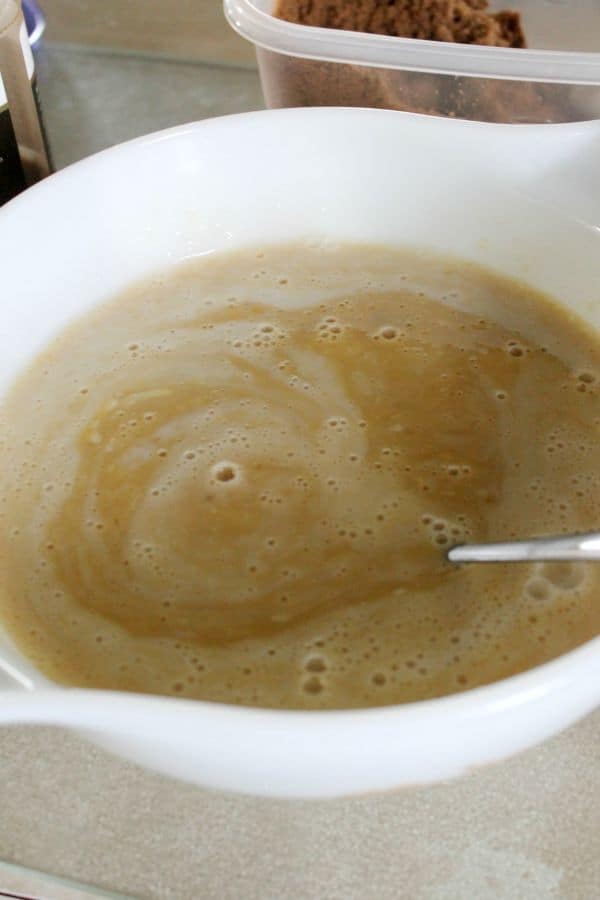 Next pour the egg mixture over the bread. Give it a few stirs until all the bread is covered with the egg mixture.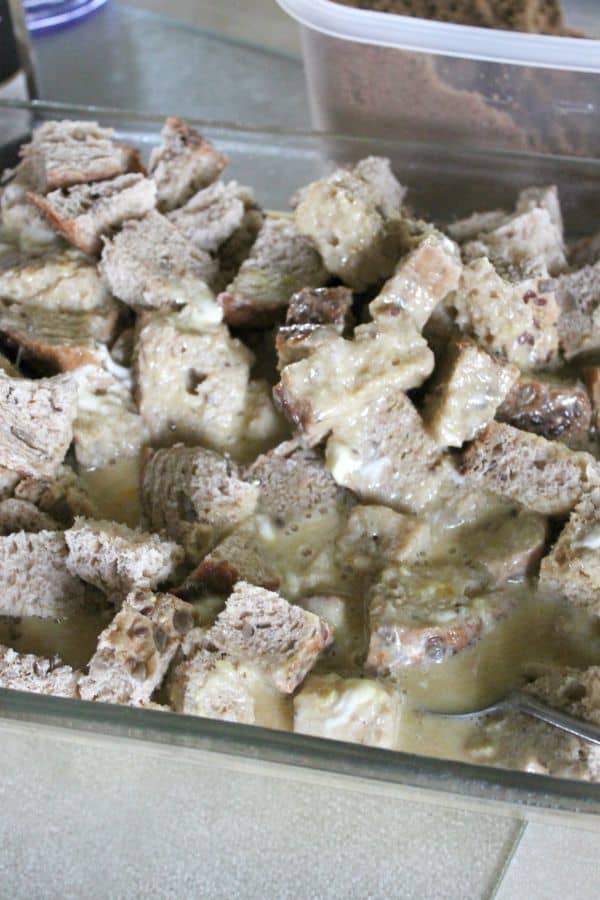 Then stir in the blueberries. Mmmmmm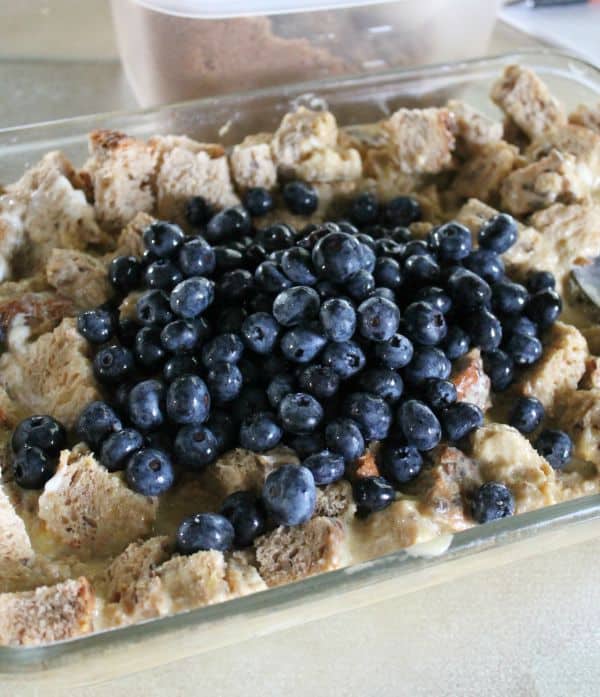 After all the ingredients are combined push the bread down with a spoon. You want to make sure the bread is soaking up the egg mixture. Cover the casserole and place in the refrigerator for a least 2 hours or overnight. This is a perfect make-ahead breakfast for a special occasion or just a simple Sunday morning.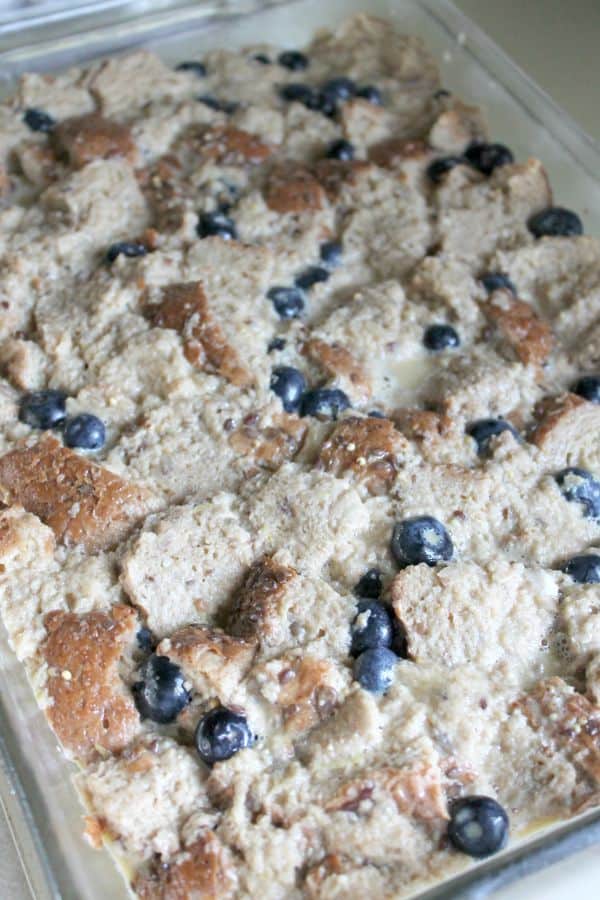 After the casserole sits in the refrigerator for 2 hours or longer take it out and let it sit on the counter for 20 minutes. Now you are ready to bake this delicious breakfast. Preheat the oven to 350 degrees and bake for 50 minutes.
This Blueberry & Greek Yogurt French Toast Bake is scrumptious. As it bakes the blueberries burst and fill the french toast with tons of berry flavor. And the lemon in this recipe is amazing! I truly believe lemon and blueberries were made for each other.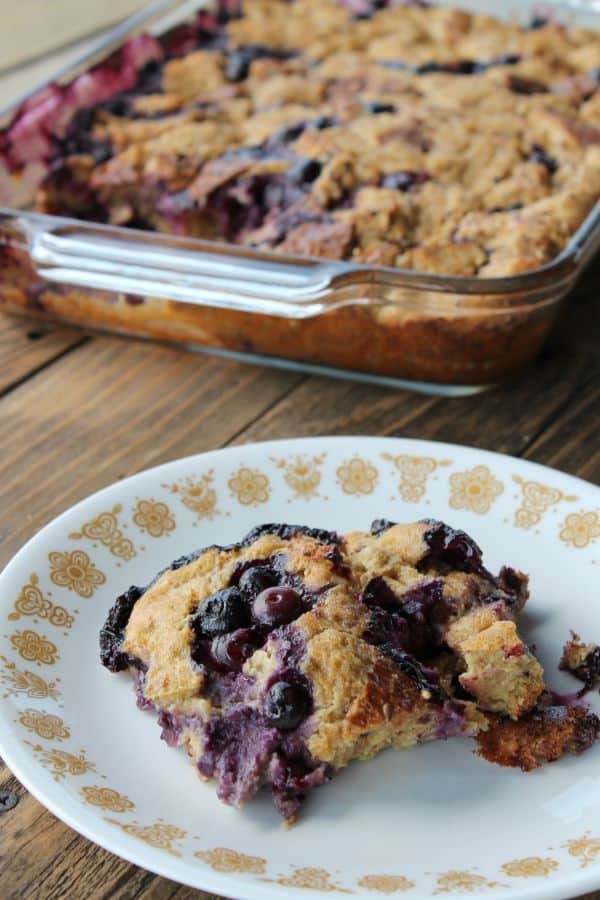 If you have a bunch of blueberries needing to be used up then I highly recommend making this Blueberry & Greek Yogurt French Toast recipe. But….don't tell anyone you are making it. Just make it and let the amazing aromas fill the house to wake them up.

Make-ahead Blueberry french Toast Bake
Author:
Organize Yourself Skinny
Ingredients
1 loaf whole grain bakery bread (about 12- 14 inches)
8 large eggs
⅓ cup brown sugar
1 teaspoon pure vanilla extract
2 cups unsweetened coconut milk
1 (5.3 ounce) container vanilla greek yogurt
1 tablespoon fresh lemon juice
1 teaspoon grated lemon rind
1 pint blueberries
Instructions
Cut bread into cubes or chunks. Place into a 9 x 13 casserole dish spread with cooking spray.
In medium bowl combine brown sugar and 1 egg. Whisk together until they are combined.
Whisk in the rest of the eggs then stir in vanilla extract, vanilla greek yogurt, lemon juice, and lemon rind. Stir until all of the ingredients are combined.
Pour ego mixture over the bread and stir until combined.
Stir in the blueberries.
Using a spoon push down the bread into the egg mixture.
Cover with foil or plastic wrap and then place in the refrigerator for 2 hours or overnight.
When ready to bake, preheat the oven to 350 degrees and then take the casserole dish out of the refrigerator and let it sit on the counter for about 20 minutes.
Bake for 50 minutes or until the french toast is set.
Let it cool for 3-5 minutes and serve warm with pure maple syrup.
Notes
Make-ahead Instructions


This can be assembled a day before hand. Follow cooking instructions when ready to bake.
The cooked french toast bake will keep in the refrigerator for up to 3 days. After it cooks and is cooled, cut into portions, and put into a container and place in the refrigerator.
Nutrition Information
Serving size:
1 square
Calories:
195
Fat:
5
Carbohydrates:
30
WW Points +:
5
Fiber:
3
Protein:
10
Get Instant Access to My Best Weight Loss Tips & Strategies!
Sign up now for a free step-by-step 7-day email course that I created exclusively for my email subscribers! That's you. I will teach the best habits, strategies, and insider tips so you can enjoy a lifestyle that encourages and supports weight loss! Stop relying on willpower and take control back over your life! You can do this. Let me help!