Many people think they know how to start losing weight only to throw in the towel after a few days. Here are 5 things you need to do in the first week to set yourself up for longterm success.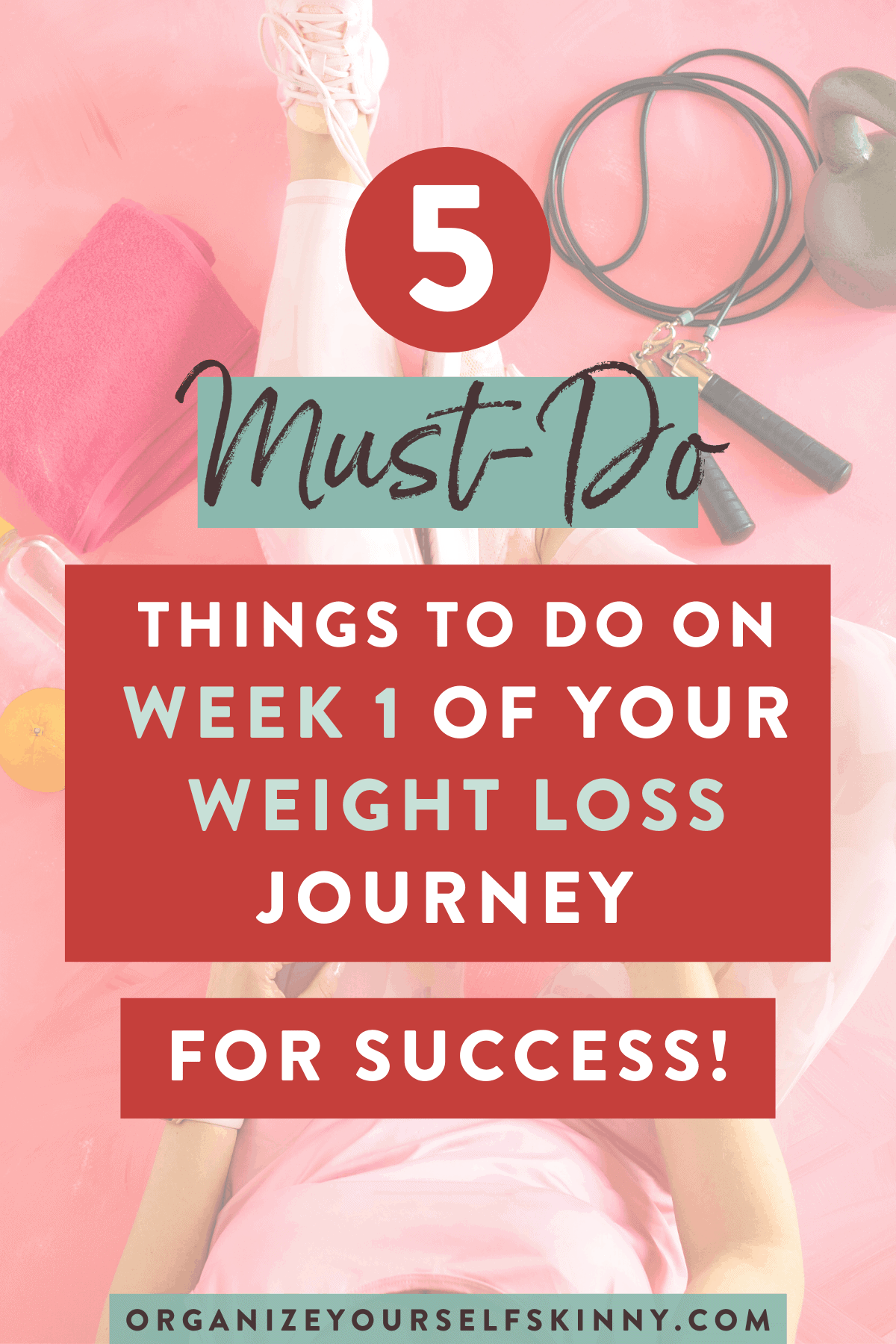 It's completely normal to get excited when that a-ha moment hits and you're finally ready to start losing weight. Sure, you've had moments like this before…but this time feels different. You want to jump in and get started! But hold on…
I know exactly how you feel because I've been there. For years (decades) I couldn't seem to make any weight loss efforts stick, even though I wanted it bad.
Then, in 2010, it clicked big time.
I finally got it together and committed to changing my habits. Instead of flying by the seat of my pants with food I started to meal plan and prep so healthy foods were ready to eat. This was huge! Actually, it still is. Then little by little I started to put in place other habits and routines and this made all the difference. For the first time I was losing weight!
However, I needed to do things very differently. I couldn't just wake up and expect change. I needed to take the time to set up my life so losing weight became a priority and my new hobby.
That all started with the first week.
Like I said, when you're first starting to lose weight it's easy, and totally normal, to jump in head first without really thinking past the Lean cuisines. But if you want get past the first week, and make real sustainable changes, then you must think about the first week differently. You almost have to relearn how to start losing weight.
How to Start Losing Weight: 5 Things to Do During the First Week
Get hot zones under control
The first thing you need to do, before anything else, is get your environment set up to support your weight loss efforts. By environment I mean your home, work, car, and wherever you spend a lot of time. Essentially this means getting your hot zones under control.
Hot zones are moments where you feel extremely overwhelmed and your decisions are more about survival instead of long term goals. For example, dinner's not ready and kids are screaming, so instead of preparing a healthy meal you order a pizza.
Healthy habits, routines, and changes are near impossible to make when you live primarily in the hot zone. Hot zones keep you dependent on old unhealthy habits. So, if you're serious about losing weight, then getting your hot zones under control is one of the first things you need to do.
This is some of the best weight loss advice I can give you. You can learn more about hot zones, and getting them under control, in this post.
Think about this…
If all your weight loss attempts have failed because food wasn't ready, you ran out of time, and/or stress took over for whatever reason then you need to take a hard look at your hot zones and the role they have in your life.
It's one thing for hot zones to happen once in a while but if it's the norm then do this first before trying to make any other changes.
Mentally prepare for change
The first week is tough, I'm not going to lie. Some old habits are hard to break and it takes a lot of mental toughness to break through it.
During my first week I struggled terribly with giving up my nightly pig out session on pretzels. I used to sit on the couch with a huge bag of pretzels and just eat, eat, and eat some more while watching shows.
That first week I gave up the 1000 calorie bag of pretzels I felt like I had legit withdrawal symptoms. I wanted to eat pretzels so bad and had to focus hard on staying away from them. I went up to my room and just fought through the cravings. Today, I don't crave pretzels at all…but that first week was torture.
Same with waking up early to exercise. The first week is tough. You're tired and not used to it yet. However, if you can push through that first week it gets easier.
Taking the time to wrap your brain around the new habits and routines you'll need to put in place will be super helpful as you start to lose weight.
If you need help with changing your mindset then check out this post:
Attract Weight Loss Using Law of Attraction Habits
Create a 2-3 week meal plan
Food makes up 80% of your weight loss so eating the right foods is very important. I lost my first 30lbs simply by changing the way I ate. Exercise is important but when it comes to losing weight food matters more.
So, after you have hot zones under control and your mind is in the right place, it's time to start working on meal plans. A meal plan serves as your "food road map". It tells you what to eat, how much to eat, and possibly even when to eat. Taking the time to put together a weekly meal plan is the first step in creating healthy food habits.
To be honest, meal planning is one of my least favorite weight loss strategies. Which is the reason I recommend creating 2-3 meal plans at a time. This way, you only need to think about meal planning once every couple weeks or so. In my experience, anytime you can plan in advance is a good thing.
I also suggest saving meal plans to be used in the future. You can easily save them as a document in Google drive or if you're a Plan to Eat member you can save all meal plans and grocery lists to be used again. Here's a 1-month free trial to Plan to Eat if you'd like to give it a test run.
Of course, if you simply want someone to do all the meal planning for you then there are many options to choose from.
Emeals is a weekly meal planning service that sends a meal plan to your email every week. There are so many weight loss meal plans to choose from and it only costs $58 a year. I've had a subscription since 2012 and currently subscribe to the Eating Well meal plan but I've also tried the clean eating, low-carb, Gluten-free, Mediterranean, and a few others. This is just dinners but you can also subscribe to a breakfast and lunch plan too. If you just want a healthy meal plan sent to you every week then this would be a great option. Get a 14-day free trial to Emeal here.
Maybe you just want healthy meals delivered. You don't want to deal with meal planning or grocery shopping. Again, you have options. You can subscribe to Sun Basket or Green Chef which are meal kit delivery services that deliver healthy recipes, and all the ingredients, to your door for you to cook at home. If you're interested in a meal kit delivery service then read my review on which meal kit delivery services are the healthiest.
Regardless of whether you create your own meal plan, have it email to you, or have dinners delivered to your door the point is to have a meal plan. A meal plan is essential as you start losing weight and throughout your entire journey.
Get all your exercise gear together
During the first week, your focus is going to be on creating the exercise habit. This means waking up early to exercise or going to the gym after work. You shouldn't be worried about training for a Iron Man marathon. It's all about habit! Remember motivation gets you started but habits keeps you going.
To make sure you're able to stick with an exercise habit I recommend getting all your exercise gear together that first week. This means purchasing new sneakers and exercise clothes – that's if you need it. Also, getting your music ready by putting together playlists and getting a pair of wireless earbuds.
Last, have exercise routines put together. It doesn't need to be anything crazy but you should have an idea of what you're going to do so you don't show up and stare at the treadmill with zero clue.
The goal is to wake up and get right into exercise. You don't want to worry about finding clothes, looking for earbuds, or attempting to exercise in beat up sneakers. Take that first week to get everything ready!
Another tip is to have all your exercise gear ready the night before. So, whether you exercise in the morning or after work it's ready to go.
Review schedule and block out time for grocery shopping, meal prep, and exercise.
Not having time is the #1 excuse people give up on any lifestyle change. Here's the thing, there's never going to be enough time so it's UP TO YOU to make changing your lifestyle a priority. One of my favorite quotes is if it's a priority then you'll make the time, it's it not you'll make an excuse.
Take time that first week to review your schedule and make time for everything that needs to be a priority. So, this means time to create meal plans, grocery shop, meal prep, and exercise. ←-those things needs to happen!
Also, you need to make time to keep your hot zones under control. This means putting in place routines that keep chaos to a minimum. So, block time to do laundry, weekly cleaning chores, and other morning and night routines to keep life running smoothly.
Of course, many of these things are going to take longer than a week to make habit but the point is to take that first week to get ready! This time around you're going to do things differently.
Like I said, you're going to relearn how to start losing weight. Don't just jump in without a plan. Take that first week to really set your environment up for success. In the end, this is will make the difference between "another failed" weight loss attempt and finally creating long-term healthy habits!