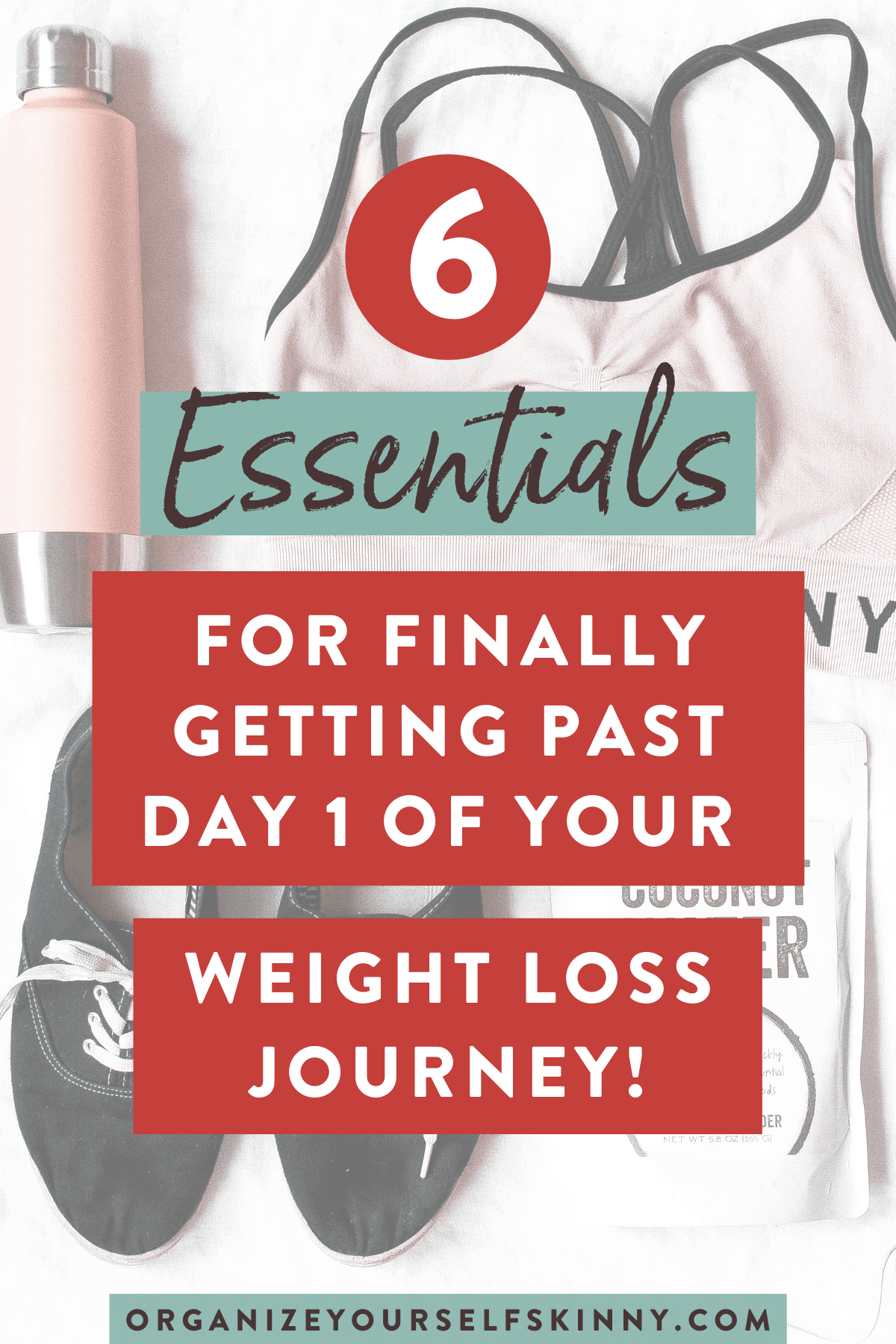 This afternoon, as I was reading through blog comments, one specifically caught my attention. A reader wrote "Today is day 1. Been at day 1 numerous times throughout my life" Sound familiar?
I completely related to this comment and I am sure many of you do as well. I lost count of the number of times I would wake up each morning thinking "this is the day it is all going to change" only to go back to old habits by the time lunch rolled around. I remember feeling so defeated. **sigh**
Now looking back I realize I was doing it all wrong. Sure having the right mindset is important – even if only for a few hours. However, it takes much more than that to keep us moving forward past that first day.
Here are some tips I pulled from my own experience that I hope helps you continue past the first day of your weight loss journey.
1. Make sure your weight loss goals are realistic
If you started today with the goal of losing 50 pounds by summer and you were going to do this by working out at 4:30am everyday and only eating organic chicken and kale smoothies then I hate to say it but you are probably setting yourself up for failure. Yes I know you are excited about getting healthy, losing weight, and slipping into a pair of skinny jeans (I know I was) but the pounds are not going melt off overnight. In fact, you may not see a change for a few weeks or longer. Changing your lifestyle and eating habits takes time and a lot of patience.
I am betting, if you are anything like me, your extra weight came on over long periods of time. Therefore, it will take time for the weight to come off. Don't get me wrong. Keep you goal weight visible but don't set yourself up for failure by trying to lose to much to soon.
2. Get your systems in order and create a plan BEFORE the first day
I wrote about getting your systems in order last month. This is really important when you are looking to make permanent positive changes to your lifestyle. We are all creatures of habit and when the going gets tough we will always go back to what makes us feel comfortable even if that is aflredo with a side of cheese curls (don't judge). Having your systems and plan in place gives you the structure and guidance to move forward each day. Quite simply it helps you know what to do, what to eat, when to eat, etc.
Take the time before your first day to create a plan. If you don't have your systems and plan in place then stop what you are doing right now and do this. You will thank me later.
3. Don't put an end date on your weight loss
It is only natural to say I want to lose "this amount" by "this date" – that is how we are programmed. "The two week butt blast diet" or "30 day shred" or "lose 2 dress sizes in 2 weeks" is all we see in the media so it is no wonder we immediately feel like we need to put an end date on our weight loss. Personally, I think this puts way to much pressure on the process. What if you don't meet your goal by that date? Does that mean you are a failure and you should give up? Heck no! Changing your lifestyle is a lifelong process – it is never over. Give yourself the freedom to move through that process at your own pace. Don't rush. I have said a million times, slow and steady wins the weight loss race.
4. Don't try to change your entire life in one day
Like I said changing your lifestyle is a process that takes time. More than likely you have developed a lot of habits that need to be replaced. It is unrealistic to think they can or will be changed overnight. Each day do what you can and of course do your best. Over time by making little changes you will change your life – I promise.
5. Focus on habits not weight
I know we just listed out our weight so for me to say don't focus on weight sounds a little hypocritical. The thing is staring at the scale is not going to help us lose weight. So while getting on the scale helps to measure progress creating healthy habits is what moves that progress forward. As I said earlier don't try to change all your habits at once or to soon. Pick 1 or 2 at time, implement them into your lifestyle, then move on to others. The goal is for these habits to become a part of your natural routine. To give you an example, I really need to make fitness a habit. Right now, I am having a very difficult time getting on my treadmill in the morning. I would rather sit on the couch, drink coffee, and hang out with hubs. While I love my morning time with Matt this is a habit I need to change. Morning is my only time to exercise so if don't do it then I won't work out at all. I know replacing coffee hour with power walking will have a huge positive impact on my weight loss goals. Therefore, it is about the habits not the weight.
6. Create a daily to do list for your new lifestyle
I am slightly obsessed with to do lists. As a busy working mom if I did not have them I would be spinning in circles all day not knowing what to do first. I found when I write things out they are more likely to happen and the same concept goes with my healthy lifestyle  Of course, I don't really write it down I use an app for that 🙂 You can break all your list by categories then add reminders. So if I need to remember to take chicken out I would just put that in my errands app, set a due date and reminder, then whola it is out of my head and will not be forgotten. Wow I just realized I wrote about setting a reminder to take chicken out. Oh the life of mom. I swear I used to be cool.
Don't get discourage if the first day, week, or month did not go as planned. I don't mean to sound like a broken record but again changing your lifestyle and habits takes time. Start by making small changes and overtime all of those small changes will add up to big results.
How was your first day? What other tips do you have?