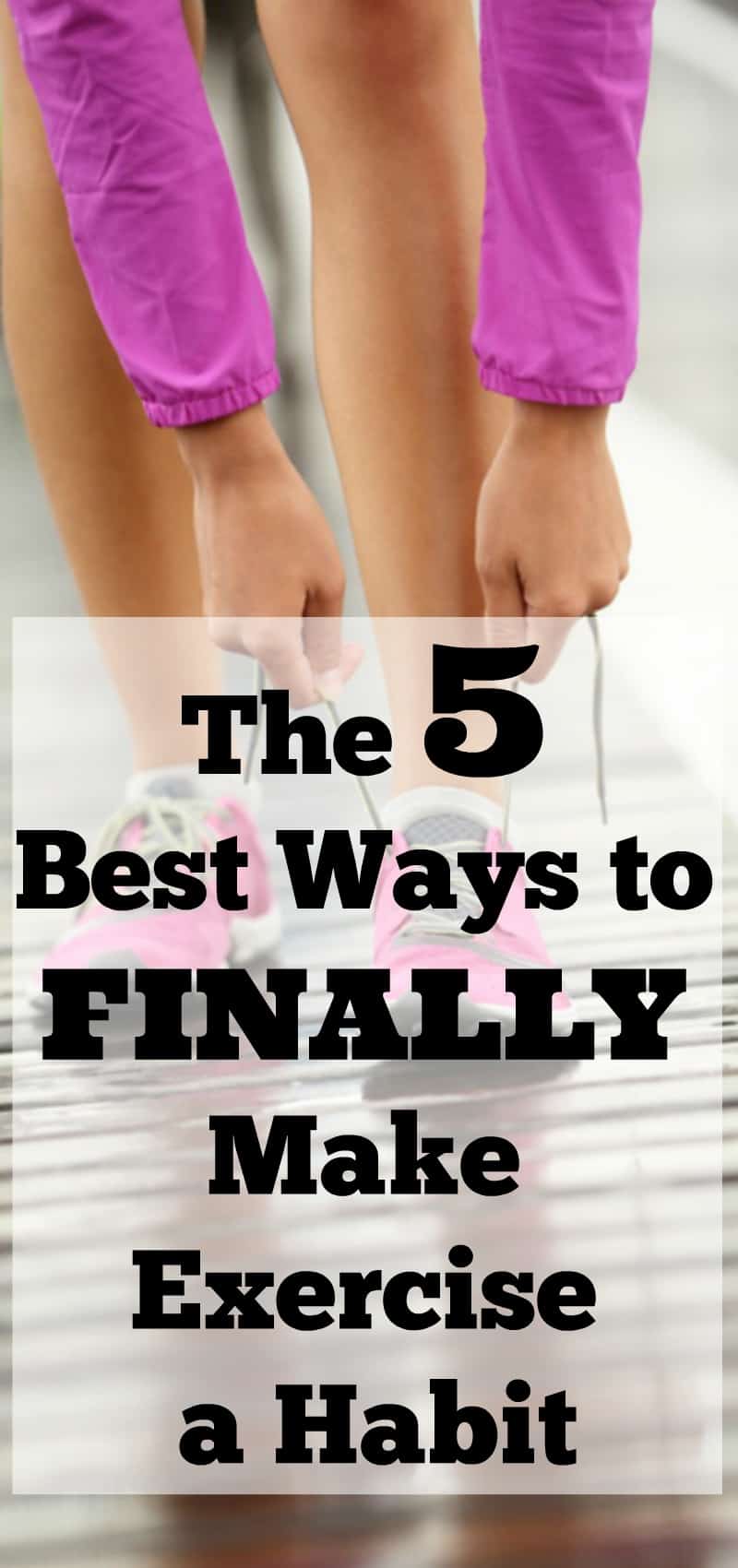 Up until recently, I was not exercising on a regular basis. It's not that I doubted the importance of exercise but for some reason, I just could not make it a habit. This might seem surprising since over the last two years I have lost 30+ pounds and write about it all the time on Organize Yourself Skinny. However, a large majority of that weight loss resulted from changing my eating habits. So when it comes to nutrition, calories, planning my meals, and preparing my foods ahead of time I like to think I know what I am doing.
While changing my eating habits played a big part in my weight loss, and brought me very close to my goals, I have quickly learned that to reach my weight loss goals exercise is a must. This became clear about 2 months ago when I was struggling to lose the rest of my weight. I also did not like the way my body looked. Sure I was getting "skinnier" but I was still flabby. Basically, I was a skinny flabby person. I did not like it and knew the only way to fixed that was with good old fashion exercise.
Like I said, it's not that I did not believe in the power of exercise, I just struggled with finding a way to sustain a weekly exercise schedule. Well that is until now. After 2 years (probably more) of trying to fit exercise into my lifestyle I finally feel like I made it a habit. I have been working out (running, power-walking, and light weights) 3-5 times a week consistently since the last week in February. That is just over 2 months. I have dropped 7 pounds since then and can aslo see a huge difference in the way my body looks and clothes fit. Overall, I feel amazing!
Want to know how I did it (and continue to do it)? There is nothing ground breaking here. Just simple techniques I used to get off my couch and onto the treadmill. Remember what works for me may not work for you and vice versa. Take these tips and adapted them to fit your needs.
I carve out time in the morning
I have to exercise in the morning. I have tried many times to exercise after work but something always got in the way or I was too tired. When I exercise in the morning I get it out of the way and do not have to worry about it again till the next morning. I know it is hard to wake up and get moving in the morning – and you might have to push yourself the first week or two – but it will get easier.
I also found that it helps to wake up, have a cup of coffee, then get on the treadmill. This gives me time to get conscious. In the past, when I would wake up and get on the treadmill immediately I would never get in a hog sweating work out because I was barely awake. However, I can't sit around too long or I will never get up. Also, I need to start my work out before my husband gets up or I will be enticed to sit on the couch with him, watch TV, and chat over coffee. So, know your excuse triggers and watch out for them.
I keep it simple
I love simplicity in all areas of my life and exercise is no different. For me to sustain an exercise routine it needed to fit into my life naturally. I have no problem pushing myself but I did not want to force exercise into my lifestyle. Therefore, I knew joining a gym, participating in a hard core exercise routine, exercising after work, or doing anything that took longer than 45 minutes would not work for me. Waking up, getting my exercise clothes on, having a cup of coffee, putting in my ear buds, running for 45 minutes, and using resistance bands in the comfort of my own home does work for me. That is what I do. Simple.
I plan ahead
Just like eating healthy is easier with food made ahead of time; it is much easier to exercise when you have your clothes, sneakers, and whatever else ready in advance. If I have to wake up and look for all those things most likely I will not work out. Everything I need for exercising I get ready the night before and have next to my bed. So when I wake up I am good to go.
I exercise every day
When you are beginning to form new habits (and break old ones) I find it best to do that habit every day until it becomes natural. Basically, you are working to retrain your brain to think differently. If you are used to getting up every morning, grabbing your coffee, and watching the today show you need to train yourself to now turn off the tv and exercise instead. That takes time and numerous attempts. Every morning between 6:30am – 7:30am is my exercise hour. No matter if I am running, walking, doing crunches, or lounges I use that time for exercise only. When I try to mix that time up with other things like blogging, making lunches, or whatever else I always get off track.
I like exercise results much better than couch results
There is no greater motivator than seeing the results of your hard work. Period. When you start exercising on a regular basis and combine that with healthy eating you will see results. They are not going to happen overnight and may even take weeks to see any fruits of your labor. But when you do it is AWESOME! Truly amazing! I could not believe it the day I noticed definition starting to take place in my arms, stomach, and legs. Or last weekend when I bought my first pair of size 4 pants. I never thought that could happen. In reality I just never kept up with exercising to see it happen. But now that I am seeing the results of my hard work that is all I need to keep me going and motivated.
What are your tips to making exercise a habit? What works and doesn't work for you?