Rich fudgy brownies made with white-whole wheat flour and lightened up with Greek yogurt. This is the perfect treat when you're in the mood for something sweet.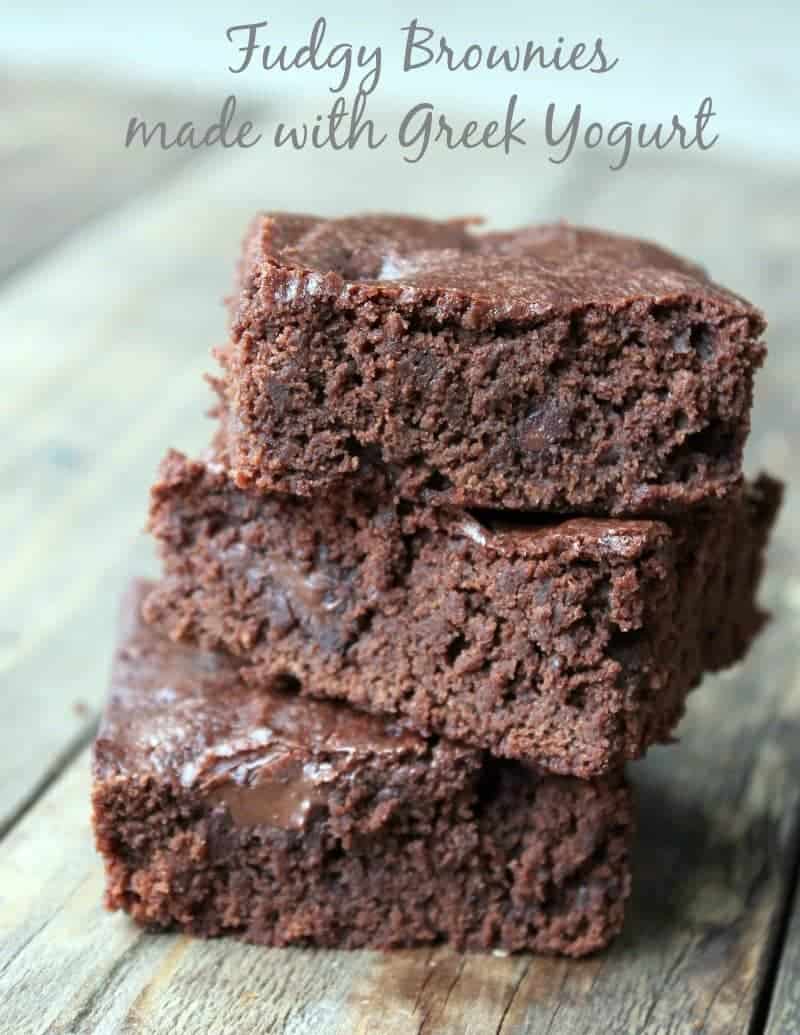 I would like to say I could go the rest of my life without a rich chocolate brownie in it…but we all know that wouldn't be true. Plus, why would I want to? Life is better with chocolate in it, we all know that. I'd like to think I've found the perfect balance between running and eating chocolate. Well kinda. I'm fully aware that my chocolate consumption could quickly outbalance my running if I let it.
While a brownie is a brownie is a brownie I do think there are some brownie recipes that are "healthier" than others. Also, keep in mind, making your own brownies will always be better than store bought simply because YOU control the ingredients.
I've been making this Fudgy Brownie recipe for a while now. It's inspired from this one I made a couple years ago. I've tinkered around with the ingredients and ended up with a basic brownie recipe that's fudgy but not too pudgy 🙂 ha!
It's a one bowl recipe and super easy to make.
I started with butter, brown sugar, and white sugar. I reduced the butter to a 1/4 cup and substituted vanilla Greek yogurt for the rest. I reduced the sugar as much as I could without compromising flavor and texture. I know many of you like sugar substitutes or using applesauce in your sweet treats but I much prefer real butter and sugar. I just try to use less. I've used coconut oil in this recipe with success so that is another healthy option.
I mixed the butter and sugar together using a hand mixer but you can use a fork or spoon too.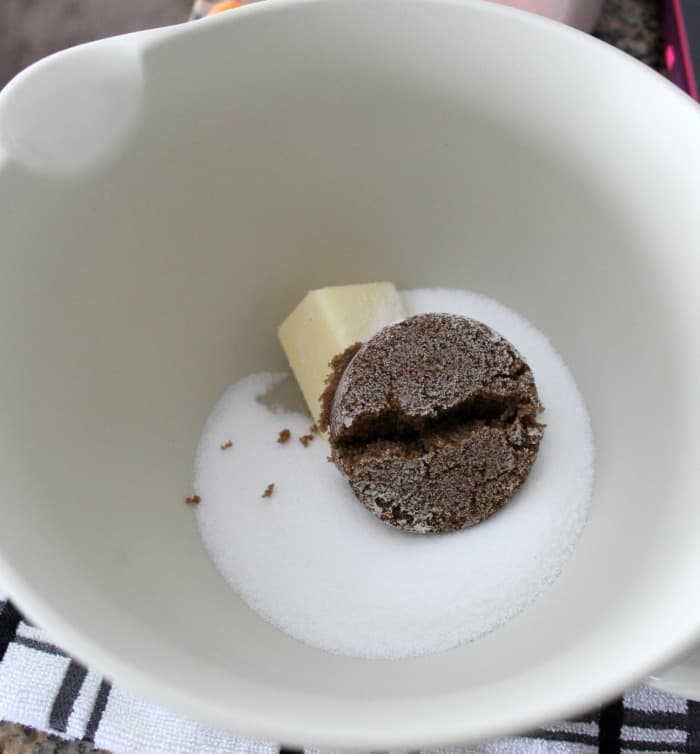 Then I mixed in the eggs, greek yogurt, and pure vanilla extract. Again, I used my hand mixer for this.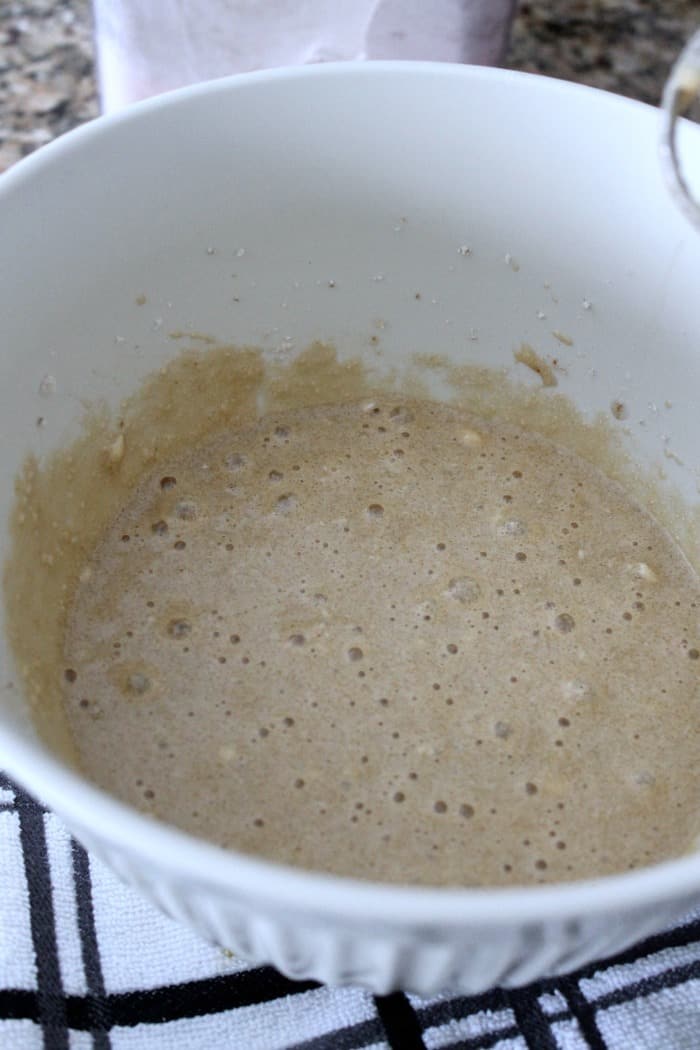 Then I stirred in cocoa powder. Stir this up until it gets dark and fudgy.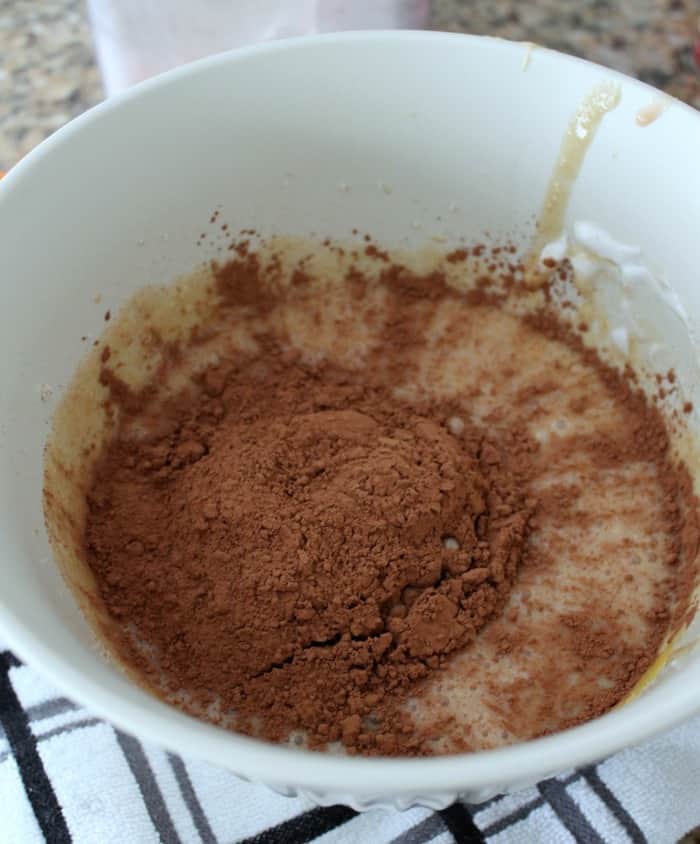 Then add the flour, salt, and baking powder to the bowl and stir it all together until it's combined.
Add in the chocolate chips. I used dark chocolate chips but you can use milk chocolate or any kind you like. Peanut butter chips make this brownie sing.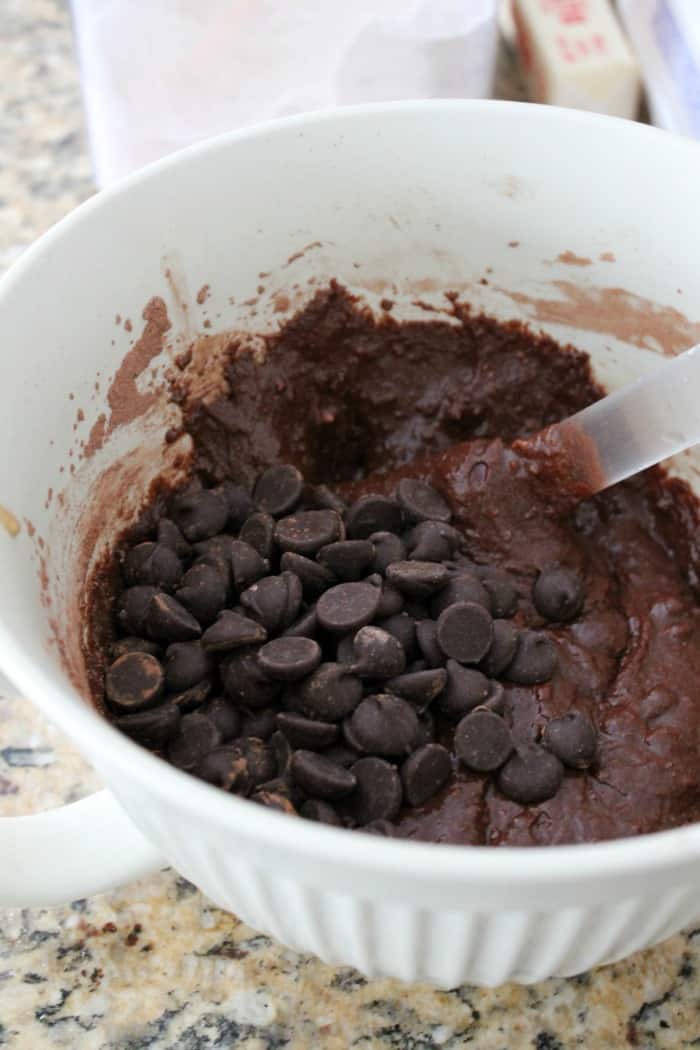 Give it a couple more stirs and then it's ready for the pan. I used this Wilton 9-inch baking pan for the brownies. I bought this pan a year or so ago and it's one of my favorites. Makes perfect brownies every time.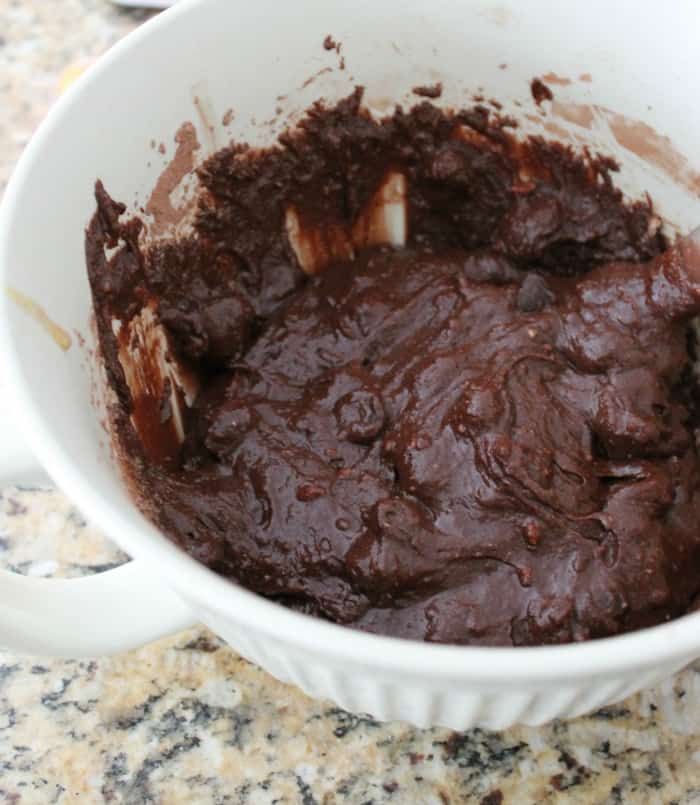 Bake for 22 -23 minutes in a 350 degree oven. The key to fudgy moist rich brownies is to under-bake them slightly. Mine were great at 22 minutes. FYI I have an electric oven just in case that matters.
Yum!! I tried my best cut perfect foodie squares…ha!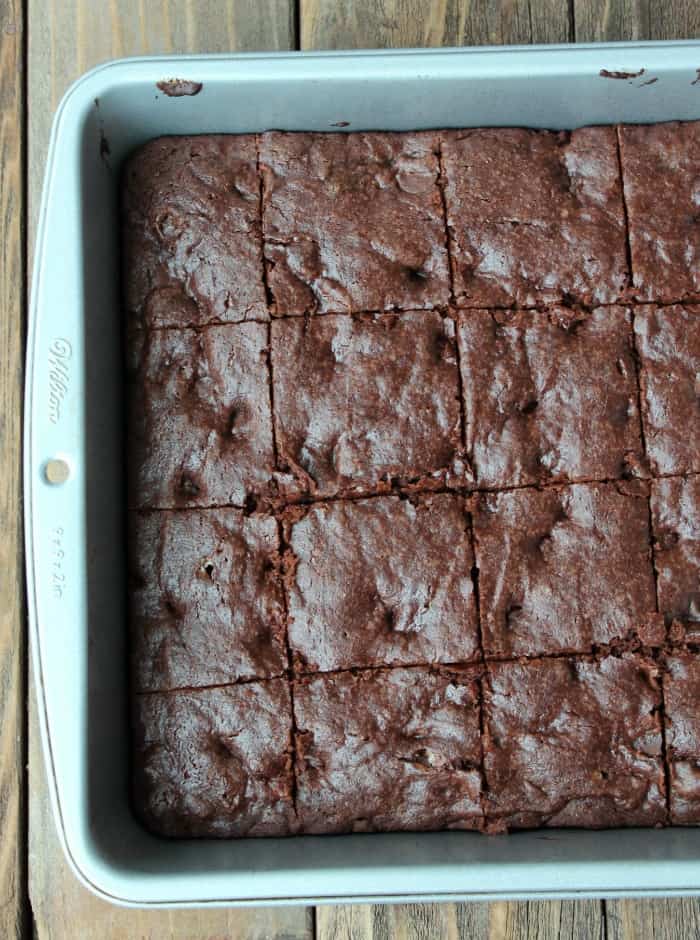 This recipe makes 16 brownies. Don't worry they're not itty bitty squares. Each one is a good portion. My advice is to put these in the freezer after they cool. Nothing ruins an eating plan like brownies sitting on the counter staring at you begging to be consumed. Putting the brownies in the freezer gets them out of sight and then it more like "Oh yeah we have brownies" when a craving hits. Trust me, it works.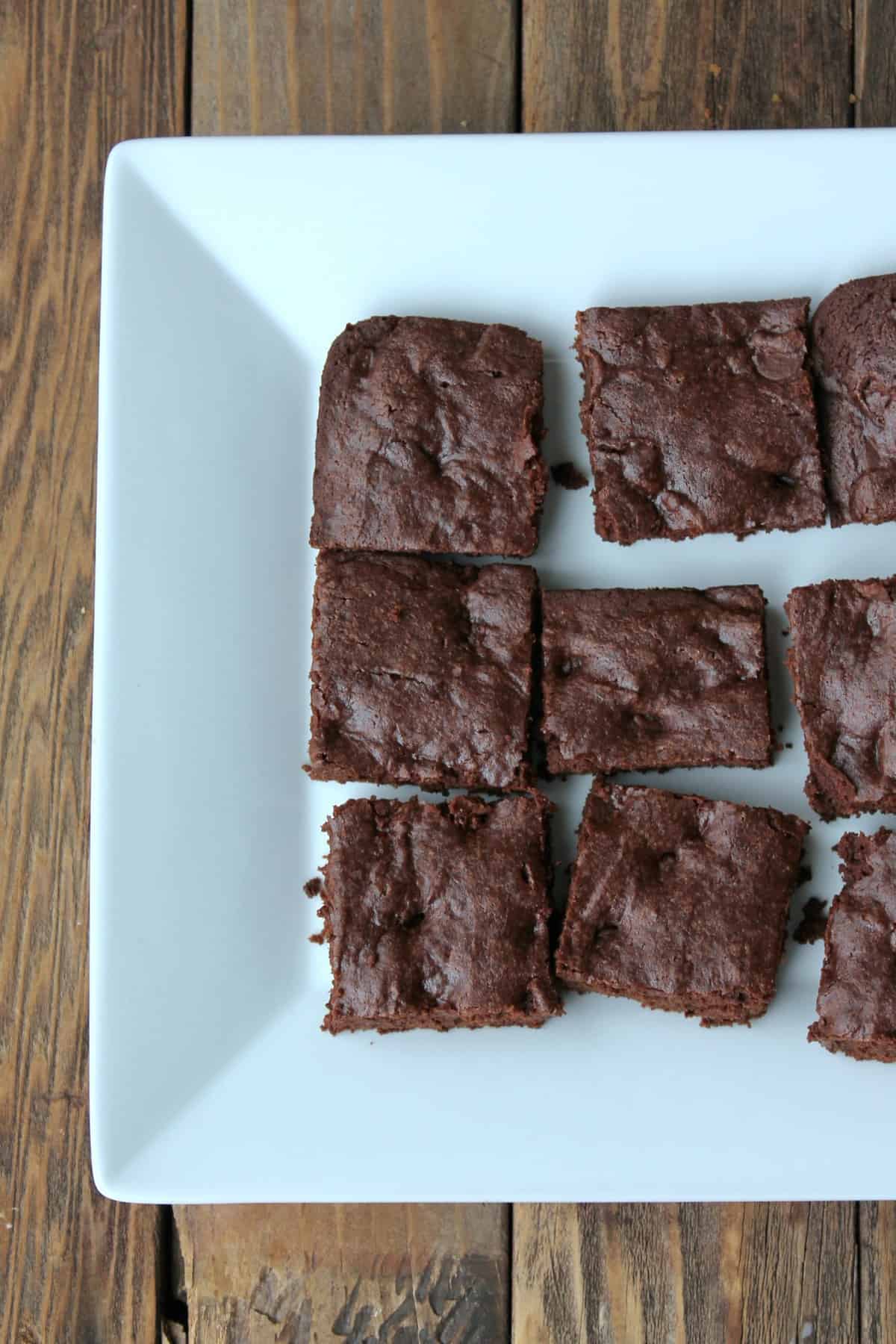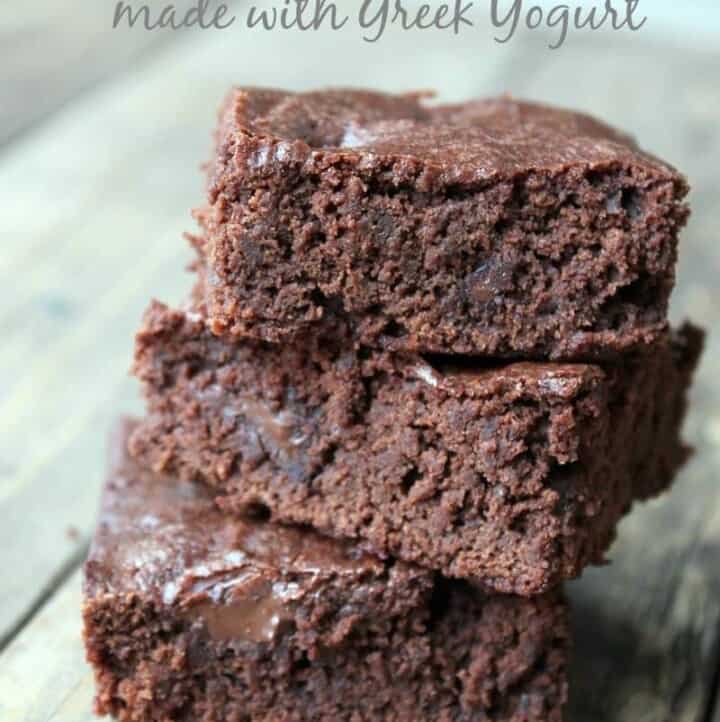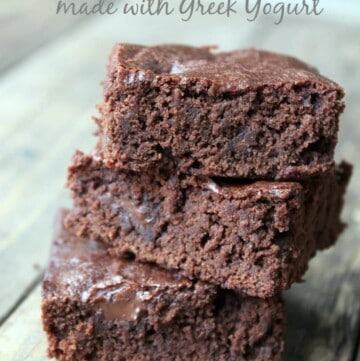 Ingredients
1/4

cup

softened unsalted butter

1

cup

white granulated sugar

1/4

cup

lightly packed dark brown sugar

1/4

cup

vanilla greek yogurt

2

large eggs

1

teaspoon

pure vanilla extract

1/2

cup

unsweetened cocoa powder

3/4

cup

white-whole wheat flour

1/4

teaspoon

salt

1/2

teaspoon

baking powder

1/2

cup

chocolate chips

dark or milk chocolate
Instructions
Preheat oven to 350 degrees.

In a large bowl mix together, using a hand mixer or whisk, the butter and sugar until it's combined.

Mix in the greek yogurt, eggs, and vanilla extract until combined.

Stir in the cocoa powder until dark and chocolatey.

Slowly stir in the flour, salt, and baking powder just until the the batter is moist.

Slowly stir in the chocolate chips.

Pour batter into a 9 inch baking pan spray with cooking spray.

Bake for 22-23 minutes. Do not over baked.

Let cool in the pan. Serve.
Notes
Sugars: 19
Make-ahead tips
These brownies can be made ahead of time and frozen for up to 3 months. Store flat in a freezer bag.
Nutrition
Serving:
1
g
|
Calories:
150
kcal
|
Carbohydrates:
25
g
|
Protein:
3
g
|
Fat:
6
g
|
Saturated Fat:
4
g
|
Fiber:
2
g