If you are looking for an simple dinner recipe, that looks and taste like you have been cooking all day, this easy beef stroganoff recipe is the one for you. It's delicious, rich, and has a perfect balance of tender steak, meaty mushrooms, and comforting pasta. Yum yum yum!
This easy Beef Stroganoff recipe is adapted from the Weight Watchers One Pot Cookbook. If you haven't notice this has been my cookbook of choice this week. A couple days ago I made a baked pasta from it and absolutely loved it.
When I make this easy beef Stroganoff recipe I either use top sirloin or filet mignon. Now you may be thinking steak is too expensive. When eaten alone, I agree, it is. However, when you use it as part of a recipe like this easy beef stroganoff stroganoff you're able to get 4 servings, making it much more affordable. I even purchased organic grass-fed beef because I knew I could stretch my dollars using it in this recipe. Typically, I do not buy steak at all unless it is part of a recipe.
I made this easy Beef Stroganoff the night we ate it. Usually, I would prep it over the weekend but ran out of time. But, like I said earlier it took me about 30 minutes or so to get this meal on the table. You certainly could prep it ahead of time a couple ways. First, you could cut up the meat ahead of time. That would save you about 5 minutes and a mess.
You could also cut up the onion and cook the pasta ahead of time to. That would save you another 5-10 minutes. Or, if you want, you could make this entire easy beef stroganoff ahead of time and keep it in the refrigerator or freezer until you're ready to eat. Then just warm it up on the stove. I would not freeze the pasta. Pasta is easy enough to make the night of. Unless you want to bring it for lunch then go ahead and make it ahead of time.
This is a great recipe and I highly recommend adding it to your weekly easy dinner list. Your family will love it and will feel like they are getting some kind of fancy dinner in the middle of the week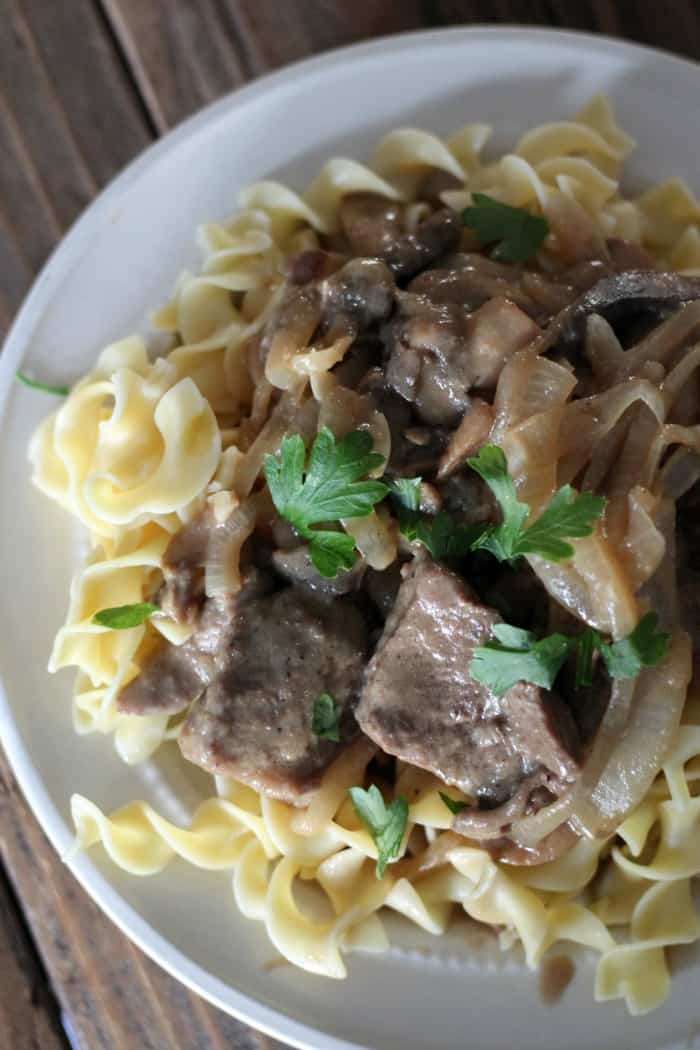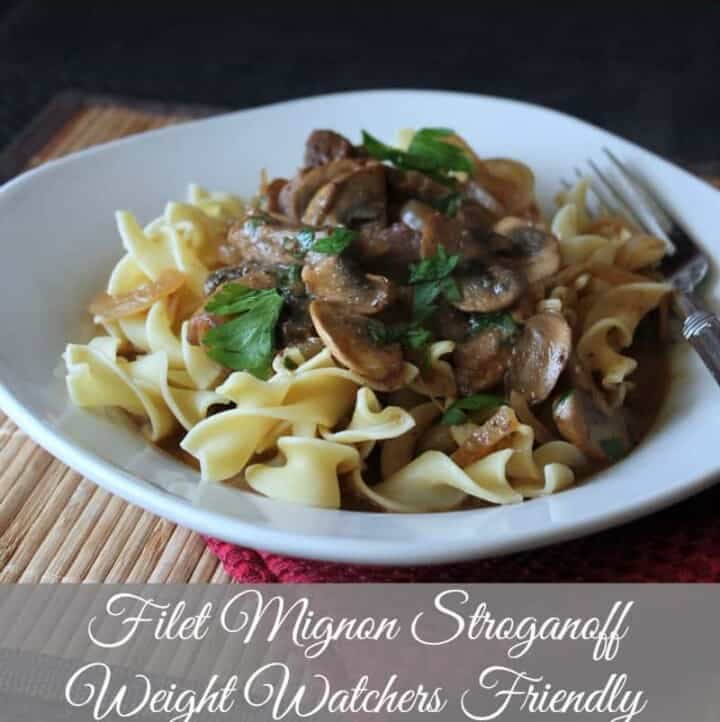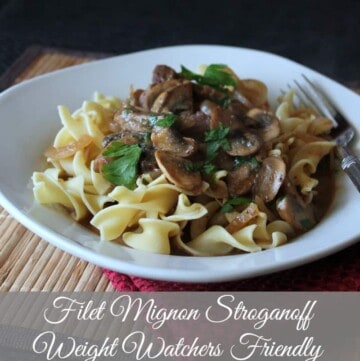 Ingredients
4

tablespoons

all purpose flour

divided

1/4

teaspoon

salt

1/8

teaspoon

ground pepper

2

tablespoons

olive oil

1

lb

top sirloin or filet mignon

thinly sliced

1

medium yellow onion

halved and thinly sliced

3

garlic cloves. chopped

2

8-ounce packages sliced mushrooms

1

cup

beef broth plus extra to deglaze pan

2

teaspoons

Worcestershire sauce

2

teaspoons

dijon mustard

1/4

cup

sour cream

salt and pepper to taste

2

cups

cooked egg noodles
Instructions
In a medium bowl mix together 2 tablespoons flour, 1/4 teaspoon of salt, and ground pepper. Toss the beef in the flour.

Heat 1 tablespoon olive oil in a large pan over medium heat. Add meat and cook until browned on both sides, about 2-3 minutes each. Remove meat from pan and set aside.

Deglaze the pan with a tablespoon or so of beef broth then heat 1 tablespoon of olive oil and add onions and garlic. Cook until softened, 5-7 minutes. Set onions and garlic aside.

Deglaze pan again with a little beef broth then add mushrooms, cook until softened, 5-7 minutes. Season with salt and pepper.

In a small bowl whisk together beef broth, Worcestershire sauce, and 2 tablespoons flour.

Add beef broth in with the mushrooms and cook until it is slightly reduced, about 5 – 7 minutes.

Stir in cooked beef, onions, garlic, and dijon mustard. Cook until warmed through, 2-3 minutes.

Remove from heat and stir in sour cream. Taste for salt and pepper.

Serve over hot pasta.
Nutrition
Serving:
1
g
|
Calories:
372
kcal
|
Carbohydrates:
28
g
|
Protein:
30
g
|
Fat:
13
g
|
Fiber:
3
g
|
Sugar:
9
g