Thank you Smart Balance Original Buttery Spread for partnering with me today on this scrumptious "get in my belly" Double Chocolate and Cherry Breakfast Cookie. This cookie is rich, fudgy, and filled with all kinds of goodness to get you through the morning. You can learn more about Smart Balance Original Buttery Spread, and find tons of new recipes, on their website.
---
A chocolate cookie filled with more chocolate and dried cherries that you can eat for breakfast? Yup! The chocolate gods are shining down today and they like what they see!
This is not a normal cookie. It's a breakfast cookie. Big difference. Basically, a breakfast cookie is filled with wholesome ingredients like whole-wheat flour, wheat germ, and rolled oats. You can also add nuts, dried fruit, flax seed, quinoa, and whatever else you like. It's a hearty cookie. Most "normal" dessert cookies are filled with white flour, tons of sugar, and aren't really concerned with the "eat me for breakfast" factor. But these are.
Before I start gushing about this breakfast cookie let me first talk about a little experiment I had to do. I was asked to make two of the same recipe. One using Smart Balance Original Buttery Spread and the other using I Can't Believe It's Not Butter! Orginal Spread. Then I needed to compare the difference. First, let me say that I've used both buttery spreads before but never in a cookie recipe. Mostly, I used it on popcorn, to butter my toast, or sauté vegetables in. However, I wanted to get creative and see what these buttery spreads could really do.
I made the first batch using I Can't Believe It's Not Butter! Original Spread. I thought it tasted good and worked nicely in the breakfast cookie recipe. There was a little bit of an off taste but nothing that the double chocolate couldn't mask. The breakfast cookies baked nicely. So overall, I Can't Believe It's Not Butter! Original Spread did a good job.
With that batch of breakfast cookies under my belt I was expecting the same type of results using Smart Balance Original Buttery Spread. Ummmm. No.
The results were 10x better. Probably more. I was honestly blown away by the breakfast cookie created using Smart Balance Original Buttery Spread. I was not expecting such a rich, fudge-like, and absolutely delicious breakfast cookie. Not to mention one that baked perfectly – it plumped up very nicely. The thought of eating one for breakfast makes me a happy woman – and my kids will be naming me mom of the year FOR SURE.
Buttery spreads have come a long way and I think they're a great option for someone who wants that buttery taste but without the butter. Smart Balance Original Buttery Spread is dairy-free and Non-GMO. It's a great alternative to butter. Not only can you butter your bread but also you can prepare delicious cookies, brownies, or cakes using Smart Balance Original Buttery Spread. I like having options and I think this is a great option if you can't or don't want to eat dairy.
Now let's gush over this recipe.
It's a pretty simple recipe and is versatile. If you want to add another dried fruit no problem. Nuts? Sure, why not? Get creative.
I started by mixing together the eggs, sugars, and pure vanilla extract.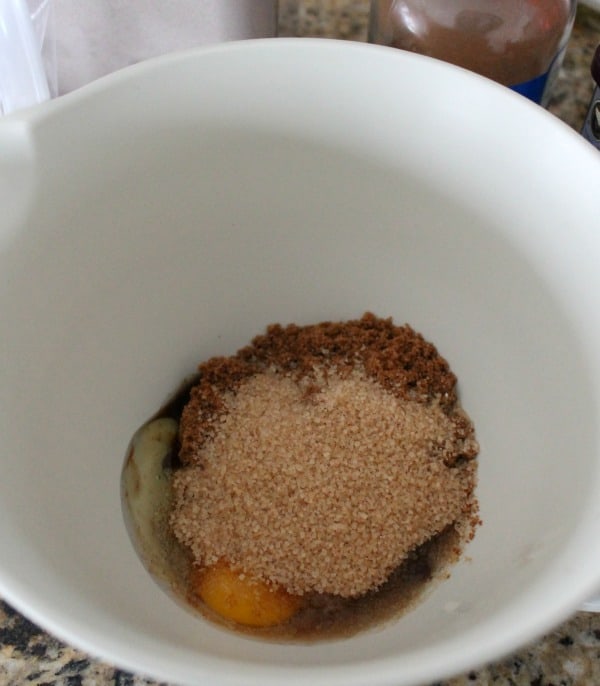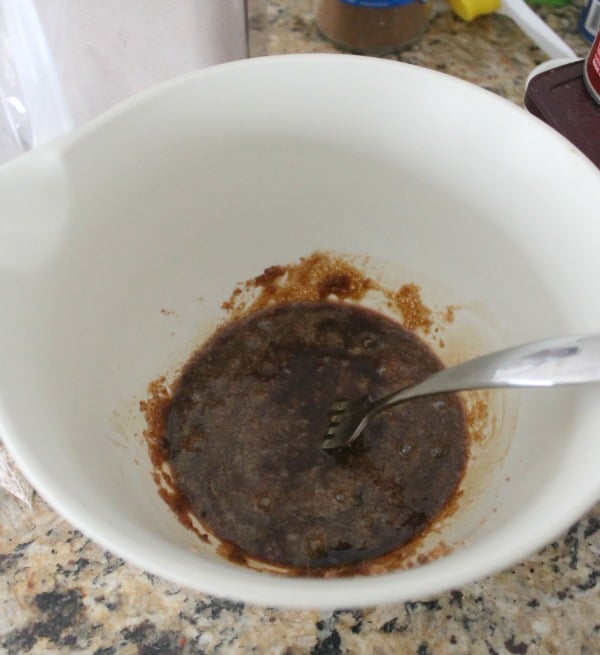 Then I melted some Smart Balance Original Buttery Spread and stirred it into the sugar mixture. At this time I added the milk too. I use coconut milk but you can use whatever you want.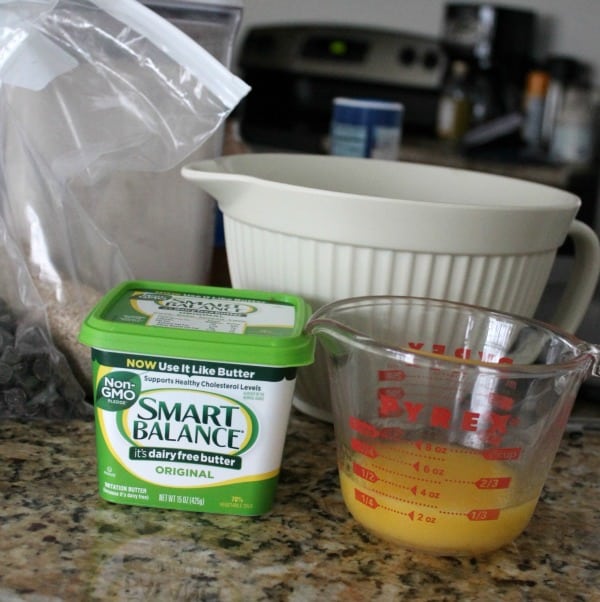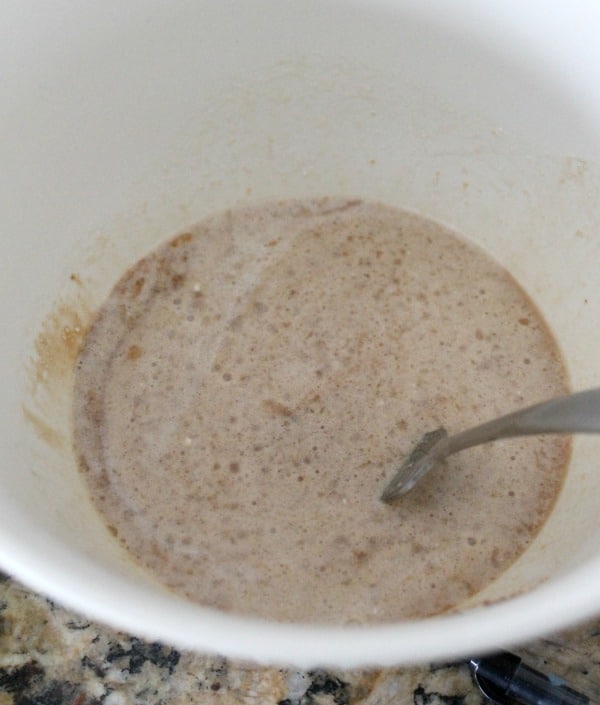 Now I added the dry ingredients. I guess you can consider this a "one bowl" recipe because I only used one bowl. I used white whole wheat flower, wheat germ, and 1-minute oats. This is where I added the baking powder, cocoa powder, and salt too.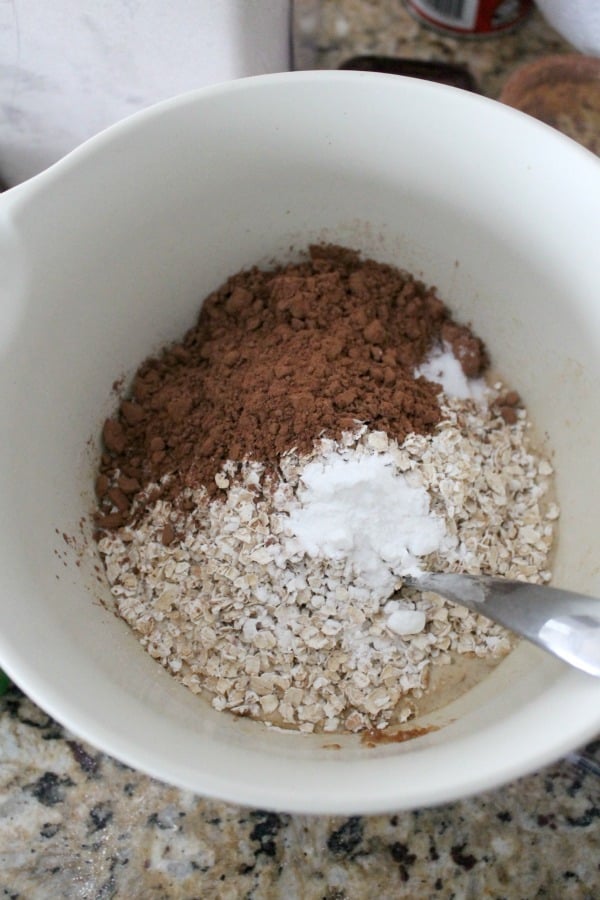 Then I stirred it up. This batter is on the wet side. No worries because it bakes up nicely.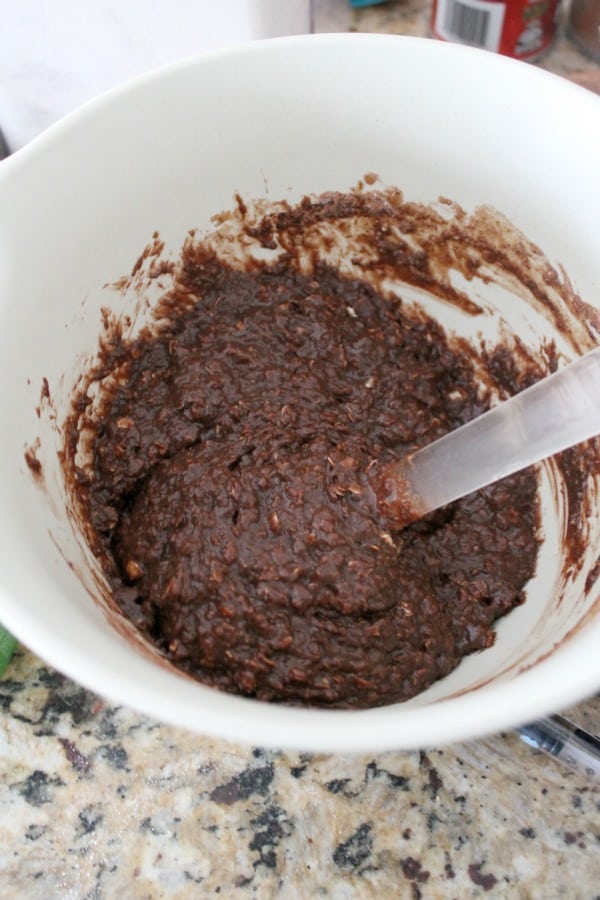 Last, I stirred in the chocolate chips and dried cherries. Mmmm mmm MMMM.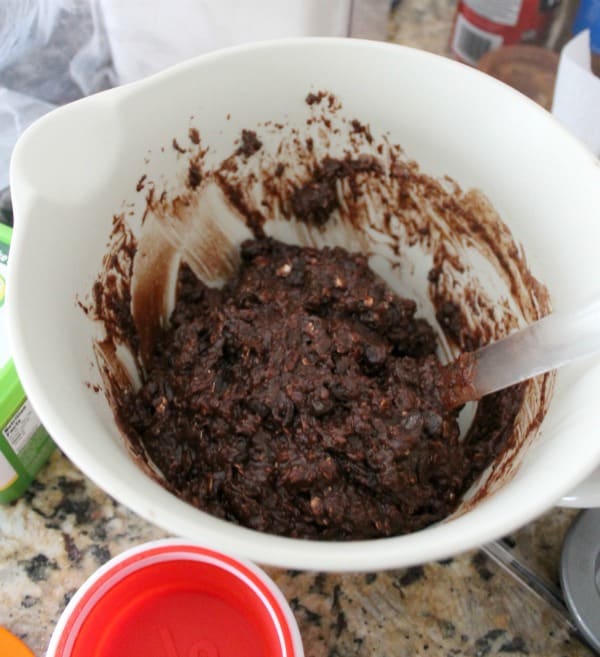 After all the ingredients were mixed together I scooped out 12 portions. You could probably get more if you make the cookies smaller but this is a good size for a breakfast cookie. Again, it's a wet batter so it will be a little sticky when you put it on the baking pan. After you scoop it onto the pan form it slightly and give it a little pat down. This picture was before they went into the oven.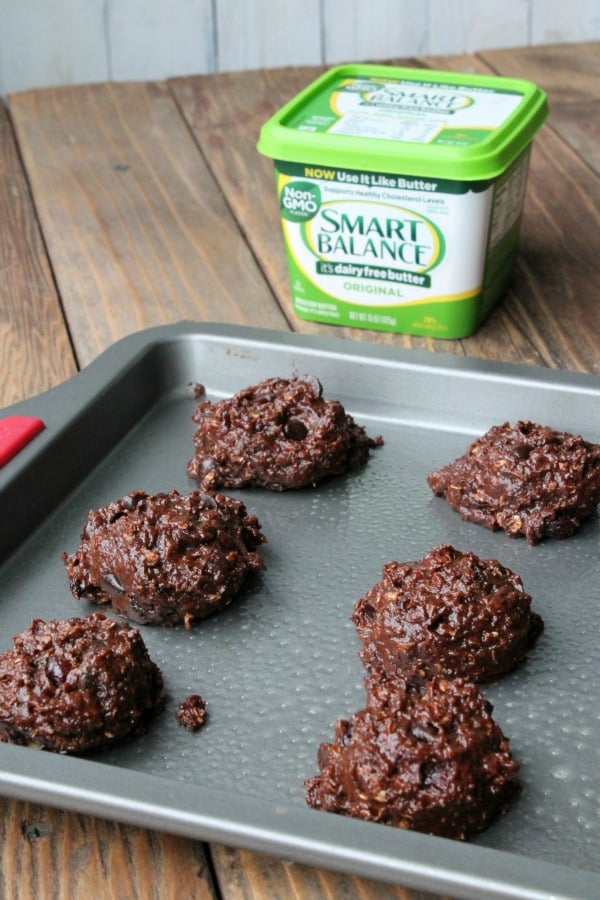 Let the baking begin. I baked the cookies at 350 degrees for about 12-13 minutes. Do not over bake these cookies. You want them to be slightly under cooked. This gives them that dense fudgey texture and flavor. Also, these cookies taste better the next day so definitely plan to makes these ahead of time.
Here are the cookies straight out of the oven. Obviously, I didn't form a couple like I should but for the most part these cookies came out fantastic.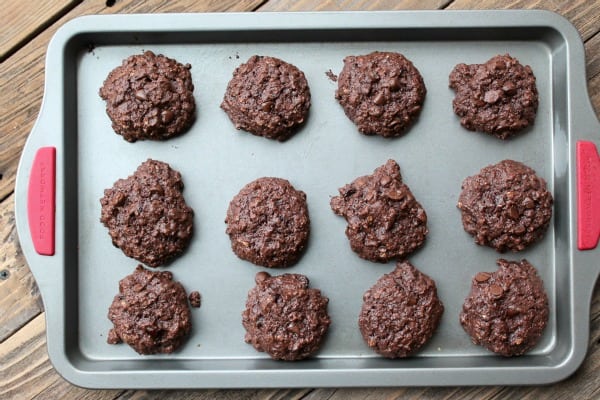 Here's a close up. Come to mama!!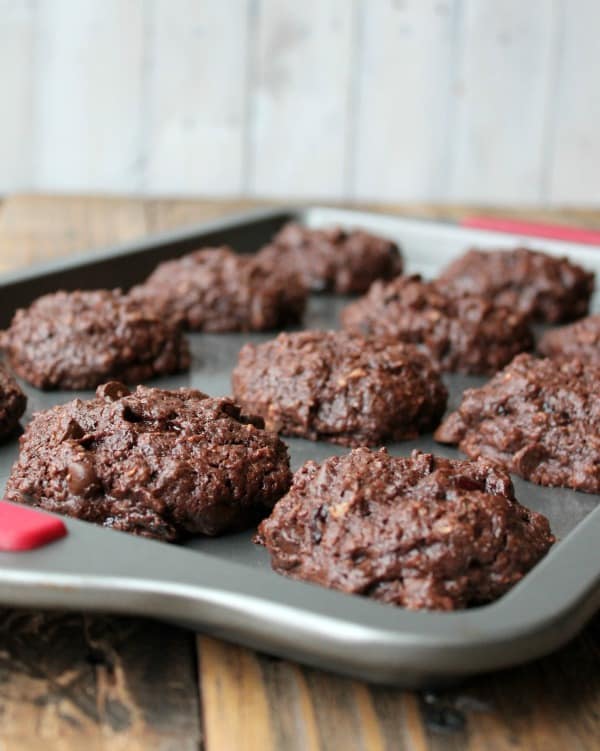 And another close up.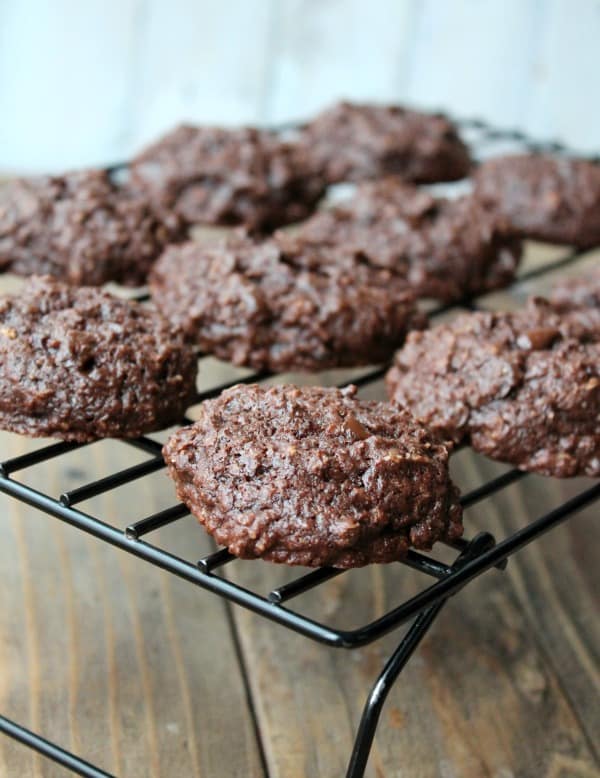 You'll love having a batch of these cookies during the week. Grab one on the way to work to enjoy with a small green smoothie or keep a couple in your desk for a sweet afternoon snack.

Double Chocolate and Cherry Breakfast Cookie
Author:
Organize Yourself Skinny
Ingredients
1 large egg
½ cup brown sugar
¼ cup raw sugar
1 teaspoon pure vanilla extract
⅓ cup melted Smart Balance Original Buttery Spread
¼ cup unsweetened coconut milk
¾ cup white whole wheat flour
¼ cup wheat germ
½ cup 1-minute oats
¼ cup unsweetened cocoa powder
¼ teaspoon salt
1 teaspoon baking powder
½ cup chocolate chips
½ cup dried cherries
Instructions
Preheat oven to 350 degrees.
In a large bowl mix together the egg and sugars.
Stir in pure vanilla extract, melted Smart Balance Original Buttery Spread, and coconut milk.
Add in flour, wheat germ, 1-minute oats, unsweetened cocoa powder, salt, and baking powder. Sir until all of the ingredients are combined.
Slowly stir in chocolate chips and dried cherries.
Divide batter into 12 portions on a baking sheet. Shape with your hands.
Bake for 12-13 minutes.
Let sit for 5-10 minutes on the pan then move to a wire baking rack to finish cooling.
Thank you again to Smart Balance Original Buttery Spread for partnering with me today. Me love these new breakfast cookies!!
Smart Balance buttery spreads support healthy cholesterol levels already in the normal range.  Clinical research has proven that the right blend of fats may improve your cholesterol ratio when:
– At least 2/3 of your fat intake comes from these products or the Smart Balance Food Plan
– You limit total fat to about 30% of calories (65g per day)
– You limit saturated fat to 10% of calories (20g per day)
– You limit dietary cholesterol to average 300mg or less per day
– You avoid trans fat
– You exercise regularly
This is a sponsored conversation written by me on behalf of Smart Balance®. The opinions and text are all mine.
Get Instant Access to My Best Weight Loss Tips & Strategies!
Sign up now for a free step-by-step 7-day email course that I created exclusively for my email subscribers! That's you. I will teach the best habits, strategies, and insider tips so you can enjoy a lifestyle that encourages and supports weight loss! Stop relying on willpower and take control back over your life! You can do this. Let me help!