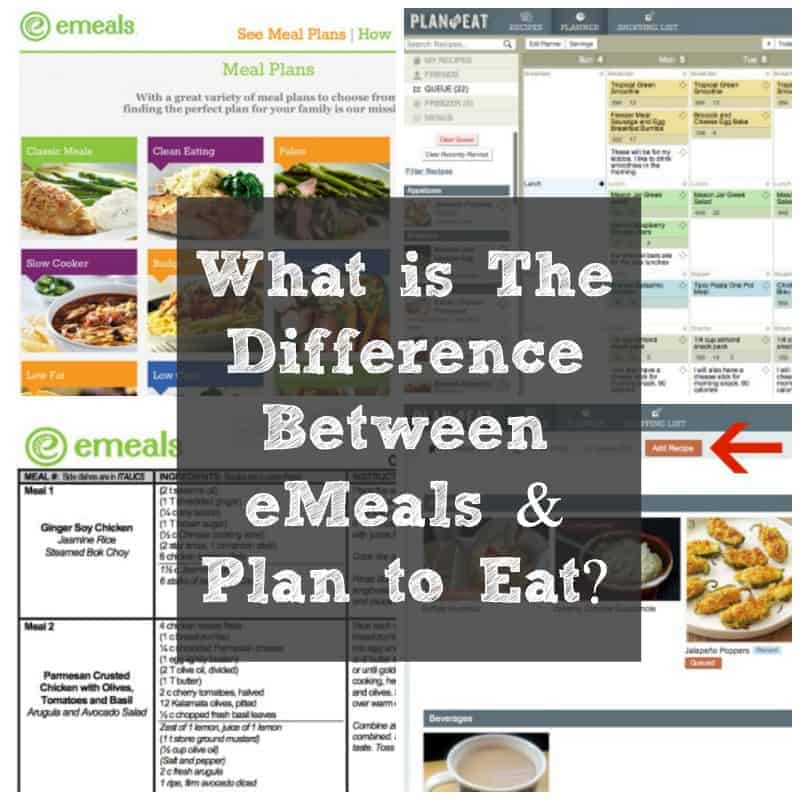 Meal planning is something I frequently talk about on Organize Yourself Skinny. I post my weekly meal plan every Sunday and have even put together a bunch of "how to" posts on the topic.
Basically, meal planning, is an organizing strategy used to plan out your meals ahead of time. Meals can be planned out a day in advance or up to a month or longer. You can plan dinners only or all 3 meals and snacks. There is no right or wrong way to meal plan, it's about the method that works best for your lifestyle. I always say even the littlest bit of meal planning will make a big impact on your week.
There are 3 main benefits to meal planning that I have experienced. First, it reduces my stress at dinnertime because I know what we are having for dinner every night. In my opinion, there is nothing more stressful than coming home after working all day to starving children and not having a clue what to eat. No thank you! Second, my grocery bill stays under control when I prepare and use a weekly meal plan. I know what my budget is and can create a meal plan within that budget. Third, taking the time to create a weekly meal plan keeps me intentional with my food. This results in healthier meals. Therefore, meal planning keeps me sane, saves me money, and keeps me skinny!
Meal planning, as beneficial as it is, is not the easiest strategy to implement. It does take time to research recipes, decide on meals to make, and then put a grocery list together. If you are doing all of this with cookbooks on your lap and pen and paper it can get overwhelming and exhausting. By the time everything is done you will probably want to order a pizza.
Don't worry there is an easier way.
Thanks to the Internet there are a plethora of services designed to make the meal planning process a more manageable task. The two meal planning services I recommend most are Plan to Eat and eMeals. I subscribe to both services and often get questions asking for clarification on how the two are different. The two meal planning services are actually very different and depending on your needs you might find one more useful than the other. Let me do a breakdown of both services and then you can decide which one works for you.
How eMeals works is you subscribe to a specific meal plan. They currently have 12 dinner meals plans to choose from including slow cooker, paleo, clean eating, simple gourmet, budget-friendly, and low calorie.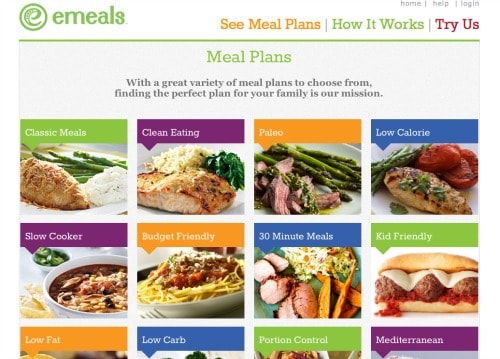 I currently subscribe to the slow cooker meal plan but in the past have subscribed to the clean eating meal plan.
After you decide on the meal plan you choose the size of your family. Then, every week eMeals emails you a list of recipes and a grocery list based on your meal plan choice and family size. That's it! The only thing you need to do is take the list, go grocery shopping, and cook the meals.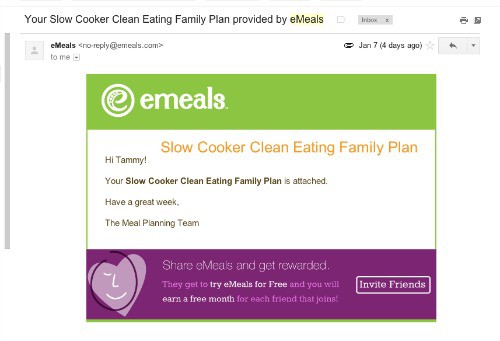 You can also download the meal plan and grocery list right from their website. Here are some sample plans they have on their site.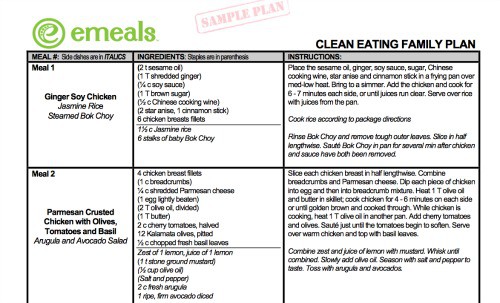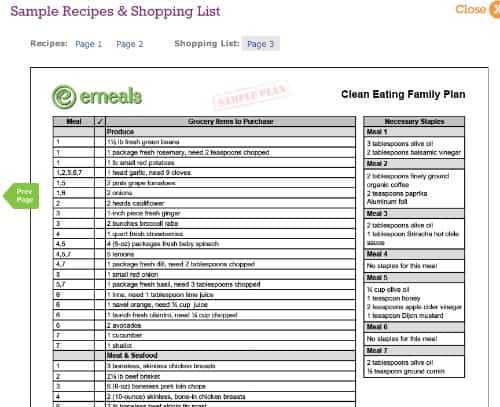 The Pros:
You don't need to research recipes.
You don't need to put a grocery list together.
You can get started on a specific diet plan (paleo, clean eating, vegetarian, etc) and have all the meal planning work done for you.
You can switch up your meal plans.
You can pick a meal plan based on the grocery store you shop at.
They have a 2-week free trial period.
The Cons:
You don't have control over the recipes sent to you. Therefore if you don't like a recipe then you need to find something else to make.
Does not take into consideration leftovers or food in your pantry, refrigerator, and/or freezer.
You have to purchase separate meal plans for breakfast, lunch, and dessert.
Emeals is good for someone who wants the ease of letting someone else put together their weekly meal plan, grocery list, and enjoys trying new recipes. If you just want to print and shop then this might be a meal planning service to consider. Read more about eMeals on their website.
If you want more control over your meal plan then take a look at Plan to Eat.
Plan to Eat is a meal-planning and recipe-organizing site that provides you with the tools to create meal plans and grocery lists using the recipes you import and choose. It is very different from eMeals in that YOU control the recipes on your weekly meal plans.
Recipes can be imported 3 different ways using their recipe importer. They have a bookmark you can save to favorites; a spot for you to add the URL of a recipe, or you can just type in the recipe. If you find a lot of recipes online this tool will make it very easy to save them.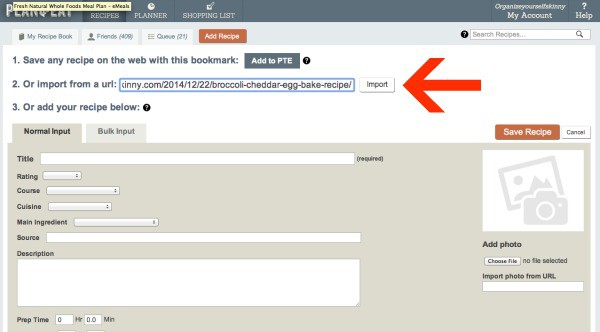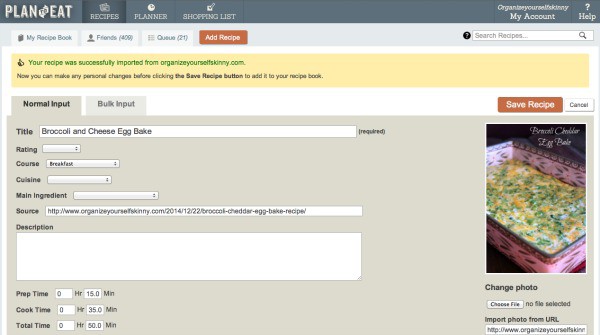 After you save a recipe to your collection you have the option to queue it for a future meal plan or add it to your meal plan by clicking "plan".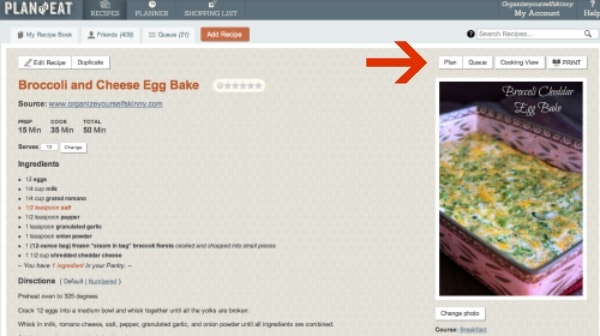 Once your recipes are imported you can view them by using the filters. You can search by course, ingredients, cooking time, and other filters. I personally like how you can search by ingredients you have in the pantry. This is a very cool feature and can save you trips to the store and tons of money.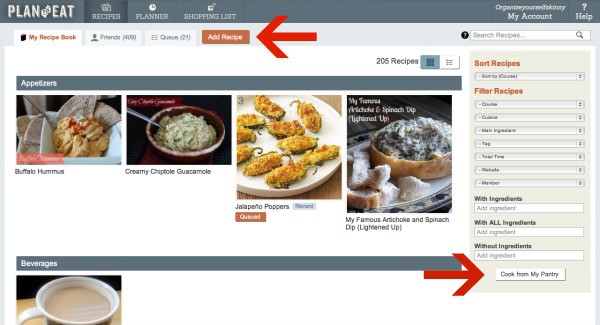 A reader asked me one time why she should use Plan to Eat when she already saves all her recipes in Pinterest. I understand how that can be confusing but Pinterest does not generate a meal plan and grocery list from the recipes you save. Plan to Eat does. Pinterest also does not filter your recipes for you. So if you have 100s of recipes saved then you need to scroll through 100s of recipes to find the one you are looking for. Plan to Eat makes it very easy to find all your recipes.
Plan to Eat takes saving recipes to a whole new level.
After your recipes are imported you can drag and drop them into the meal-planning calendar. This is where the magic happens. On the left hand side are your recipes. All you need to do is drag and drop the recipes you want to use into the calendar. This is very easy to do, especially if you have recipes queued. However, even when I don't I can throw together a meal plan pretty quickly using the filters.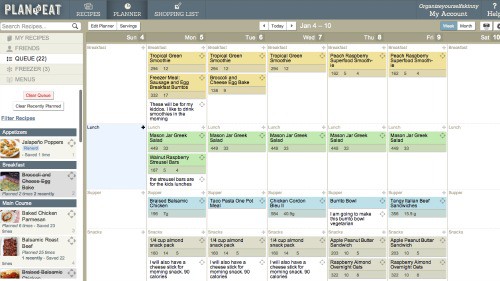 Just like on your main recipe page, you can filter recipes by course, ingredient, websites, tags, or any other way you saved them. So for example, if you save a bunch of OYS recipes to your Plan to Eat account click on the website section. You will see a list of the websites you imported recipes from. Scroll to my website www.organizeyourselfskinny.com and click on it. You will then see all of my recipes show up.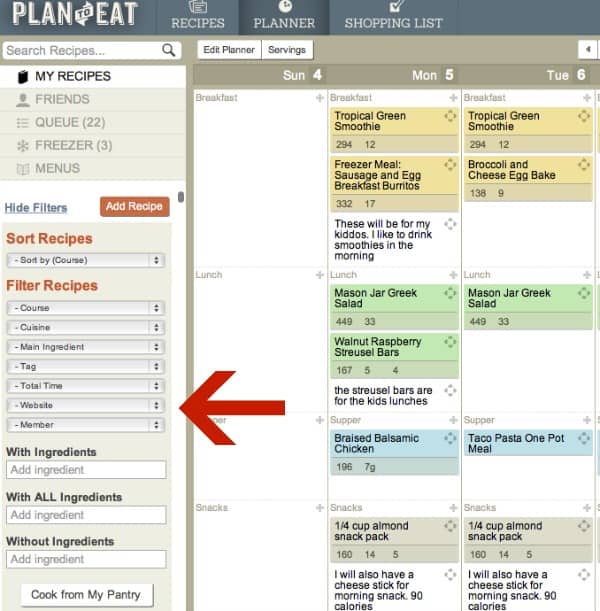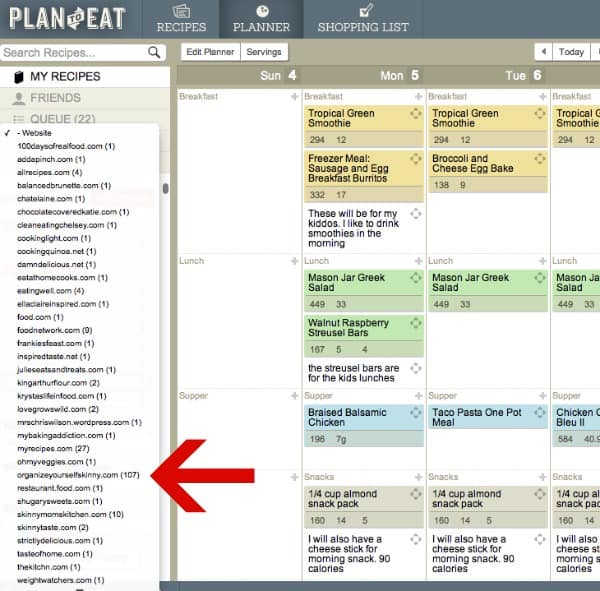 After your meal plan is created you can generate a grocery list based on those recipes. There is also a place to organize ingredients you already have in your pantry and freezer. What I like about their grocery list feature is you can add other items to the list. So if you need toilet paper, cleaning supplies, or other items you can easily add them to the list.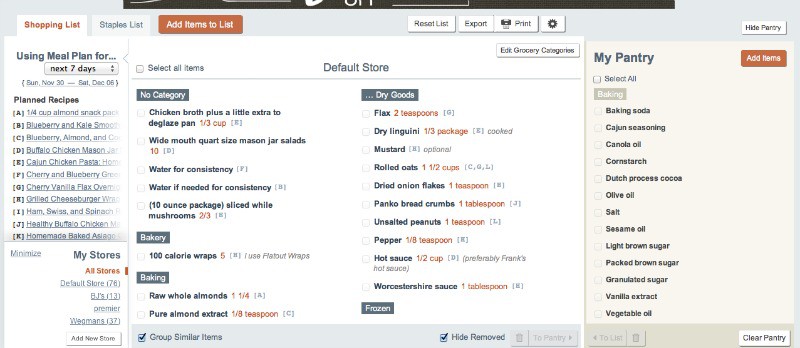 Plan to Eat has tons of features and honestly the possibilities are pretty endless. I recommend taking some time to check out their site and see for yourself everything their website offer.
The Pros:
You create meal plans based on the recipes you choose.
You can import any recipe.
You can save meal plans for a later use.
You can organize the ingredients in your pantry and freezer.
Your grocery lists reflects the food you already have available.
You can add items to the grocery list.
There are tons of features to help you prepare a meal plan that completely meets the needs of your family.
They offer a 30-day free trail period.
The Cons:
You need to do the work of finding and importing recipes.
There is a slight learning curve with understanding the features of the website. However, they have a great help section, videos, and a blog to help their subscribers get the most out of Plan to Eat.
Plan to eat is perfect for someone who wants to prepare meals plans based on the recipes they choose. The features and tools Plan to Eat provides help people create customized meal plans that meet the needs of everyone in their family. Read more about Plan to Eat on their website.
Plan to Eat and eMeals are both very good meal-planning services. As I pointed out they are very different and, depending on your needs, one may be better suited for you than the other. Both offer free trial periods so I recommend giving each a shot and see which one better suits your lifestyle.