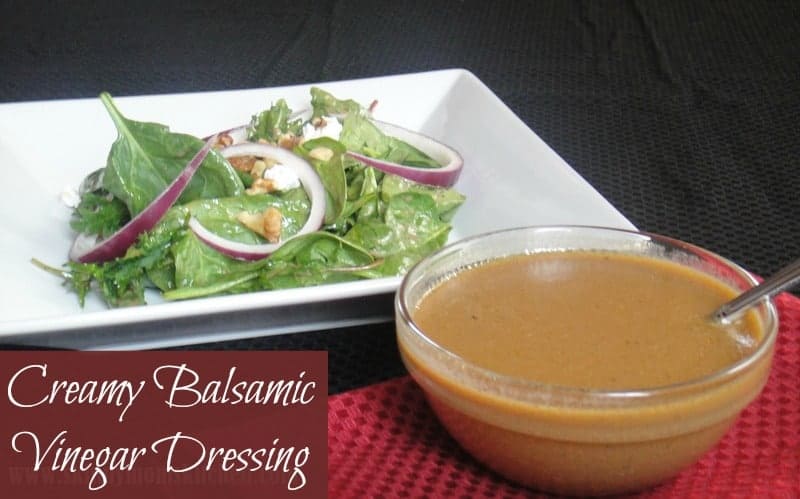 Balsamic vinegar dressing is a family favorite in our house. Believe it or not but I never made my own salad dressing – I guess it is one of things that I would rather just buy. Well I won't be doing that anymore. Not only is making your own dressing super easy but it taste so much better than store bought.
This past week, I was inspired to create a creamy balsamic vinegar dressing as I worked on a summer pasta recipe for a contest hosted by Hodgson Mills (the full pasta recipe will be posted soon). To make it creamy I used plain Greek yogurt and then added some pure maple syrup to give it a little sweet kick. Oh my! I will never buy salad dressing from the store again. This was so good – so gourmet – so ooh la la! Truly delicious!
Now before you go commenting or emailing me about the amount of oil used or the calories or the points – let me explain.
I assure you that I tested and retested this recipe numerous times trying my darnest to get the calories down. However, each time the flavor, in my opinion, was compromised. As you know I do not like compromised flavor.
Then I thought to myself that you only need 1-2 tablespoons of this dressing. If the rest of the salad is filled with veggies, a lean protein, and maybe just a little cheese your total calories and points for the meal will be just fine. Now if you plan on drinking it then that might be a problem 😉 A little of this dressing goes a long way. Also, because you are making it yourself, you don't have to worry about artificial ingredients, preservatives, or other nasty stuff.
So go ahead and try this dressing – you will love it!
As I always say "everything in moderation and you can enjoy it all!"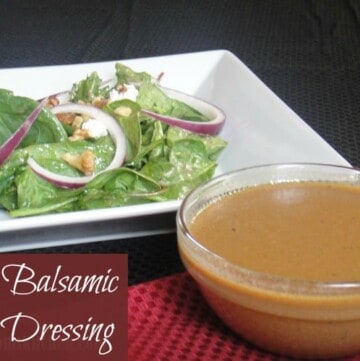 Ingredients
½

cup

extra virgin olive oil

¼

cup

balsamic vinegar

1

clove

garlic

grated or finely minced

3

tablespoons

pure maple syrup

¼

teaspoon

kosher salt

¼

teaspoon

freshly ground black pepper

3

tablespoons

plain Greek yogurt

I used Chobani
Instructions
Combine all the ingredients into a large mixing bowl and whisk vigorously until it is all blended. Store in airtight container in the refrigerator.
Notes
This dressing can be made ahead of time and stored for up to 1 week in the refrigerator. I store mine in a mason jar.
Nutrition
Serving:
1
g
|
Calories:
76
kcal
|
Carbohydrates:
4
g
|
Fat:
7
g
|
Sugar:
2
g