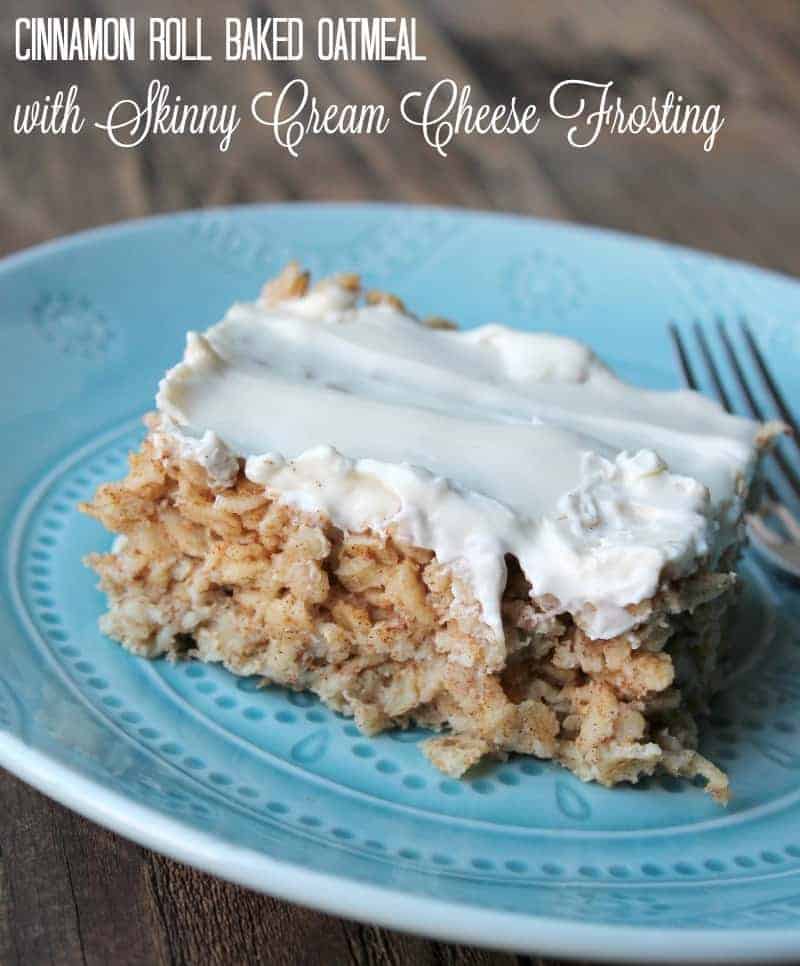 Thank you Agave In The Raw® for sponsoring this recipe post today. You inspired me to create cinnamon roll heaven in a pan and I will heart you forever for that. Learn more about Agave In The Raw® on their website, Facebook Page, YouTube, Twitter, and Pinterest. Check out the store locator to see where you can purchase it in your area. Here are some coupons if you choose to pick up a bottle or two. Check out other In The Raw Products on their website.
---
Every single one of you needs cinnamon roll baked oatmeal in your life. And….don't skip the frosting! It's a skinny version… plus hello…it's the holidays. Cream cheese frosting is mandatory! You didn't know that? Now you do. You're welcome. Xoxo
A few years ago cinnamon rolls were one of my signature holiday breakfast dishes. Mmmm mmm mmm cinnamon rolls. My sisters would come into town and would immediately start begging for the fluffy, sugary, and buttery rolls of joy. Of course, being the good sister I am, I would happily oblige.
There were weeks I probably made 2-3 batches of cinnamon rolls and we ate every single one. By Thanksgiving I was a cinnamon stuffed turkey ready to be rolled out of my parents house and left to hibernate for the next month. Like that visual? Ha!
The cinnamon rolls were glorious but they left me searching for elastic waist pants EVERY SINGLE YEAR. So…a couple years ago the cinnamon rolls needed to go because mommy likes to wear skinny jeans. Obviously, I could prepare and eat them in moderation but let's be real, if I have cinnamon rolls in front of me I WILL EAT ALL OF THEM. No moderation is happening.
However, I do miss cinnamon rolls. Sniff sniff.
This got me thinking.
I need to create a skinnier cinnamon roll or at least something that could satisfy a cinnamon roll craving. Then BAM it hit me – Cinnamon Roll Baked Oatmeal.
Cinnamon Roll Baked Oatmeal. Doesn't that sound amazing? How about with a cream cheese frosting? OH MAMA! Where has this recipe been my entire life?
I love baked oatmeal recipes because it's so easy to infuse sinful flavors into a wholesome nutritious recipe. Basically, just find your favorite baked good and then add those same flavors to a basic baked oatmeal recipe. You can play around with the sugar and liquids too.
For this cinnamon roll baked oatmeal recipe I used Agave In The Raw® for the sweetener. Agave In The Raw is an organic sweetener from the core of Mexico's blue agave plant. It's about 25% sweeter than sugar so I only needed to use a little in this recipe. I don't like using a lot of sweetener in my baked oatmeal recipes because I want the option of adding extra sweetness, if needed, after the baked oatmeal is done.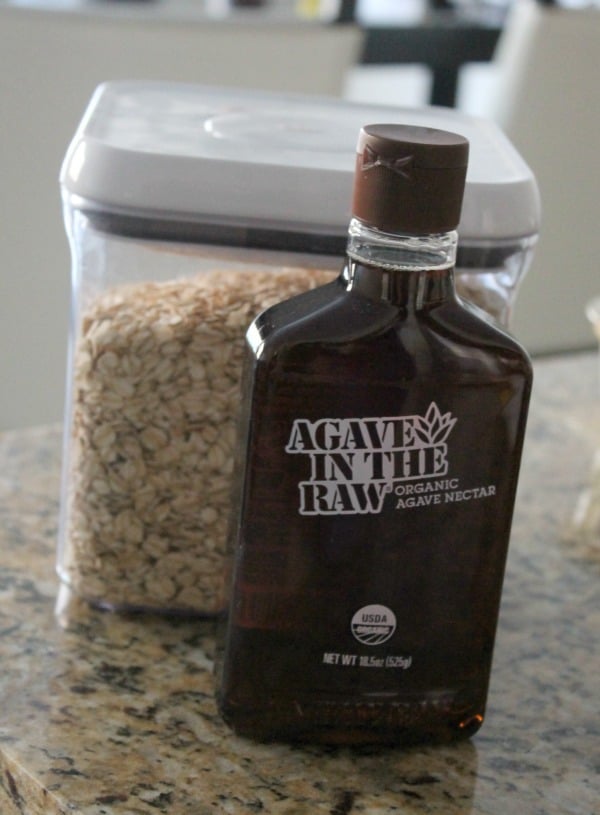 I was really happy with the way Agave In The Raw tasted and how it baked in this recipe. I didn't notice any difference from when I use sugar. The color and texture was great. Since it's in liquid form I did pay attention to the other liquid ingredients so there wasn't too much.
This Cinnamon Roll Baked Oatmeal recipe is wholesome and delicious. It has all the flavors of a cinnamon roll without the added fat and calories. Agave In The Raw gives this recipe the perfect amount of sweetness. If you need a little more then drizzle some extra Agave In The Raw on top after it bakes.
Let's go through the recipe.
I started with rolled oats, a lot of cinnamon, salt, and baking powder. Make sure to whisk it up before pouring in the liquid so you don't end up with clumps.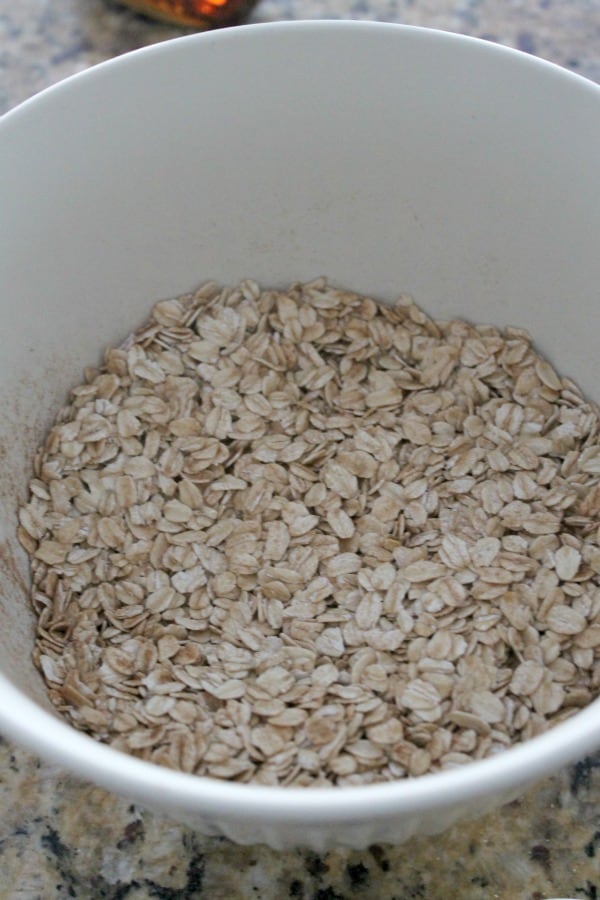 Then I whisk together eggs, Agave In The Raw, vanilla extract, and vanilla greek yogurt.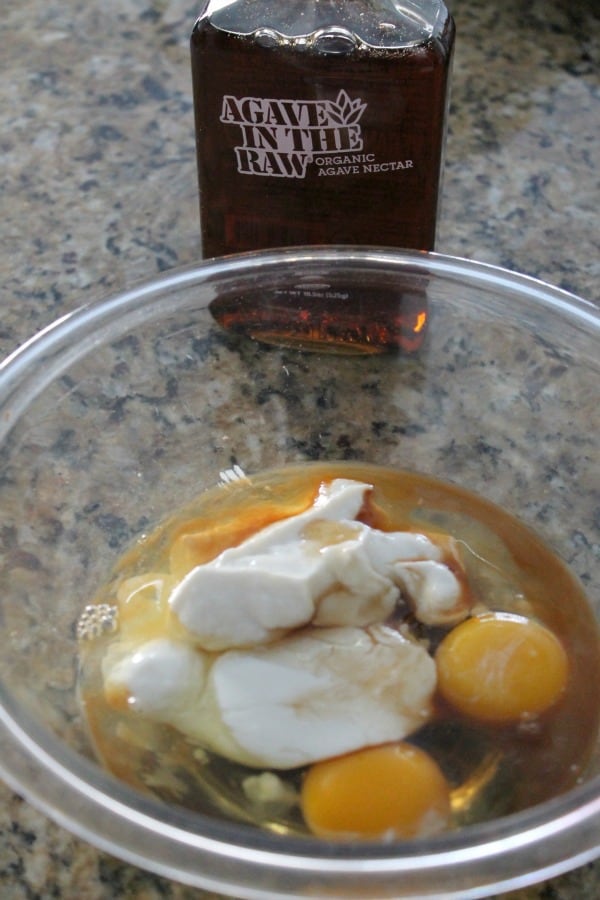 Next I slowly whisked in coconut milk and oil. Don't worry the baked oatmeal does not taste like coconut. I prefer coconut milk and oil to others because it creates amazing moist and delicious baked goods.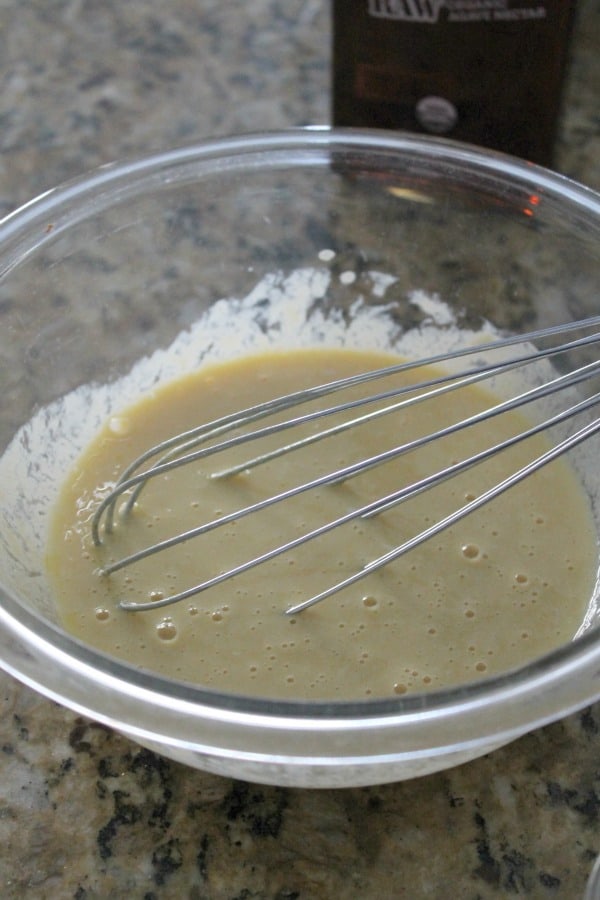 Then I poured the wet ingredients into the dry and stirred it up until all the oats were coated.
After the ingredients were mixed together I pour it into a 9 x 9 baking pan sprayed with cooking spray. You can make these in a muffin tin too. The same baking temperature and time would still apply.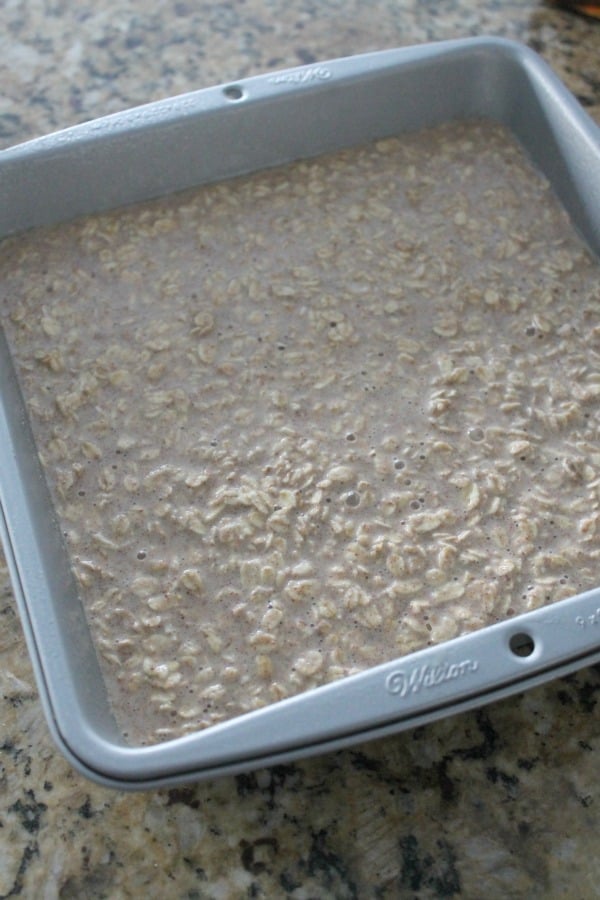 Bake for 25 minutes in a 350 degree oven.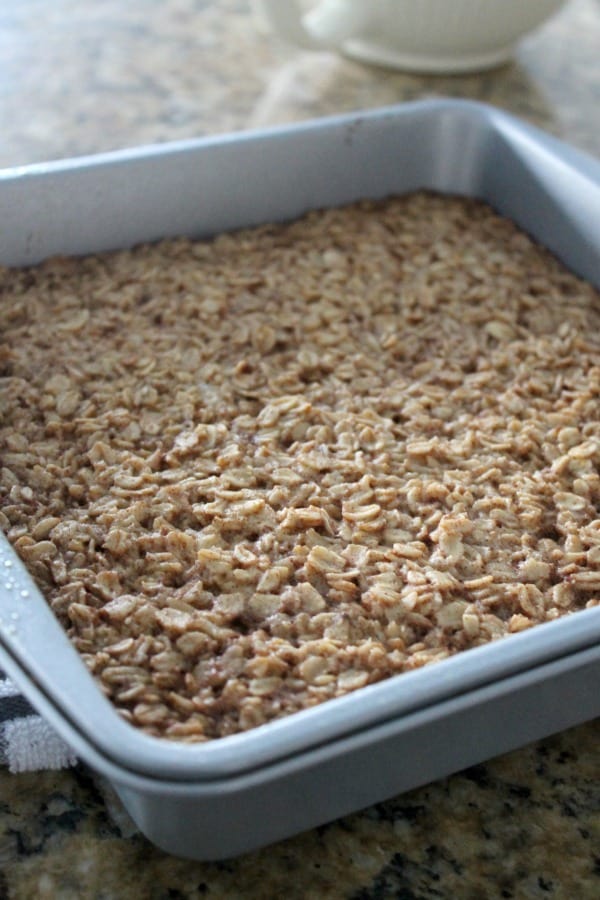 While the oatmeal is baking make the super easy skinny cream cheese frosting. I am calling this skinny because I used low-fat cream cheese, Agave In The Raw, pure vanilla extract, and coconut milk. That's it.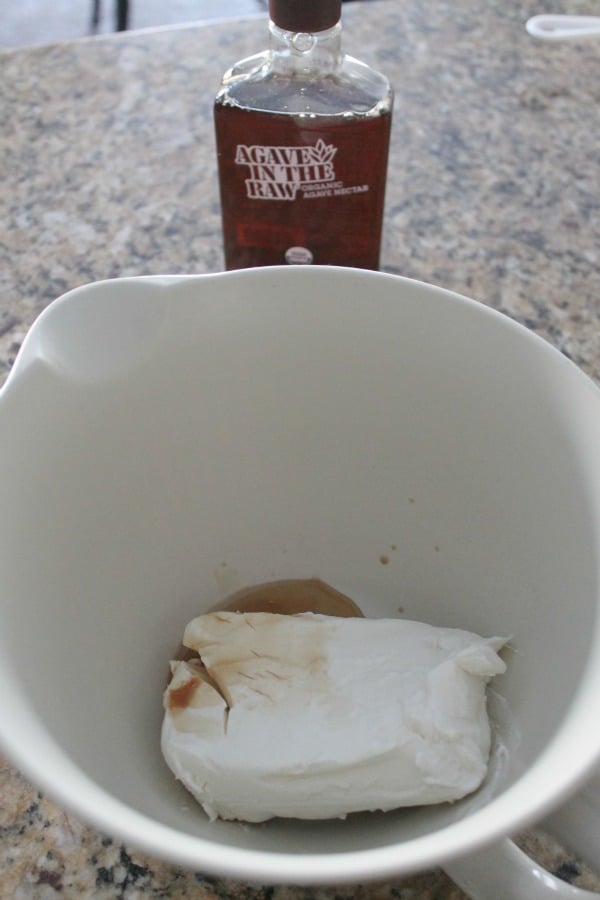 I used 5 teaspoons of Agave in the Raw to sweeten up the frosting. Use more or less depending on your taste. Keep in mind, Agave in the Raw is a liquid so the more you use the thinner your frosting will be.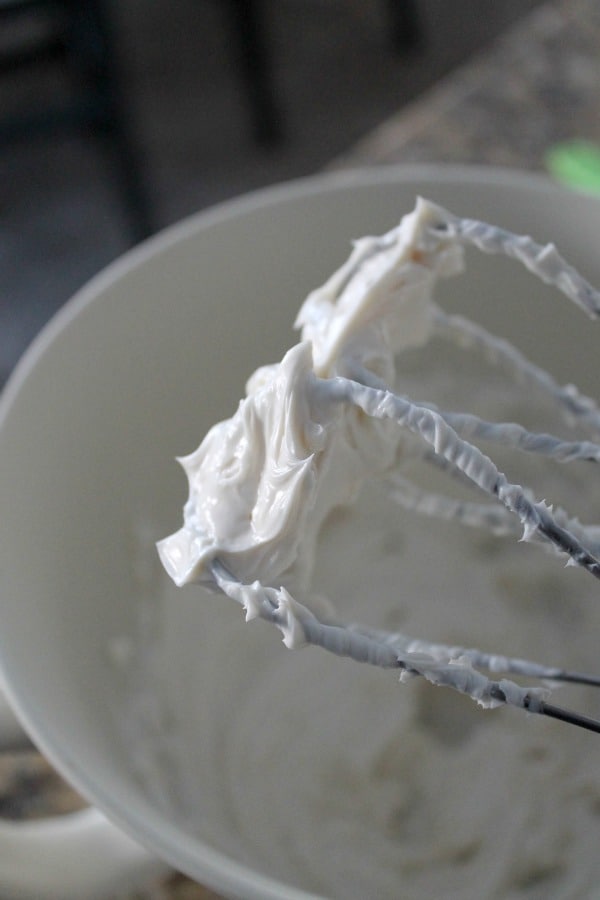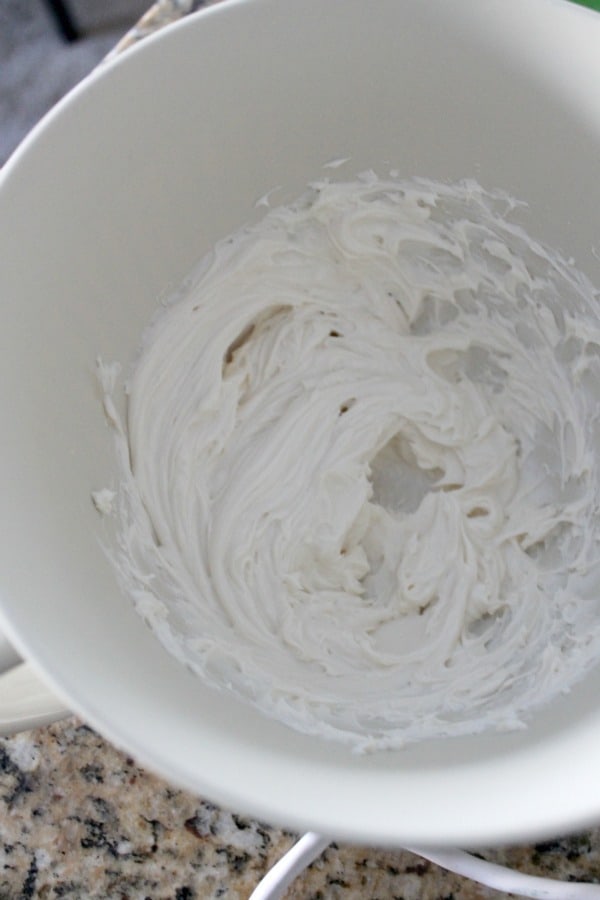 After the baked oatmeal is done let it cool for about 5 minutes. Then spread the frosting over the top.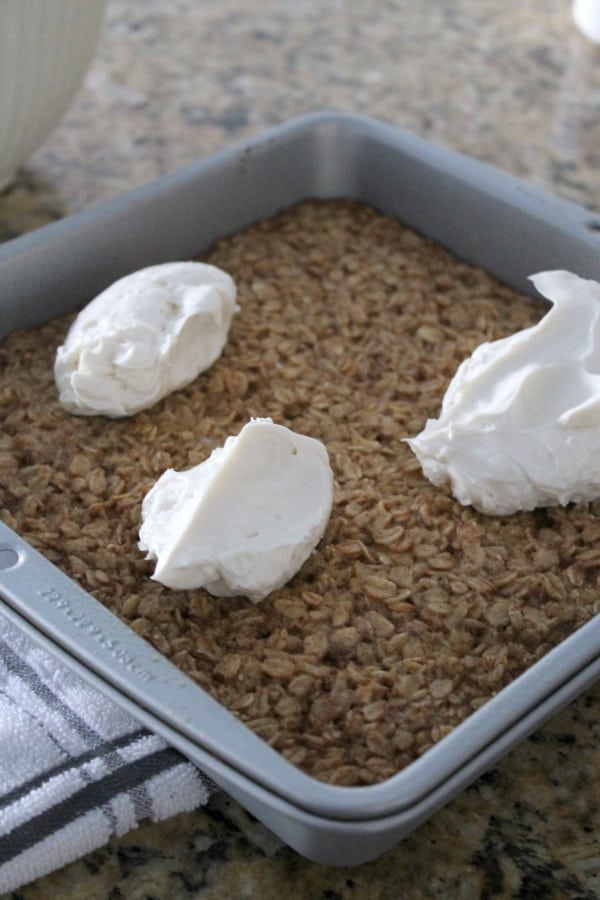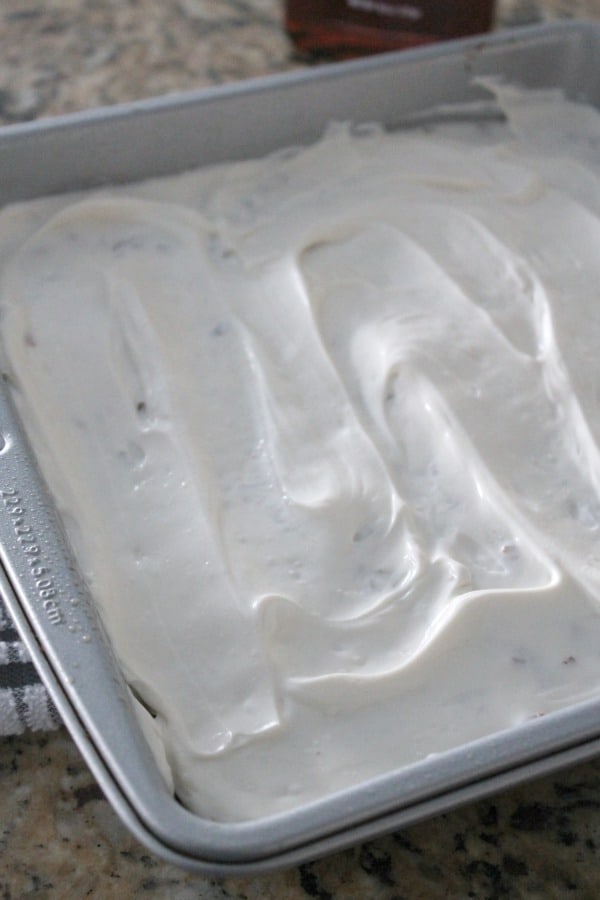 Let it sit for another 5 minutes, cut it into 12 pieces, and then serve. This tastes great warm or chilled if eating from the refrigerator. If you want drizzle a little more Agave In The Raw on top for some added sweetness.
I can't wait for my sisters to come into town and try this! I know they will love it.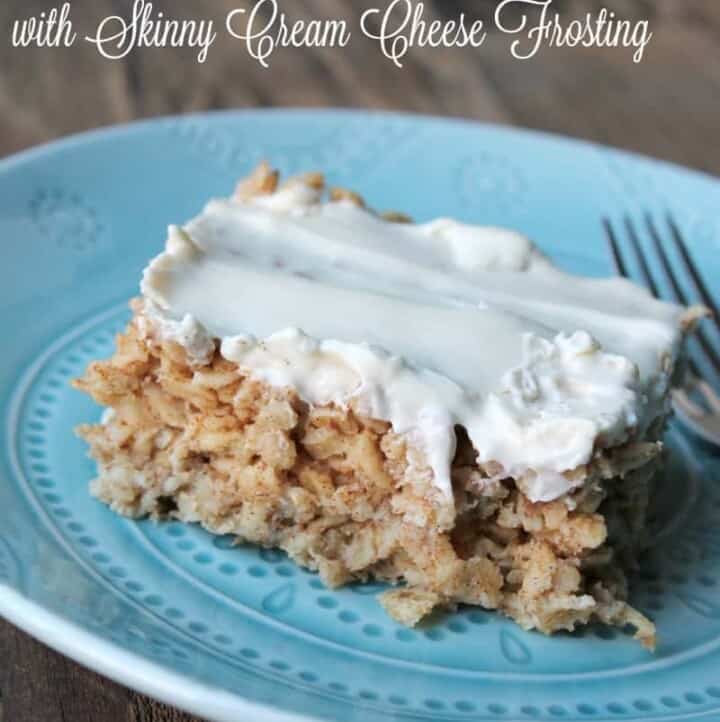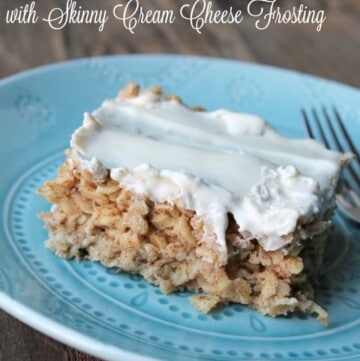 Cinnamon Roll Baked Oatmeal with Skinny Cream Cheese Frosting
Print
Pin
Rate
Ingredients
3

cups

rolled oats

1

tablespoon

cinnamon

1

teaspoon

baking powder

¼

teaspoon

salt

2

eggs

1

6-ounce container vanilla greek yogurt

¼

cup

Agave In The Raw

1

teaspoon

pure vanilla extract

1 ½

cup

unsweetened coconut milk

¼

cup

melted coconut oil

Cream cheese frosting

1

8-ounce package low fat cream cheese, softened

½

teaspoon

vanilla

5

teaspoons

agave nectar

1

tablespoon

coconut milk

you can use regular milk too
Instructions
Preheat oven to 350 degrees.

In a large mixing bowl whisk together the rolled oats, cinnamon, baking powder, and salt. Set aside.

In another medium bowl, whisk together eggs, Agave In The Raw, and vanilla extract. Slowly whisk the coconut milk and oil into the egg mixture.

Pour the wet ingredients into dry ingredients and stir until all the oats are covered with liquid.

Pour the oatmeal batter into a 9 x 9 baking dish sprayed with cooking spray.

Baked for 25 minutes.

While the oatmeal bakes make the cream cheese frosting. Put the cream cheese, vanilla extract, Agave in the Raw, and milk into a medium bowl. Using a hand mixer beat the ingredients until they are smooth. Start with 2 teaspoons of Agave in the Raw and add more until you get the desired sweetness. Keep in mind; adding too much Agave in the Raw might change the consistency of the frosting. I used 4 teaspoons and that was perfect.

Let the baked oatmeal cool slighting and then spread the cream cheese frosting on top.

Let it sit for another 5 minutes and then cut into 12 squares.
Nutrition
Serving:
1
g
|
Calories:
222
kcal
|
Carbohydrates:
25
g
|
Protein:
7
g
|
Fat:
10
g
|
Fiber:
3
g
This is a sponsored conversation written by me on behalf of In The Raw via RhythmOne. The opinions and text are all mine.