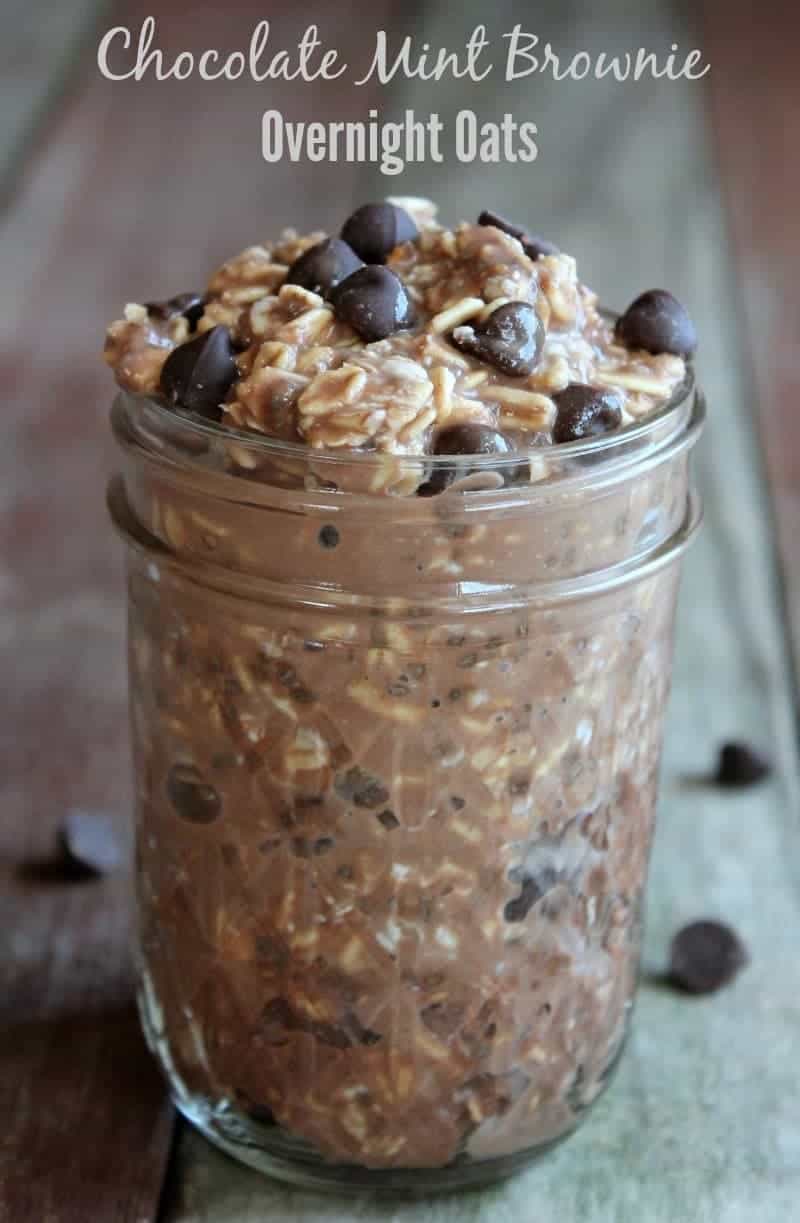 Can I even call this a breakfast recipe? I mean it doesn't taste like breakfast. Well…unless you eat mint brownies for breakfast. Hey, you never know. Maybe you woke up and thought it's either I eat brownies or someone is going to suffer. Haha.. Don't worry I won't judge. For me, the last time I ate brownies for breakfast was probably circa 1995 after a fun college night in the dorms. Ahhh memories. It's amazing how different life is 20 years later. Well maybe not too different because I still love mint brownies or chocolate mint anything. Hence, this new recipe…
So, I decided after much deliberation (for 2 minutes) I am going to call this a breakfast recipe. Why? Because even though it is chocolaty, minty, rich, and oh so delicious it is filled with wholesome ingredients. Hearty rolled oats, unsweetened coconut milk, unsweetened cocoa powder, pure vanilla extract, chia seeds, a little peppermint extract, and some pure maple syrup are the ingredients that make up this scrumptious jar of goodness. I did add a teaspoon of chocolate chips after I stirred it up but if that is just too over the top then leave them off. But if you can look past chocolate chips for breakfast then DO IT!
This is easily one of my favorite overnight oats recipes. Have I said that before? Maybe. But this chocolate mint recipe tastes just like a jar of chocolate mint brownie batter. It is awesome. I know I said this is a breakfast recipe, because of the oats and all, but I would recommend keeping a stash available for when you need to curb a chocolate craving. I ate mine for a snack one day and another for lunch the next.
It did take me a couple tries to get the flavor right. At first I used 1 tablespoon of cocoa powder. That was too much for me. It made the oats taste bitter. 1/2 of a tablespoon gave it a perfect chocolate flavor. Then I used ¼ teaspoon of peppermint extract – that was way too much. Holy peppermint! 1/8 teaspoon was just the right amount of peppermint. You can still taste it but it wasn't overpowering.
I also found this recipe needed a touch more sweetness than my other overnight oats. Typically, I only need 1-2 teaspoons of pure maple syrup but for this recipe I used 1 tablespoon and that gave it the perfect amount of sweetness. Use the amount that works for you.
About the mason jars I use. I make my overnight oats in pint sized (16-ounce) mason jars. This size provides enough room for all the ingredients to be stirred up, especially the next day when the oats expand.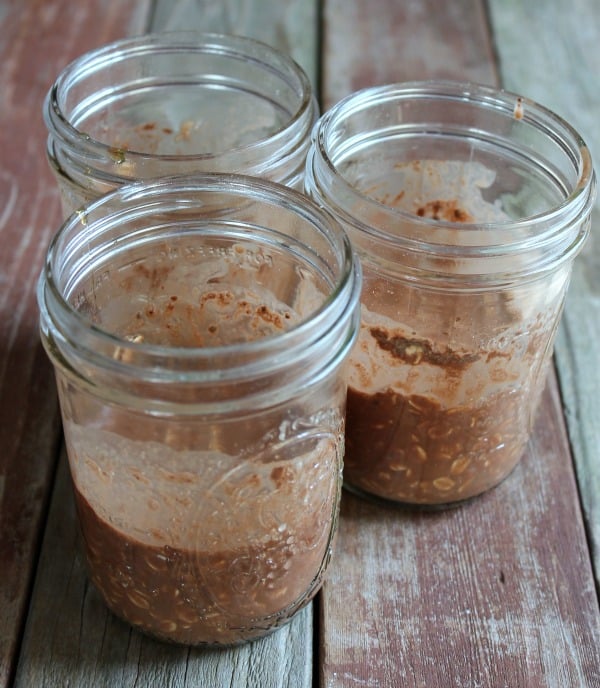 The jars you see in the final pictures are 8-ounce jars. I originally bought those for overnight oats. All the ingredients fit in (barely) but after the oats expand it is hard to stir up so I prefer the large jars for the overnight oats. But I prefer the small ones for the pretty pictures.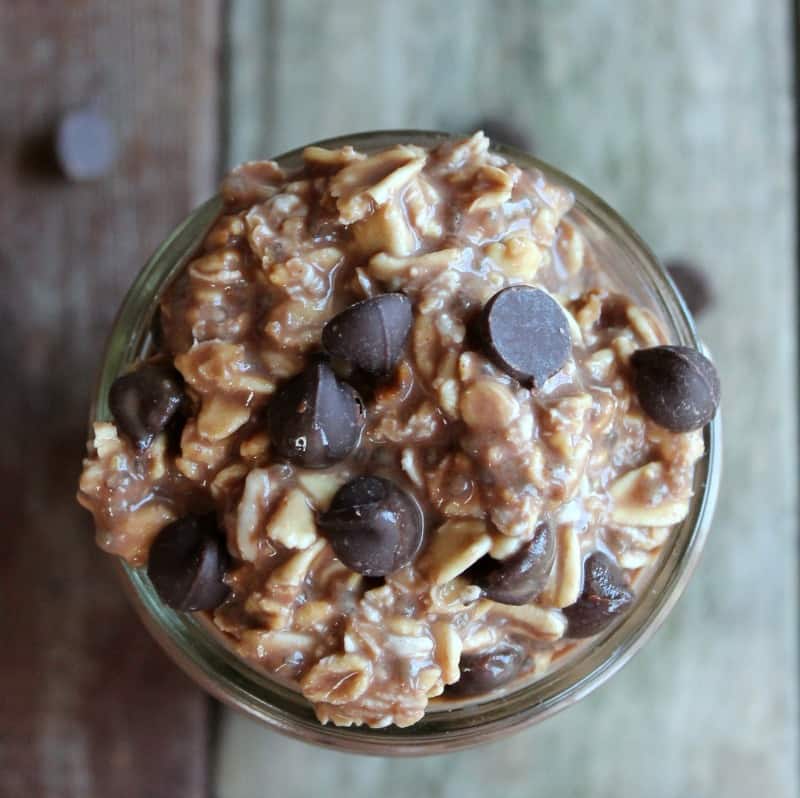 You can buy the mason jars right from Amazon if it makes life easier for you. Click here for the pint size and click here for the 8-ounce size.
Now go make this!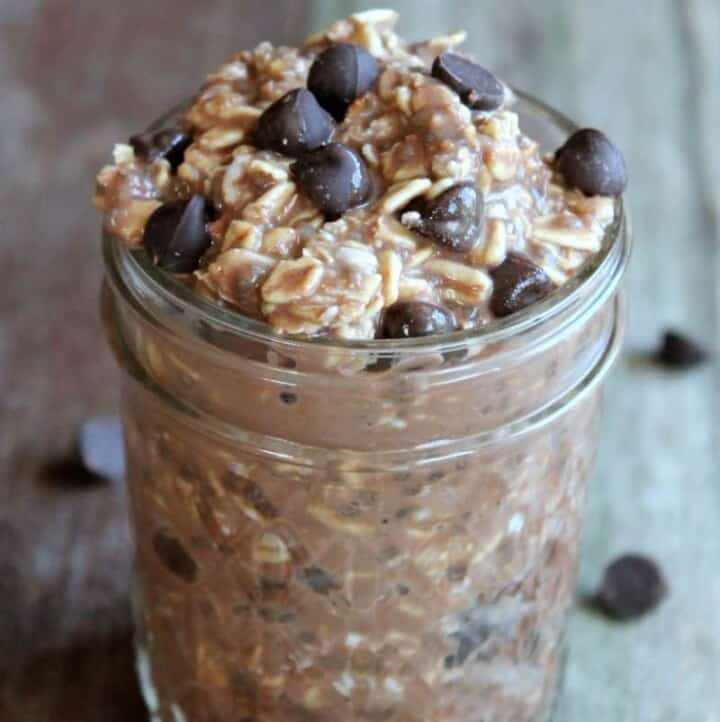 Ingredients
1/2

cup

rolled oats

1/2

tablespoon

unsweetened cocoa powder

1/2

cup

unsweetened coconut milk

1

teaspoon

chia seeds

1/4

teaspoon

pure vanilla extract

1/8

teaspoon

peppermint extract

1

tablespoon

pure maple syrup

more or less to taste

small pinch of salt
Instructions
In a pint size (wide mouth) glass mason jar mix together the rolled oats and unsweetened cocoa powder. Add the coconut milk, chia seeds, vanilla extract, peppermint extract, pure maple syrup, and salt. Stir until all the ingredients are combined. Place the lid on and store overnight in the refrigerator. In the morning give it a stir and add a little more coconut milk or maple syrup if needed. Sprinkle chocolate chips on and serve.
Notes
This recipe can be made up to 3 days ahead of time. Keep refrigerated.
Nutrition
Serving:
1
g
|
Calories:
303
kcal
|
Carbohydrates:
50
g
|
Protein:
7
g
|
Fat:
10
g
|
Fiber:
8
g
|
Sugar:
8
g