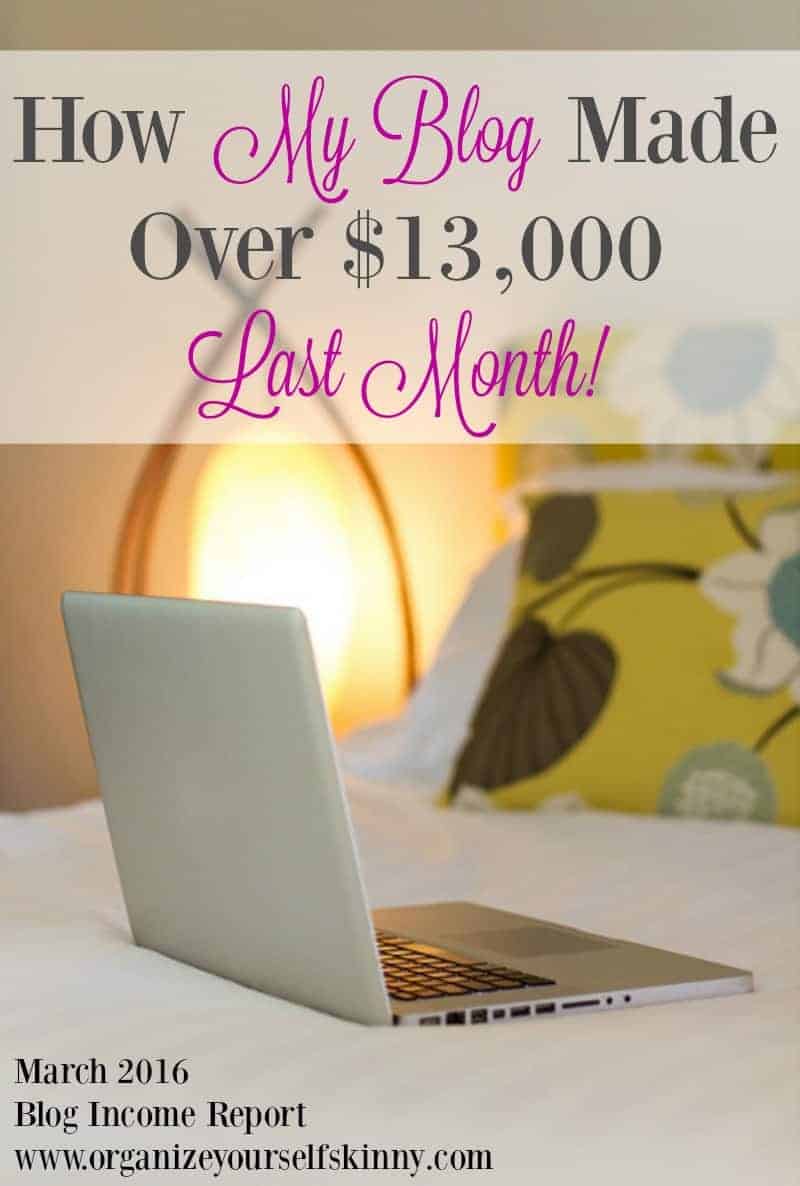 Hey everyone! It's time for my monthly income report. Last month was my very first one and I'm super excited to share another income report with you today. In these reports I share my stats from last month, the amount of money I made, where it came from, and any lessons and tips I learned along the way. Now if you're here for the mason jar salads, overnight oats, or to meal prep like a boss then I won't take any offense if you skip over this post and go about your merry way. xoxo
However, if you're an aspiring blogger, or even a blogger who has been at it for a while, then these reports are for you. I've been blogging for 5+ years and have lots to share. My goal is to motivate and inspire you with the lessons and tips I share in these reports. I want you to see that it's 100% possible to make a full-time living blogging. I do it. This is my job. It's my passion, my lifestyle, and how I put food on the table and pay the bills. This is my career. I am a full-time blogger. If you are interested in the history of my blogging career then check out this post and this one. Basically, if I can do it then you certainly can too.
Okay now that we're all on the same page let's get to it because I want to take a run and make a batch of these brownies for my kiddos dance class tonight.
I must say I love putting these reports together. All month I keep notes on the going ons of Organize Yourself Skinny. What's working, what failed miserably, what are my goals, and everything in-between. Before these reports I thought about these things but not nearly like I do now. So it's a win win.
Here are the numbers and stats and then I'll talk about some lessons learned, goals, etc.
Blog Income
**please note some of these links are affiliate links.
Adthrive: $5677.90
Tapinfluence: $2950
AOL/Kitchen Daily: $828.72
Amazon Associates: $1608.35
Bluehost: $260 <—this comes from a page where I show you step-by-step how to start a blog.
Organize Yourself Skinny Ebook: $737.75 — become an affiliate here.
Organize Yourself Skinny Meal Plans: $189.43
Plan to Eat: $171.00
Swoop: $595.57
Total blog income: $13,018.70
Blog Expenses
Staff: $787.74
Facebook Ads: $206.96
Synthesis hosting: $147
Aweber: $149
ConvertKit: $29
CoSchedule: $30
WP Site Care: $99
Payflow: $30
Home internet: $129.84
Phone/hot spot: $135.16
Office supplies: $7.43
Total blog expenses: $1855.89
Total blog income after expenses: $11,162.81
Here's my traffic for the month.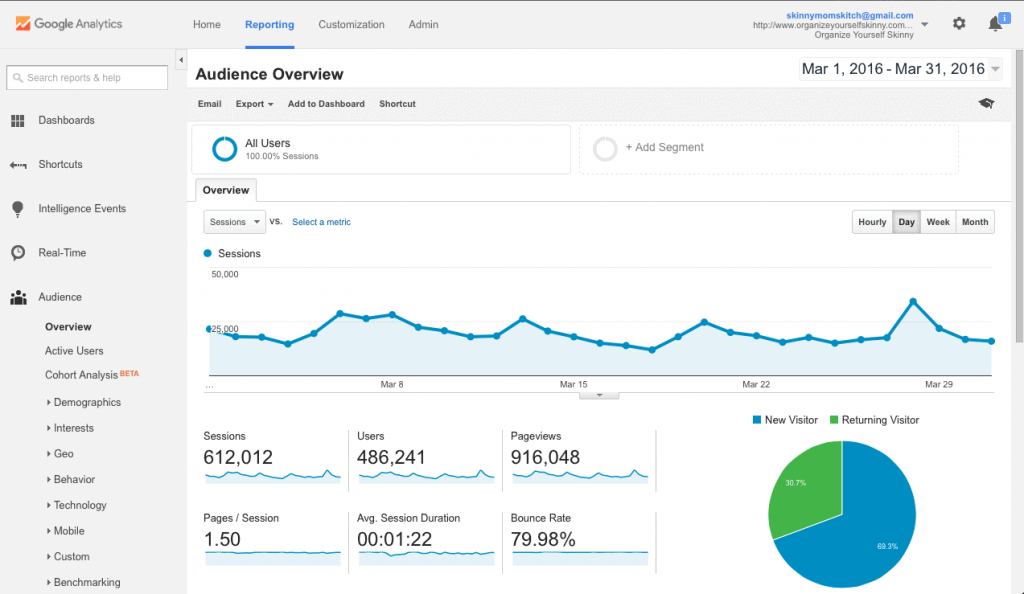 Here are my top 10 posts.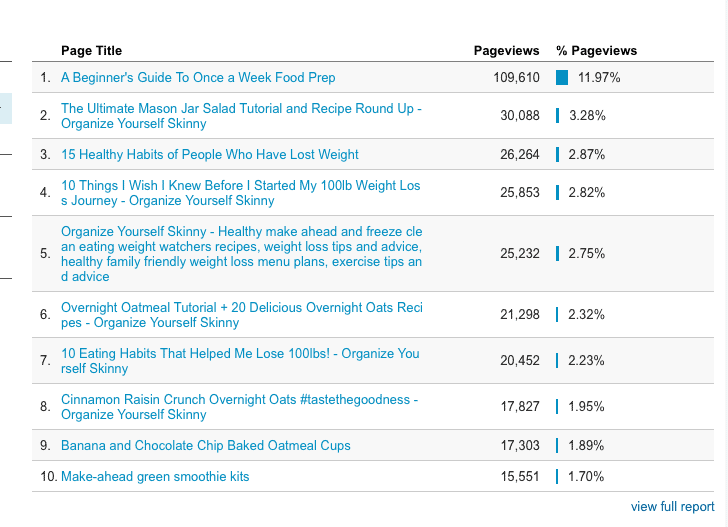 And here's where all my traffic came from.
Okay now where do I start??? I feel like I have so much to talk about.
Let's start with traffic. My traffic stayed about the same as last month. My goal is to get my traffic to 1.5 – 2 million pageviews a months. This pretty much means I need to double my traffic. I listed out my blog traffic strategy last month and I'm still plugging away.
I want to point out that 63% of my traffic is coming from Google or people coming to my blog direct (clicking through the emails I send out or typing my url in). THIS IS HUGE and needs to be noted. We kill ourselves trying to crack the social media code but maybe the focus needs to be on search engine optimization and email. Just sayin. Something I'm definitely going to think more about.
About social media. Like I said last month, I hired a social media manager who's scheduling all my Facebook posts and Pinterest pins. This has been a godsend. It's hasn't resulted in increased traffic yet but I don't necessarily think that scheduling is what's going to bring in the extra traffic. Instead, hiring someone to work my social media so I have the time to write content for my blog will increase traffic. All of March I focused on creating more content that my readers want. I dug into my Google anayltics and listed out ideas based on my top posts. Then I got busy writing. I'm confident this will increase my blog traffic. Write content that readers want to read and share!
I saw a spike in traffic on March 28th because Silk shared and boosted this overnight oats recipe on their Facebook page. It was AWESOME! All day I had 300-500 people on my site at any given time. Why can't that happen every day? Haha #blogdreams. You can see from my top posts that Facebook boost put my recipe at #8 for the month. Anyway that got me thinking about Facebook boosts.
Last month I toyed around with a Facebook Ad for my ebook and it failed miserably. I spent $200 and as you can see I only sold a little over $700 in ebooks. Honestly, I don't even know if the ad had anything to do with those sales. Clearly, I still have a lot to learn with Facebook ads. Anyway, I chalked that up as a lesson learned. However, when Silk boosted my recipe on their Facebook page I decided to give it a try with another post.
I chose my new "Meal Prep Like a Boss" post to boost. Based on my previous meal plan posts I knew it would be popular and a good one to boost on Facebook. It makes sense to boost popular posts because you want a post that is going to resonate with people. You want them to like it, comment on it, and share it. Boosting an "unpopular" post just shows a bunch of people a post that nobody wants to interact with. Make sense?
Anyway, my meal prep boost is doing 1000x better than my Facebook ad. This makes total sense to me now. Most people would only click through the Facebook ad if they wanted to buy the ebook. So unless they had the money and were willing to spend it they weren't going to bother checking it out.
My meal prep post is loaded with FREE valuable information. Readers don't have to spend a dime to soak in all the meal prep knowledge I provide in that post. However, should they want more information I placed links to my ebook strategically throughout. This post gives the readers a good idea on the type of information they can expect from me with an ebook. It builds trust and helps them feel comfortable spending their money. I get it. I never just buy an ebook. I usually purchase an ebook from a blogger I follow and already read their information. It makes so much sense to me now.
This post is still being boosted on Facebook and I plan to keep it up for another week or so. I'll report back next month on the progress.
Let's talk a little more about my ebook. I love my ebook. I really do. It's like a part of me because I spent a huge amount of time and energy writing it. So why isn't it selling better? Well the problem isn't with the ebook. It's with my promotion. I already talked about my failed Facebook ad. But it's more than that. I don't have a set marketing strategy for my ebook and I really need too. I have some ideas but not sure yet where to go with it. One area that could help promote my ebook better is my email list. I'm thinking about writing content (or even a course of sorts), that centers around my ebook, specifically for my email subscribers . That's a goal for May. Stay tuned for that. I would love to hear from anyone that utilizes your email list in this way.
Speaking of email list lets move on to that. I was with Aweber for a couple years and let me say it was 2 years too long! Now some of you might have great experiences with Aweber but for me it was clunky and always having issues. It never worked the way I needed it to. Well I FINALLY switched to Convertkit and OMG where has this been my whole life! I haven't even scratched the surface yet but already I'm experiencing the benefits. The only thing I've done so far is send out out emails (broadcasts) of my current posts. But I'm shocked by the amount of traffic I get to my blog from my email subscribers. I NEVER got that with Aweber. I don't mean to bash them and if you like them great. But Convertkit is amazing and if you are looking for an email service then go with them. Starting this May I plan to utilize email a lot more. MUCH MORE. So many blog gurus swear by the email list so I'm gonna take their advice and give more attention to my readers that want me in their inbox. Again, this  make sense because I find my favorite bloggers via their daily or weekly emails. I hardly ever find out about their latest post on Facebook, Twitter, Pinterest, or any other social media channel. Things that make you go hmmmm.
I'm going to end this income report with a last thought on blog traffic. My advice is not to put all of your eggs in one basket, especially a social media basket. Every single social media platform changes their algorithm all the time. It happens with Google too. So the 1000s of visitors you get from Pinterest everyday can be gone the next. I see it all the time and read about it in the numerous Facebook groups I'm in. I think that might be one of the biggest complaints bloggers have. I get it. Trust me, I get it. It sucks when the traffic you count on plunges into a deep dark hole never to be found again. But it can happen and most likely will happen. I think this is another reason it's so important to build an email list for your blog. At the end of the day your email list is the only thing you have control over.
Here's my final traffic advice:
Diversify your traffic. DON'T depend on one platform.
Create content readers want. This is the most important and over time will increase your traffic.
Try to post 3-4 times a week. In my experience, traffic is not going to grow only posting 1-2 times a week. That's my experience.
Build your email list and have an email strategy. Obviously, this is something I need to work on too. I will have more information on this in future income posts.
Create a social media strategy. Social media can be a huge time suck. Have a daily strategy and leave it at that. When you get to a place to hire someone then do it. Basically, all I'm saying is don't wing it. Don't wake up and share whatever whenever. Have a strategy in place.
I think that's it for now. I feel like I could write a ton more but I 'm already at 2000 words so I will leave it at that.
If you have any questions or would like me to expand further on a topic then let me know in the comments.