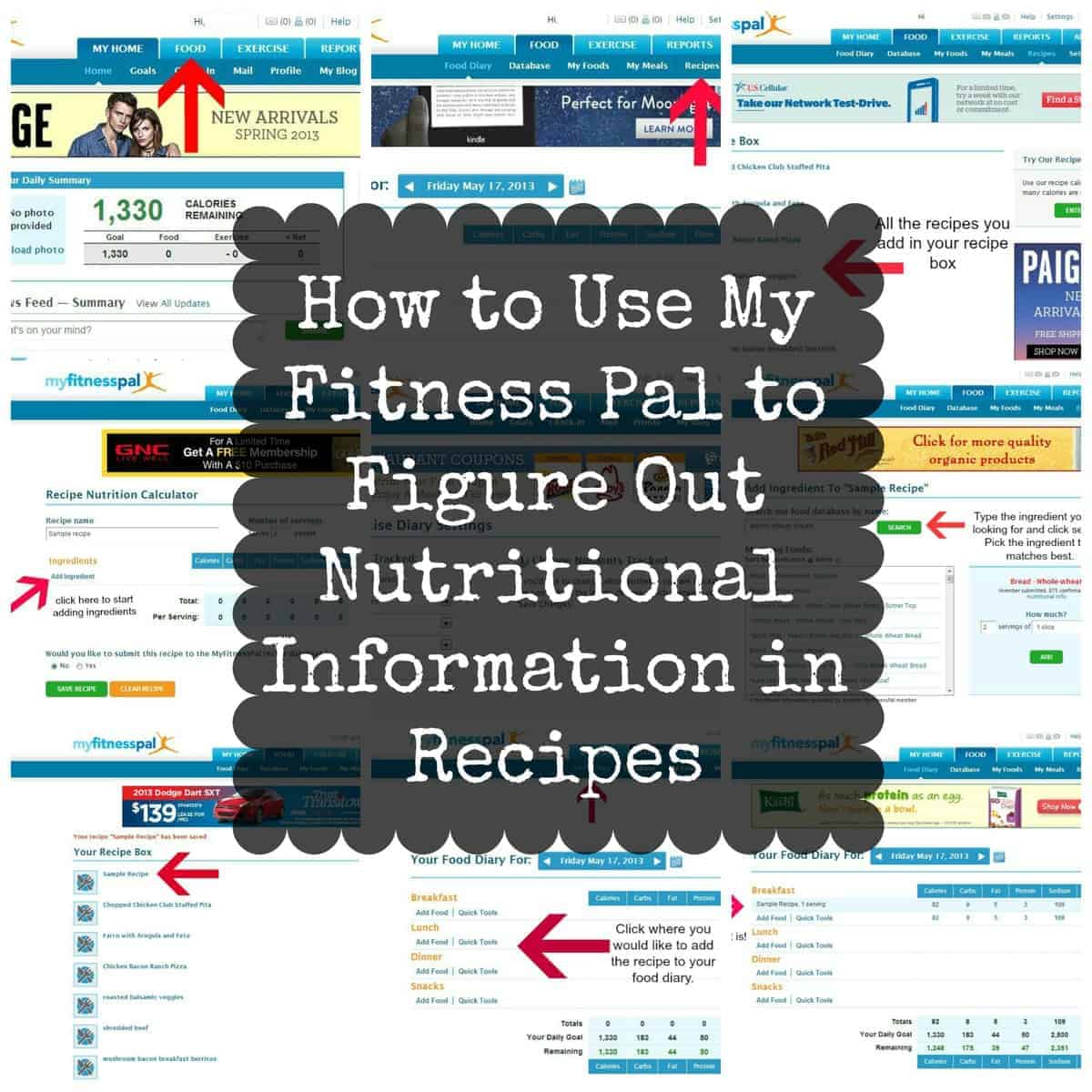 Preparing meals at home is an important step in moving towards a healthier lifestyle. In fact, I would venture to say it is essential. Cooking at home helps you control the ingredients that go into the foods you eat. It also makes it easier to keep portions in check. By cooking your own meals you start to move away from processed foods and towards a more nutritious wholesome diet. This nourishes your body with the vitamins and nutrients needed to be healthy and satisfied.
One struggle people have with cooking recipes from scratch is figuring out the nutritional information. When you purchase boxed meals all that information is right on the package making it easier to keep track of calories, portions, and other nutritional information. But you know what else is on that box? A bunch of ingredients, preservatives, and additives our bodies do not need.
As you start to prepare more recipes at home you may not be sure of the nutritional information. Clearly, this is important to know, especially if you are trying to lose weight. To help I want to show you how I use My Fitness Pal to easily figure out nutritional information in recipes. This is exactly what I do for all the recipes I post on Skinny Mom's Kitchen.
Let's get started.
Log in to your My Fitness Pal account. If you don't have one then sign up for free.
After you log in you will be brought to your main page. This page shows you the amount of calories you have left for the day in the middle, main tools on the top navigation bar, and other diet tools over on the left. You want to click on the food tab which is located on the top navigation bar.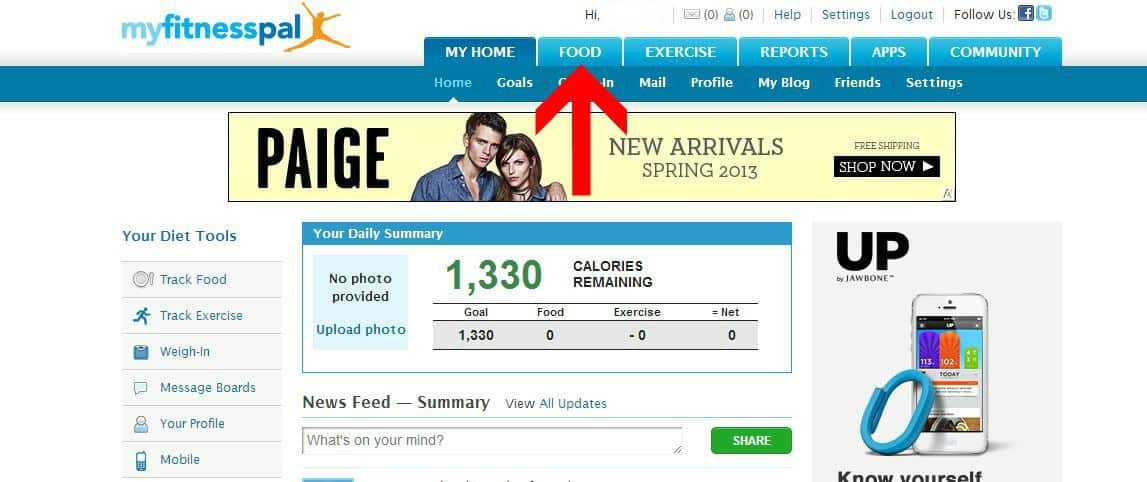 After you click on the food tab you will be brought to your daily food diary page. You want to click on the tab in the second top navigation bar that says recipes.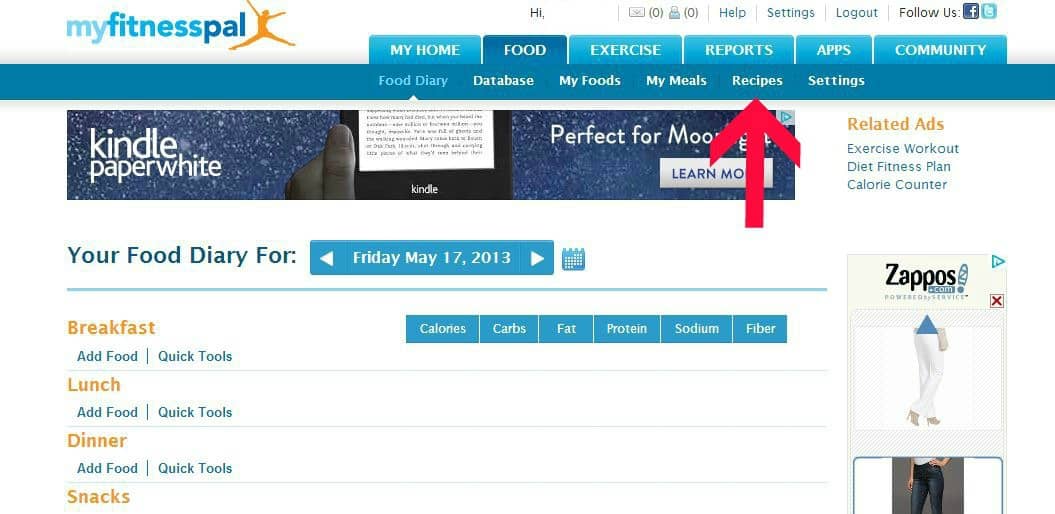 Once you click the recipe tab you will be brought to your recipe box page. This page will house all the recipes you add. To figure out the nutritional information for a new recipe click on the "enter new recipe" button over on the right.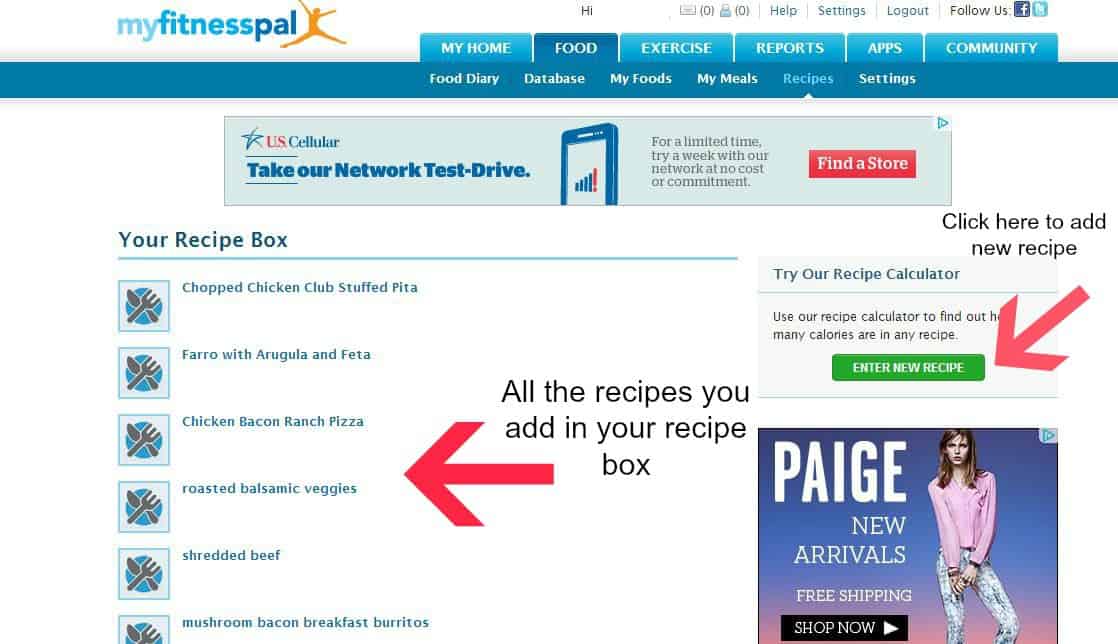 This will bring you to the recipe nutrition calculator. On this page you fill in the name of the new recipe. For this example I just wrote in "Sample recipe". Then list the number of servings. You can always change this later on. I find the number of servings to be really helpful because if the calories or fat are too high you can always play around with the servings to reduce or increase the portions. For example, if you add in the ingredients for a chili, put 5 servings, and each serving comes out to over 600 calories you can try to reduce the servings to decrease the calories. Or you can play around with different ingredients till you get the calories and fat per serving you are looking for. Of course this all depends on the recipe.
Okay once you have the servings set start adding the ingredients. Click the button that says "add ingredient". Type in the food database box the ingredient you are looking for and hit search. Depending on what you are searching for you will get a bunch of options in the matching foods box. For this example I put whole wheat bread. You can see all the options below that came up. Now you may or may not find an exact match to what you are looking for. That is fine. Just pick the one that closest matches the ingredient you are using. Continue to do this with the rest of the ingredients. After you are done click save. You can choose to submit your recipe to the My Fitness Pal database. This just means your recipe will come up on the public food/ingredient searches.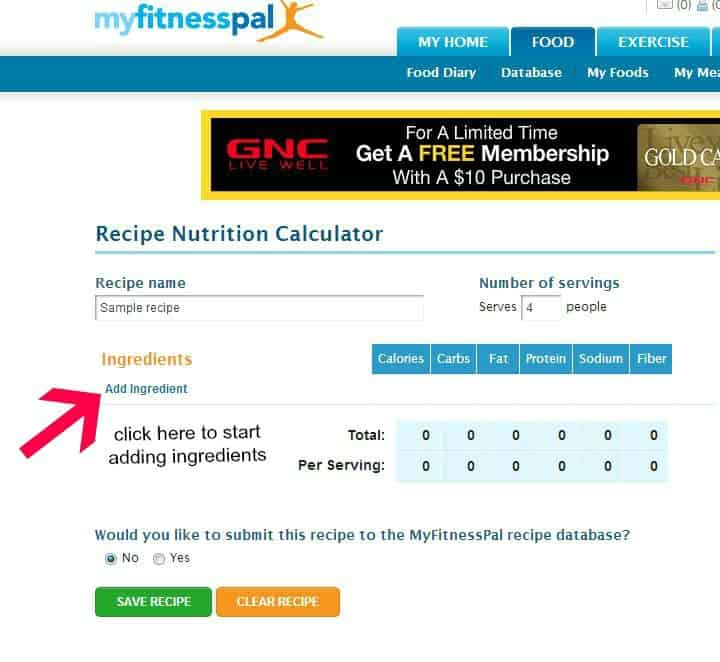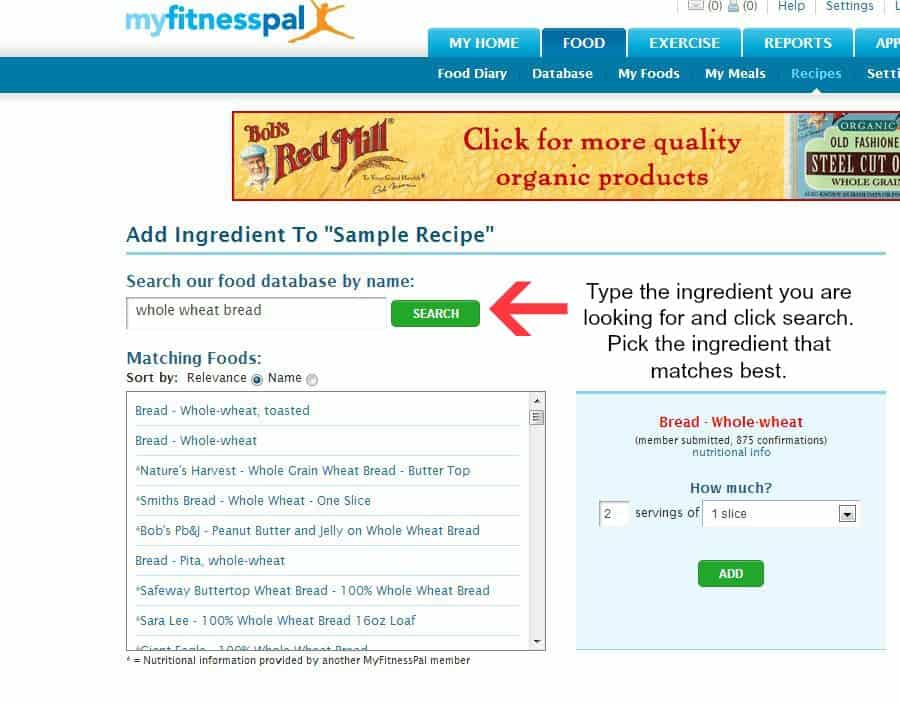 After you enter all your ingredients click "save your recipe" . This will save the new recipe yo your recipe box. If you ever need to make changes just click on the recipe, edit, and save again.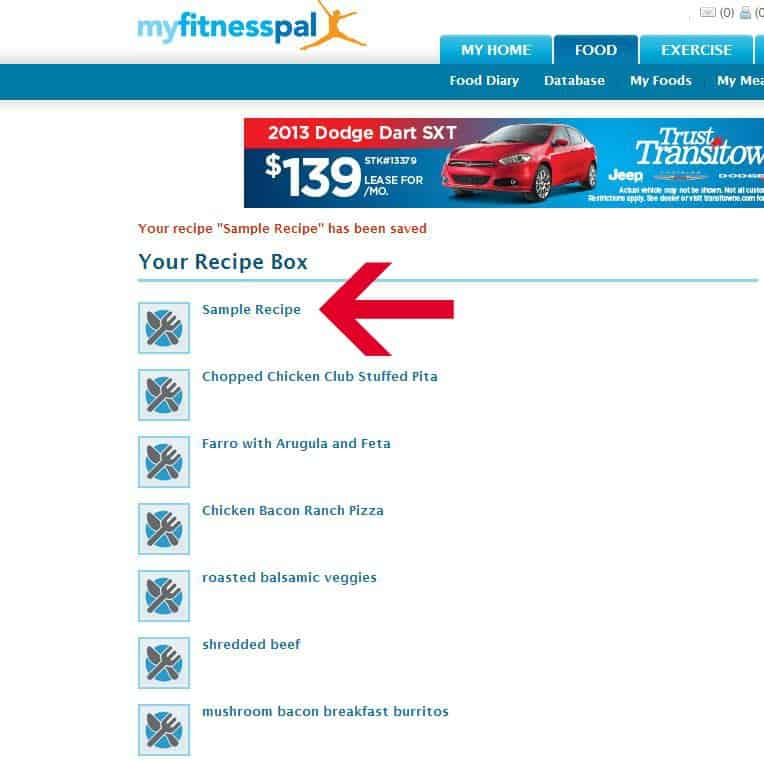 Once your recipe is saved it can be used in your food diary. Click on the food diary tab. Then click the meal you want to add that recipe to. For this example, I clicked add to breakfast. You will see 5 tabs. The most recent tab is the one that is usually highlighted. To add your recipe click on the recipes tab. This will bring you to all your submitted recipes. Check the one you want and click the add checked button. It will then be added to your food diary.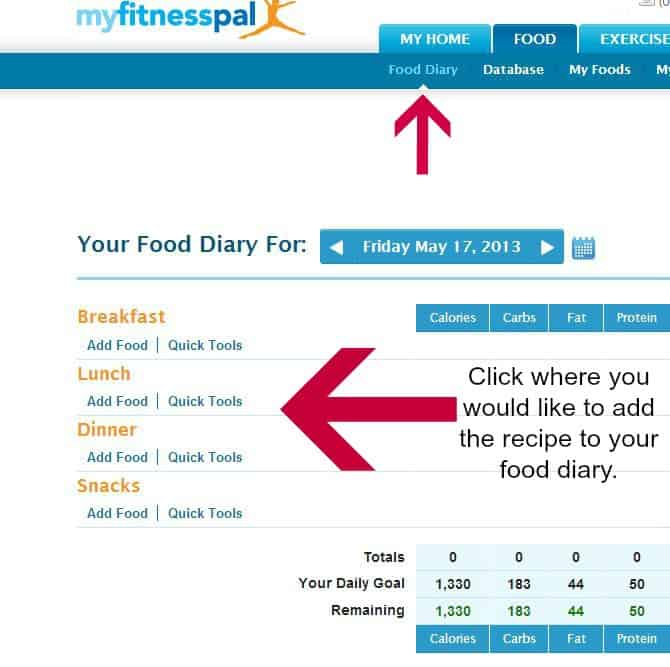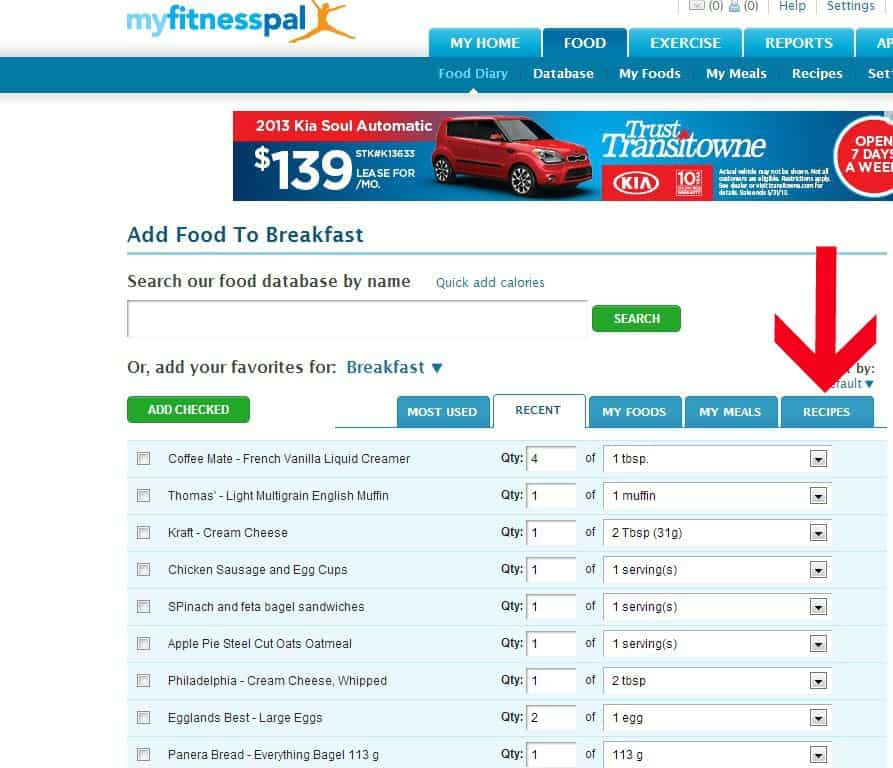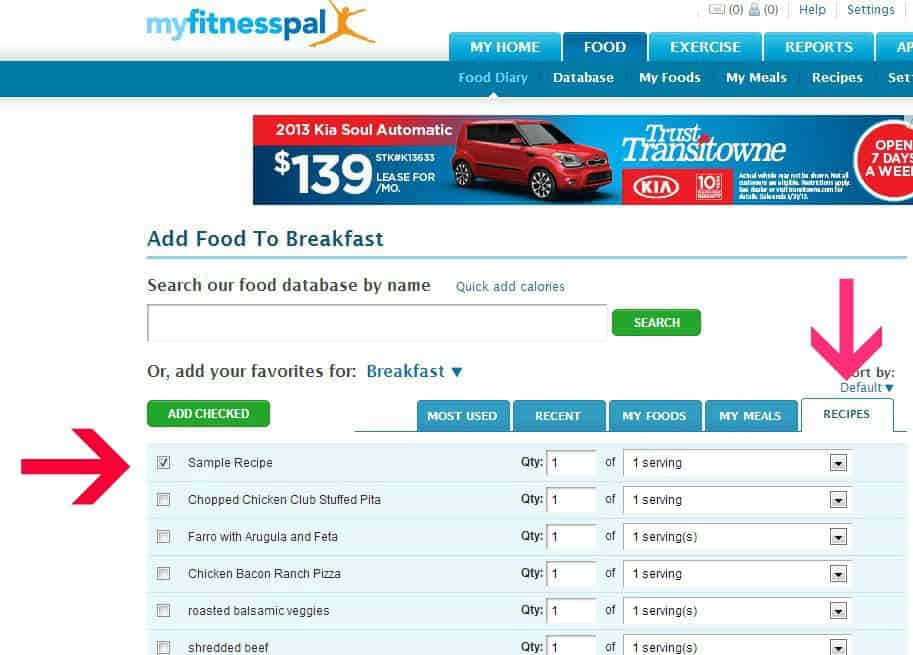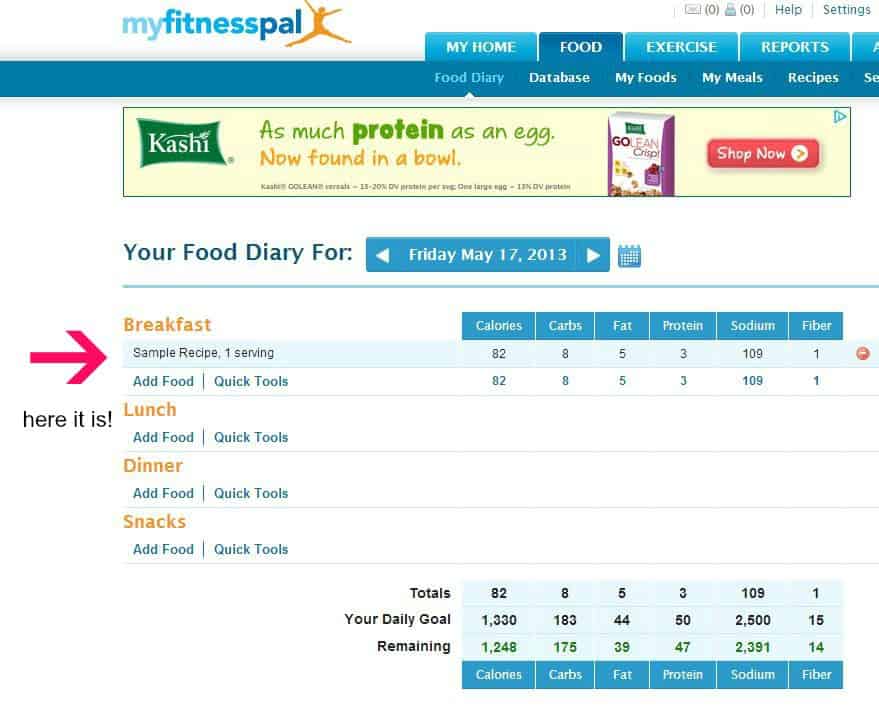 My Fitness Pal automatically tracks certain nutrients. If you want to change that up then click on the home tab and then on the settings.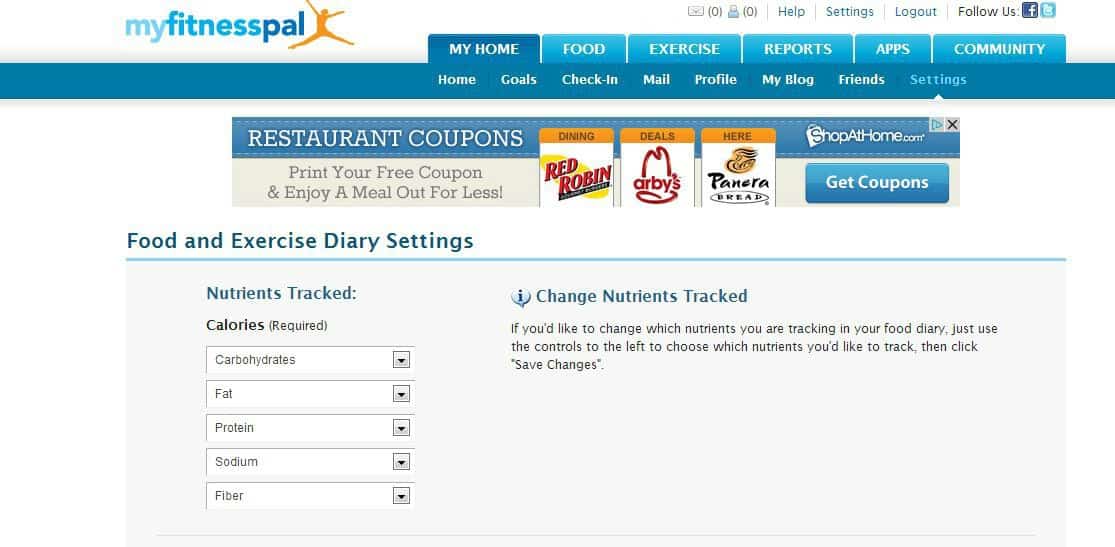 There are other recipe builders on the internet but this is the one I have always used – and it's free. If you follow weight watchers you can use their recipe builder to figure out the points. Or I found this tool online to help with points – not sure if it is 100% accurate but it is free.
I hope you find this tool helpful as you prepare more recipes at home. Let me know if you have any questions. As always, if you have other tips to share please do so below.