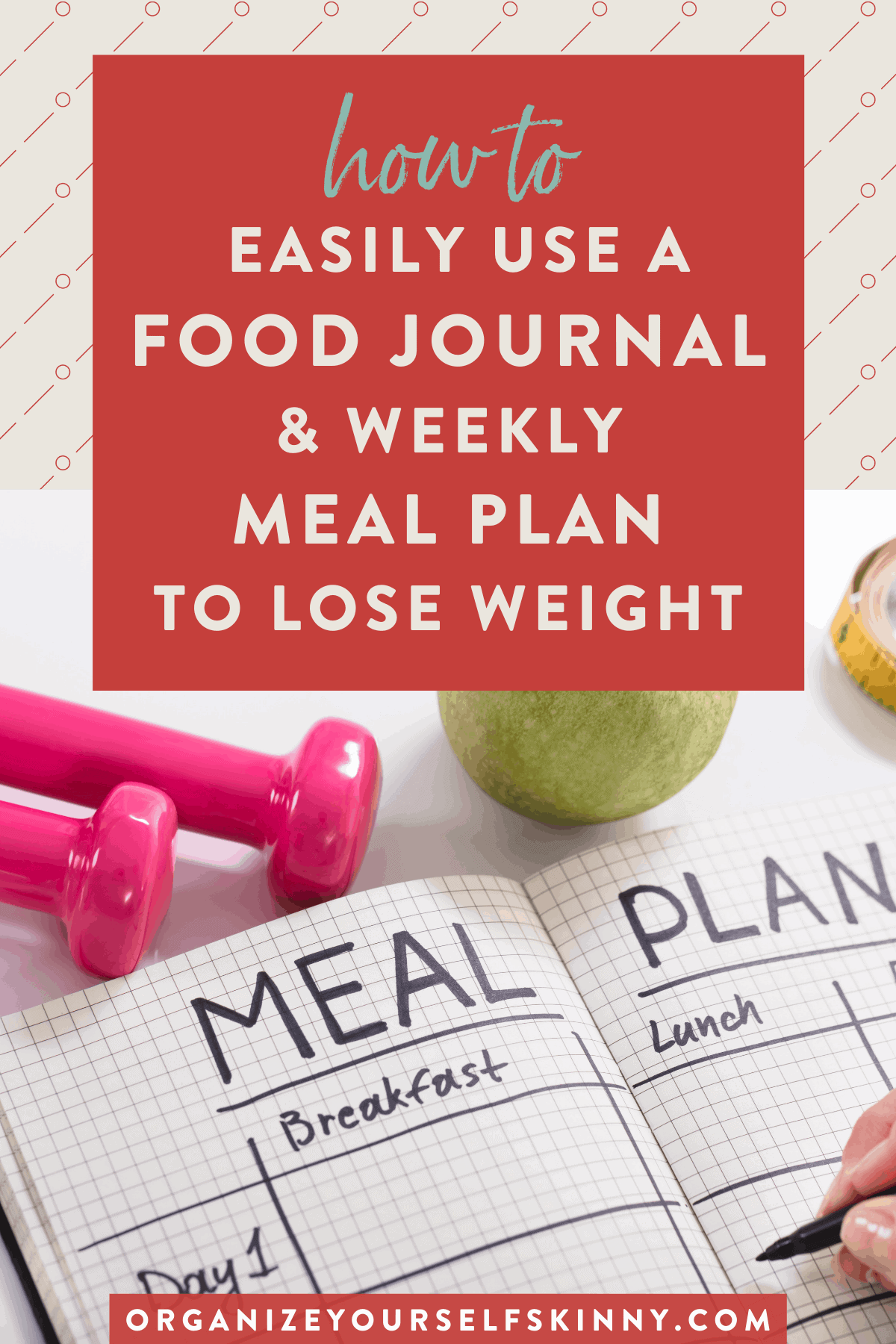 Food journaling alone can be very valuable in getting you on the right track with reducing calories. However, I have experienced the maximum weight loss results when I have intentionally combined my food journal with my menu plan.
A menu plan is exactly what it says. It is a plan that list out the foods and drinks you will eat daily, weekly, and/or monthly. I want you to think of your menu plan as your weight loss road map. It gives you direction the moment you wake up. There is no wandering aimlessly throughout the kitchen figuring out what you should eat because you already have your foods planned out. No more grabbing fast food for lunch because you have no idea what to eat. With a menu plan all your meals are planned out. Without a menu plan it becomes easy to get off track and lose sight of goals.
Combining your food journal to your menu plan is a habit that can accelerate and support your weight loss efforts. It makes you aware of the foods you are eating and holds you accountable to the calories. Your menu plan becomes more than just a sheet of paper on your refrigerator. It becomes an active document.
How to combine your menu plan with your food journal
Take your menu plan and figure out the nutritional information for each meal. You can do this by using the My Fitness Pal food database and recipe calculator. If you are on Weight Watchers you can also figure out the points.
Now organize that into a chart of some sort. Here is an example of my weight loss menu plan. I was trying to keep my calories between 1200 – 1300 a day.
Now plug that information into you're My Fitness Pal (or whatever you are using) online food journal. This might seem redundant but believe me it helps. Once you figure out the calories and put them into your journal you will be able to see if the foods you are eating meet or exceed your daily calories. In a nutshell, when your menu plan is linked up to your food journal you can quickly see if there is "wiggle room" in your diet should you want that extra piece of pie J
To fully experience the benefits of this healthy weight loss habit I recommend doing this right when you put your menu plan together and all at once. This way you go into your week with your meals and calories figured out. Another tip is to calculate your meals before you go grocery shopping that way if you need to adjust or eliminate a meal you can.
At first this may take a little time. However, once you get the hang of it, and have your go to meals inputted, then it becomes more streamlined. When all is said and done you will have yourself a nice custom weight loss plan. One that you created for yourself!
Benefits of combining your menu plan with your food journal
Makes you think about your meals ahead of time. When you take the time to create a menu plan and calculate the nutritional information you become intentional about your eating. This in itself is so powerful to someone trying to lose weight.
Prevents overeating. By combining your menu plan and food journal you are aware before the day begins the number of calories you will be consuming. Therefore, if choose to eat beyond what's planned then you consciously will go over calories. Just having this knowledge is enough to prevent a person from grabbing that extra cookie or second slice of pizza. Developing awareness of the foods you eat is more than half the battle. Never in a million years did I think my precious coffees were costing me 500 calories a day! Believe me I think twice now before grabbing that café mocha.
Make adjustments as needed. I think it is very easy to underestimate the number of calories in food. When you figure out the calories in meals ahead of time you can change or alter the recipe to fit into your plan better. Not only do I find this helpful with my personal menu plan but I have started using this approach as I create recipes to meet my nutritional expectations.
Don't need to think about adding foods into your journal throughout the day. This is a big one. It is hard for people to stick with food journaling because, if done the traditional way, it requires them to enter information throughout the day. When you take some time in the beginning of the week to create your menu plan and input the meals into your food journal then you don't have to worry about it the rest of the week. The only thing you will need to do is make changes and adjustments should you not follow the plan. I still think it is important to review it a couple times during the day to keep on track but you don't need to be concerned with adding in every single food.